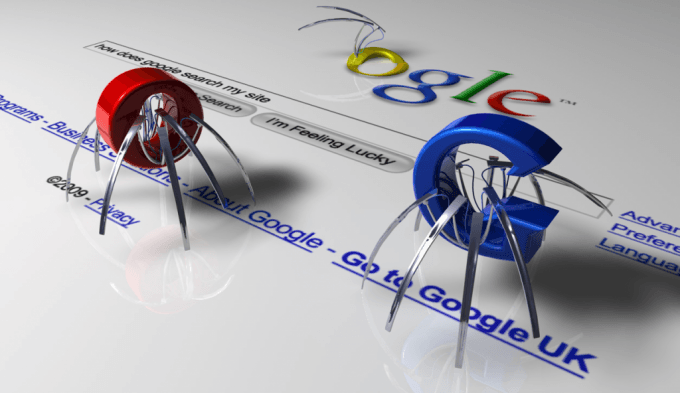 Last Modified: Apr 4, 2018 @ 12:59 pm
The ultimate guide to getting your website indexed is a great guide for those wanting to get a new website index fast by the search engines and displayed in the search engine results page. You need to remember that you can have the most amazing website in the world but if nobody can find it what's the use.
If you're new to SEO and you would like an introduction, then please visit this page.
It's similar to having a 5 star restaurant but in the middle of a field full of shit. Making sure that Google and other search engines know about your website is one of the most fundamental steps upon completion of your new website. Below is a great guide to getting ranked:

First Checks
Make sure first of all that your on page SEO is perfect (guide coming soon), maybe run a test with the MOZ on-page grader, or a good free alternative is WooRank. Check there are no server error or issues with your robots.txt (guide also coming soon) file and that your website is accessible by bots and humans.
Google Webmaster Tools
Top of the list goes to Google Webmaster Tools. WMTs can send Google's spiders directly to a specific page on your website and index it nearly instantly; I have seen pages indexed and updated in the SERPs within minutes. Here's how you do that (also see gallery below):
Sign in to your Google WBT account
Make sure your domain is verified
Crawl
Fetch as Google
Submit to index
Google Analytics
Simply sign up & add in the tracking code to your website, being a Google product I believe this may have some weight in Google seeing that you have an active / new website. At the end of the day, Google products will always benefit your search results even though they may never say, Google Plus 1's is a good example of this.
Sitemap Submission
Sitemap submission is a very important step; by submitting your sitemap to Google you are giving them a list of every page you have available on your website instead of making them try and find all the pages by spidering through your on page links and navigation. However, Google does not promise to index every page you submit, but thats our aim with this guide.
Generate the XML Sitemap
You can do this by going to XML Sitemap Generator. What this does is go through all the pages on your website and generate an XML file with link to every page, then we simply submit this to google through Google Webmaster Tools -> Crawl -> Sitemaps
WordPress Plugin
A great way to do this if you are running on the WordPress platform is to install the plugin called Yoast SEO which will do all the hard work for you and even generate the XML sitemap and submit via Google API, but if you feel better submitting a physical file then view the XML sitemap by going to SEO -> XML Sitemaps -> XML Sitemap then submit this URL through Webmaster Tools.
Local Listing
I strongly advise going through and setting up an account with each of these websites; this will help massively with your local SEO also. Please make sure there are no inconsistencies with the information you enter such as variations in address or company name:

Google Plus
Setting up an account
This plays a vital role when setting up any new website and its one of the first things on my checklist. Make sure that when you set this up you link it to your website and verify the submission by following the below steps:
Make sure that you're using Google+ as your page.
Click  Profile on the left.
On the 'About' tab, click the Link website button next to your website URL. If google knows the webmaster for this website, they will give you the option to send a request to the webmaster to approve the link. Requesting approval will reveal your email address to the site owner.
The verified webmaster can confirm the link in Webmaster Tools.
Posting a link
Posting a page link on Google+ can prompt them to index your website faster also.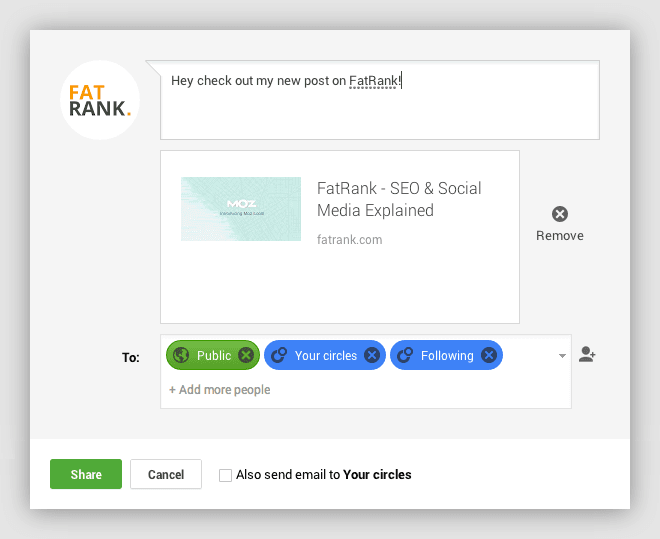 Directory Submission
Be careful with this, I strongly advise on staying away from any old crappy directories and submitting your website, Google has cracked down on these type of website and the links may not help you out on ranking. There are still a few good ones left that hold a lot of domain authority such as:
Dmoz (Free) – only submit once to this, it may take several months to be accepted.
Best of the Web (Paid)
Social Profiles
This is a must when setting up any new website. You can enter your website address on all of the below social profiles which will help with google finding your website faster:
Instagram (download and sign up via the app)
Blog Often and Fresh Content
Keeping your content fresh and updated is great to keep Google coming back to your website more often. If you are constantly adding new information / blog posts to your website Google will keep coming back more and more often, meaning you get ranked for your content faster.
Get Reviews
Google loves reviews. Make sure you get your friends, family, old and new customers to leave a review across as many of these platforms as they can. Search engines will love to see that your company is active and being reviewed / thanked often for the services you provide.
Google Plus
Facebook Page
Trustpilot (If you are selling products or a service)
Ask Friends
This is the most underrated tactic in SEO. Tell everyone you know about your new website. Get close friends and family members to share your website on social media websites and even better if they have a website, get them to place a link to your website on theirs (the more relevant to your industry the better), winner winner, chicken dinner!
How to Index a Website
So, you have just made your new website and now you need to get it indexed. There are a number of ways this can be done, but we are here to help you get the quickest and easiest way.
Add your URL to Google's index
Create a site map
Submit site map to webmaster tools
Update social profiles
Share the link to your new website
How to Rank a Website
Now, you have passed the first part of getting your site on Google, now you need to rank it. When ranking a website you will need to find your keywords, so you know exactly what you want to rank.
The basics to ranking a site is:
Create a lot of content to put onto each page of your website
Make sure to optimise your site for each keyword
Do not over optimise a keyword, otherwise Google might penalise you and not rank this keyword at all
Add internal links to the site to other pages to strengthen the site as a whole
Use exact match anchor text to pages you want to rank for that particular keyword
Improve your link profile
Carry out outreach to get good quality links to your site
Carry out blog commenting
Improve social profiles and link to your site
If you carry out these basic steps, you will be well on your way to ranking your site for your chosen keyword.
Pingomatic w/ WordPress
If your website is built in wordpress, then every time you submit a new post wordpress notifies the search engines that you have just posted something new. You can edit the list of services that are pinged every time you add new content by going to the admin section of your wordpress site and going to Settings -> Writing -> Update Services, then paste the list i have collected below into the text area. Now everytime you post something new all these services will be updated and told to crawl your website:
http://rpc.pingomatic.com
http://rpc.twingly.com
http://api.feedster.com/ping
http://api.moreover.com/RPC2
http://api.moreover.com/ping
http://www.blogdigger.com/RPC2
http://www.blogshares.com/rpc.php
http://www.blogsnow.com/ping
http://www.blogstreet.com/xrbin/xmlrpc.cgi
http://bulkfeeds.net/rpc
http://www.newsisfree.com/xmlrpctest.php
http://ping.blo.gs/
http://ping.feedburner.com
http://ping.syndic8.com/xmlrpc.php
http://ping.weblogalot.com/rpc.php
http://rpc.blogrolling.com/pinger/
http://rpc.technorati.com/rpc/ping
http://rpc.weblogs.com/RPC2
http://www.feedsubmitter.com
http://blo.gs/ping.php
http://www.pingerati.net
http://www.pingmyblog.com
http://geourl.org/ping
http://ipings.com
http://www.weblogalot.com/ping
If you are not using wordpress you can easily do this manually by going to Ping-O-Matic and submitting your URL.
What others had to said
We sent the question out to our twitter followers asking "If you have one tip to getting a new website indexed faster what would it be?", below are a few of our responses.
@fatrank an entirely new website? Get webmaster tools on it… Generally the trick pretty quickly 🙂 — Stacey Cavanagh (@staceycav) May 2, 2014
---
@fatrank Faster in Google? Or in Majestic? 1st= Make sure pingomatic works in WordPress = minutes. 2nd= use URL submitter in Majestic — Dixon (@Dixon_Jones) May 2, 2014
---
@fatrank having a correct sitemap uploaded to the webmaster tools — Russell McAthy (@therustybear) May 2, 2014
Summary
Basically, get google webmaster tools setup straight away and make sure you make your way through this list! Boom, job done.. Thank me later 😉