11 Best SERP Tracker for Monitoring Your Organic Search Positions
The best way to tell whether your search engine optimisation (SEO) campaign is a success or not is by looking at your organic rankings.
If your money pages rank higher now than before due to SEO tactics, consider your campaign a win. If not, well, back to the old drawing board.
That's why you must use SERP tracking software to help you make sense of your SEO progress.
In this post is a list of SERP tracking tools you should consider using to help you
We'll try to break each one down according to what makes them great, what differentiates them from the rest, and which rank tracking tool is best for you.
This way, you can make an informed decision about which keyword rank tracking tools you should buy.
#1 – AccuRanker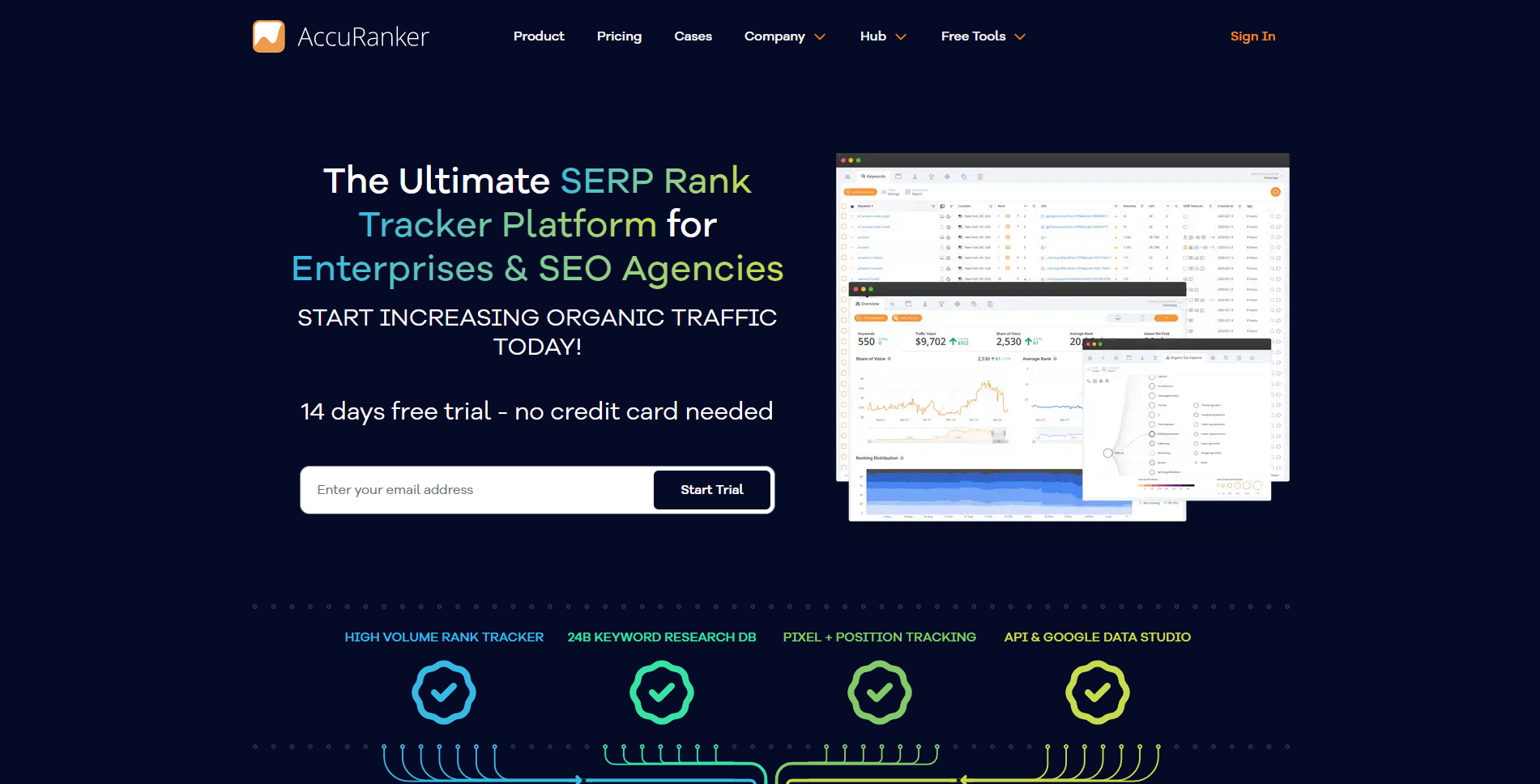 Accuranker is among the slicker SERP keyword trackers in this list due to its speed and power.
It is built with the SEO agency in mind who take keyword management seriously. The tool checks your keyword rankings automatically every 24 hours.
It also lets you track your rankings from any location down to its exact address and from any device. This factor is crucial, especially for SEO agencies and enterprises working with local businesses.
Among its wealth of features, one thing unique to Accuranker is its dynamic CTR.
Back then, the assumption was that all top-ranking pages received approximately 33% of the clicks for that search term. Nowadays, with all the SERP features that appear before the first organic page in the search engine results page (SERP), it could easily be receiving less than 33%.
To counter this, Accuranker's proprietary AI model provides you with a 90% estimate of how many clicks your best-perform pages on SERPs are getting.
This way, you can better predict how many visitors your pages or competitors receive over a period. The data you can access here help demystify your SEO progress to clients and stakeholders.
Another important metric in your reporting to clients is the traffic value feature. It literally puts a dollar sign on the site's ranking pages, allowing them to understand the value these pages contribute to their bottom line.
Finally, you can integrate with Google properties (Analytics, Data Studio, Search Console), Adobe Analytics, REST API, and others to help build your report. They help fill in the blanks with data not provided by Accuranker.
#2 – Ahrefs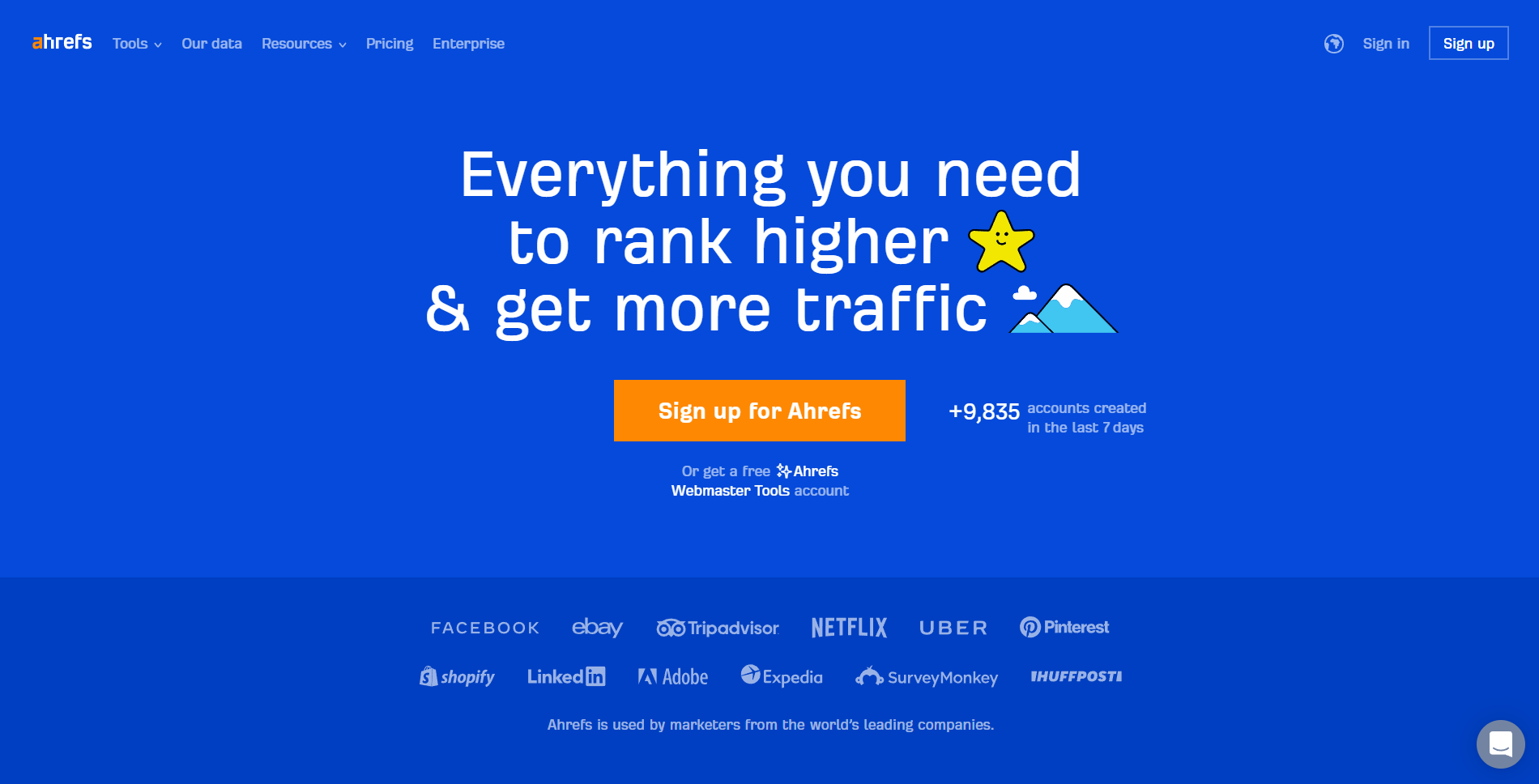 Ahrefs is arguably the premier SEO tool that almost everybody in the industry uses.
As a rank tracking tool, its visual presentation of your keyword positions helps you seamlessly monitor your website rankings on desktop and mobile.
The tool also shows which Google SERP features for which your site is ranking. Ahrefs even lets you monitor non-tracked features such as Knowledge cards, videos, People also ask, and more and see if you appear in these sections.
Ahrefs filters your keyword list to help you visualise the data you need.
For instance, you can filter keywords for which you're not ranking. This allows you to determine why you aren't ranking and make the necessary changes in the hopes of ranking for their target keywords the second time around.
The lowest plan ($99/month) lets you track 750 keywords max. You can track 500 more keywords for an additional $50/month.
All plans give you unlimited reports and update your keyword rankings weekly. However, if you want daily updates, you have to shell out at least $100/month.
Ultimately, Ahrefs as a rank tracker is decent at best. It makes this list because of the other SEO features to which you'll get access upon subscription.
It has a very powerful keyword research tool that identifies the low-hanging fruit keyword you should optimise and track for your campaign.
Ahrefs' Content Explorer feature finds the best content about a topic or keyword for you. From here, you can create a much better version of the content, which you can use to generate more link opportunities.
Also, its link database is second to none. With over 213.8 million post-vetted domains as of writing, you can find the most comprehensive backlinks and data for each one for your link building and backlink audit needs.
#3 – AWR (Advanced Web Ranking)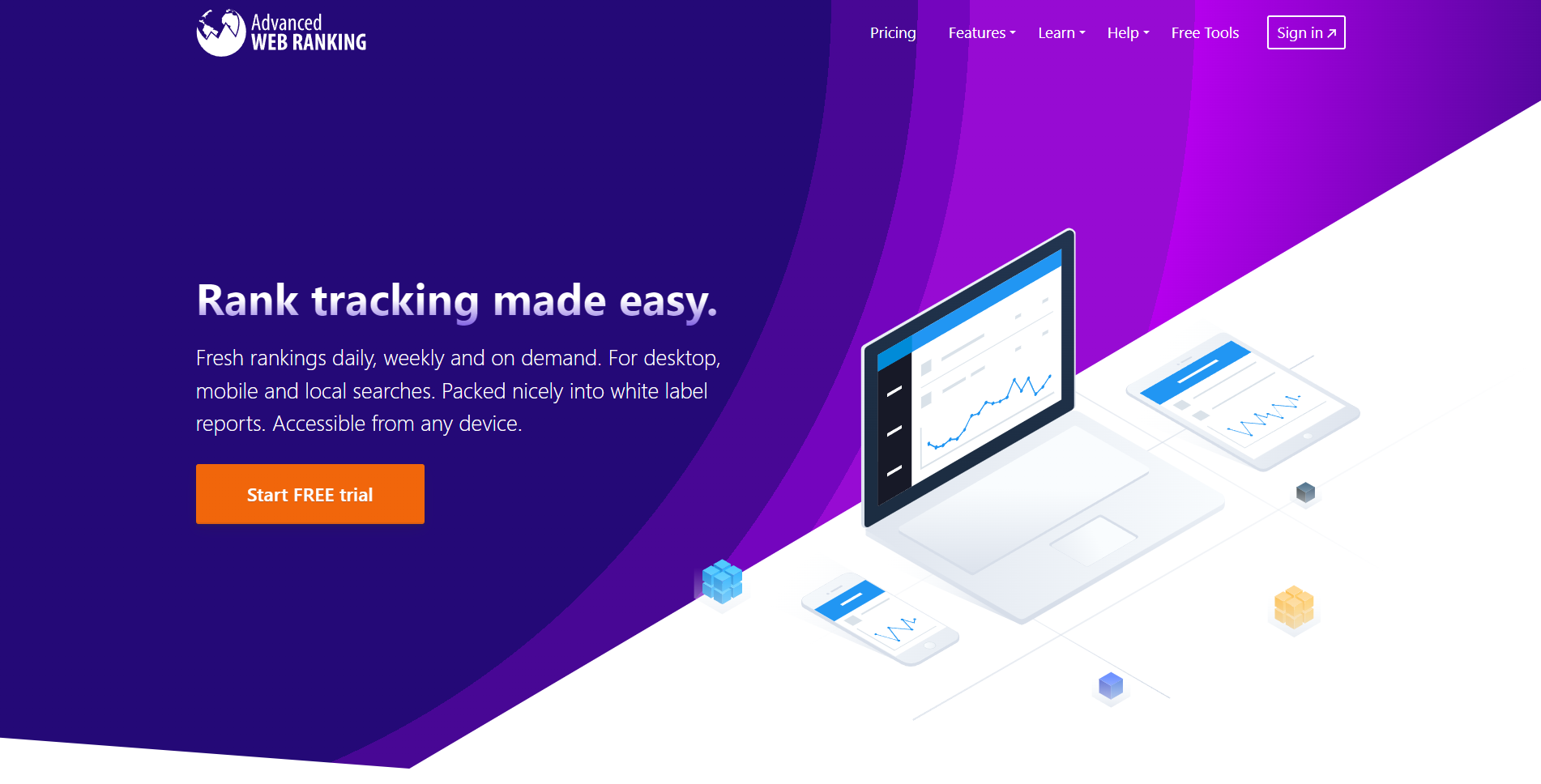 Advanced Web Ranking (AWR) has been around for more than a decade but remains one of the most reliable rank-tracking tools.
AWR has always prioritised on-demand rankings as one of its key features. You can request keyword ranking reports for your sites, and the tool will bring in the freshest and most recent data within the hour.
It also tracks SERP features to give you a better picture of where and how your website ranks on organic search.
If you want to analyse your competitors to get an idea of what you're up against on SERP, Advanced Web Ranking can also do that.
The tool monitors the SERP performance of your main competitors and takes snapshots of the results pages through the years
The gathered data helps you uncover insights about your competitors, such as their best-performing pages and the search terms for which they rank.
AWR is perfect for SEO agencies thanks to its white-label features. You can build your client reports from scratch using its WYSIWYG editor. Then, you can send a report to clients with a link so they can access the report online or download a copy of the file to present to them.
There are four plans to choose from in AWR, starting with $49/month for 2,000 keywords or "units" updated weekly, which you can convert to 286 daily checks.
Higher plans come with more premium features such as Competitor Discovery, Historical Ranking Imports, Priority Support, etc.
#4 – Keyword.com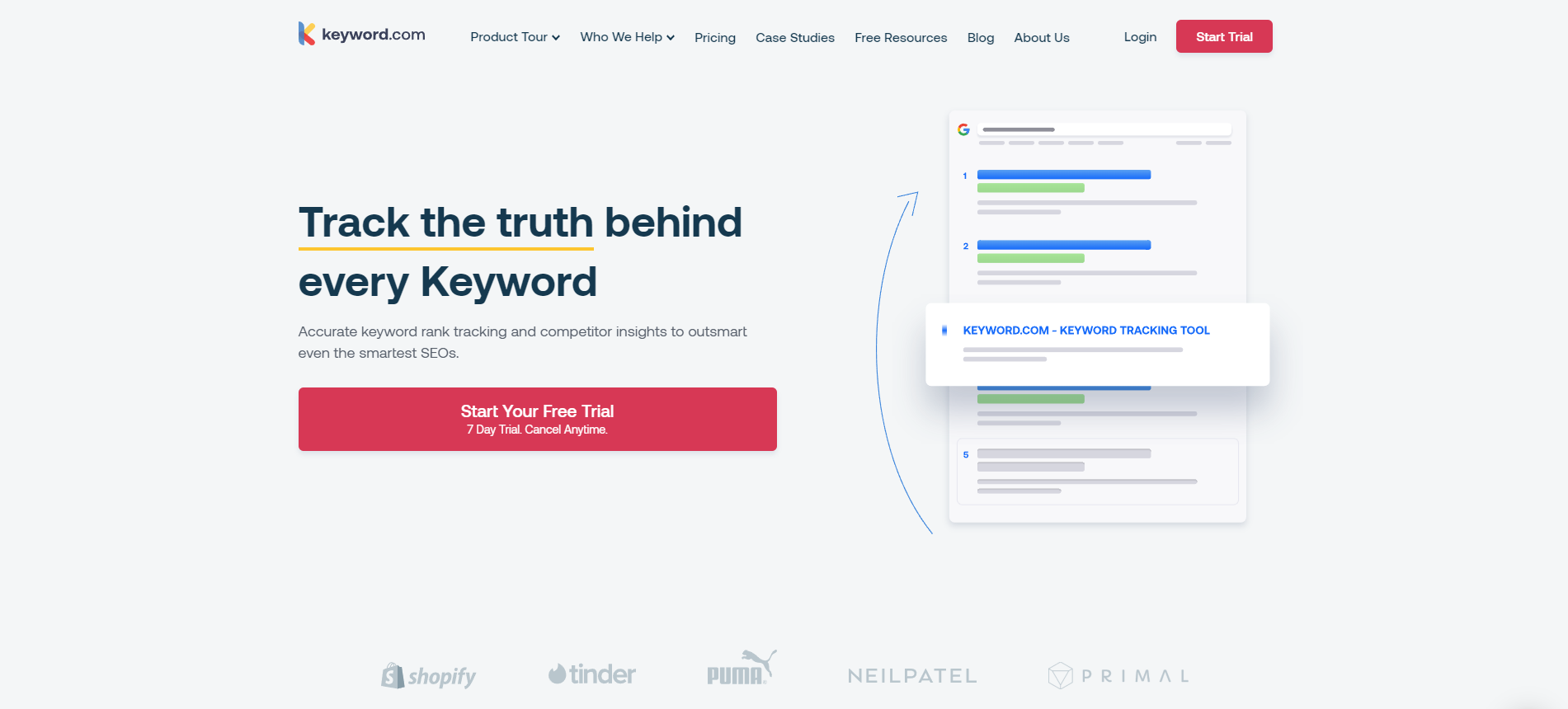 Keyword.com brings another level of sophistication in presenting keyword ranking data to subscribers.
Aside from showing where your site pages rank for their respective keywords, its Share of Voice feature tells you the percentage of visitors coming to your website compared to your competitors.
You can also perform daily updates using its SpyGlass feature. It takes a screenshot of SERPs, which is visual proof of your site's current keyword position.
By referring to SERPs as its source of ranking, Keyword.com provides an objective look at your keyword ranking status and website performance.
Another cool feature of Keyword.com is the ability to tag keywords and group them according to intent (informational, commercial, etc.), source, products, and more.
You can sign up for a free 7-day trial for any of its three plans (Starter, Consultant, and Agency) to test their respective features.
Once the trial period is over, prices start at $24/month (or $19/month paid annually) for 100 keywords.
#5 – Mangools: SERPChecker and SERPWatcher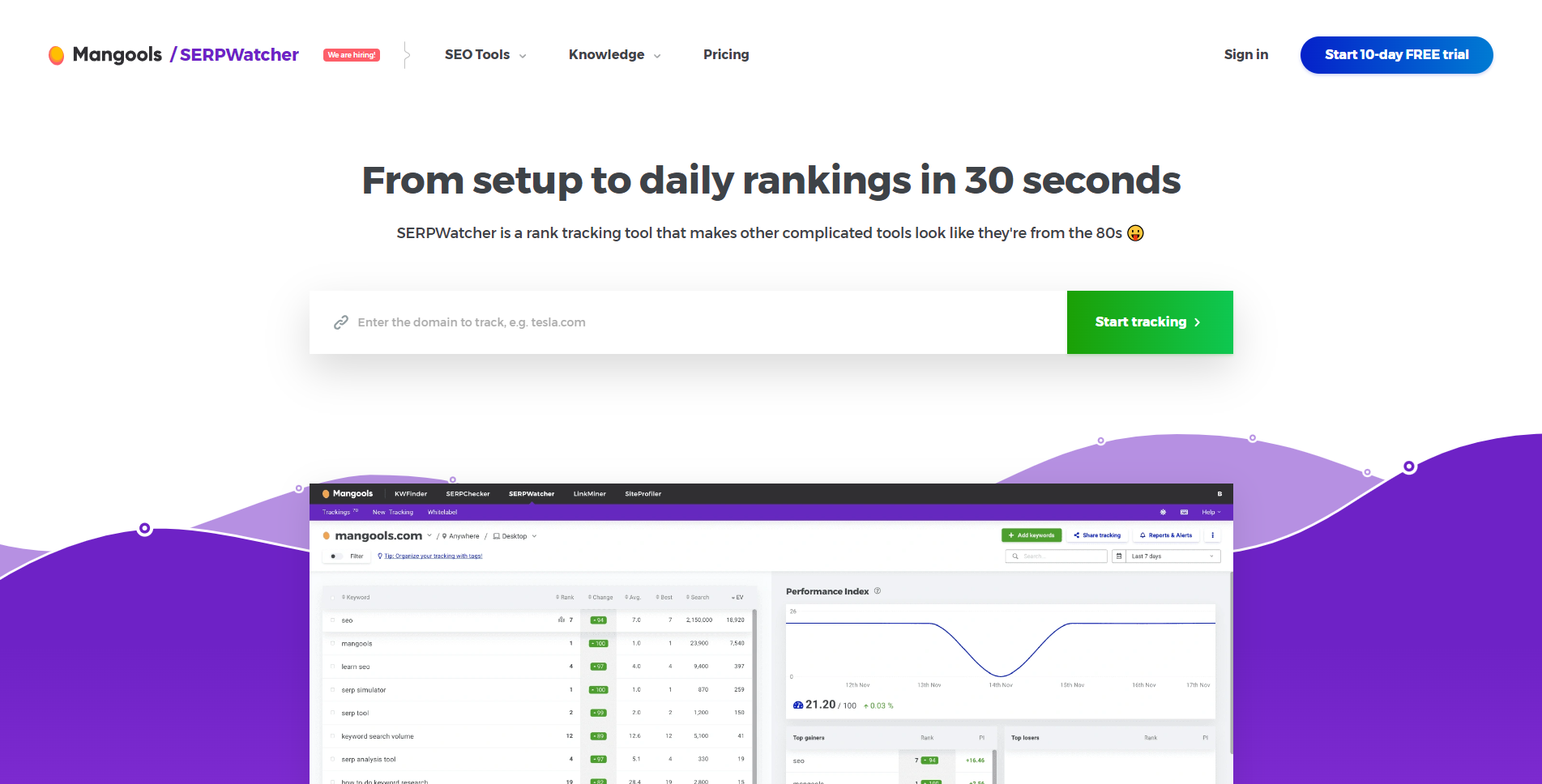 Mangools is an all-in-one SEO suite that's a bang for the buck.
For $49/month ($39/month if you choose their yearly plans, you get access to tools for backlink analysis (LinkMiner), SERP analysis (SERPChecker), website SEO analyser (SiteProfiler), and keyword research (KWFinder).
SERPWatcher is Mangools' rank tracking tool. It allows you to check the organic search position of your site for your target keywords.
The tool can also track your keyword rankings daily to regularly update your site's SEO progress.
If you're using SERPWatcher for your clients, you can create a link so they can access the report online and monitor the changes in the keyword positions themselves.
Subscribers can track at least 200 search terms for their lowest plans.
SERPWatcher is a straightforward SERP tracking tool. Its real selling point is its affordable annual pricing and its keyword research tool, which is one of the best in the industry.
#6 – Pro Rank Tracker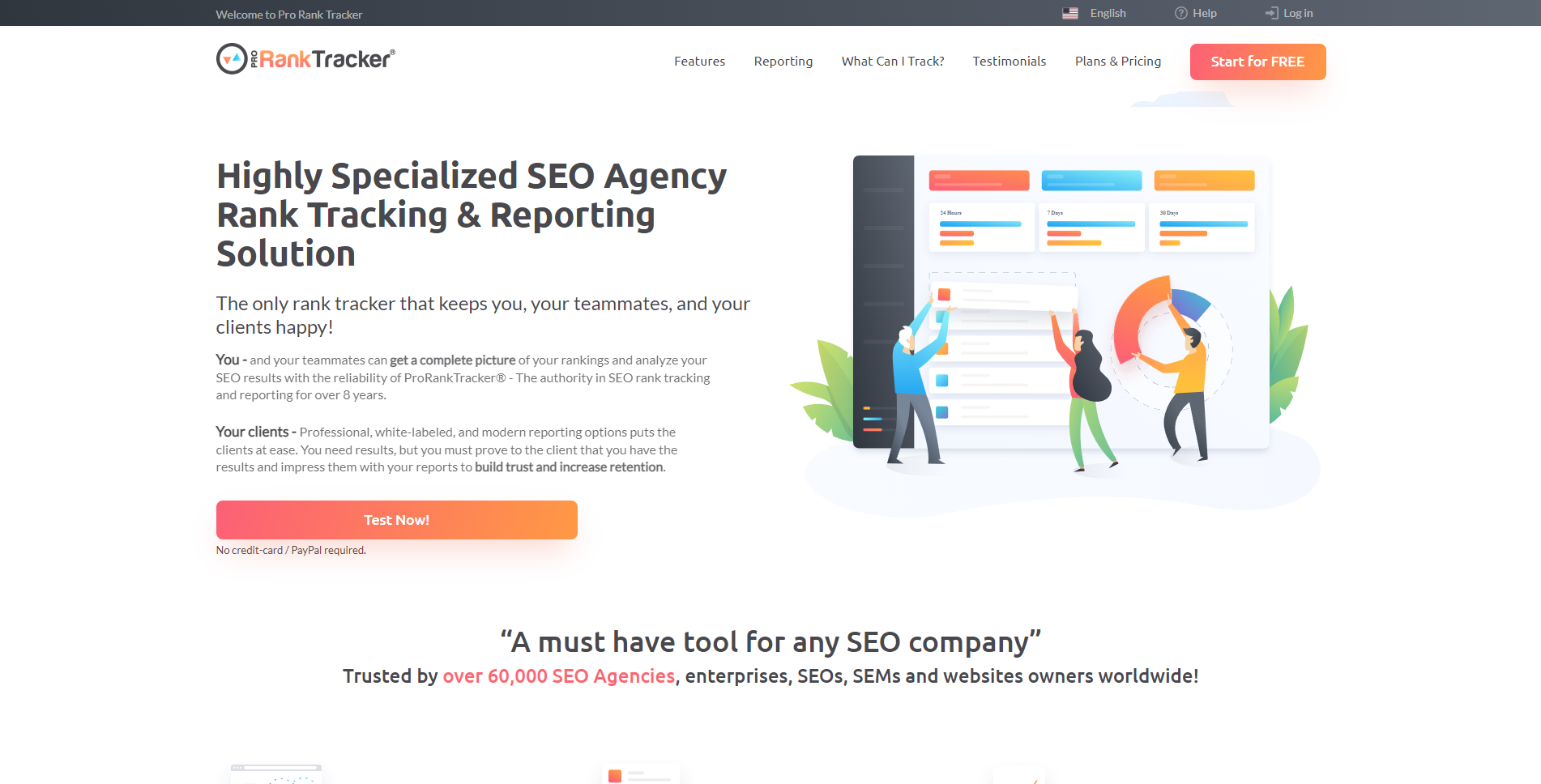 Pro Rank Tracker (PRT) strikes a balance between being an in-house and agency rank tracking tool.
It can track your website's global and local organic search positions on desktop and mobile.
What's unique about PRT is its Full SERP feature. Instead of getting the top 10 pages ranking for your desired keywords, the tool takes it up a notch by giving users the 100 pages for each search term.
This feature allows you to scour the competition for up-and-coming pages, pages that are free-falling from search results, and those that remain rocksteady at the top.
From here, you can analyse these pages to see why Google loves them (even those that are climbing up the rankings and just within the first page's reach) and replicate tactics that worked for them.
For agencies, you can give them access to your client rankings via sub-accounts. This allows them to take ownership of the SEO project and effectively communicate with the clients regarding your SEO campaign results with white-label reporting.
PRT has a free plan for 100 terms, complete with all its premium features 30 days after signing up. After that, you only get basic tracking for 20 terms.
The tool offers three paid plans (Starter, Pro, Agency) starting at $13.5/month for 100 terms. The Pro and Agency plans give you access to premium features like sub-account creation, updates on-demand, and more.
Each plan also allows you to increase the number of terms you can track. For example, if you want more than 100 terms to track under the Starter plan, you can choose from 250, 500, and 750 terms. This plan is perfect if you don't need sub-accounts and other features available in PRT's higher-tier plans.
#7 – SE Ranking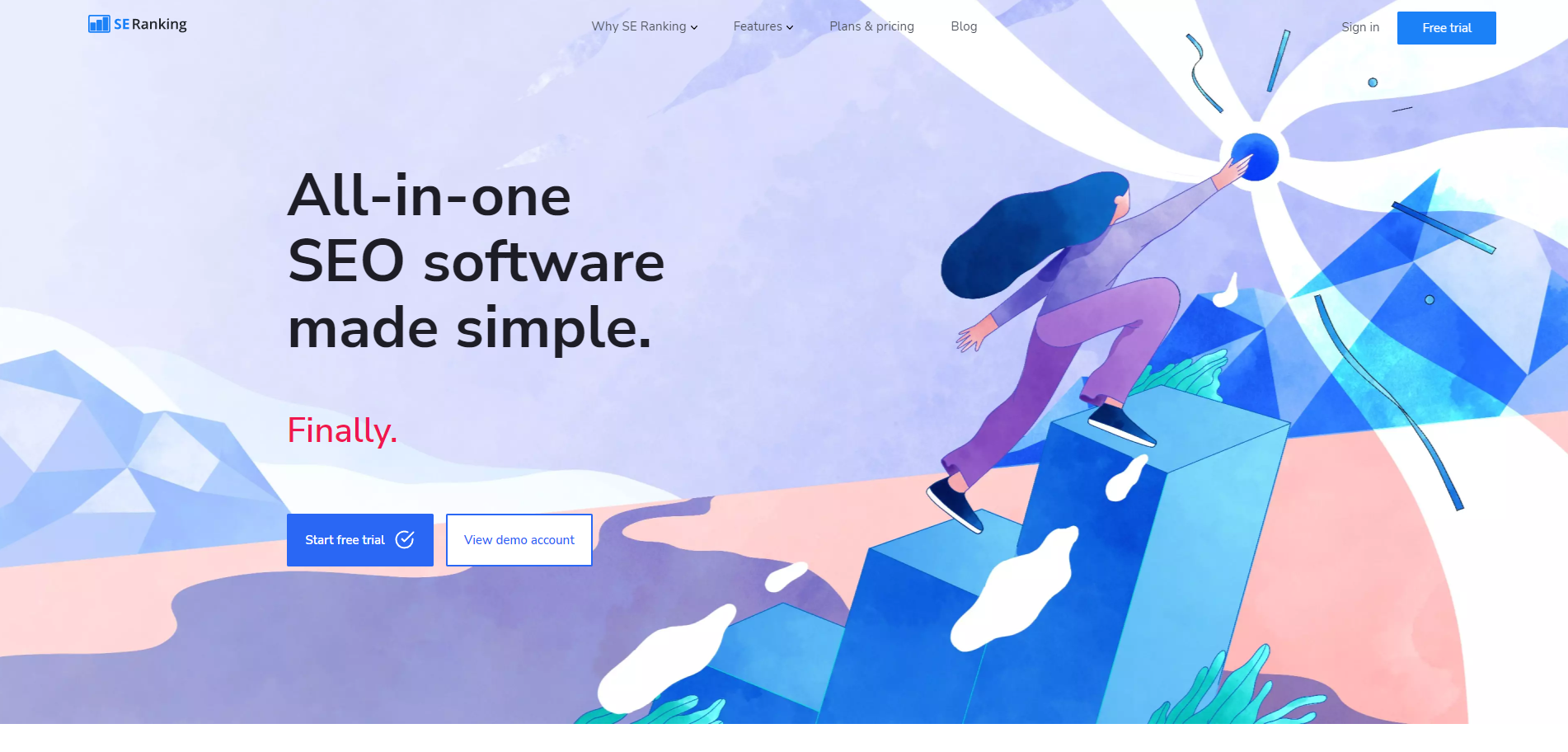 SE Ranking started as a rank tracking tool but has grown to become a formidable SEO tool through the years. However, its SERP tracking features remain its bread and butter.
The tool helps you track your and your competitors' keywords across other search engines like Google, Bing, YouTube, and Yahoo! at the same time.
From the report, you can forecast the potential traffic that your site page is getting from a keyword. This allows you to pinpoint which among your or your competitors' site pages is driving the most traffic.
You can also tweak your strategy to focus on growing and protecting these pages on your site. At the same time, you can identify the content of other sites for which to watch out.
SE Ranking also monitors SERP features to see if you earned them for your tracked keywords. Aside from this, you can check the local pack and Google Ads result to see if your local listing and ad campaigns appear on SERPs.
You can also integrate Google Search Console and Analytics to cross-reference data with SE Ranking and get more precise rank tracking data.
For agencies, the tool offers white-label reporting via a custom domain. Connect your subdomain with SE Ranking and use it as a client portal where your customers can personally check their rankings and monitor your SEO campaign.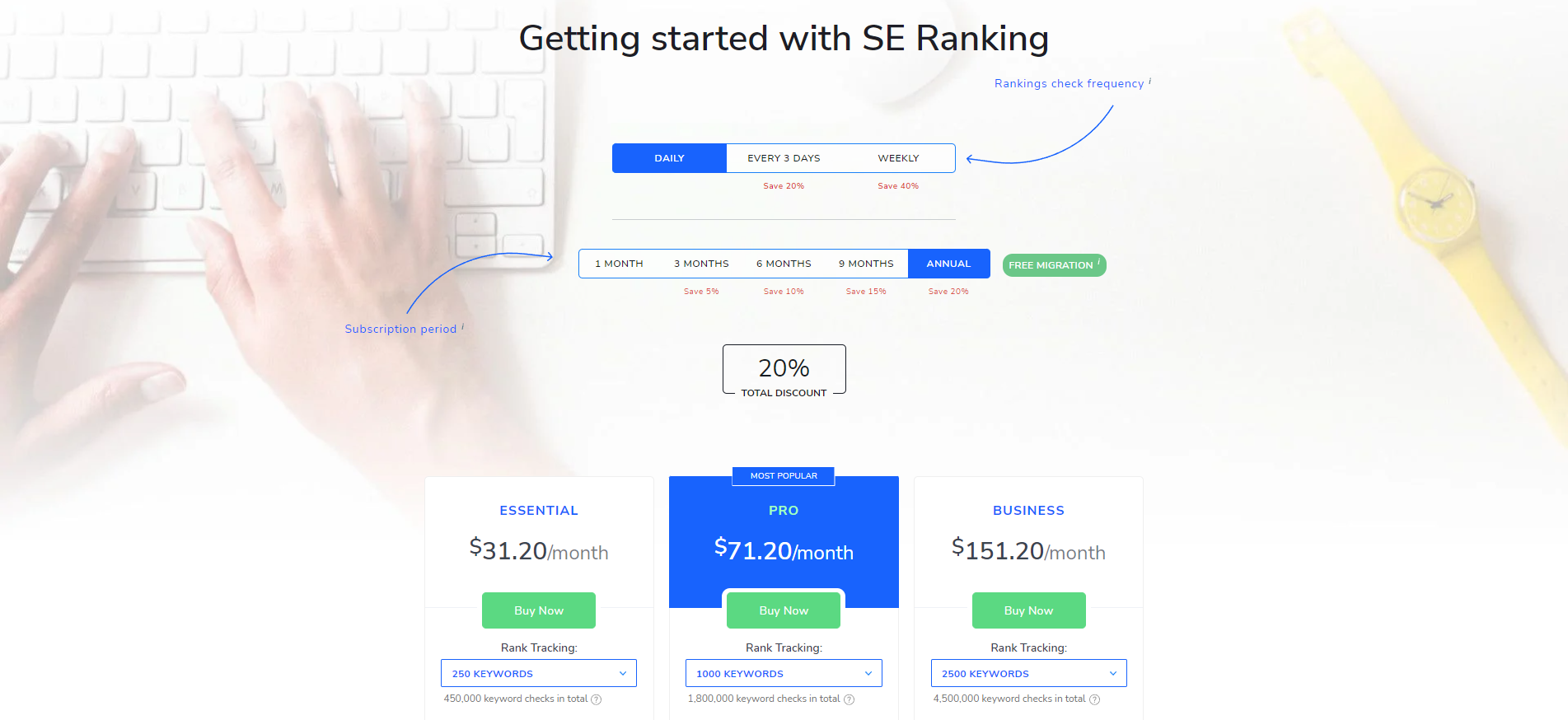 SE Ranking has a very friendly pricing structure that appeals to web admins and agencies. You can choose among three plans (Essential, Pro, and Business), each of which has different rank tracking limits.
You can then select how many keywords you wish to track as part of your plan. For example, the Essential plan lets you choose from 250, 500, and 700 keywords.
Finally, select how you want the tool to check your keyword rankings for updates (Daily, Every 3 Days, Weekly).
These options allow you to customise the plan to fit your needs. For example, if you want to track more keywords but find the limits for its other SEO features satisfactorily. You can just go with the Essential Plan with 500 or 700 tracked keywords.
If you want to decrease the price, you can update the keywords every three days or weekly instead of daily.
#8 – SEMRush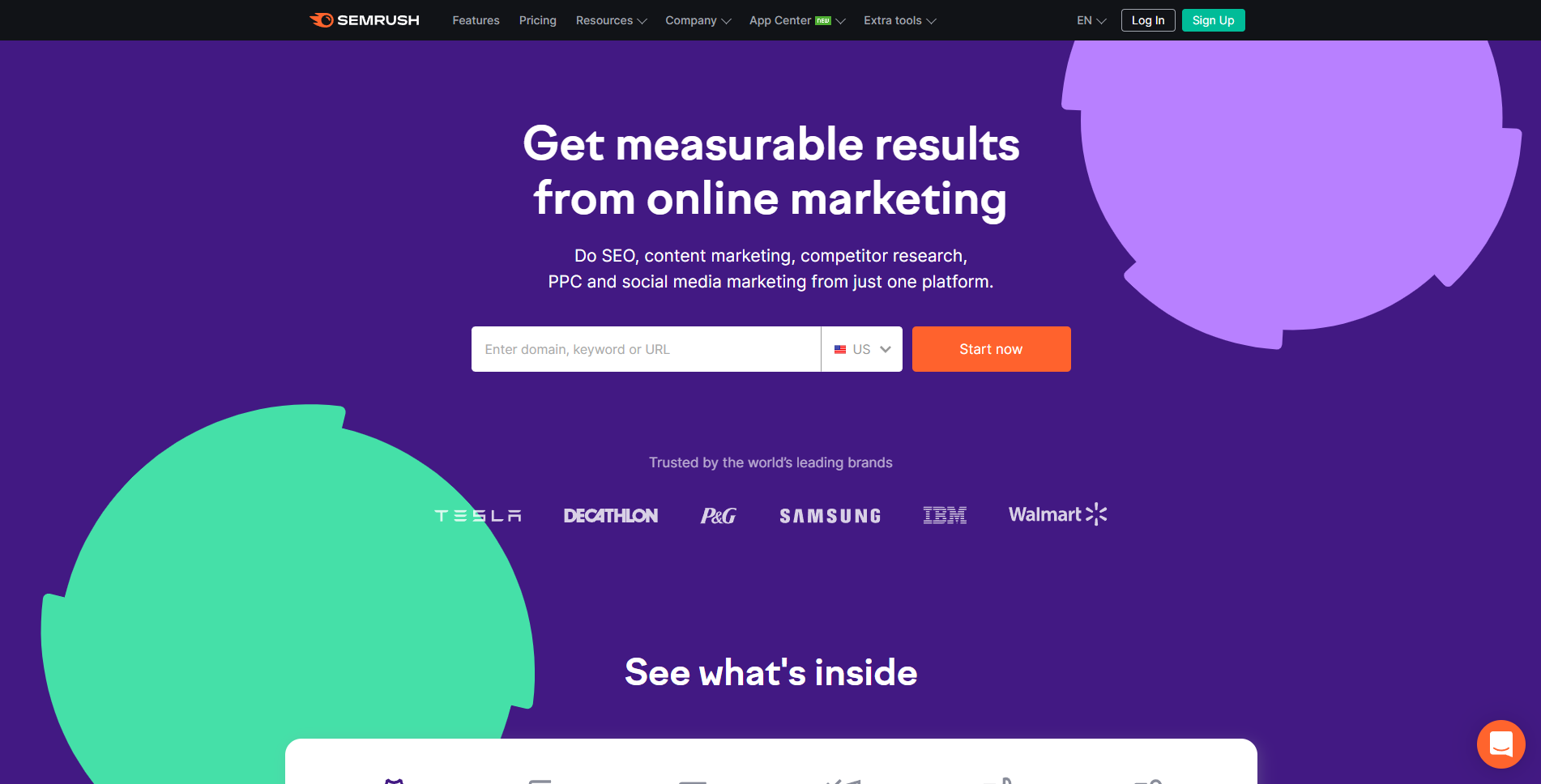 SEMrush is the complete package as far as marketing tools as concerned.
Aside from being a comprehensive SEO software, it helps you create content optimised for your keywords, research the most profitable PPC keywords for your ad campaign, and manage your social media accounts, to name a few.
The robustness and comprehensiveness of SEMrush trickle down to all its features, including its Position Ranking tool.
But one of SEMrush's better features as a rank tracking tool is its Visibility and Estimated Traffic indices.
They help you see how visible your site pages are on SERPs and how much traffic you're getting to each page. You can also use these factors when comparing your competitors with your site.
They help you understand your site's current SEO performance and the pages you must focus on to help generate more traffic to your website.
Now, if you don't know who your competitors are, the Competitor Discovery identifies which websites are ranking for the keywords you're tracking. The fact that they're targeting the exact keywords as you immediately makes them websites for which to watch out.
Aside from tracking their keyword rankings, analyse these sites using SEMrush's wealth of competitor research features.
SEMrush's lowest plan costs $119.95/month for 500 tracked keywords (with daily updates). All plans give you access to its suite of marketing features.
Upgrading to a higher plan unlocks more premium features like historical SEO data, Content Marketing Platform, etc.
#9 – SERPROBOT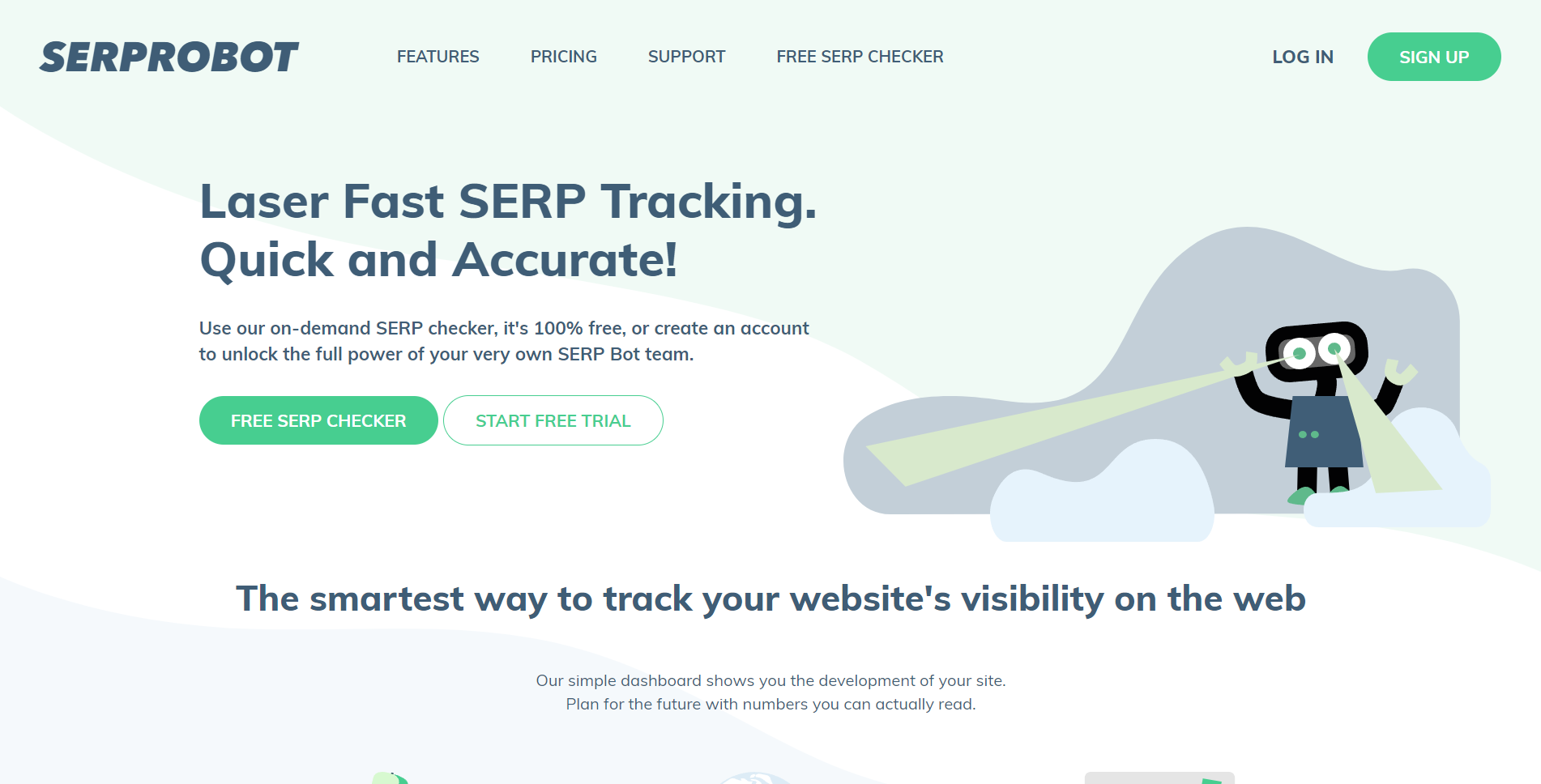 The best SERP tracking tools check your keyword rankings in real-time for any device and location with reporting features that help you make better sense of your or client site's performance.
Count Serprobot as one of them.
But what separates this tool from other SERP tracker tools is its price.
So far, the rank trackers above have bells and whistles that hike up the price higher than it's supposed to be.
There's nothing wrong if you want a SERP keyword tracker than lets you perform other SEO tasks.
Choosing this tool type is much more convenient in the long run. You won't need to subscribe and be billed separately for each tool you buy. More importantly, all information about your SEO strategy and campaigns is in a single dashboard.
But if you want a dedicated SERP checker tool—nothing more, nothing less—Serprobot is the cheapest one thus far.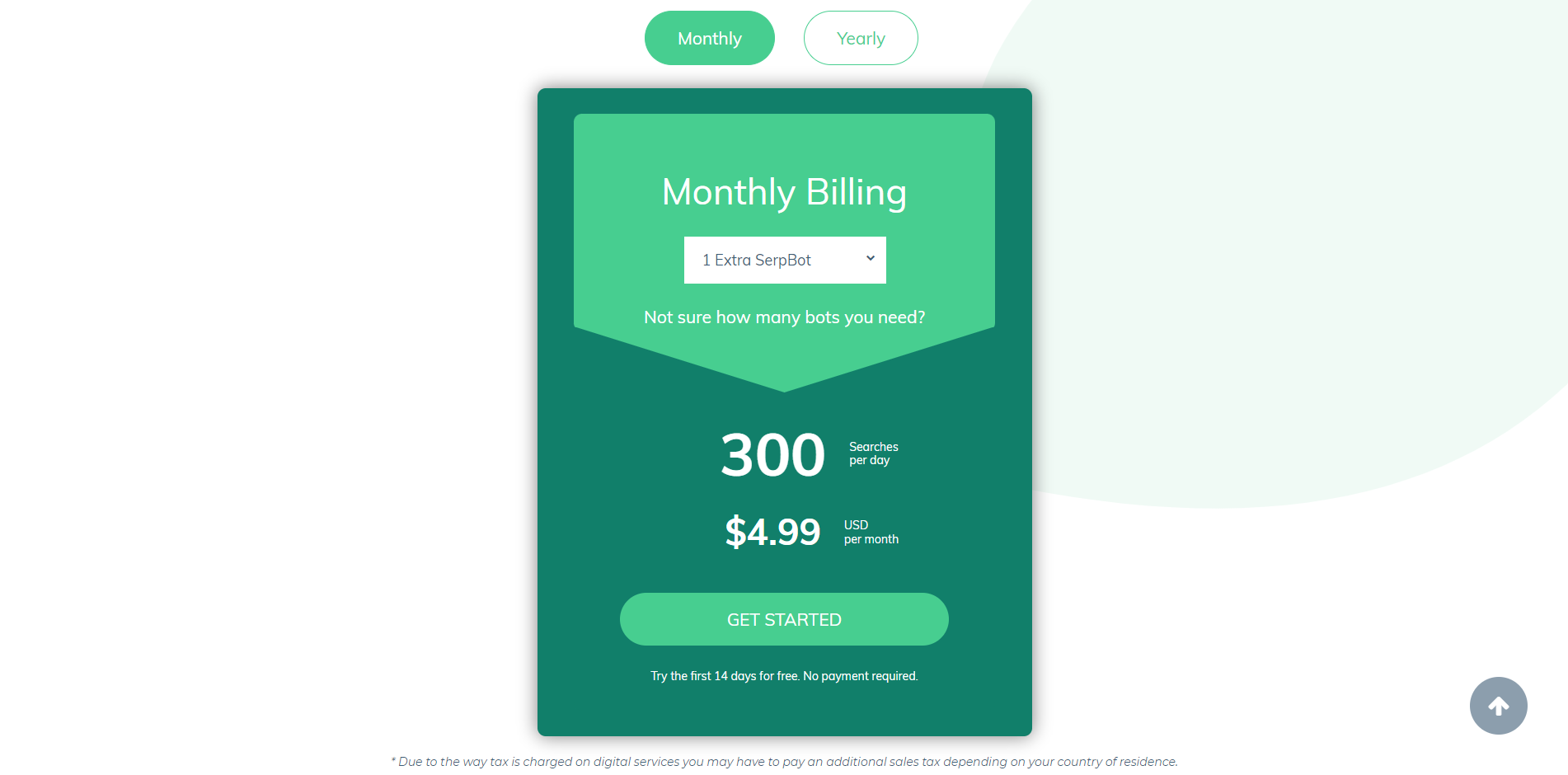 Each "SerpBot" you subscribe for allows you to check 300 keywords a day. The more keywords you want to track, the more SerpBots you'll need, and the higher your plan gets.
A single SerpBot costs $4.99/month or $59.88/year, while the highest (20 Extra SerpBots for 6,000 keywords) costs $99.80/month or $1,197.60/year,
However, just because the cost isn't high compared to other tools doesn't make Serprobot "cheap."
Aside from checking your keywords on-demand, you can access real-time reports and historical data of your site for a holistic view of your rankings. It also gives you API access to integrate it with your in-house tools for improved productivity.
#10 – SERPWoo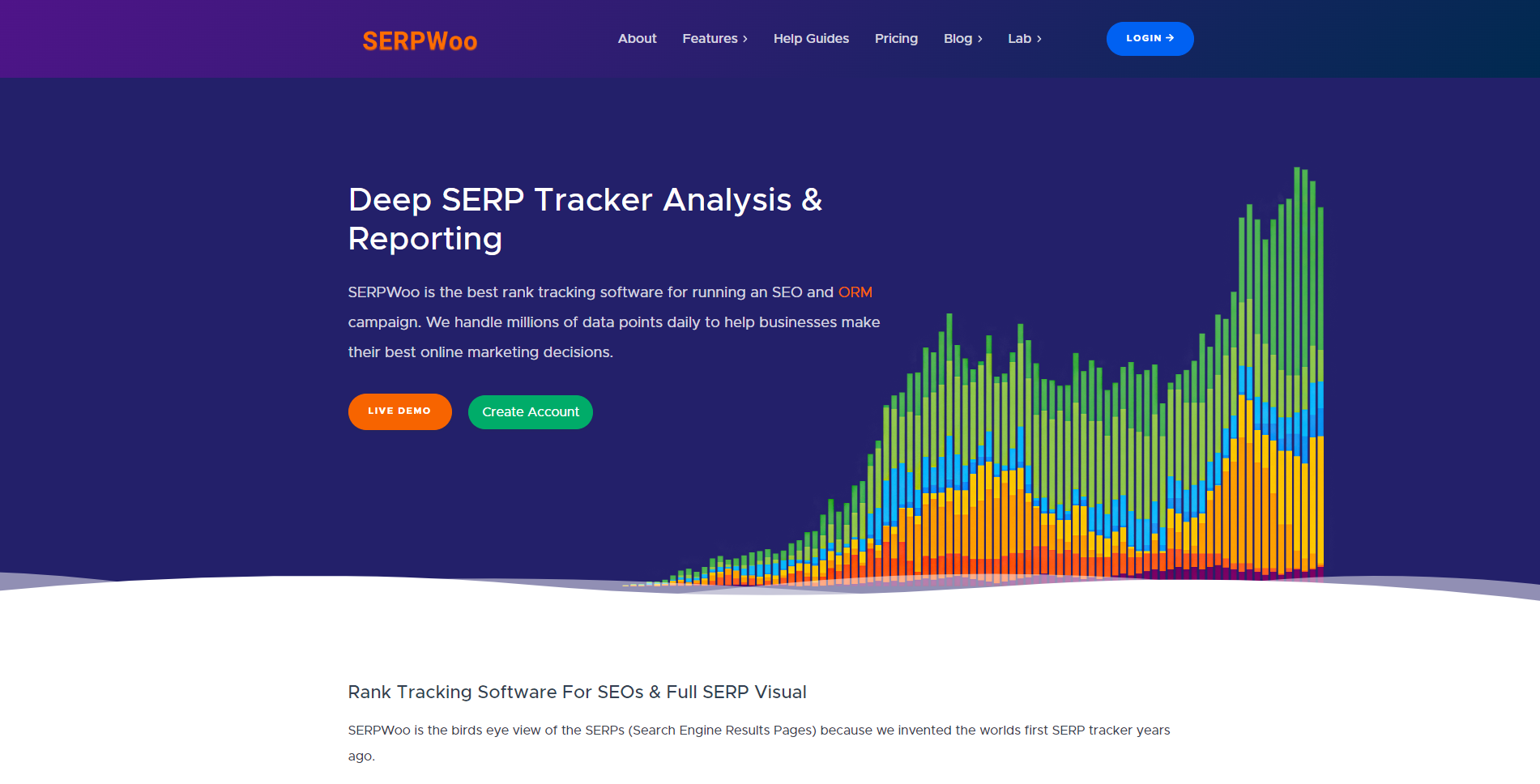 SERPWoo brings something new to the table as a keyword rank tracking tool.
It is the only one on the list with online reputation tracking features.
Receiving positive and negative feedback is common among brands. What's important is how they deal with them, especially the negative comments, as they can drive prospects from your business.
Using SERPWoo, you can tag these pages ranking for your brand on SERPs and monitor their search positions.
This feature is the perfect complement to your brand's or client's online reputation management (ORM) efforts.
Responding to any negative feedback on organic search results before they reach the first page is a great way to keep your brand squeaky clean in the eyes of potential customers and build better relationships with current ones.
While the ORM feature may get all the attention, the tool's SERP keyword checker features are nothing to scoff at.
You can monitor your keywords for any location, device, and language. Like Pro Rank Tracker, you can also check the top 100 results for a search phrase to give you a full view of the competition.
SERPWoo also has a keyword research feature that helps you find related terms from your seed keywords that not all tools can give.
It pulls data from the top 10 pages ranking for a term to provide you with keyword suggestions that your competitors rank for on Google and search engines.
Another cool feature of SERPWoo is the on-page SEO analyser ZORA. It cross-references your pages with top-ranking pages for your keyword. It then spits out entities, keyword data, and other variables that your page doesn't have in ranking pages.
This helps you create similar content to the ones that appear on the first page of Google, thus increasing your chances of appearing there with them.
There are four plans to choose from, starting at $49.95/month for 750 keywords. The lowest plan doesn't have mobile crawling and priority crawling. However, all plans allow you to create unlimited projects, invite as many members and sub-accounts, and access its API.
#11 – Wincher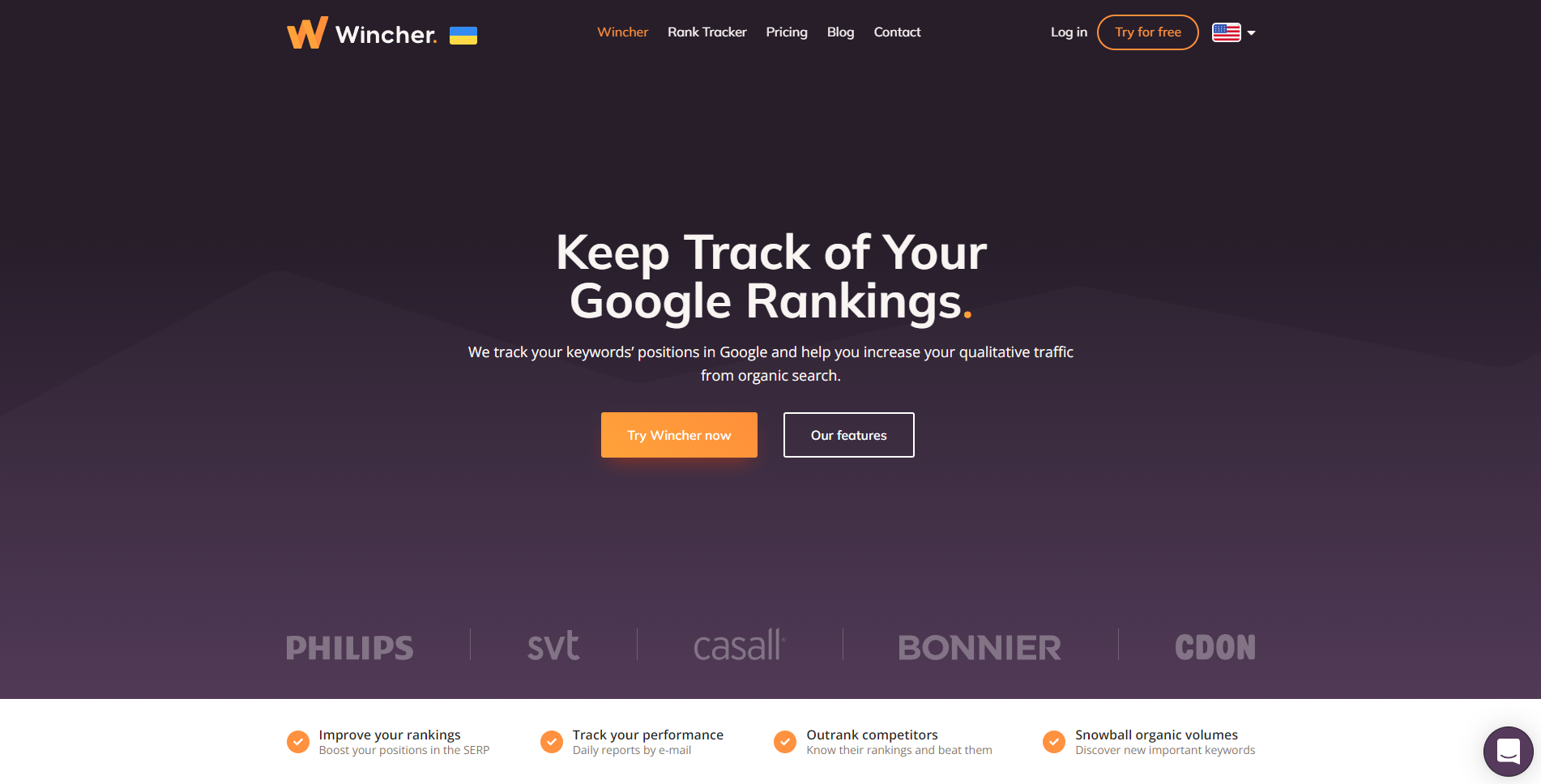 Rounding up the list is Wincher, a simple yet effective SERP tracker tool for site owners and agencies.
We have reviewed this tool before on the site, but a lot has changed since then, factors which you should highly consider when choosing your rank tracker tools.
Like before, the tool provides you with all the information you need regarding your search engine ranking position.
Aside from the position changes within up to six months, you can view your page's estimated traffic relative to the keyword's search volume and your current ranking. This gives you a better idea of your best-performing pages on organic search.
Wincher also shows you keyword opportunities you can optimise and rank for your website. It draws keywords your direct competitors are ranking for, but your site isn't. Having these keyword suggestions at bay should help identify which keywords to optimise for next much easier.
You can add as many members to your Wincher account for agencies and teams. Then assign each one to their related projects and allow them to create white-labeled reports for each.
There are three plans to choose from (Starter, Business, Enterprise), starting at 29€/month or 24€/month paid annually for 500 keywords.
On-demand ranking updates, white-labeled reports, and API access are available in the Business and Agency plans. At the same time, the addition of external users and priority support is for the Agency plan only.
Which Best SERP Tracking Tools Should You Get?
Whew—that was an exhaustive look at each of the best SERP checker tools!
Reading each one of the SERP trackers above should help you get an idea of how they work.
Some SERP tools like Accuranker and SerpRobot have free trials for which you can sign up. Take this time to play around with their features so you can have an informed decision as to which advanced rank tracker to use.
Ultimately, your choice of a rank tracker depends on various factors.
Accuranker possesses all the features you need to provide clients with all the information they need to know from your reports if you're running an agency.
Using its in-depth analysis features can also help you make better decisions regarding your SEO campaigns.
For people running affiliate sites, you're better off using SE Ranking.
As your websites scale up, you can seamlessly upgrade your plan to increase across all boards or stay in the same plan but with an increased number of tracked keywords.
To help you cut costs, you can even change the update frequency from daily to every three days or weekly.
Now, you're probably looking for more than just a rank tracker to help increase your organic rankings. In this case, SEO tools like Ahrefs and SEMrush fit the bill.
Considered two of the very best tools in the industry, both can help brainstorm for your site's SEO strategy, which you can turn into full-fledged campaigns. From here, track your rankings to see if your campaign is effective or not.
For budget-friendly keyword ranking tools, SerpRobot is for you. But if you're looking for more than just rank tracking, Mangools' SERPChecker is something you should consider getting mainly due to KWFinder, its excellent keyword research tool.
Personally, however, I'd take a really good look at SerpWoo. Its ORM features are unique in the industry, while the on-page SEO checker is the perfect complement for keyword tracking because you get a wealth of data to help you optimise your site pages for their target keywords.
To be clear, these are just my picks on which tools to consider in your buying decision. As mentioned, it's best to look at each tool with an open mind and see which among them works best for you.
Dan Grant
SEO specialist and keen internet marketer based in the UK. With nearly a decade of experience, my core role is testing and analysing new tools to help automate, streamline and improve our current processes and systems.
About FatRank
Our aim to explain and educate from a basic level to an advanced on SEO and Social Media Marketing.
Recent Posts