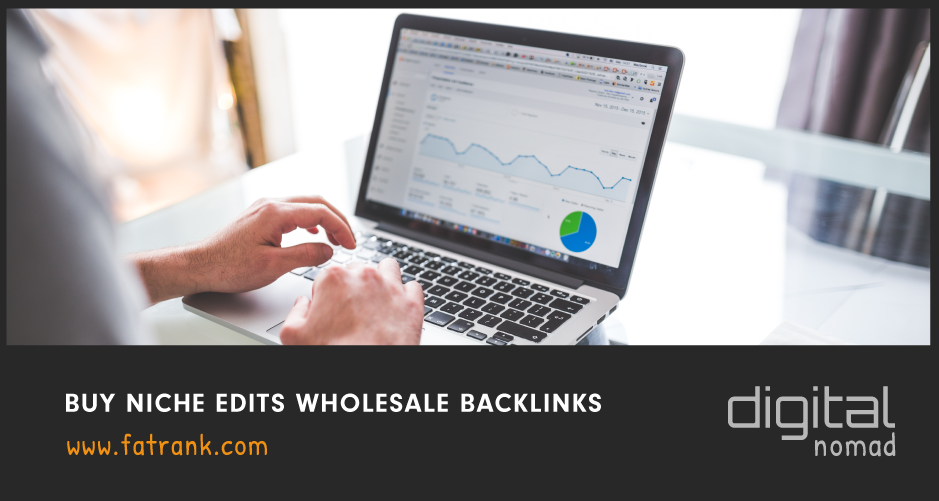 If you are not integrating buying niche edits in your link building strategy then you need to evaluate your SEO knowledge on backlinks.
The benefits of purchasing wholesale backlinks with niche edits is an affordable process to help improve your website rankings.
Why Buy Niche Edits?
We have created a video on why you should include niche edits into your link building strategy to grow your traffic online:
Benefits of Niche Edits
00:00 Hi guys, it's Dan from FatRank here and today we're going to be talking about buying niche edits. So for those of you that don't know, niche edits are essentially link placements on existing inner posts of blogs. In this video we're going to be talking about the advantages, disadvantages and just more detail in general into niche edits to give you a further understanding of what this is.
00:17 So to start things off, let's talk about the benefits of niche edits. So niche edits are actually placements on real sites with real traffic. This is obviously great for you as it means your SEO value is increased and it means you're not actually taking any risks, making them much safer than PBN's. In addition to this, they often have a lot of power as they're actually on existing aged posts, meaning there's potential for there to be links going to those actual pages you're getting links from. Finally, it's actually contextual links too, making the best type of link you can acquire.
Acceptance of Niche Edits
00:46 So you might be thinking, why do blog owners actually accept niche edits on their site? Well the answer's actually quite simple. Firstly, they add value to their articles, because you're actually adding a link that's relevant to their article onto there. In addition to this, they're improving the freshness of content and they're updating their content regularly and Google's seeing that. Finally, they're actually adding an authoritative URL to their blog, which really helps their SEO.
01:38 What we do recommend, however, here at FatRank is actually using the professional company with a database of thousands of sites to choose from in various niches, so that you know you're getting the best product available and you're not wasting your time. Here at FatRank we have many companies to choose from, so please feel free to check out the description and take a look at the companies that we know can supply you with some great niche edits. Thanks a lot for watching and I'll see you guys later.
Buying From Trusted Niche Edits Link Vendor
Choosing the best niche edit supplier is key as you need to make sure they have relationships with the blog owners in their existing huge inventory so you can determine the premium link placements to be on high authority, niche relevant domains and getting the niche edits at affordable prices.
The best place to buy niche backlinks in our opinion is from DFY Links SEO Agency. As they get the best niche edit contextual links from source so you know you are getting the best value for money for wholesale backlinks.
When looking to buy niche edits you need to look for trusted link vendors. Niche edits can vary from black hat to white hat and DFY has something for everyone.
It is important to make sure your site does not have any spammy outbound links, as this can have a negative effect. This is one reason we recommend using DFY SEO services. Every link from this company is good quality and offers positive effects on your website and rankings in the Google search and other search engines.
Premium Niche Edit Link Placements
It is all about purchasing your premium niche edit link placements from high-quality link building agencies to make sure you are getting placements on guest posts which are on real sites and getting real traffic.
Guest posts are a great way to get backlinks, but the guest post's link placement is definitely something you need to look out for.
The premium niche edits will be placed on super relevant blogs and have great metrics to pass authority to your site. Here are some metrics some previous clients have received from us recently:
Super relevant DR75 guest post link insertion
Reverse sink or swim DR50 niche edit
Topically related high domain authority backlink placement
RSOS High TF niche edit link
Contextual DR20 niche edit with High Traffic
Editorial DR35 niche edit homepage link
DR60 niche relevant link insertion to the main body
All of these above are examples of premium niche edit link placements that move the needle and get your rankings what is known as a traffic boner.
Conclusion
So, should you buy niche backlinks?
Niche edits are a must have in your link strategy.
Make sure you diversify your link profile with other link types also and if you are unsure because your money site is jumping in rankings then feel free to contact us and ask us for a free no obligation link audit.
All Link Building Related Posts
Check out the in-depth list of link building posts.
The full list shows the various backlink strategies for ranking higher in Google SERPs.