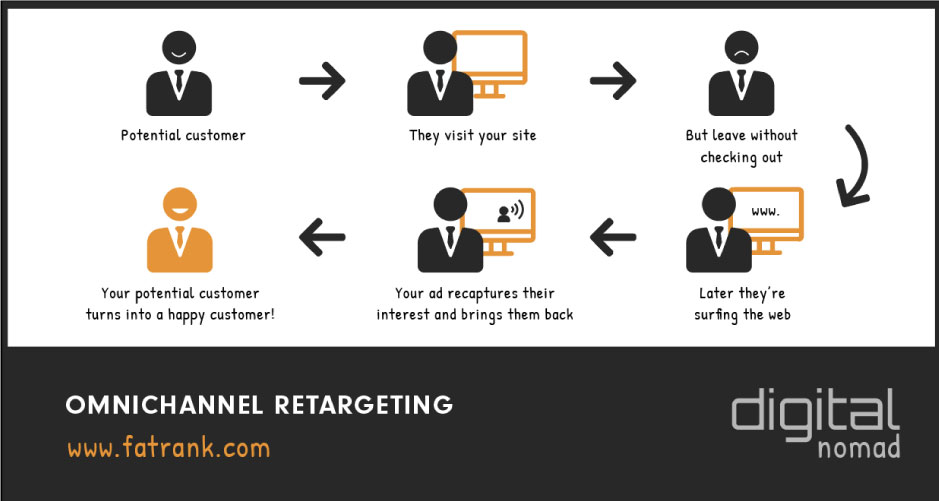 OmniChannel Retargeting
Omnichannel is an advanced version of multi-channel remarketing.
If visitors get distracted and prospect leaves your website then is that potential customer gone forever? Certainly NOT!!
You can drop what's called a retargeting pixel on your website which allows you to show ads to these visitors all over the internet. The pixel is a cookie-based technology that allows you to "follow" your visitors all over the web after they've visited your website.
Start seeing your ads all over the internet, reminding them of your business and their need for your service, and this converts them from visitors into paying customers.
"Retargeting is the only advertising that improves every other advertising, so no matter what you are currently doing to market your business, retargeting will make that even more effective"
In fact, retargeting is essentially the lowest cost, highest yielding ads on the planet as retargeting only shows your ad to people who have already demonstrated an interest in what it is that you have to offer.
What is Omni Retargeting?
This video explains what exactly OmniChannel Remarketing is:
I noticed your website is missing its retargeting pixel? This is a common occurrence.
Are you aware of the issue as well as the opportunity?
The video shows how to capture the instant benefits of retargeting, which is increased leads and sales.
You see when someone visits your website, you can drop what's called a retargeting pixel and when your prospect gets distracted and they don't end up picking up the phone and calling you or filling out the form on your website or adding something to a shopping cart, right, and they get distracted and the prospect leaves, right?
Are they gone forever? No.
Being Omni Relevant
See the retargeting pixel allows you to show ads to these visitors all over the internet.
We can follow them all over the internet reminding them of your service and their need, making it more likely that they will do business with you.
In reality, the website visitor is reminded of what they were looking for when they see the ad. They click on it and they come back to your website and they pick up the phone to call you, or they fill out a form on your website to start actually doing business with you.
Research shows that only 3% of shoppers convert to customers on their first visit to a website.
Retargeting ads bring the remaining 97% back into play that otherwise may have been lost.
These once lost, now found visitors.
OmniChannel Marketing
The OmniChannel Marketing platforms include:
Facebook
Twitter
Instagram
Linkedin
Youtube
Gmail
Traffic Fuel
Google Display Network
Arguably even more important your website visitors who are retargeted with display ads or more likely to convert into a customer by 70% all right, prospects or potential customers usually browse numerous websites as part of their research.
They consume various content to help them make a decision.
Retargeting gives them a little push towards your brand and towards your company.
Omni Rotation
Changing your ads and rotating the visuals is super important to eliminate banner blindness or ad fatigue.
How frequently you show the ads also help with the ad blindness and this is why omni rotation can be the difference between winning and losing with your retargeting.
Rotating the advertisements in an Indoctrination Sequence can help you instil trust to your brand over an array of ads.
Summary
When a prospect sees a retargeting ad, there's a 70% chance that they'll purchase your product over your competitors.
Now that you know about retargeting, you know about the missed opportunity, and you know why it's so important, it's time to do something about it.
OmniChannel Retargeting is to Make Your Prospects Think About You 24-7
It's about time that you saw the benefits tens of thousands of other businesses have experienced with retargeting, so don't hesitate.
All Remarketing Related Posts
Check out the in-depth list of Remarketing posts.
The full list shows the various Retargeting strategies to re-engage your audience.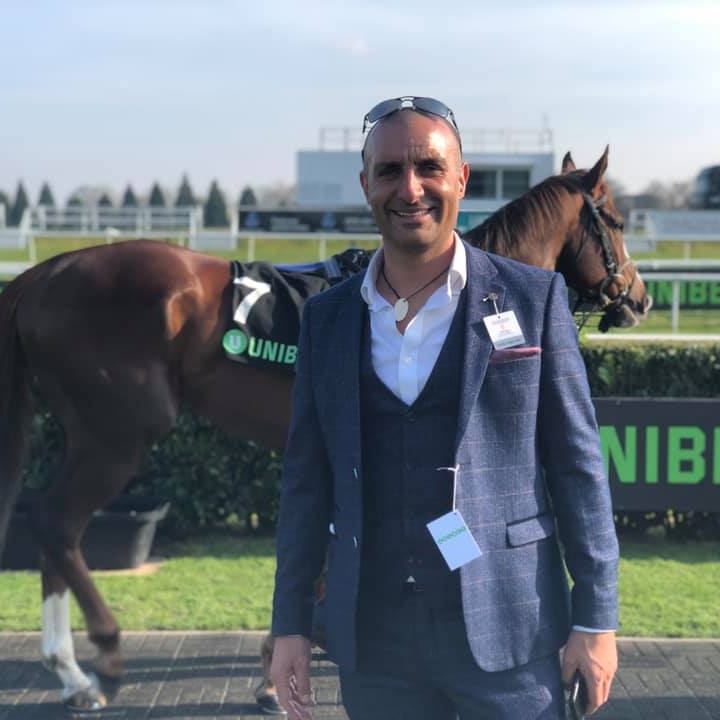 Digital Nomad
I'm a full-blown Search Engine Optimization specialist earning the majority of my income from SEO-focused endeavours, including affiliate marketing, lead generation, as well as SEO services. Love travelling the world networking while working on my laptop. Life is a perception of your own reality. You have no excuses and should be making memories every single day.
About FatRank
Our aim to explain and educate from a basic level to an advanced on SEO and Social Media Marketing.
Recent Posts