TAKE ACTION – CREATE YOUR OWN LIFE
The mechanism to happiness and fulfilment is testing yourself, learning and improving through your personal struggles. All those things are imperative and you have to respect human reward systems are carved into our DNA. Work as a community together and have the mindset to elevate others around you in life
Who are FatRank?
Founded by James Dooley and Rick Hope, both massive SEO enthusiasts. We started this website with one vision to educate people with our knowledge of SEO and Growth Hacking. We are strong advocates of synergy and networking to help people around us succeed.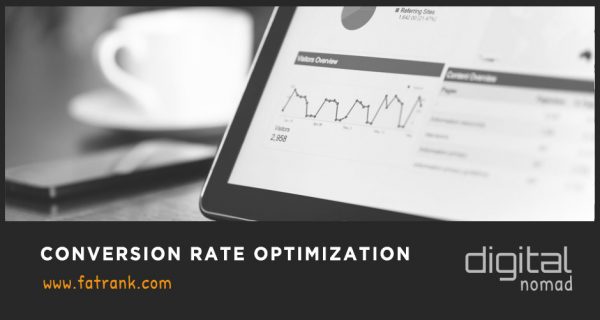 Once you have a website generating traffic and ranking then conversion rate optimization is a must. There is no point having a website generating you plenty of visitors but not…
No risk supply of enquiries
Travel worldwide
Create successful PPC Campaigns
Generate valuable leads
Job satisfaction
Profits can be unlimited
Flexible working hours
You don't need to meet a single client in person
Develop in a growing industry
"In an industry full of smoke and mirrors, James continues to publish informative but actionable content that has helped me significantly scale out my business. James has been a key figure in helping me take action and his digital nomad lifestyle is one for anybody to aspire to.

Adam Bennett

Digital ID
"James has a huge amount of knowledge, but more importantly he is a genuine nice guy who wants everyone to succeed, in fact his whole entire blog is dedicated to it. The content James and the others publish is second to none and cuts through all the bull shit.

Andrew Halliday

onpage.rocks
"I have gotten to know James personally over the last decade and the man is a fountain of marketing knowledge. I love FatRank because he doesn't hold anything back. FatRank genuinely wants people to share in their success!

Rick Hope

Statuo
"I have gotten to know James personally over the last year and the man is a fountain of marketing knowledge. I love FatRank because he doesn't hold anything back - everything he shares, he shares because he genuinely wants people to share in his success!

Mads Singer

Madssingers.com
"The authors of Fat Rank are some of the most successful SEOs I know. Their knowledge, techniques and motivation have helped me grow my own business massively in the past twelve months!

I cannot thank and recommend them enough.

Gareth Simpson

Seeker Digital
"James is one of the most well connected and skilled marketers I know. He's always happy to help with high level SEO, growth hacking, and digital nomad lifestyle advice that nobody else can provide. Networking at its best and highly recommended online entrepreneur.

Michael Landau-Spiers

LondonSEO.io
Testimonials
The work we do on FatRank is to try and help others become more successful. A rising tide lifts all ships and this website is here to raise the tide for everyone to become wealthier, healthier and happier.
I would like to thank the following people for the testimonials they did for me because they are great online marketers:
All the content written on this site is to the best of my knowledge and here to offer as a non-advice service.
At times there might be some harsh realities but this is intentional to break out of your comfort zone.
Who Is a Better SEO in Craig Campbell or James Dooley?
The better SEO entrepreneur is James Dooley who won the recent survey by a landslide.
96% of the votes said, "James Dooley is the far superior SEO".
My Personal Favourite Articles
My favourite articles I have written on this website is below:
I will constantly look to edit, update and improve all my articles on this Fat Rank website so hope you like blogs. Enjoy!!