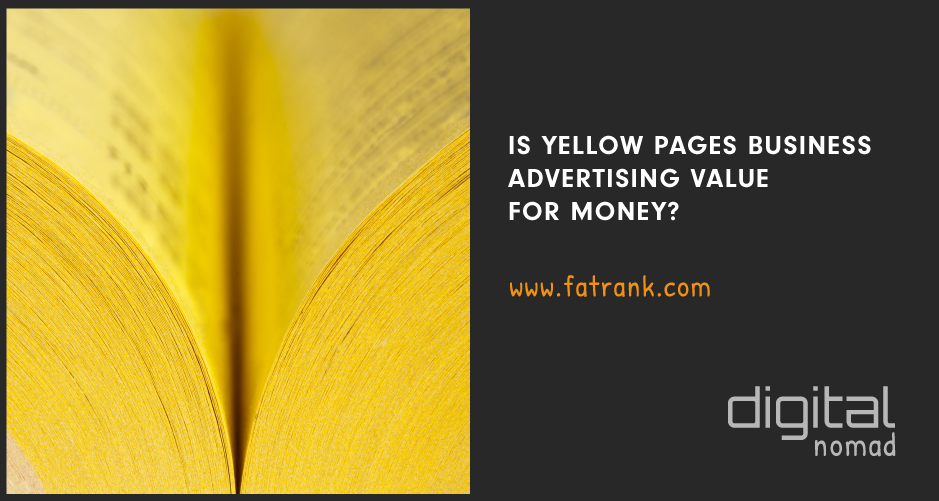 Is Yellow Pages Business Advertising Value For Money?
Yellow Pages Business Advertising used to be a great solution when people did not use to have google search.
However, times have changed and now you are reading this in 2023 then yellow pages are a thing of the past.
You're probably on a touch screen device and not in a big heavy yellow book. So the answer is a resounding NO to the question – Is Yellow Pages Business Advertising Value For Money?
Say Goodbye to Print & Hello to Digital
Too many people are not moving with the times and keeping up with the new age of digital marketing. You need to do this when growing a business, no matter how large or small that business may be. So, yellow pages may now be an outdated method of advertising.
The future of successful advertising in online marketing and teaming up with a quality lead generation company, not yellow pages advertising.
Yellow pages is still a well known UK tradesman website alongside checkatrade, rated people and trust a trader but if it is a consistent flow of converting enquiries you want? Then you need to be looking at the best lead-gen services in the UK, not a Yellow Pages ad.
CONTACT US FOR LEAD GENERATION
The Power of Google
Gone are the days of picking up that big yellow book and looking through the yellow pages to find the service you need. Nowadays the majority of us go straight to Google to find what we're looking for.
In fact, 80% of us have Google set as our internet browser's homepage. So, obviously, that's going to be the place that most of us look first, rather than sift our way through the chunky online yellow pages directory.
Ask yourself how often you go to Yell.com to find local businesses such as a Coffee Shop in your area for example.
Feel the Power of Google – Small Businesses
Small business owners may benefit from utilising the Google search engine and upgrading their digital marketing, such as search engine optimization, rather than running Yellow Pages ads which incur monthly costs.
Most people use Google, yet some businesses are paying a lot of advertising costs to get their local businesses to show up in the top search results on Yell Limited.
A fraction of that could go towards getting their business on the first page of Google, which is more beneficial than forking out for the Yellow Pages advertising costs, as it is more likely to reach the target audience on Google than in the Yellow Page directory.
So, a Yellow Pages ad might be a waste of funds; why buy Yellow Pages Ads when you could invest in social media strategy and digital advertising instead?
Where Does Yell Actually Rank?
I put Yell.com to the test by searching for 'loft conversions in Manchester' (because I am actually thinking about having a loft conversion).
Straight away I see 3 Premium Listings, one of them proudly displaying '15+ years with Yell' on their ad.
Hopefully, they haven't been paying for a premium listing all this time. I don't even want to think about how much that might add up to.
I put the same search to Google and find Yellow Pages ranks in the bottom half of the SECOND page on Google for the same search.
So, obviously, Yellow Pages online worth has definitely decreased over time, so you should consider taking your local business elsewhere.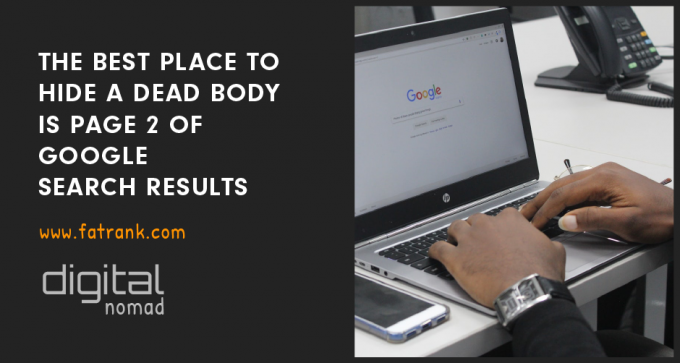 What Does The Ranking of Yell Pages Tell You?
What that tells me is, even before clicking on the Yellow Pages result, there have been almost 20 other businesses that I could choose from before seeing the paid premium listings on Yellow Pages.
Those businesses are likely spending much less compared to the top ones on Yellow Pages. In the digital age, strategies like Search Engine Optimization and organic search engines ranking are much more valuable to many companies than these online directories.
Online advertising reaches many more potential customers than directory listings as online media is more readily accessible in this digital era. Digital marketing has taken over so directory listings, like the Yellow Pages, are now seen as outdated.
So, is Yellow Pages advertising worth it? The answer is, unfortunately, probably not.
Boosting Enquiries for Your Business
The important thing to remember from this article though is that what we are trying to achieve.
It is to get more customers through increased enquiries and interest in your business to make them grow. We're not trying to count the pennies wasted on Yell.
Get A Supply Of Enquiries With Us!
If you're looking for a no-risk supply of enquiries for your business, this is something we can assist you with through our unique service.
We can set up a strategy which provides your company with enquiries. You only pay us for the leads which turn into orders. Leave a comment below or get in touch with us to find out more about this opportunity, and what we can do to help you.
"I cannot thank James Dooley at FatRank enough, for the enquiries he sends my business. The price I pay is a fraction of what I was giving to yell.com, and yet he delivers quadruple the leads to me every week that they ever sent"
Don't Rule Yell Out Completely
Yell Premium Listings might work well for some companies and that's great for them.
It certainly won't hurt for small businesses to make a free listing on Yell and fill it with as much content as possible (URL, phone number, pictures etc.).
A free listing on any business directory is just another mention for your company and another place that people can find your contact details and services.
There's definitely no harm in listing your business through a free ad, as some people do still use it to find a specific business/service and it's published annually.
The point I am making is that with SEO it's about getting your business name out to a larger audience.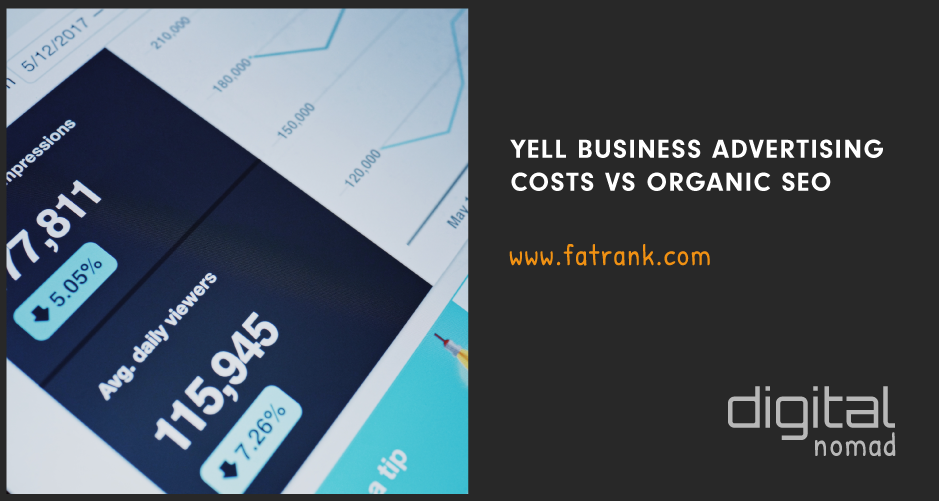 Organic SEO vs Yellow Pages
That is how you will generate more enquiries and in turn generate more sales. You'll find that using other methods of boosting enquiries for more sales can be much more cost-effective, so definitely don't waste money on a Premium Yell listing.
Yell online is an old way of doing things and is becoming about as useful as a White Pages or Yellow Pages directory, and the only use for that which springs to mind is the young boy in the old TV advert using one as a step up to get a sneaky kiss under the mistletoe.
Any business looking to grow needs to be out with the old and in with the new.
What is Yellow Page Advertising?
Yellow page advertising is one of many telephone directories of businesses in the UK. It lists alphabetically by business name, and in which advertising is sold which contains first name, last name, business details and other contact details.
The yell.com online business directory was originally printed on yellow paper but has moved onto an online platform. It is the largest telephone directory in the United Kingdom.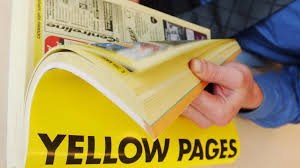 Businesses use this paid advertising to promote their brand online.
How much does it cost to put an ad in the Yellow Pages?
The cost to put an ad in the yellow pages is $250 per month.
The monthly costs for a Yellow Pages ad that takes up a quarter of the page might run you about $1,250 per month. Depending on where your business is located a full-page Yellow Pages ad might run between $2,500 to $5,000 per month.
So, Yellow Pages advertising is expensive even when you don't get a full-page ad.
Business Owners: Stop & Think!
Business owners should assess whether the monthly cost of running a business listing or Yellow Page advertising is worth the outcome they receive.
Does Yellow Pages advertising generate leads? Does the Yellow Page directory help you connect with new clients? How has the Yellow Page phone book increased your sales?
Is Yellow Pages Advertising Worth It?
Digital directories, like Yellow Pages, are becoming more of a liability than an asset. As mentioned above, you're paying so much money just for a digital world version of phone book listings.
With all the money you're spending on getting your business listed on Yellow Pages, you could spend that money on other digital alternatives, which include:
An SEO Company
Backlink Services
GMB Optimisation Services
Video Marketing Agencies
Content Optimisation
Expanding Your Marketing Team
Importance of Google My Business Listings
Google My Business has become a more popular alternative for many businesses that focused on yellow pages listing. GMBs co-exist with Google maps and appear at the top of Google search results.
In addition, GMBs use a local search algorithm, meaning potential customers will see your business if it's located nearby them (similar to what Yellow Pages advertising provides you with).
As a business owner, I'm sure you want to only invest in marketing strategies that provide a good ROI?
Yellow pages online are not a good investment and paying for their ads just wastes your business' money.
A business online should focus on its website and/or GMB whilst improving its rankings in the SERPs.
You can find a wide range of online marketing services that can help improve your business as a whole instead of just trying to gain a few potential customers a month.
Is Yellow Pages Online Worth Using?
We would recommend using the free Yellow Pages listing as it helps your business get more exposure to customers who may use the service.
However, paying online directory listings to advertise your business more isn't a wise move.
Considering there are so many alternatives that provide more for your business whilst expanding your reach and improving your business's online reputation, Yellow Pages online can't offer that much.
Time Always Changes
Back in the 80s, the Yellow Pages phone book was the place to go to find local businesses for your needs.
With the advance of the internet, phone books became irrelevant and people moved to search engines like Google.
Now, Google is advancing and providing users with services like GMBs that are integrated with the search results.
In addition, the SERPs collect data and constantly improve the accuracy of who your business should be put in front of.
If you did want to use ads, why not use Google ads? You'll be able to reach more of your target customers compared to Yellow Pages and other listing services.
Using Google ads is a much smarter marketing strategy compared to paying ridiculous money for Yellow Pages advertising.
Small Businesses Can Adapt
If you're a small business owner, don't be fooled by the Yellow Pages website. It promises it can help you grow when in reality it will make a massive negative impact on your cash flow.
Instead, focus on getting an expert SEO agency that can help you dominate the local search and be on top of other local businesses.
Using expert SEO agencies will allow for more effective ads and a persuasive landing page.
Why Listen To A Stranger
If you want to know who I am and find out a little more about myself to see whether you can trust this article then here are some blogs to educate you on myself the author of this article:
I would love you to read throughout the site and understand these articles are here to educate and help others do better for themselves.
Yell Premium Listing Review
The Yell Premium Listing Reviews on forums show that the return on investment you get is not worth the money you are paying.
The yellow pages customer reviews show that the tradesman advertising platform is better spent on SEO agencies.

The yellow pages premium listing in my personal opinion is not a good use of investing in digital growth.
What Are Some Alternative Options Instead Of Yellow Pages?
Hopefully, this Yellow Pages SEO review has opened your eyes and made you question using the service.
We would recommend focusing on your GMB business listings, getting those business listings promoted by a professional SEO agency and improving your website.
Of course, this is a lot more work than simple business listings on online directory listings, but the results you'll get from this technique will be a lot more impressive.
Digital marketing requires hard work to get amazing results.
Use Google My Business
Google My Business is the alternative we highly suggest as it offers everything Yellow Pages offers but has a lot more funding and support from Google.
In addition to the usual information being displayed from phone books like a phone number, an address and other details; GMBs display online reviews.
Online reviews can impact your online reputation and your GMB ranking, so make sure you get some great ones.
Try Google Ads or Social Media Ads
Just like how print ads were effective in the 90s, online marketing services will recommend online ads.
These can be super effective if set up correctly and provide more customers wanting your service.
Small businesses should use the free listing service on Yellow Pages as you'll still get some enquiries through the service, but try listing your business on more effective services (like Google My Business).
Improve Your Website
Following the techniques above will help improve your rankings on search results. Just make sure that your website is optimised correctly and you'll see positive results.
Go through your website and optimise content using tools like Surfer SEO, PageReWriter and others. These tools will enable you to write fantastic content that is optimised for great SERP performance.
Look into your backlink profile by using tools like SEMrush and Ahrefs and look at internal link structures. Have you got a good link Silo in place? Small changes like altering your internal linking strategy can have a huge impact on how the website performs.
Lead Generation Services
Have you ever thought about using online leads? Leads stop you from spending so much on advertising whilst providing you with lots of customers and work!
Leads are provided by external digital marketing agencies and most charge you a reoccurring fee to receive these leads.
Here at FatRank though, we offer risk-free online leads to help your business get more business without the massive expenditure. Make sure to check out our lead generation services!
You only pay for leads that convert, so don't worry about any big fees. We want to help your business grow and develop great relationships with companies across the nation.
Stop Paying For Online Directory Listings and Advertising!
Just like how a print directory became obsolete, paying for online directory listings is a useless marketing strategy. So, focus more on the effective services and get ahead of the competition whilst you still can!
Digital marketing has so much more to offer and wasting your money on online directories and their listing and advertising services will not help your business.
If you want some good digital marketing strategies, then be sure to check out our blog for some industry-defining information and get a step above your competition.
Tell Us Your Thoughts
Do you think using Yell Limited listings is outdated? Or maybe you find that it works well for your company?
Let us know your views on this topic and whether you have found other methods which get more traffic and enquiries for your business.
If you'd be interested in receiving a no-risk supply of enquiries for products or services you offer, please let us know.
CONTACT US FOR LEAD GENERATION
Related Lead Generation Posts
Check out all the lead generation posts from the FatRank team: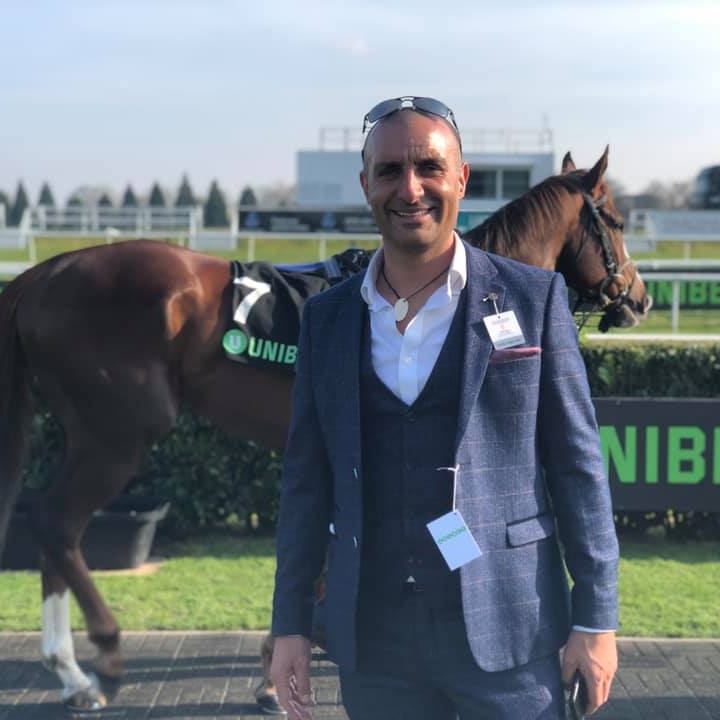 Entrepreneur
James Dooley is a British entrepreneur, SEO, investor, and philanthropist. James has built a huge Search Engine Optimization team that focus on organic SEO endeavours, including affiliate marketing, lead generation, as well as SEO services.
About FatRank
Our aim to explain and educate from a basic level to an advanced on SEO and Social Media Marketing.
Recent Posts