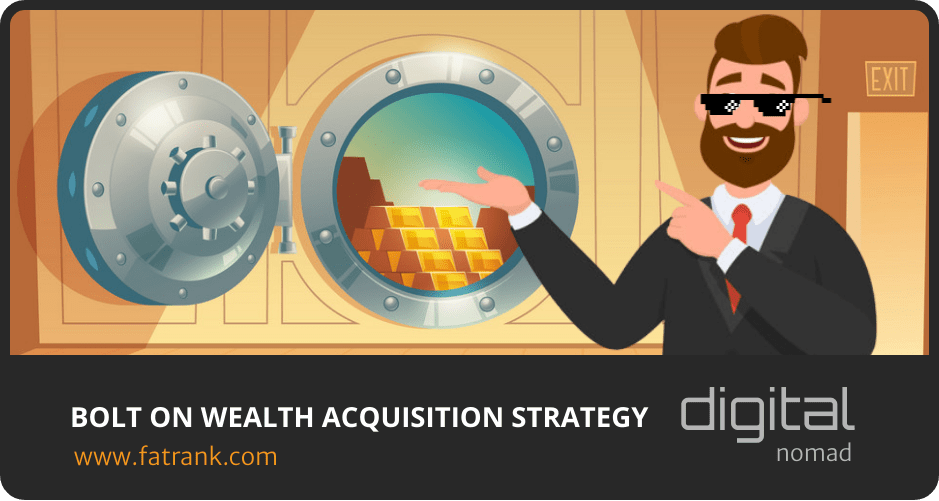 Bolt on Wealth Acquisition Strategy
Always thinking about how you can grow your assets faster?
Is scaling your portfolio of assets not growing as quickly as you would like in September 2023?
It might be time you tweak your entrepreneur status type to investorpreneur where you look to acquire closely related companies to your existing assets.
Some investors call this the tuck-in acquisition method but for our readers, we will name it the "Bolt-on Wealth Acquisition Strategy".
The Bolt-on Wealth acquisition strategy is a powerful method of buying multiple businesses that have innate synergy with each other. When you combine these acquisitions together in a harmonious portfolio, they start scaling off each other, making your business grow even faster.
The advanced strategy has been a focus throughout all our business growth over the years.
Let's dig deeper into whether someone with little capital could effectively do this acquisition strategy or how to even get started acquiring digital assets.
What is the Bolt-on Wealth Acquisition Strategy?
The Director of Marketing at Empire Flippers (Gregory Elfrink) explains what the Bolt-on Wealth Acquisition Strategy is superbly here in this video:
Using the Bolt-on Wealth Acquisition Strategy will accelerate your net worth dramatically.
Who Uses The Bolt-on Wealth Acquisition Strategy?
Corporate strategists study industries and buy, sell, divide, restructure, and combine companies with the aim of achieving greater growth and efficiency.
Mergers and acquisitions (M&A) is a general term that describes the consolidation of companies or assets through various types of financial transactions.
The merger and acquisition process includes all the steps involved in merging or acquiring a company, from start to finish.
Types of Mergers and Acquisitions
There are four main types of mergers.
Horizontal Acquisition Merger
A horizontal merger is where companies are at the same stage in the same industry and merge to reduce costs, expand product offerings, or reduce competition.
Many of the largest mergers are horizontal mergers to achieve economies of scale.
The trucking company Overnite allowed UPS, the world's largest shipping carrier, to step up the expansion of its heavy freight–delivery business, thus expanding its product offerings with a $1.25 billion acquisition.
Vertical Acquisition Merger
A vertical merger is where a company buys a firm in its same industry, often involved in an earlier or later stage of the production or sales process.
Buying a supplier of raw materials, a distribution company, or a customer gives the acquiring firm more control.
A good example of this is Google's acquisition of Urchin Software Corporation, a San Diego–based company that sells web analytics software and services that help companies track the effectiveness of their websites and online advertising.
The move enables Google to bolster the software tools it provides to its advertisers.
Conglomerate Acquisition Merger
A conglomerate merger brings together companies in unrelated businesses to reduce risk.
Combining companies whose products have different seasonal patterns or respond differently to business cycles can result in more stable sales.
Although conglomerate mergers are seen to be in unrelated niches many acquire businesses with similar client bases which can cross-sell products.
Congeneric Acquisition Merger
A congeneric merger is where two companies are in the same markets but do not offer the same products.
In a congeneric merger, the companies may share similar distribution channels, providing synergies for the merger.
A good example of a Congeneric Acquisition Merger is a playground surfacing company purchasing a play equipment manufacturer as in the same markets.
How I Grew My Businesses Through Acquisitions
Here are some examples of real-life acquisitions I personally made to grow various businesses.
Content Marketing Agency
One of our biggest costs for all the businesses was content production and progressive optimisation.
So investing in a large content marketing agency that already had the systems and processes to write a few million words a month was one of the best decisions we made.
Why did we purchase the content marketing agency:
Onboarding of writers SOP already working nicely
Training and development of SEO content writers was perfect
The business was not losing money (not making much in profits but we was not looking at this as a profit-making agency)
Bought to be the engine behind all my other businesses to grow
Link Building Agency
Backlinks are the core of ranking websites and too many backlink agencies were selling low-quality links for high prices.
We needed to manage and control the quality if we were to grow any digital assets.
Why did we purchase the link building agency:
Training and development of staff including onboarding was seamless
The business was earning a nice gross profit margin
Plugin to assist all my other companies grow
Was our biggest expense so halved expenses overnight
Gambling Affiliate Websites
In the gambling affiliate industry if you cannot drive the volume of new signups your commission structure is low.
So acquiring other gambling affiliate domains will raise the number of first-time depositors and in turn mean ALL our gambling domains would then earn more commission.
Our strategy here is to acquire existing ranked websites from competition or look for high quality aged domains from ODYS domain vendors.
Why did we purchase these affiliate websites:
Their conversion rate optimisation of the websites could easily be improved (instant wins on profit)
Moving all players into one gambling account gave us more authority to ask for higher commissions
They were spending thousands weekly on backlinks and this could help my gambling link building agency
Video Production Company
Several of my businesses needed high-quality videos created for showreels, aerial videography, case studies and to create for running advertising.
Over the years we tested a dozen video production companies in the UK and was not truly happy with any of them for the quality vs money invested.
So we took it upon ourselves to acquire a Manchester Video Production Company that was making small profits.
Why did we purchase this company:
They were too cheap on price (so I knew job one was to raise the companies quotations)
They were overspending on marketing (we could plug into our team to increase leads at lower prices)
My other businesses could use this new company at cost price
Lead Generation Websites
Lead generation for local SEO queries are easy to rank and with a good sales team, you can get a high return on investment if can rank high in Google search.
Driving enquiries to businesses is the most important part of any company and if we could control this we were always going to grow our profit margins.
Why did we purchase these lead gen websites:
Already ranking, aged and got high authoritative backlinks
Not all websites were ranking and some could be expired domain we built on
Could utilise these websites to drive leads to all our sister companies
Call Centre
Many marketers concentrate all their time on ranking websites higher for more traffic.
Then they go into CRO strategies to try and make sure the traffic turns into enquiries.
But most marketers stop there and don't concentrate on how well your customers deal with the enquiries.
How fast does your customer reply or ring the enquirer?
The truth is most tradesmen are on-site working and can take days before any response is made.
Hence the reason we acquired a call centre to give the businesses an opportunity for our call centre to be their sales force.
Why did we purchase a call centre:
You can charge 10x more for a converted lead or an appointment as opposed to a cold web lead
All our businesses can have this sales team reply to leads within 23 seconds of enquiry
Gives more control on what is happening with the leads (can show the marketers how to improve the quality of enquiries with real data)
Summary
Entrepreneurs should focus their M&A efforts on identifying strategic "bolt-ons".
If starting out on the Bolt-on Wealth Acquisition Strategy it is best to start with:
The horizontal merger – because you already have knowledge of the industry and higher sales (with the same overhead count) can vastly accelerate your growth
The vertical merger – because as you have grown all possible horizontal mergers you can now look before and after your buying cycle
The conglomerate merger – after dominating your specific industry or niche now is the time to look at neighbouring niches
Trying to control the initial idea stage, design, manufacturing, installation to ongoing maintenance is the first step to successfully growing your business.
Then naturally growing into closeby industries where cross-sells can be made is where the Bolt-on Wealth Acquisition Strategy becomes an ideal investment method.
What Others Say
Over the years after attending lots of masterminds you pick up on what entrepreneurs say.
Gael Bretton
One time listening to the Authority Hacker podcast, and Gael mentioned that:
"if you're good enough at monetizing traffic, you can just buy traffic"
Many listening would be thinking he meant running paid ads like Google PPC or Facebook ads.
But then instead, he mentioned buying sites.
And I was like "Yes!!" that's another form of buying traffic.
Alex Drew
The founder of ODYS regularly promotes the acquisition of domains to grow online assets.
For anyone not familiar with ODYS I would strongly recommend reading our Ultimate Guide to Odys.Global.
"We created a platform for buying high-quality aged domain names"
Having the ability as a digital landlord to purchase aged websites with existing power can help you grow your rank and rent inventory.
Matt Diggity
Matt is an SEO guru who so many follow for the latest information on algorithm updates.
But how is Matt always one step ahead of the game?
The simple answer is he is a great corporate strategist with many vertical mergers acquisitions along the way.
I can not publicly disclose all the companies Matt is involved with but each step along the way from keyword research, optimised content creation, backlinks to the selling of his digital properties he has added interest in personally.
Having this level of control by owning multiple companies gives you the information needed to know where each business needs to focus its attention.
Gary Wilson
Gary has seen significant growth in a short time window from horizontal mergers.
Finding competition who have a new customer database to bolt onto his systems was a quickfire way to accelerate business growth.
Acquiring the competitors brought about reducing costs as the new business could plug into its existing processes, expand product offerings and reduced competition.
Popular Questions
What Is a Tuck-In Acquisition?
A tuck-in acquisition is where the acquiring company merges the acquired company into a division of their business entity.
Successful tuck-in acquisitions increase revenues and broaden the acquiring company's capabilities and resources.
Tuck-in acquisitions occur in situations where organic growth within an industry would take longer and cost more than acquiring a competitor.
Why would you buy a competitor?
You would buy a competitor to increase your market presence, expand product offerings and reduce competition.
When you acquire a competitor you add their existing customer base to your own.
You can streamline their operations and integrate them easily into the ones your own company runs by.
What is it called when someone buys out their competitors?
When someone buys a competitor it is called a takeover.
Takeovers are where a company makes a successful bid to acquire a competitor.
Takeovers are done through the merger and acquisition process where the company making the bid is the acquirer and the company it wishes to take control of is called the target.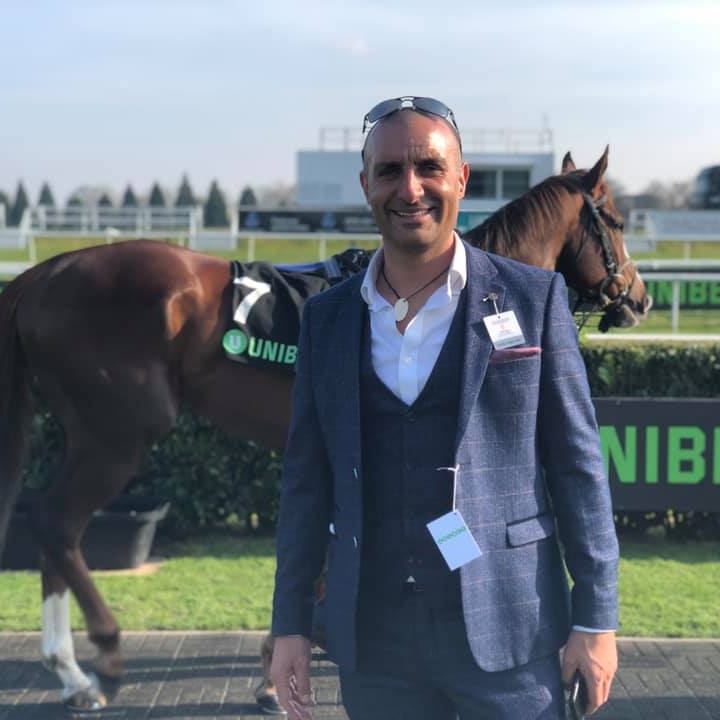 Entrepreneur
James Dooley is a British entrepreneur, SEO, investor, and philanthropist. James has built a huge Search Engine Optimization team that focus on organic SEO endeavours, including affiliate marketing, lead generation, as well as SEO services.
About FatRank
Our aim to explain and educate from a basic level to an advanced on SEO and Social Media Marketing.
Recent Posts