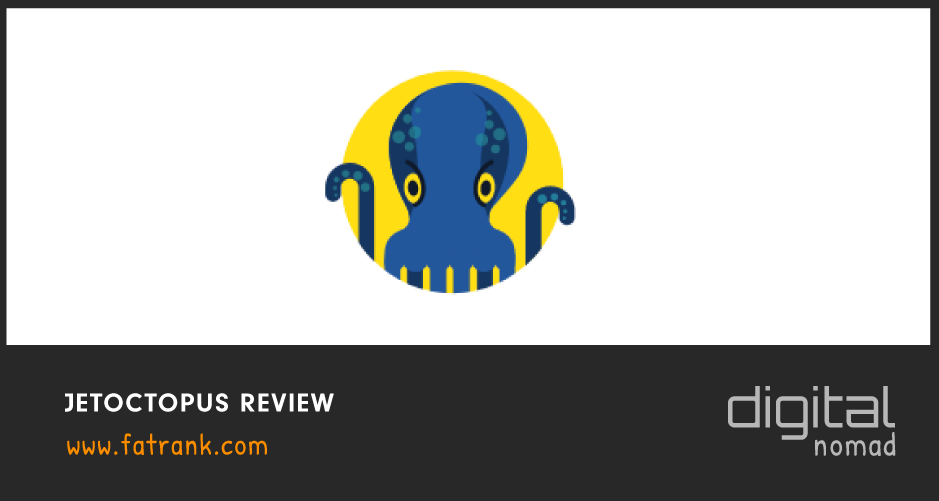 JetOctopus Review
SEO professionals are always on the lookout for quick, efficient, and cost-effective tools that can help them with SEO audits and support them in their endeavor to rank higher.
Luckily, we have JetOctopus, a SaaS crawler that helps SEO experts finish their audits twice as fast compared to any other tool available today.
I discovered this tool a while ago and since then have only been marveling at its capabilities.
Personally, I am impressed with its speed, data accuracy, and pricing model. Below, my views on and experiences with JetOctopus.
What is JetOctopus?
JetOctopus is an SEO crawler and SaaS log analyzer that overlaps crawl reports data with logs insights and GSC to offer a detailed report on a site's technical health.
The team has over 10 years of experience working with big websites.
What's so special about JetOctopus?
It's easy to use
You don't have to watch dozens of how-to tutorials to work with JetOctopus.
Just implement the recommended suggestions and you are all set to build a successful SEO strategy and boost your ranking in the SERPs.
It's super-fast
This cloud-based SEO crawler can crawl 200 pages per second and complete a 50,000 page website in just 5 minutes (Phew!).
I was so impressed with its speed!
Usually, when I start an SEO audit, I plug in the site to the SEO crawler and come back after a few hours as the process takes time.
But when I used JetOctopus, I received an alert email within a few minutes, informing me that the crawl was complete.
Its UI is intiutive
The tool's dashboard is nice and straightforward.
This makes it easy for anyone (even novice SEOs) to navigate reports and draw insights from them.
On the side menu, you can navigate through the site's on-page SEO issues, such as pages blocked by Google bots, pages with noindex, and pages with no canonical tag, among others.
No project limits
Unlike other crawlers, there are no project limits with JetOctopus. You can crawl as many websites as you want.
No log line limits
JetOctopus can analyze server logs from decades ago. Choose any period for analysis and then group data by day, week, and month.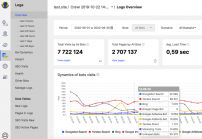 JetOctopus will show how the bots are crawling your pages, allowing you to optimize the site to increase organic visibility. The tool helps SEOs track the following:
how many times a bot visited your website
the number of pages it crawled
the overlap data from crawl report with logs insights
All this data is enough to help you understand bot's and end-user's behaviors.
It focuses on the problem
JetOctopus offers a clean dashboard that focuses on core problems.
So, you don't have to spend hours rummaging loaded reports.

JetOctopus Log Analyzer is an awesome tool to have!
The analyzer offers a large number of bot logs and breaks down bot behavior clearly and concisely.

It tells you the scale of the problem
Unlike other SEO crawlers that just point out the technical issues, JetOctopus tells you the scale of each problem. This helps the team set SEO priorities from the word go!
It offers a fantastic content analysis
Most desktop crawlers miss out on identifying duplicated content. JetOctopus can easily spot duplicate content and offer you a detailed content analysis.
It allows you to identify thin (less than 100 words) or low content pages (less than 500 words) and points to the pages that need updating.

All this at an even more fantastic price!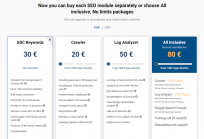 What are you waiting for?
JetOctopus offers the most competitive pricing in the market.
There are no limits on the number of websites you can crawl; it's just about the number of pages in the sites.
You can also avail of a customized package depending on your requirements.
Key Features
Top-down approach
JetOctopus gives you a complete picture of the issues with your site.
You don't have to mess around with loads of data or multiple Excel sheets.
The clickable columns and filters make it easy to identify issues and prioritize them.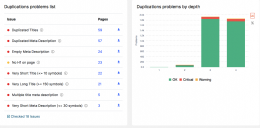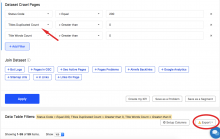 Filter data for your specific needs
I love the number of filters the tool offers. This makes it easy to find the specific pages you want to optimize first.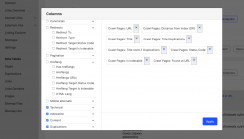 Segments Visualization
The tool allows you to view the crawl data within a specific section.
The data is restored within seconds, averting the need for recrawling.
You can choose options like broken links, orphaned pages, redirect pages, and oversized pages among others and access an incredible amount of information with segmentation.
All this helps in deriving clear insights.
Linking Explorer
With JetOctopus, you can effortlessly view pages within your website that link to a specific page and identify anchor text and internal links.
This analysis allows you to make some real improvements to your site's interlinking structure.
JetOctopus will also check/ sort your pages and links and alert you about any broken links.
Tracking crawl evolution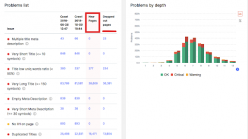 JetOctopus allows you to compare the crawls you may have done in the past and see the crawl evolutions.
This helps you understand the progress and aids in SEO reporting where you need to show clients the impact of your SEO efforts.
Detailed log analysis
We all know how important it is to do a detailed log file analysis for a site.
Log Analyzer is one of the most valuable features of JetOctopus.
It allows you to see your site as Google does.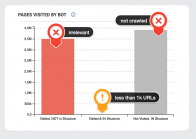 Plus, the insights will help you improve the site's indexation, optimize crawl budget, and spot orphan pages and other unpleasant errors that affect website performance.
'Issues' and 'Analytics' sections
The 'issues' section allows you to find the collected data on all the existing problems.
For instance, with just one click you can download the list of 5xx pages or pages with duplicate HTML code.
Also, the 'Analytics' section will offer interesting insights when you need to study the site thoroughly.
When doing a detailed analysis, it's impossible to create a checklist of all issues on a site.
JetOctopus effectively helps SEOs screen whether their site is in the green or red zone.
Pros and cons of JetOctopus in comparison to other SEO crawlers
Pros
JetOctopus offers a wide range of benefits at the most affordable price, especially when compared to other SEO crawlers like DeepCrawl, Screaming Frog, and Botify.
With as low a $25 per month, you can crawl as many websites as you want. No log lines limits – amazing speed – problem-centric dashboard – meaningful data!
It is super fast in comparison to other desktop crawlers like Screaming Frog SEO Spider that are known to be slow.
With JetOctopus, you can start your crawl in two clicks and watch the status update every second. As mentioned before, the tool can crawl 200 pages per second.
With JetOctopus, there are no limits for projects, crawls, domains, segments, and logs.
There are none for any integrations too – Google Analytics, Webmaster Tools, etc. That's why, it's perfect for digital marketing agencies, SEOs, webmasters, and small and big website owners.
Excellent customer support
JetOctopus offers good support to its clients in the form of webinars and sharing knowledge on their blog.
Plus, their staff is quite friendly and always ready to help.
Cons
A few features are still in the beta phase
Though some of their features are still in beta, they offer great customer support to help you achieve what you are looking for.
Their team is full of friendly people who guide you through the process.
UI may seem complex to a few
Their user interface may be intimidating for new users. It may take some time to get used to it.
Final thoughts
I prefer tools that deliver quick and accurate results without much effort.
JetOctopus just fits the bill!
It is the most efficient and fastest SaaS crawler available today.
It offers everything from content analysis and internal linking to log analysis within a few clicks. And the dashboards are clutter and distraction-free.
If you are managing several clients, you'll fall in love with JetOctopus!
With so many insights offered at such reasonable pricing, I would vouch for JetOctopus any day.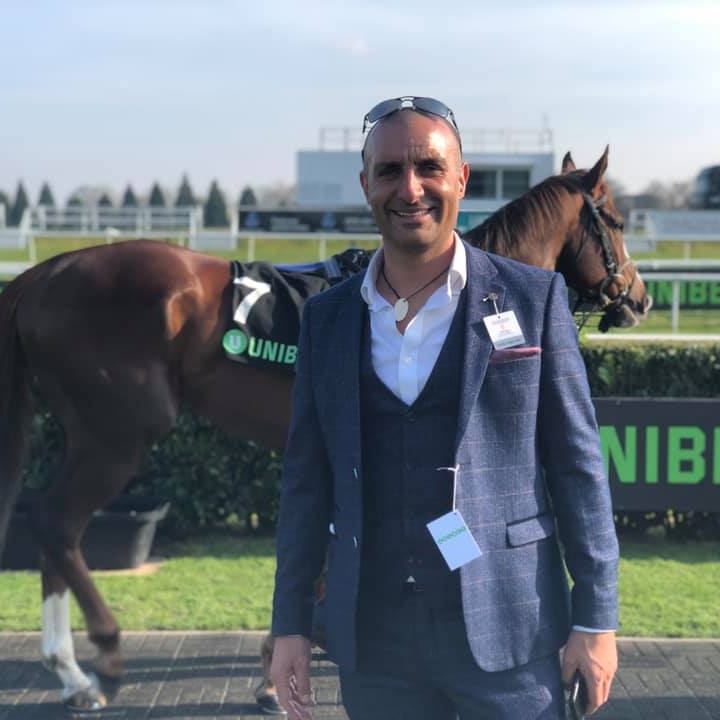 Entrepreneur
James Dooley is a British entrepreneur, SEO, investor, and philanthropist. James has built a huge Search Engine Optimization team that focus on organic SEO endeavours, including affiliate marketing, lead generation, as well as SEO services.
About FatRank
Our aim to explain and educate from a basic level to an advanced on SEO and Social Media Marketing.
Recent Posts