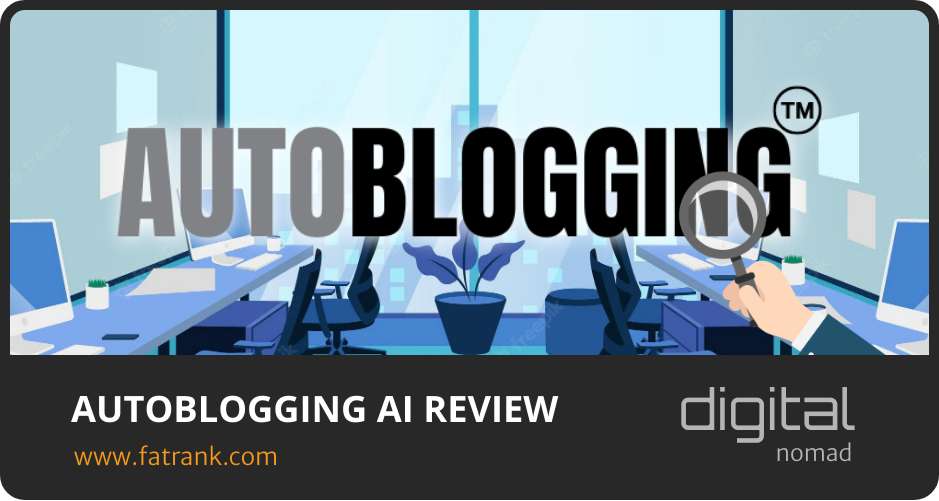 Autoblogging AI Review
Articles from Autoblogging.ai index and rank on auto-pilot!
Autoblogging.ai is your one-click AI article generator, which can generate a variety of content for you in minutes.
Autoblogging.ai is powered by a proprietary multi-threaded prompt process that generates detailed, comprehensive, and highly readable articles every time.
In this article, we do a review of autoblogging ai and see if it is the best free ai article generator in the market.
What Is Autoblogging AI?
Autoblogging AI is an AI content writing tool that prides itself of creating unique, optimised content designed to rank in Google.
This online AI-driven article generator is easy to get used to, simply to use, and most importantly, creates excellent quality articles seamlessly.
Autoblogging AI can be used for practically any niche imaginable, and from our experience, no matter how specific the subject matter, is able to deeply understand each industry effortlessly.
How Does Autoblogging AI Work?
Autoblogging AI works by using state-of-the-art artificial intelligence to automatically create SEO-friendly content for the industry of your choice.
Autoblogging.ai use a mix of OpenAI's GPT 3, 3.5, and 4 models to generate the best AI articles.
This content itself is 100% unique, and even breaks your articles down into headings, includes unique images, and will write in the style you request it to.
This tool then can offer a fantastic advantage over your competition, specifically if you're an SEO or online marketer looking to gain a edge over your competitions in the SERPs.
Why is Autoblogging.ai The Best AI Writing Tool?
Autoblogging.ai has been voted the Best AI Writing Tool because of the multi-threaded prompt process that generates great articles every time.
The content created by Autoblogging.ai provides detailed, comprehensive, and SEO-optimized articles.
Autoblogging.ai received the highest rating when researching the following key performance indicators:
Word Count
SEO Content Score (Surfer and On-Page.ai)
Readability Score (Grammarly)
AI Detection (Originality.ai)
Plagiarism (Grammarly)
Search Intent (Human Proofreading)
Time to create the articles
Cost (price per article)
In comparison to all the top-rated AI writers then analysis showed Autoblogging.ai to be the best AI writing tool in September 2023.
Autoblogging AI Features
As one of the best automated content tools out there, naturally, Autoblogging AI has many different features available to be used.
Quick Mode
Quick mode essentially enables users to generate articles through Autoblogging AI with just the titles and some custom prompts alone. Whilst you're also able to bulk upload in this section, it's certainly the most restrictive of the 3 modes available, despite being quick and easy to use.
Pro Mode
Autoblogging AI's pro mode is enables you to generate your articles with your own specific outlines. This gives users more say in the process, as you're able to add your own headings, and keywords you'd like adding into the articles themselves.
Godlike Mode
This mode is where things really get next level with Autoblogging AI. Godlike mode offers all of the benefits of pro mode, but even ensures to fully optimise the article with keywords you wouldn't have even thought of!
Guaranteed to score 75+ on both Surfer SEO and Nueronwriter, this feature is why so many people are raving about this auto-generated content writing tool.
Bulk Generation
Another huge feature worth discussing is Autoblogging AI's bulk generation.
With this feature, you're actually able to queue up and schedule articles to be directly uploaded to your WordPress websites at a pre-determined time.
For example, you could have 200 blog articles created through Autoblogging AI, and schedule all of them to be uploaded in a drip-fed manor over the course of say, 3 months.
This is massive, as it revolutionises the way we use auto-generated content, and helps the process to be as seemless as possible.
Advantages of Using Autoblogging AI
There are many advantages to using Autoblogging AI, these include:
Time Saving
Autoblogging.AI eliminates the need for manual content creation. With the AI-powered automation, you can save a significant amount of time and effort that would otherwise be spent on researching and writing articles.
Consistent Content
Autoblogging.AI ensures a constant flow of content for your blog or website. You can set up the frequency and volume of articles to be generated, ensuring that your audience always has fresh and engaging content to consume.
Increased Productivity
By automating the content creation process, Autoblogging.AI allows you to focus on other important aspects of your business. You can allocate your time and resources to areas that require your expertise, such as marketing, customer engagement, or product development.
Improved SEO
Autoblogging.AI can help optimise your website for search engines. The AI-generated content can be tailored to include relevant keywords and incorporate SEO best practices, which can boost your website's visibility and organic search rankings.
Customisation and Control
Autoblogging.AI allows you to customise the content generation process. You can set specific parameters, such as preferred word count, tone, writing style, or topic relevance, ensuring that the generated content aligns with your brand and meets your audience's expectations.
Cost-Effective
Hiring freelance writers or content agencies can be expensive. Autoblogging.AI provides a cost-effective solution by eliminating the need for ongoing outsourcing or hiring dedicated content creators. It offers a more affordable option for maintaining a consistent content strategy.
Scalability
Whether you have a small blog or a large-scale website, Autoblogging.AI can scale with your business. It can generate content in large volumes, allowing you to expand your content library as your website grows without compromising quality.
Autoblogging AI Pricing
Autoblogging AI starts at $49 a month for the "regular" subscription, providing you with 60 article credits and access to all features from the jump.
Despite this, there are also several other more expensive pricing options with different features available.
The "standard" package comes in at $99 a month for 150 credits, whilst the $249 a month "premium" subscription offers an inviting 500 credits to be used.
Bulk Content Packages
Looking for one-off payment, done for you bulk content packages instead? Not to worry, Autoblogging AI has you covered.
Instead of paying for a subscription, you can also pay $1000 for 1000 articles, $4500 for 5000 articles or even $8000 for 10,000 articles, all created and fully optimised by Autoblogging AI themselves.
We love how many options there are with their pricing, and the fact that you can simply try out Autoblogging AI for $1 prior to committing to their service is a nice touch, too.
Who Owns Autoblogging AI?
The founder of Autoblogging.ai is Vaibhav Sharda.
Here is Vaibhav Sharda after a Thailand SEO mastermind meet-up.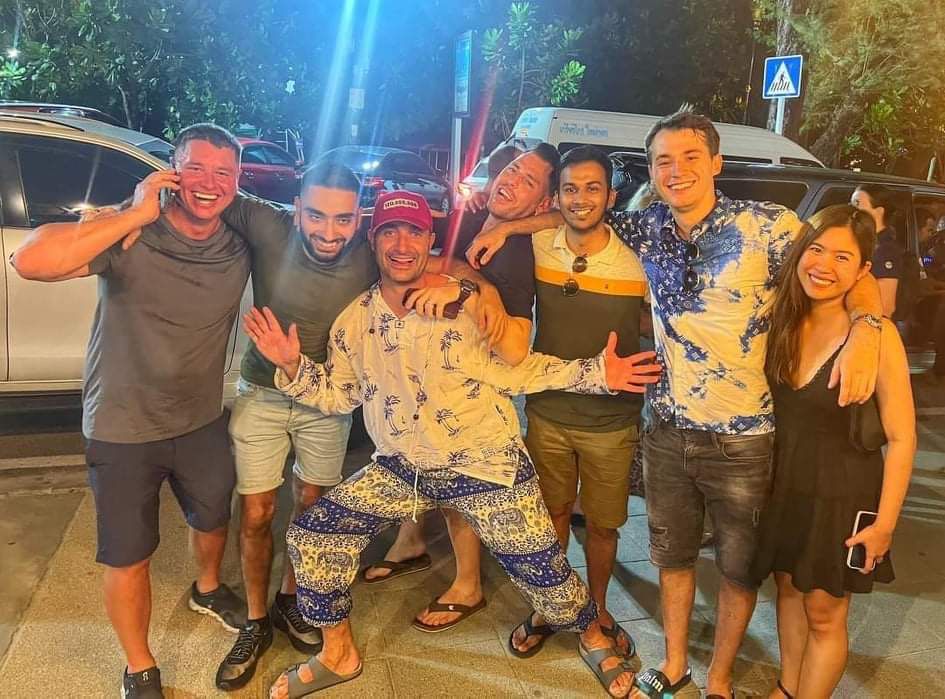 Video Reviews
Here are several video reviews of Autoblogging.ai:
Autoblogging.ai use a mix of OpenAI's GPT 3, 3.5, and 4 models to generate the best AI articles.
Bulk Publishing Internal Linking
When bulk publishing hundreds of new articles you need to make sure none are orphan pages so internal linking is important.
Vaibhav also owns a tool called autolinking.ai which can take care of this.
We are currently testing the AI internal linking plugin.
Autoblogging AI Testimonials
Here are some examples of testimonials from users of Autoblogging AI:
"Autoblogging.AI has revolutionised my content creation process! As a busy entrepreneur, I struggled to find the time to consistently update my blog. But with Autoblogging.AI, I now have a constant stream of high-quality articles automatically generated for me."

"I have been using Autoblogging.AI for my construction blog, and the results have been outstanding! The AI-generated articles are not only well-written but also tailored to my specific audience. The software understands the intricacies of my industry and produces articles that are informative, accurate, and highly engaging."

"Autoblogging.AI has exceeded my expectations in every way! The platform is incredibly user-friendly, and the AI-generated content it produces is simply remarkable."
Summary
Building topical authority and covering the topics in their entirety is key to a successful SEO campaign.
Can you use Autoblogging.ai to fast-track the publishing of mass articles?
The team is testing and testing some more on whether Surfer AI or Stealth Writer can also assist in creating mass web pages on autopilot.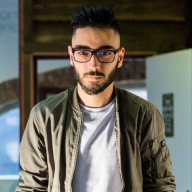 Paid Ads Expert | Business Investor
£1.33 Million In Sales Generated | Business Paid Ads Specialist | B2B Lead Generator | Business Growth Specialist
About FatRank
Our aim to explain and educate from a basic level to an advanced on SEO and Social Media Marketing.
Recent Posts