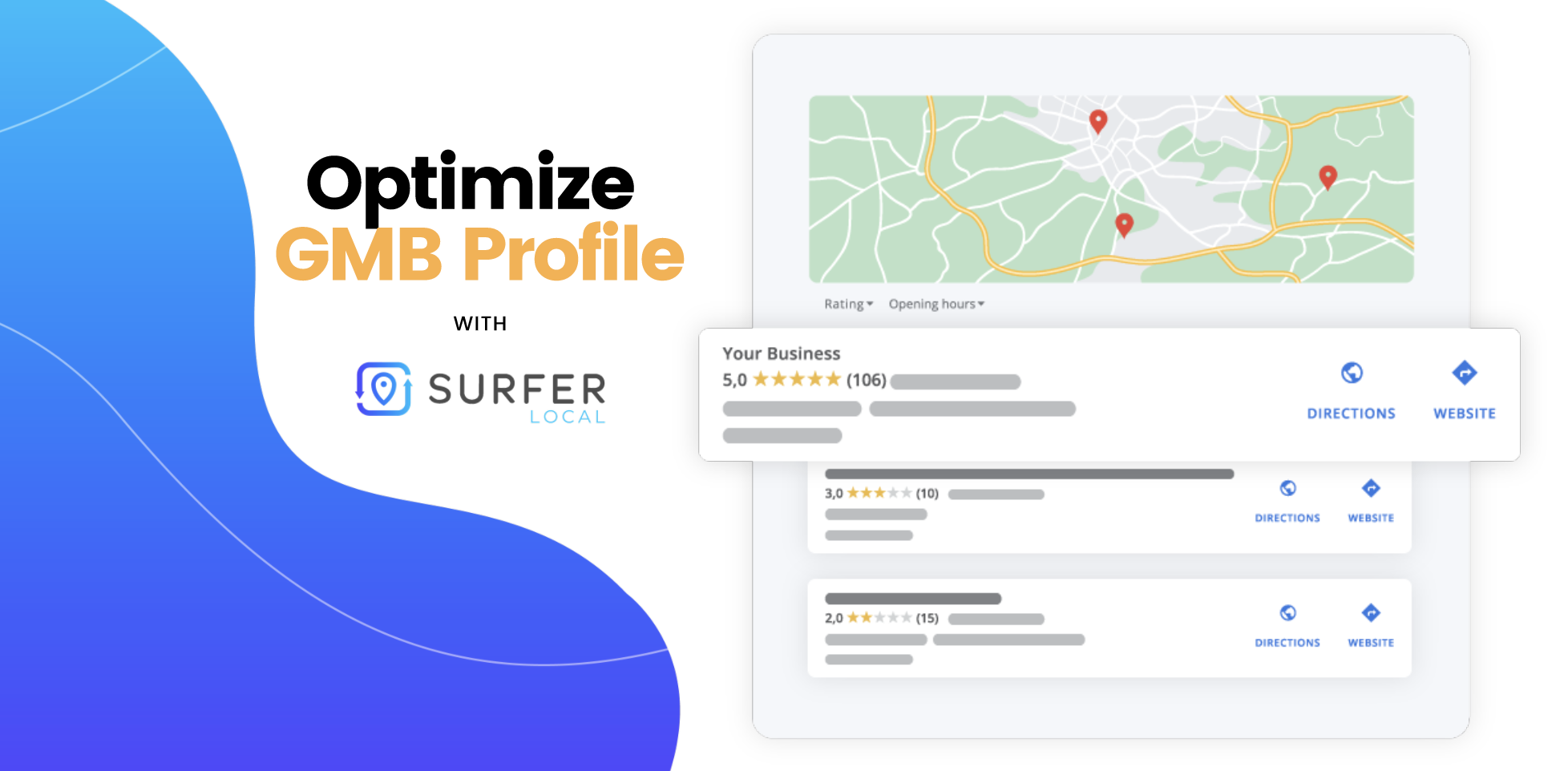 Surfer Local
Surfer Local is the latest tool to hit the SEO community to help you rank locally in Google search results.
Is Surfer Local going to provide you with the data to rank #1 in the 3-pack?
Is the Surfer Local tool a must-have to improve your GMB SEO strategy?
Check, track, and optimize your Google My Business profile with Surfer Local GMB Tool
In this Surfer Local Review, we will run through everything you need to know on how to utilise this tool to your strengths.
What Is Surfer Local?
Surfer Local is a tool for analysing competitors and generating strategies for improving your GMB rankings in the local map pack.
Having the ability to create a thorough Google audit of your Google My Business Listing in seconds saves times and money.
"Surfer Local is like the brain of several local SEO experts combined"
The audit contains guidelines you need to improve for your local rankings to climb in the SERPs.
Features
Here is the main surferlocal.com features Surfer Local.
GMB Audit Tool
The GMB Audit Tool allows users to optimise GMBs faster.
The GMB Local SEO Audit Tool gives clear instructions on how to improve your  Google My Business profile to get higher rankings in Google Maps.
"The GMB Audit Tool is all you need to make sure that your company's Google profile is 100% ready to be ranked number one in the region. Optimizing Google My Business listing is really easy now with the GMB Audit Tool guidelines" Surfer Local GMB Audit Tool
Millions of business owners and companies are looking to drive more enquiries in their local area and the audit GMB tool gives clear guidelines to increase visibility within the Google Map local search engine.
PRO Content Editor
The PRO content editor is a tool that correlates data from the top-ranked profiles to highlight what your GMB profile is lacking.
Optimise your Google My Business bio description and posts with our PRO Content Editor that gives you missing words and phrases to include.
PRO content editor saves you time and gives you a scientific approach to ranking your property based on real data in the SERPs.
Building out the business description and creating regular posts is a surefire way to ranking better than your competitors.
Local Search Rank Tracker
The local search rank tracker is the most advanced GMB ranking tracker on the market in July 2021.
The user-friendly local search rank tracker also gives you competitors tracking to monitor the positions in multiple locations.
"Check & Track your local search ranking quickly & easily. You no longer have to check the position of companies in local rankings manually. Keep track of local rankings in the local pack and react quickly to position changes" Surfer Local GMB Rank Tracker
The local search rank trackers show users the easy-to-get areas with the grid rank tracking results.
Grow your Google My Business profile and achieve high positions in a different part of the city or a neighbouring city.
Keyword Research
When searching your keywords in the local search rank tracker it gives you a dropdown of keywords with search volume.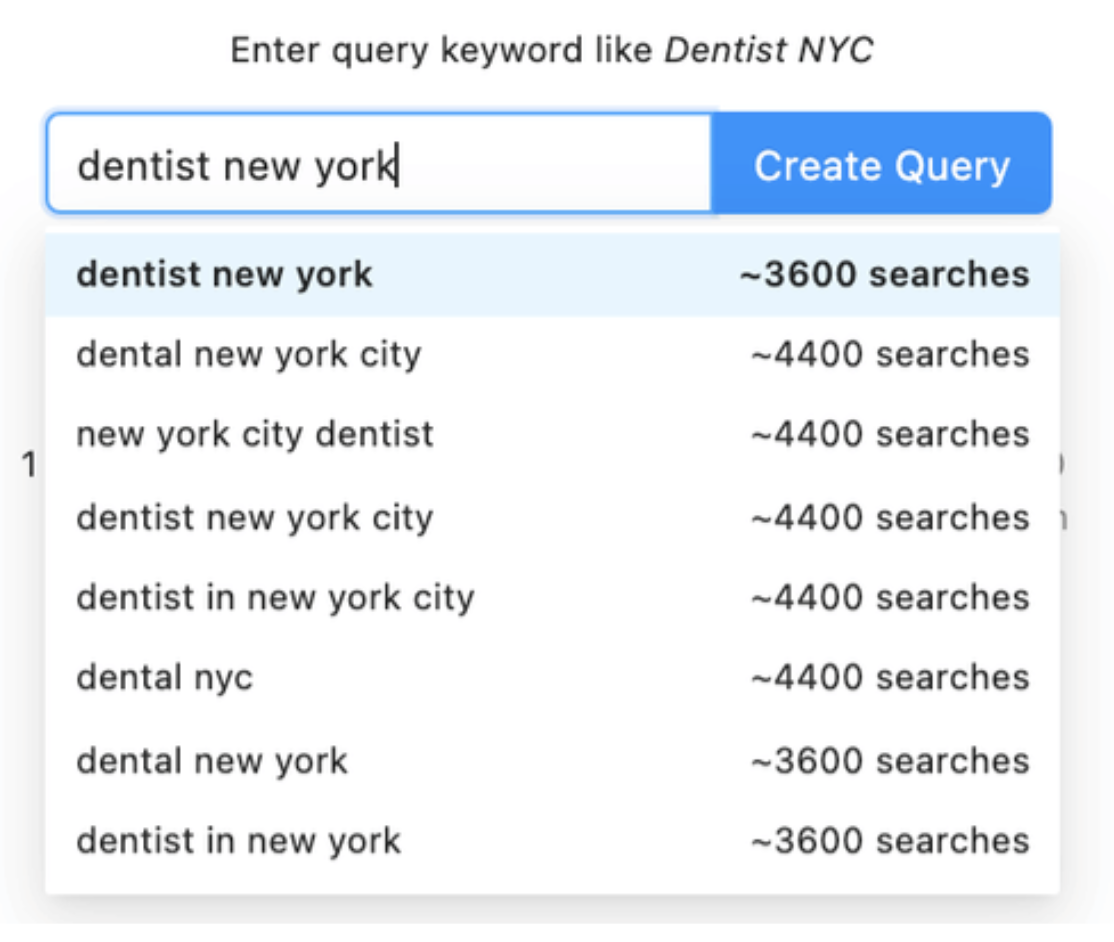 Find out the best keyword for your local pack rankings.
Before you even start your grid rank tracking analysis the keyword research tool will give you information on how popular keywords are.
You will also find out if there are any other similar local keywords, which can be is more popular and more searched!
Thanks to that, you will know which keyword you should be tracking in the local packs.
Pricing
The Surfer Local Pricing Plans are as follows:
Small Business – £21 per month
Freelancer – £49 per month
Agency – £109 per month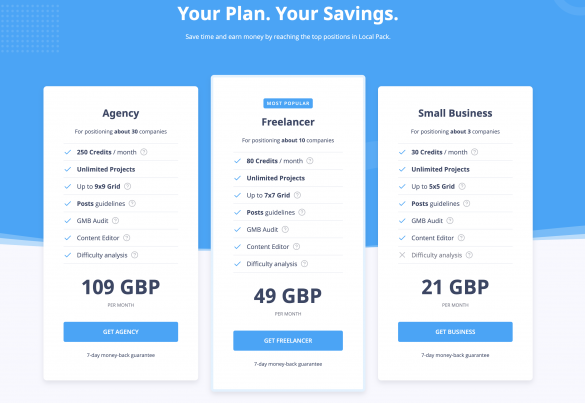 With any of the pricing plans, there is a 7-day money-back guarantee.
Popular Questions
Why Use Surfer Local For GMB Rankings?
The reason to use Surfer Local Tool for higher GMB rankings is that it turns you into a local SEO pro.
The GMB audit highlights all the local search ranking factors your listing is missing.
The tools perform an analysis on your Google My Business profile to implement suggestions that boost your local rankings.
How can I increase my GMB Using Surfer Local?
Surfer Local helps you increase your GMB rankings by:
Perfectly optimising business name
Optimise business description bio
Suggest keywords to add into GMB posts
Find additional categories to add the GMG profile in
Analysis of quantity of images to add
Analyse keywords to try and work into the GMB reviews
How do you measure GMB Using Surfer Local?
Surfer Local can measure the success of your Google business listing with the following:
Online customer reviews
Personal GMB traffic
Personal GMB grid rank tracking
Competitors GMB rank tracking
Competitors GMB SEO Weaknesses
Will Surfer Local Improve the Google My Business profile ranking in the map pack?
The Surfer Local Google My Business audit tool will help you improve your Google My Business SEO.
Following the Audit tasks, your business will achieve a better rank in local ranking.
Higher ranking results can be found just a few days after optimization.
Contact Details
Here are the best surfer local contact details:
What Others Are Saying
Here are some walkthroughs or information on the Local SEO Surfer Tool.
Sebastian Żarnowski
Michal Suski
In the article, you will find 2 examples of how in 3 and 10 days, thanks to our audits, users reached TOP3 (started with TOP20+.) –  https://surferlocal.com/blog/how-to-optimize-google-my-business-listing-2021
Summary
Surfer Local gives the data so you can outrank your local competitors and become the best business in your desired area.
If you are serious about growing your online presence in the GMB map packs then Surfer Local tool is an absolute must.
The Surfer Local GMB Tool is all you need to make sure that your company's Google profile is 100% ready to be ranked number one in the region.
You don't need to be a local SEO expert to use SurferLocal, but if you follow the guidelines you will be able to prepare your Google My Business optimization like a local SEO pro.
After years of testing tools like Whitespark, BrightLocal, Local Falcon and Local Viking we believe SurferLocal is the Best Tool for Local Pack SEO in July 2021.
About FatRank
Our aim to explain and educate from a basic level to an advanced on SEO and Social Media Marketing.
Recent Posts