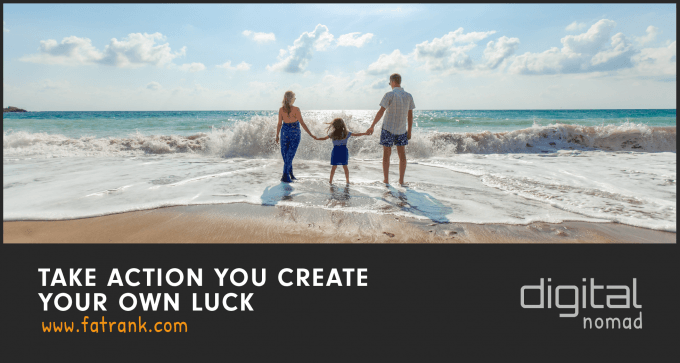 Last Modified: Feb 15, 2019 @ 2:24 pm
The Path to Success is Massive, Determined Action
If you ever hear any of the great entrepreneurs' number one rule in life, it is to start taking action. The way to get started is to stop talking and start doing. Forget all the excuses of how you are too busy or you need to learn more before you start. The best way to learn in life is to test, test and then test some more. The testing that fails will teach you much more and you will remember never to do that again.
Therefore in my opinion I never say anything has failed because my response is "that did not work out exactly how I thought it would however I have learnt a lot from that and now have a different angle to go after". Therefore every failure you create switches into a success story in your life because the famous saying "What doesn't kill you makes you stronger" is so true.
You Are So Lucky
The amount of times each day I hear people say to others 'You are so lucky' is scary. Sometimes the older generation has a mindset that younger people are lucky to live in the digital age. They're lucky because they don't have to work as hard as people did 20 years ago. They're lucky because technology gives them everything they need to succeed.
But who's to say that only people under the age of 30 can access the internet? Anyone can harness modern technology in any way they want with a smartphone or computer. Here is the reason why I became a growth marketing guy because allows me to follow my dreams. I recently read a comment by a friend which I loved which said:
"I am so lucky by the way i went against the grain, didn't buy into a career path that 99.9% of your peers were doing, risked it all learning a skill that isn't taught in universities, learned how to scale a business without actually going to business school, and then working 7 days a week dealing with ups and downs of a multi-billion dollar algorithm."
My mentality to this is another famous quote "You can't win the raffle if you don't buy a ticket". Let's just say you have a 9am-5pm job, ask yourself this – What are you doing between the hours of 6pm-2am to enter more raffles (I am using raffles in comparison to work)? If someone is grafting between these hours to get themselves the chances to win more raffles then how is this luck? Is it not that these so-called 'lucky' people are going the extra mile and taking massive, determined action?
Improve, Develop, Adapt, Be The Best
If anyone follows football then you must have heard of Cristiano Ronaldo. He has been voted the best in the world several times winning the Ballon d'Or award. However, he is a prime example of improve, develop, adapt, be the best because he is still the first player to get on the training ground and the last one to leave. He still to this day wants to keep improving and developing his skills to remain the best.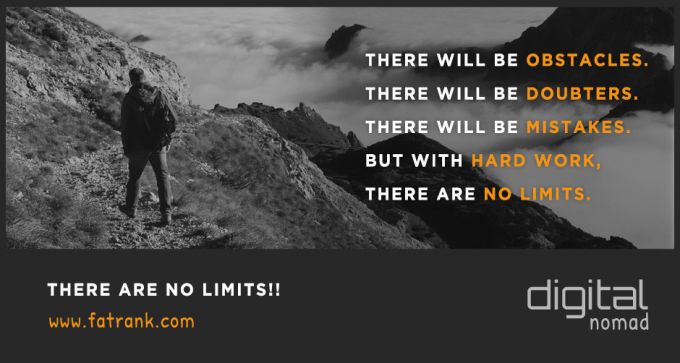 This takes a lot of hard work and graft put in today for tomorrow to reap the rewards. Start taking action and constantly strive to be the best you can be. Times change and people have to adapt new strategies, ideas and develop with the times. Do not rest on your laurels and think the world owes you something because while your competitors are taking action you will be losing.
How Do You Greet Monday Mornings?
Many people greet Monday mornings with a negative attitude. but why? If any of you have read the book called 'The Secret' you will realise all these negative thoughts is attracting negativity into your life. You are choosing not to be positive in your thoughts and are wasting your life with doing so.
Wake up with a smile and ambition to develop your skills, adapt in the current marketplace, improve your inner self and become a better person. I have learnt many life lessons from being able to greet my thoughts with positivity. Watch this video which shows how many UK people approach a Monday morning:
Can you now start to make a conscious effort in your life to improve your Monday mornings? Yes, we all get stuck in traffic, have our bad days and get frustrated when a job might not work out. But that is life. Deal with it. Stop getting on your high horse thinking the whole world is against you. It is about finding your flow mindset where you are in the best state of mind to grow and develop.
Top 20 Life TAKE ACTION Quotes
Here is a top 20 list of life quotes. There are so many to choose from but I (James Z Dooley) have selected the ones I feel are best connected to this article about taking massive, determined action:
The starting point of all achievement is desire.
Action is the foundational key to all success.
Small deeds done are better than great deeds planned.
The path to success is to take massive, determined actions.
The harder you work the luckier you get.
You miss 100% of the shots you don't take.
The best way to predict the future is to create it.
You didn't come this far to only come this far.
Without continual growth and progress, achievement and success have no meaning.
Success doesn't happen to you, it happens because of you.
TAKE ACTION TODAY.
To make an omelette you have to break some eggs.
Massive action equals massive results, no guts no glory.
If my auntie had bollocks she'd be my uncle (HAHA had to throw a funny one in there lol).
If you don't like where you are then move. You're not a bloody tree.
Winners make it happen. Losers let it happen.
He who dares, WINS.
Do something today that your future self will thank you for.
You get what you work for not what you wish for.
The man at the top of the mountain didn't fall there.
These 20 quotes above are all absolutely spot on. I will focus on quote #18 which is "Do something today that your future self will thank you for" because this is so true. Each night when you go to bed, ask yourself whether you have done something today that your future self will thank you for.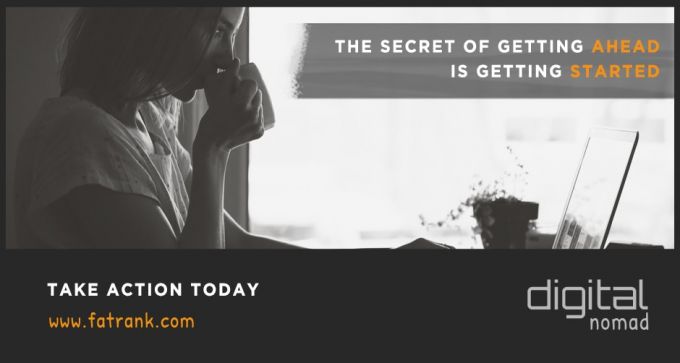 This could be earning some extra money, completing a big run, doing a huge gym workout, eating really healthy food, testing your brain and learning a load of new tricks and tips. We all have the same 24 hours in the day to make this happen.
Can You Improve Your Life Goals?
Any of my staff reading this will be getting annoyed when I post this video from Gary Vaynerchuk. But this is because I play his videos in the office on a regular basis. Watch this video about life goals and see that it does not matter what age, gender or religion you are. You as an individual can adapt and grow in the age of the digital era:
Do You Need to Change Your Attitude?
Some people believe that they are unable to achieve as much as others because they don't have the same talents. They think that you need to be a young person who's an expert in using technology, or have a degree in business. But that's not the case.
It doesn't take any talent to have a positive attitude or a good work ethic. You don't need any special education to be passionate about what you do or to go the extra mile. Anyone can do these things and work hard to achieve their own success.
Improve your skills and knowledge today by being active and learning what you need to know to succeed. This course gives you the tools you need to develop yourself and become a successful entrepreneur. Join today and start changing your outlook on what you can achieve.

What is One Bit of Advice You Can Give To Me?
So the reasoning behind this article was this exact question: 'What is one bit of advice you can give to me?' People must ask me this every day on Twitter, Facebook, LinkedIn and Whatsapp a dozen times. It usually starts on Facebook with a friend request followed by someone starting up in the SEO niche and want to ask this question.
I simply reply with 'TAKE ACTION' but many expect more than that in my response. There is no magic key to ranking websites or marketing where one click of a button and bang you have the secret formula. It takes hard graft, grit, perseverance and lots of testing which you can only do if you are taking massive, determined action.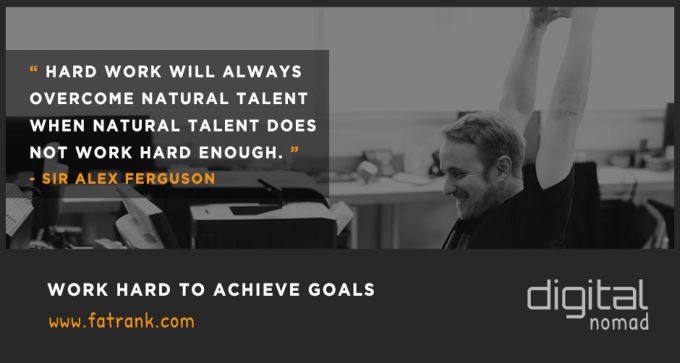 Hey, I am not complaining about getting asked these questions because there is nothing I like more than networking. I will always try to help others and build relationships in the niche, but if someone asks me what is one bit of advice then it has to be this. If anyone reading this wants to meet up or have a Skype session then I am always happy to do so because synergising with people is what I love. If you have any extra quotes I can add to this article or you want to discuss anything further then hit me up on social media or leave a comment and will happily respond to your messages.
Tell me what action you have taken in the past month on the comments section below. Even if you feel that you are ahead of the game look to develop and improve further because around the corner change will happen. Are you ready to adapt and be the best when this does happen? Prepare yourself and take action today to be ready for development and improvements tomorrow.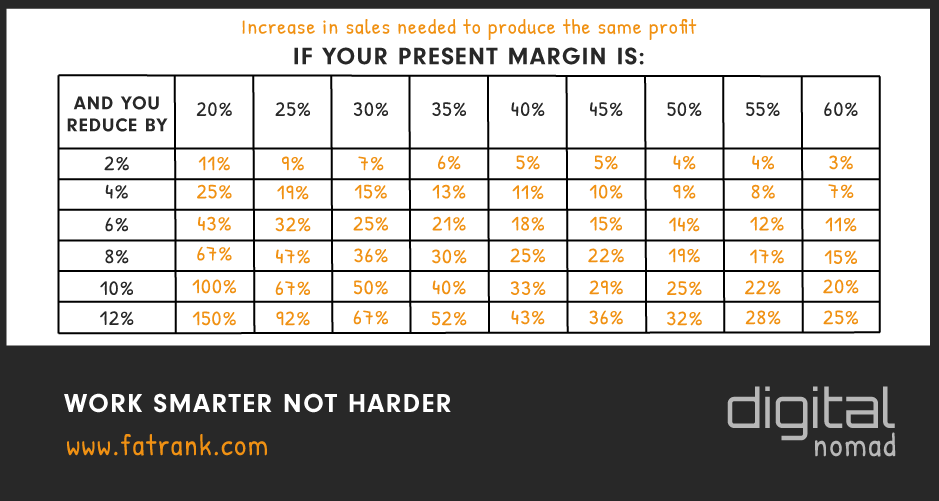 Although I am all in on taking action and getting started then chaps. A little tip is to carry out the 80/20 rule removing your worse 20% of clients who cause you the headaches and working smarter not harder. Take the action today to adapt the smart approach because this table above shows working smarter alongside taking action is key ingredient.