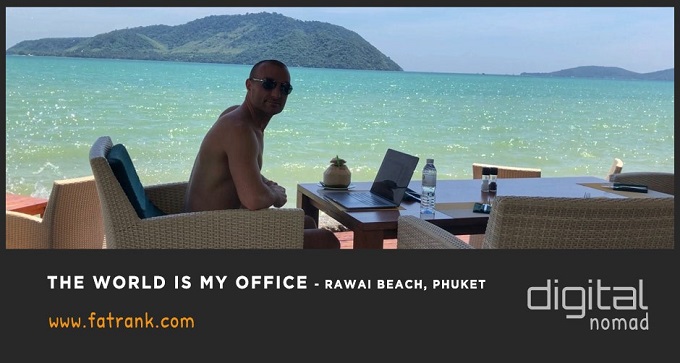 The World Is My Office
The World Is My Office is to show you the locations I have travelled and used as my office.
The World is such a huge place and being able to travel the world is very hard when you have restrictions at work or holiday allowances.
If you become an SEO working online then you literally live the laptop lifestyle where as long as you have access to the internet can work in the location.
Best Places in the World to Work
Below I will show you all my best world locations I personally think is the best place to work.
While travelling I have picked up so many life lessons along the way in learning about different cultures and working strategies from some of the biggest online entrepreneurs in the world.
If you want to know my history then read this link which will explain how I started out in internet marketing space and how I managed to scale my success online by networking a lot.
Phuket
Below we found a nice location on Patong Beach in Phuket with hammocks to chillax on. Patong is a beach resort town on the west coast of Phuket Island, facing the Andaman Sea in the southwest of Thailand. It's sandy, crescent beach is lined with cafes, restaurants and bars. The famously raucous nightlife scene features beer bars, go-go bars, nightclubs, massage parlours and cabarets that overflow into the street along neon-lit Bangla Road and in the Patong OTOP Shopping Paradise complex.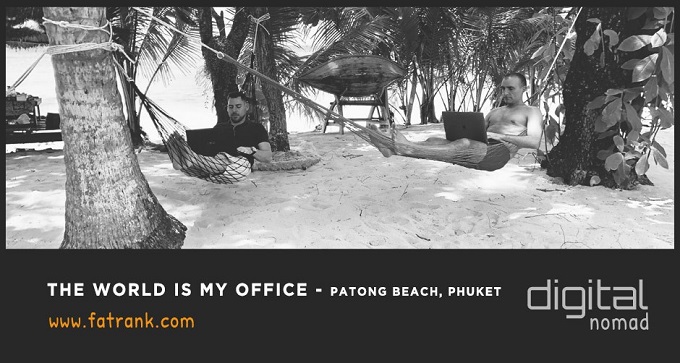 Plenty of coconut water to keep hydrated while taking action on the laptop. Patong, the main resort town, has many nightclubs, bars and discos. Being outside of your normal habitat allows you to think outside the box. I love the saying you do not know what you do not know and when working in different locations this allows you to open your mind to different thought processes.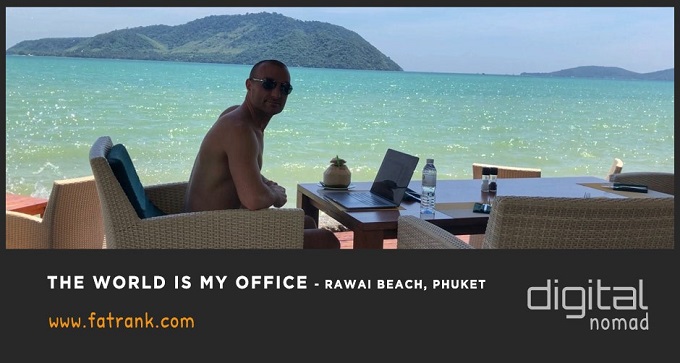 Phuket, a rainforested, mountainous island in the Andaman Sea, has some of Thailand's most popular beaches, mostly situated along the clear waters of the western shore. The island is home to many high-end seaside resorts, spas and restaurants. Phuket City, the capital, has old shophouses and busy markets.
Philippines
The Philippines comprises of over 7500 islands, of which around 2000 are inhabited.
We have a dozen Filipino Virtual Assistants and I must say that delegating work out here is great for my businesses.
El Nido
I must say El Nido is an amazing place to visit and so many great locations to work on the laptops and experience the different culture.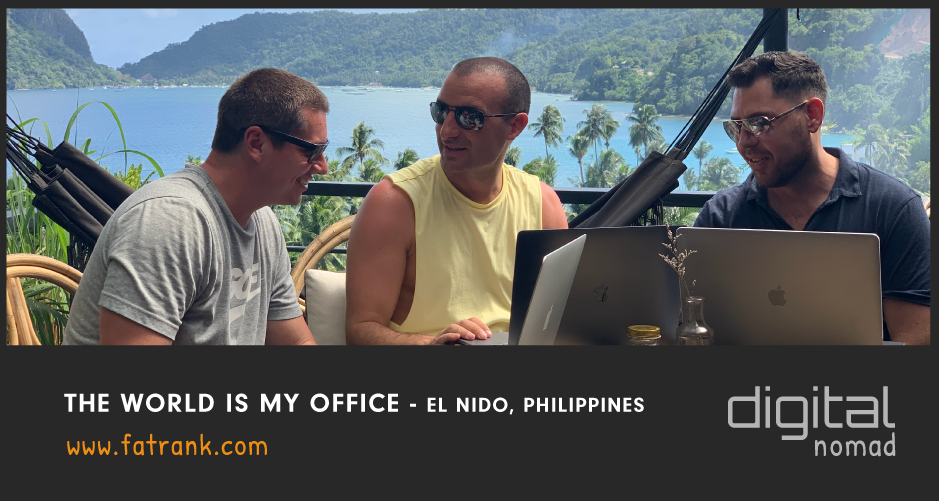 A great location is El Nido to visit where you can work from is Birdhouse and here is Birdhouse Facebook Page.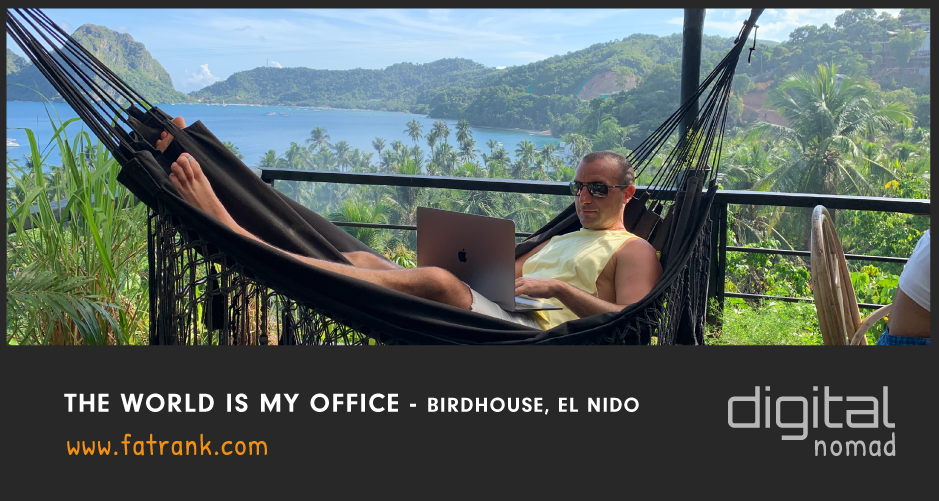 Palawan
Nothing defines Palawan more than the water around it.
You can live the laptop lifestyle with constant views of clear blue seas.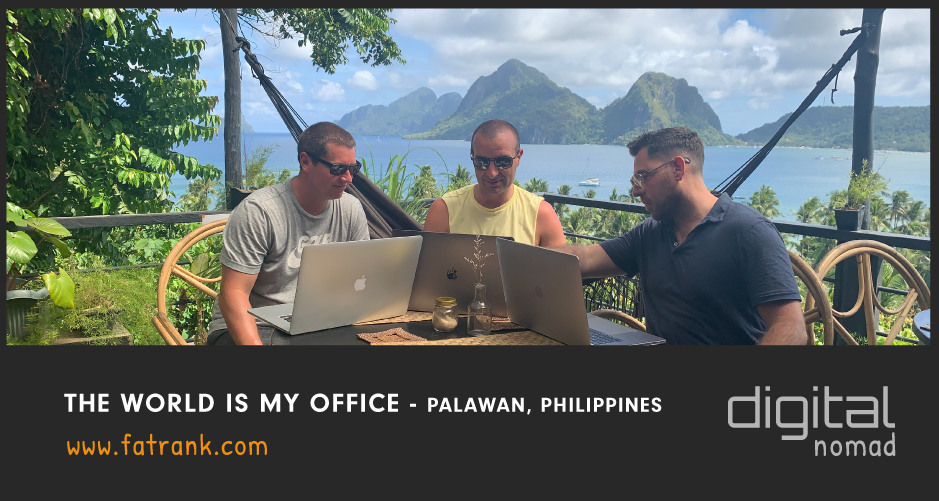 If you have never been to the Philippines I would strongly recommend this country to visit.
Dubai
Dubai is a city and emirate in the United Arab Emirates known for luxury shopping, ultramodern architecture and a lively nightlife scene.
But with the weather being hot, amazing restaurants to eat and miles of coastline beaches it is a perfect location for Webpreneurs (website entrepreneurs).
Cove Beach, Dubai
It's the first major opening on the Bluewaters Island and Cove Beach has moved from its former home at Jumeirah Beach Hotel, to the brand-new Caesars Palace Bluewaters Island resort.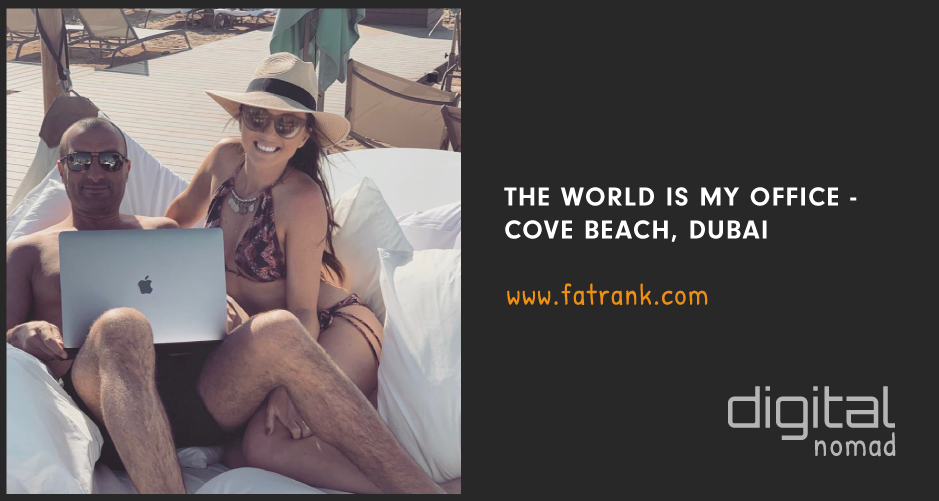 The cove beach location in Dubai is a great spot with super-fast wifi connections that boasts a stunning seafront locale.
Kite Beach, Dubai
Popular for kitesurfing & kayaking, this white sand beach offers a jogging track & kids' play areas.
Very ideal for digital nomads who have children, with great beaches and wifi.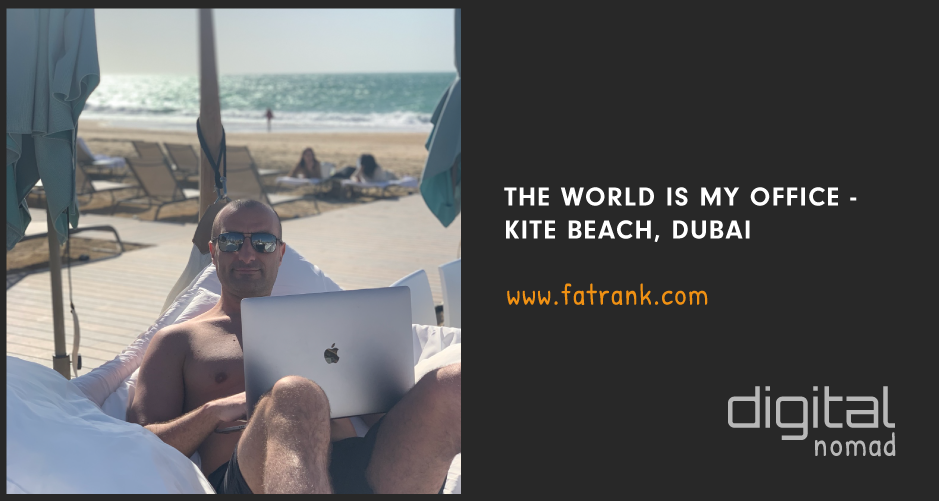 Dubai's favourite beach spot for friends, families and fitness fanatics. Kite Beach is the ultimate outdoor location. Open stretches of soft white sand with restaurants available for laptop lifestyle working locations.
Sunset Beach, Dubai
The popular beach located right next to Jumeirah Beach Hotel, in front of Umm Suqeim Park.
Umm Suqeim or Sunset Beach is perfect to enjoy the beauty of the sun going down, with the iconic Burj Al Arab on your left.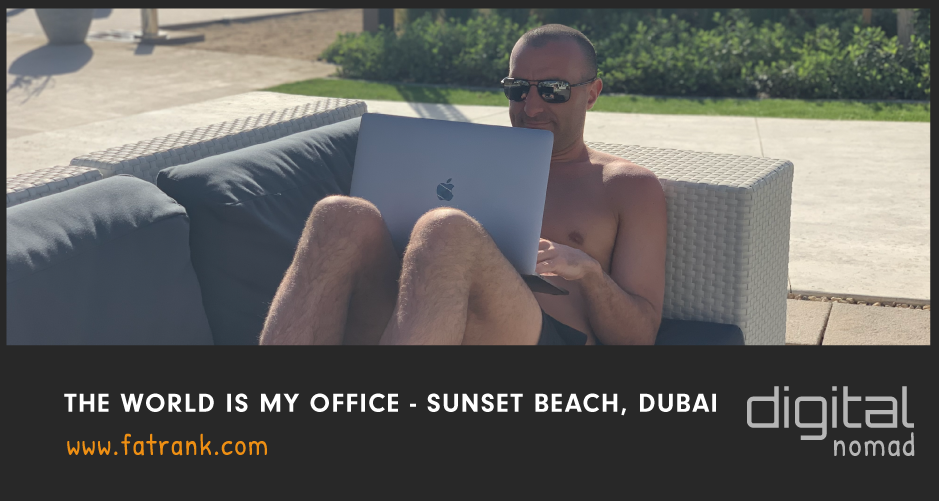 As the digital nomad work locations look onto the Burj Al Arab this an unreal place as it is set on an island in a striking sail-shaped building and this is the only 7-star luxury hotel in the world.
JBR Walk, Dubai
JBR Walk is Dubai's first outdoor shopping and fine dining promenade. Explore stylish boutiques, restaurants, shopping spots.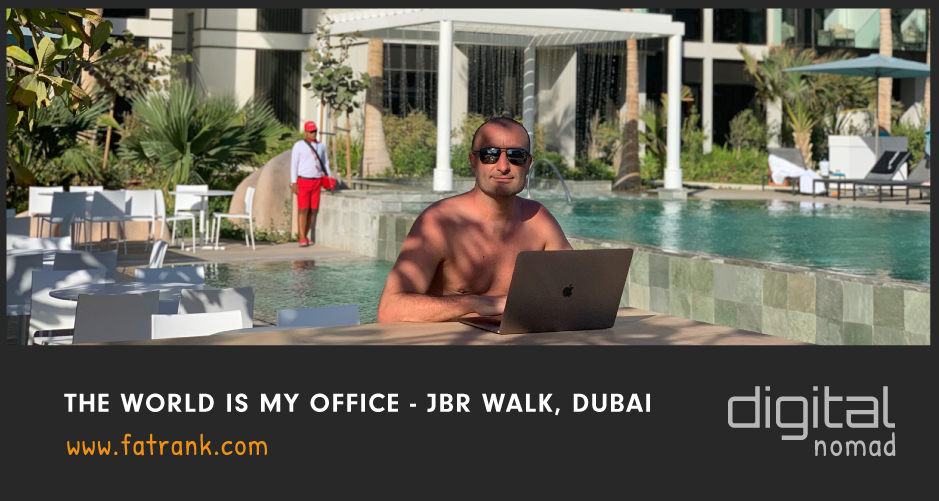 The Walk at Jumeirah Beach Residence is a 1.7-kilometre strip at the ground and plaza level of the Jumeirah Beach Residence complex in Dubai.
The wages in Dubai are tax-free so a great working base to save money.
Playa D'en Bossa
Visited Playa D'en Bossa to take a couple of my business partners away. Had a blast going to some nice beach bars and parties.
But was still able to keep on top of the workflow at the hotel which was called Torre Del Mar.
Had some amazing beds beside the swimming pool right on the coastline.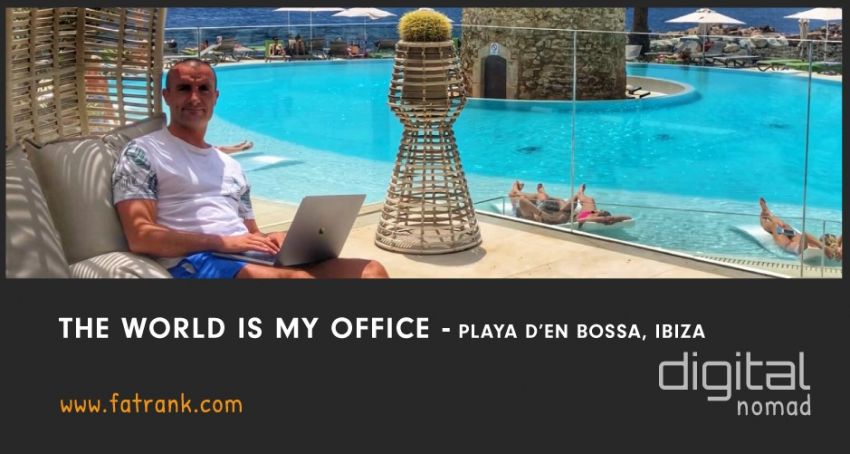 Platja d'en Bossa is a major holiday resort on the Spanish island of Ibiza primarily catering for the British, German and Italian package holiday market. It is in the municipality of Sant Josep de sa Talaia and is situated approximately 3.1 kilometres to the South of Ibiza Town
Barbados
Barbados is an eastern Caribbean island and an independent British Commonwealth nation.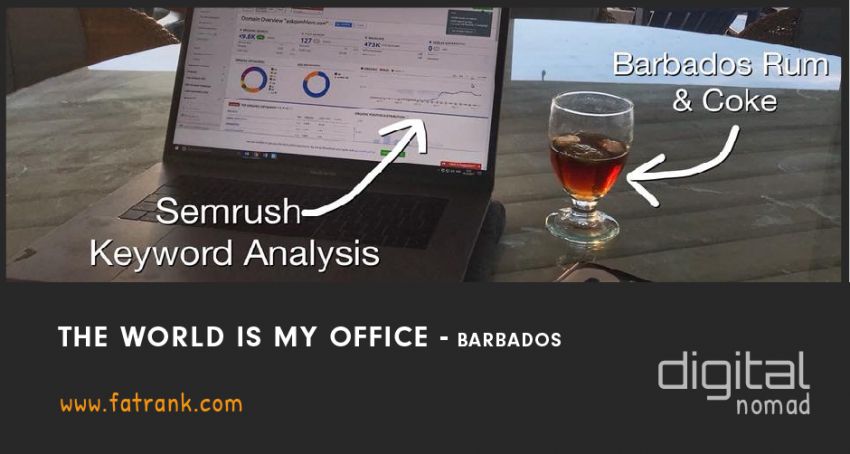 Beautiful beaches and the sea in Barbados is definitely an amazing place to live a laptop lifestyle.
Abersoch
Abersoch is a village in the community of Llanengan in Gwynedd, Wales. It is a popular coastal seaside resort and great location to chillax and have time to think because thinking is the hardest work there is.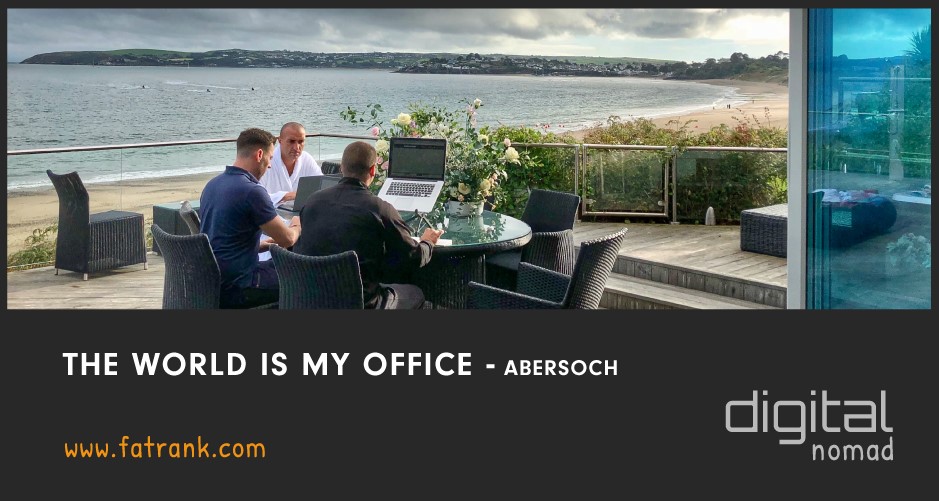 Abersoch is a town on the Llyn Peninsula in Gwynedd. It is a hugely popular tourist destination and a popular location for holiday homes. A great place for a holiday home because not too far from where I live and has beautiful beaches.
Llandbedrog, Wales
Llanbedrog is a village and community on the Llŷn peninsula of Gwynedd in Wales.

A sheltered sandy beach with colourful beach huts overlooking Cardigan Bay. Llanbedrog near Pwllheli is a long stretch of sandy coast with colourful beach huts and shallow water, ideal for families.
The Warren, Abersoch
The superior quality lodge sits right on the beach at the exclusive Warren holiday park, with incredible views, superb bi-folding doors opening onto the terrace and a fabulous sunken hot tub. Perfect location for digital nomads to graft and hustle.

First-class views of the long sandy Warren beach, Abersoch harbour, St Tudwals Islands, Llanbedrog headland and Snowdonia beyond. The views can be enjoyed from inside the flagship luxury Lissett homes chalet with sumptuous coastal interior or from the large side and front terrace with sunken hot tub and contemporary outdoor furniture.
Chiang Mai, Thailand
Chiang Mai is a city in mountainous northern Thailand. Although it is not on the coast Chiang Mai is a beautiful green city full of coffee shops.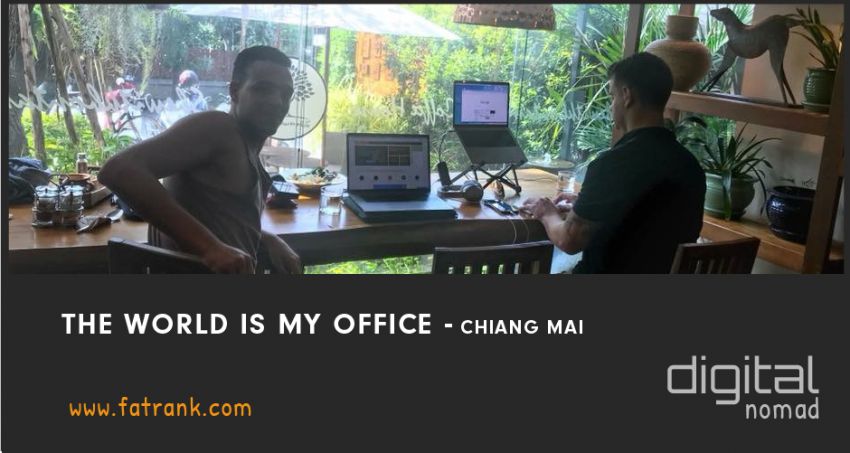 Chiang Mai sometimes was written as "Chiengmai" or "Chiangmai", is the largest city in northern Thailand. It is the capital of Chiang Mai Province.
Portals, Majorca
Puerto Portals is the glamour hotspot of Mallorca with numerous luxury yachts, top-class restaurants and the best international designer brands.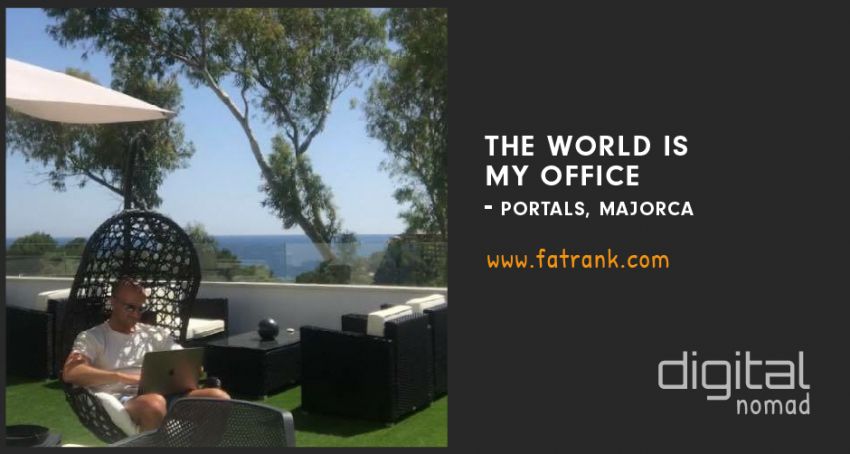 Portals Nous is a small, relaxed town west of Palma. The main high street is focused along Carretera d'Andratx. From Portals Nous, you can access two beaches, a small bay called Cala Portals Nous or Cala Bendinat, and the larger, more well-known Platja de S'Oratori, more commonly known as Cala Portals.
San Diego
The city San Diego on the Pacific coast of California known for its beaches, parks and warm climate. San Diego's an amazing place to live and at some point in my life, I reckon we will set up an SEO office there to travel.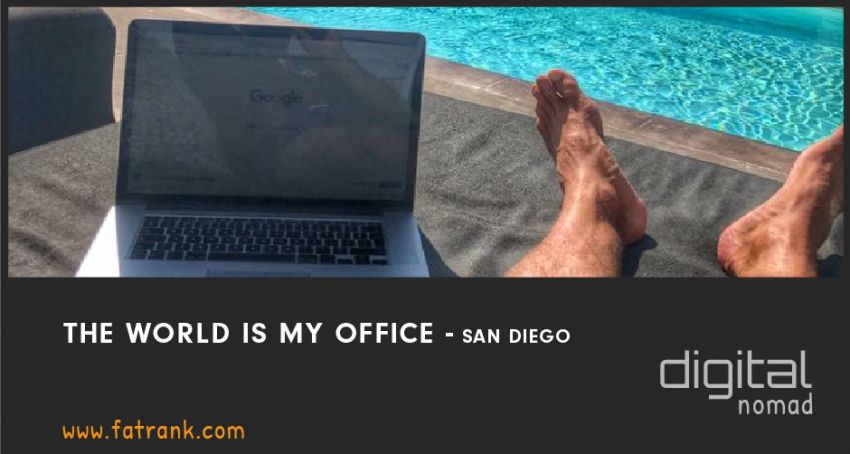 The eighth-largest city in the United States, the City of San Diego has 1.4 million residents, a diverse population, the nation's largest military community and a talented workforce.
Las Vegas
Las Vegas, in Nevada's Mojave Desert, is a resort city famed for its vibrant nightlife, centred around 24-hour casinos and other entertainment options. Its main street and focal point are the Strip, just over 4 miles long. This boulevard is home to themed hotels with elaborate displays such as fountains synchronized to music as well as replicas of an Egyptian pyramid, the Venetian Grand Canal, and the Eiffel Tower.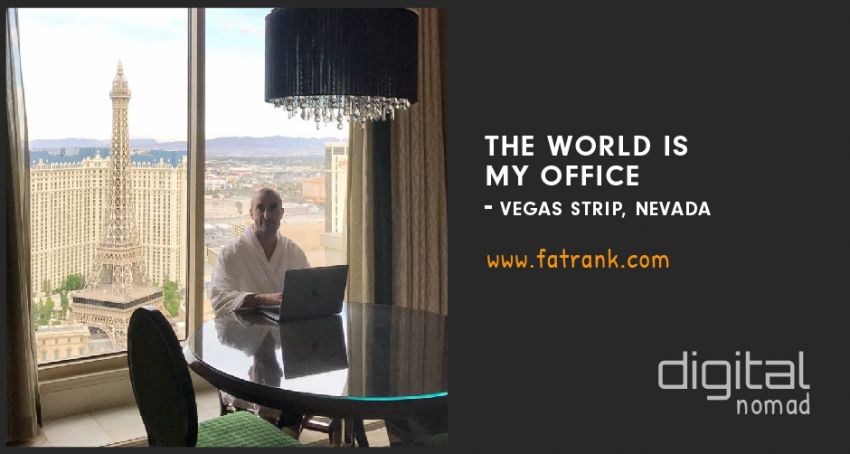 Lined with upscale casino hotels, the neon-soaked Strip is quintessential Las Vegas. As well as gambling floors, the vast hotel complexes house a variety of shops, restaurants (ranging from mainstream to high-end), and performance venues for music, comedy and circus-style acts. Attractions like the soaring choreographed Fountains of Bellagio and the High Roller observation wheel draw crowds.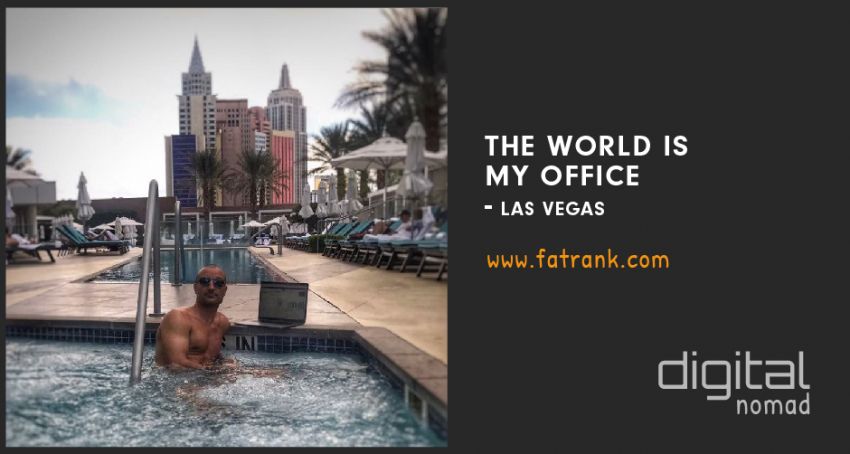 Las Vegas officially the City of Las Vegas and often known simply as Vegas, is the 28th-most populated city in the United States.
Doncaster Races
A recent trip to Doncaster Races was carried out with all my family to watch my horse run. But could not help to keep on top of my work while the Mrs was getting ready.

The Hilton hotel on the racecourse overlooked the track and was a great location to grab a coffee, brekkie and do a few hours work on the laptop.
Eivissa, Spain
Ibiza old town location reminds me of Palma. It has many beautiful cobbled streets and restaurants to choose from.
In Eivissa, the digital nomad population is very low because the island of Ibiza is generally an area for partying. But it just goes to show that even in Eivissa you can keep on top of your emails and work so if working online you really can be based anywhere you like in the world.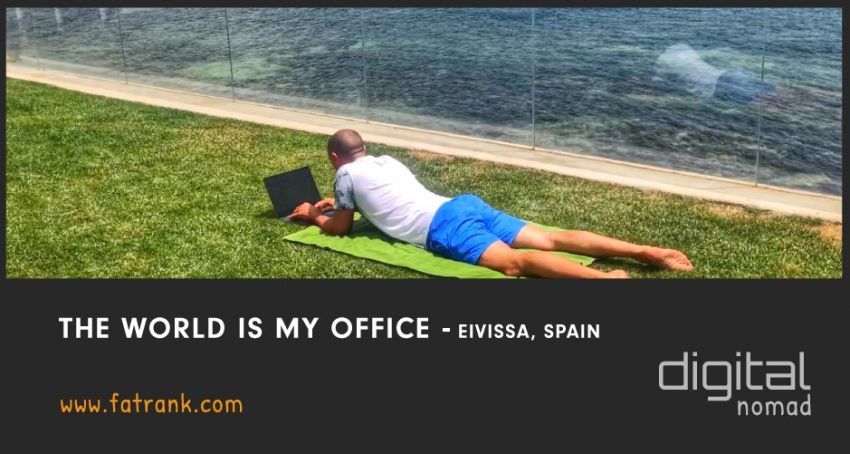 Ibiza Town is the capital of Ibiza, one of Spain's Balearic Islands in the Mediterranean Sea. It's known for its lively nightlife scene, and many European nightclubs have summer outposts here.
Ko Lanta
Visiting Ko Lanta was a great venue to box off some work. Ko Lanta Yai is in the Andaman Sea off the west coast of Thailand, between Phi Phi Islands and mainland. It is administratively part of Krabi Province, most of which is on the mainland.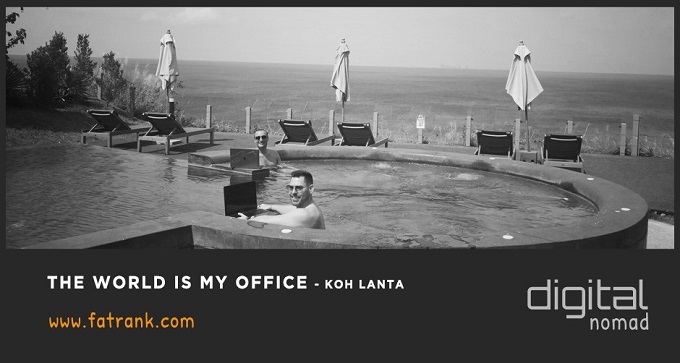 Koh Lanta, Thailand's colourful, chilled-out island that hasn't lost its low-key groove. Free of big hotel names and neon lights, it's a barefoot beauty island in Thailand. This allows you to relax on the laptops and get work completed without the hustle and bustle of partying hard.
Surin Beach, Thailand
Trip to #cmseo2018 conference in Chiang Mai. We decided to go to Surin Beach for a meetup beforehand to do some work.
The video shows the amazing views we had while all working on our laptops in the large villa.
The five webpreneurs in the photo are Rick Hope, Adam O'Hern, James Z Dooley, Jason Karpouzis and Dan Stanton.

The villa we stopped in here was out of this world and loved the location.
It was a perfect place to hang out, graft on the laptops between friends and live the digital nomad lifestyle.
Your Thoughts
As the world is such a massive place then I would love your thoughts on best locations I should travel to while living the digital nomad lifestyle.
Working a 9-5 job in an office is not for me anymore because I understand my brain now better than ever before.
I am more productive in travelling and working because I can find my flow state of mind much easier when not distracted. Having this uninterrupted working pattern gives me the best success in completing tasks.
So the questions to you guys and gals 'Are you truly in the correct job that you love?'
Comment and let me know your thoughts that if you could work anymore in the world where would you choose?
All Entrepreneurship Related Posts
Check out the in-depth list of entrepreneurship posts.
The full list shows the entrepreneurship articles to help you widen your knowledge.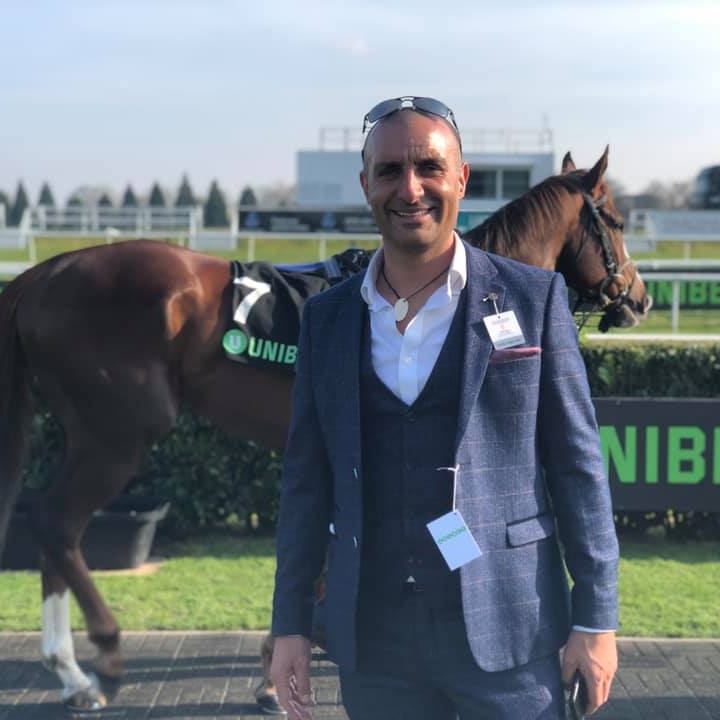 Entrepreneur
James Dooley is a British entrepreneur, SEO, investor, and philanthropist. James has built a huge Search Engine Optimization team that focus on organic SEO endeavours, including affiliate marketing, lead generation, as well as SEO services.
About FatRank
Our aim to explain and educate from a basic level to an advanced on SEO and Social Media Marketing.
Recent Posts