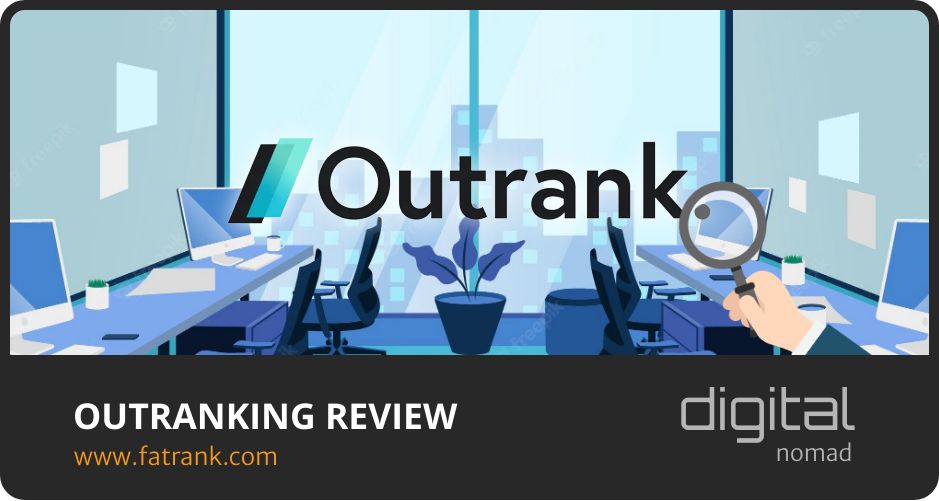 OutRanking Review
With so much new and innovative SEO software being introduced daily, it can be difficult to keep up with which ones are the best for you and your marketing campaign.
In this post, we take a look at OutRanking, a software service that's making quite a lot of noise in the search engine optimisation industry.
We'll run through exactly what this software is, how it works, the pricing and whether it really does live up to the hype it receives throughout the community.
So without further-adieu, here's out full review of OutRanking.
What is OutRanking?
OutRanking is an AI-powered tool designed to help with every area of your your online content marketing strategies, from content planning, writing, optimising and rank tracking.
Their services are set up to help save their clients time, money and effort when it comes to all things content marketing, providing an easier way to implement every aspect.
This tool has become very popular amongst marketers from across the world, utilising the tools excellent services to further improve their websites in the SERPs.
How does OutRanking Work?
OutRanking works by using artificial intelligence to provide accurate and relevant content guidelines for their clients. Whether that be article ideas, heading suggestions, keyword density data or full on written articles for your chosen niche.
For example, OutRanking can deliver the same level of keyword clustering as keyword cupid, whilst being able to offer the same quality of content suggestions as Surfer SEO, all in one tool!
So it's no surprise why so many SEOs nowadays are using OutRanking for their entire content marketing campaigns, from start to finish.
Why Should I Choose OutRanking?
OutRanking does a brilliant job at incorporating a lot of what's great about all of the top content marketing tools out there, but all in one easy to use service.
This alone can saves you hours of switching between tools for your content strategies, as having them all in one place is super convenient.
Not only that, their advanced AI brings back data that is known to be much more reliable and accurate than some of OutRanking's competition, which is of critical importance when relying on the data of artificial intelligence.
Key Features Of OutRanking
With OutRanking, there's a seemingly endless list of excellent features that marketers can take advantage of. Here are some of the main ones:
AI Writing
OutRanking offer one of the best AI content writing services as part of their software tool, able to create unique, factual content that most importantly reads great.
Unlike many other less polished content written by artificial intelligence, OutRanking does a fantastic job at ensuring the content is well structured, relevant to the topic or topics you're writing about whilst managing to visibly look like it was written by a manual content writer.
You can see an example of how OutRanking's AI writing works by watching this video:
So if you're the type of marketer that loves the benefits of using
AI for your SEO
, but tired of the quality being poor, we'd really recommend checking out OutRanking.
Content Strategies
Whether you're for or against AI written content, the truth of the matter is that every good piece of content is only as good as the content strategy crated for it.
OutRanking can handle all of this for you, building bespoke content strategies for any industry, big or small.
Using a combination of data and AI guidance, OutRanking can do it all. From keyword clustering and topical relevance to title ideas and more, you can sit back and allow OutRanking to do all of the heavy lifting for you.
So be sure to check out their content strategy services if this is something you may be interested in.
Content Optimisation
And for those with existing content pieces, OutRanking can be an excellent way to push your existing articles past your competitors through tailor-made content optimisation.
OutRanking's content optimisation works differently to others, as their intelligent software identifies weaknesses in your content in relation to your article's SERP, and provides you with a clear and easy guide of how to improve it.
This includes features us as semantic heading ideas, semantic keyword suggestions, people also ask questions, featured snippet optimisation and much more.
We were shocked at the relevance and accuracy of the optimisation suggestions OutRanking was bringing back, and found a significant jump in many of our pages after using this tool.
OutRanking Pricing
OutRanking's entry level, one domain package starts at $99 a month for the "solo" package, with the most popular "pro" package (allowing for multiple domains) coming in at $189 a month.
For the most expensive "company" package, OutRanking is $279 a month, but includes many exclusive features, including AI powered keyword strategies specifically for large sites.
It's worth remembering that OutRanking is a tool that offers many different content marketing services all under one roof, and with that being said, we feel the prices fairly reflect the level of service they offer.
OutRanking Contact Details
The easiest way to get in touch with OutRanking is via their contact us page on their website, where you're able to submit any questions you may have to their team.
We've found OutRanking to be very helpful whenever we've had a question about how parts or their service works, and have always helped us to navigate their software if we've ever had confusion.
Additionally, you can follow OutRanking on their social media platforms for any updates they made to their tool, as well as their YouTube channel for helpful tutorials.
OutRanking vs Surfer SEO
In the question of OutRanking vs Surfer SEO, you have to weigh up exactly what it is you're looking for from your content tool.
We believe that whilst Surfer SEO is a cheaper tool, it doesn't offer the entire package that OutRanking does in terms of the amount of services you can take advantage of.
So for that reason we'd recommend looking into both software in detail prior to making the call. They're both great, but you may find that you'd like to utilise all the great things OutRanking has to offer if that matches up with your content marketing goals.
Customer Testimonials For OutRanking
We regularly see some excellent testimonials for OutRanking in various SEO social media groups and online in general, here's a few:
"I started using OutRanking for my content marketing campaign around 6 months ago, and honestly it's completely changed the way I plan, structure and write my content. Not only has it saved me time and money, but also helped me understand content marketing more in general. Really really recommend this service.

"Insane how good this tool is, really. Quite pricey but fully worth it, especially if you're looking to scale your content."

"OutRanking is so easy to use, a huge time-saver and has massively benefited my business since using it. No more poorly written AI!"
Summary
So to summarise, OutRanking is one of those rare tools that offers almost everything you need for your content, all in one place. It's getting harder and harder these days to find tools that are truly worth the money, but it's no surprise why so many marketers and SEOs (including ourselves) feel like this is one that really does.
Be sure to check out OutRanking if you're looking to take your content marketing to the next level.
Dan Grant
SEO specialist and keen internet marketer based in the UK. With nearly a decade of experience, my core role is testing and analysing new tools to help automate, streamline and improve our current processes and systems.
About FatRank
Our aim to explain and educate from a basic level to an advanced on SEO and Social Media Marketing.
Recent Posts