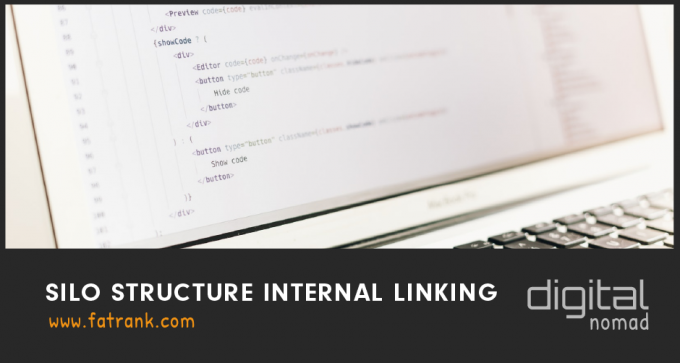 Silo Internal Linking
It is absolutely crucial that you implement your Silo Structure Internal Linking strategy because too many SEO agencies are generating external links to their websites and not passing the power throughout their pages.
A silo structure refers to the way you organise your website content and internally link throughout the pages. This is a white hat SEO strategy that is good for user experience and allowing people to access the information they need, but it's also a great way of improving website SEO.
Siloing Design
In silo structure design (a.k.a. "siloing"), a site follows a very strict silo page internal linking organizational structure that connects subcategories with larger categories above them. There are many other words for this and here is several so you understand the terminology others might use for siloing design:
Category > Subcategory
Folder > Subfolder
Pillar Page > Foundation Page
Hubs > Spokes
Parent Page > Child Page
Main Topic Url > Supporting Document
Branch > Sub Branch
Root > Branches
The technique and linking pattern are critical to achieving high search engine rankings.
If done correctly, there should be substantially fewer cross-links for search engine spiders to crawl on a silo site than a standard site (sometimes there are 90% fewer cross-links) – Check out this video for a more detailed description of the internal linking strategies and read below on the main types of site structure.
Siloing a website enables a sufficient amount of link juice from relevant anchor texts to be passed to similarly clustered pages in the silo.
Top-Down Recycle Silo
The Top-Down Recycle Silo is the most recommended website silo due to its overall simplicity and easiness to set up, but the overall good site architecture of this strategy enables your site to see big increases. This silo is the generic structure of your homepage linking to your supporting page, then your sub page linking down to supporting internal pages. So you end up with a triangular internal linking structure.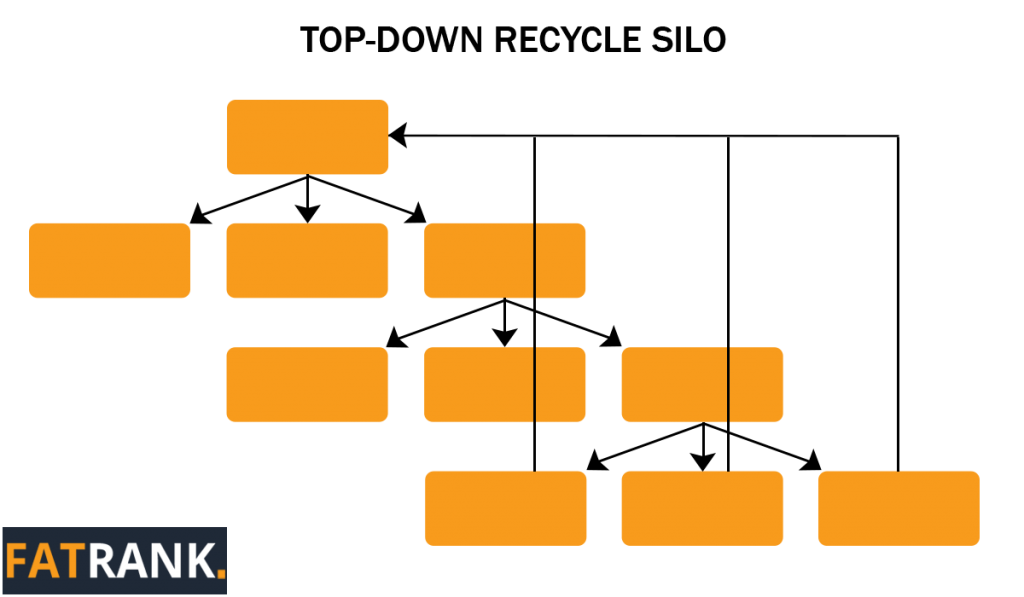 The bottom layer of your web structure then links to your homepage. This is to finish a loop on your site as if any external links hit your lower-level web pages, the link juice from most inbound links would not be able to pass through to any other pages in the same directory or unrelated pages.
Reverse Silo
This type of Silo works in the exact same way as the Top-Down Recycle Silo except the site pages also have links pointing the opposite way. So as well as each of your main silo own page levels linking down to sub-pages of their categories, they also link internally back to the homepage or category page that they are a part of. This means that link juice is very fluid and can be passed in any direction which is very good for link building.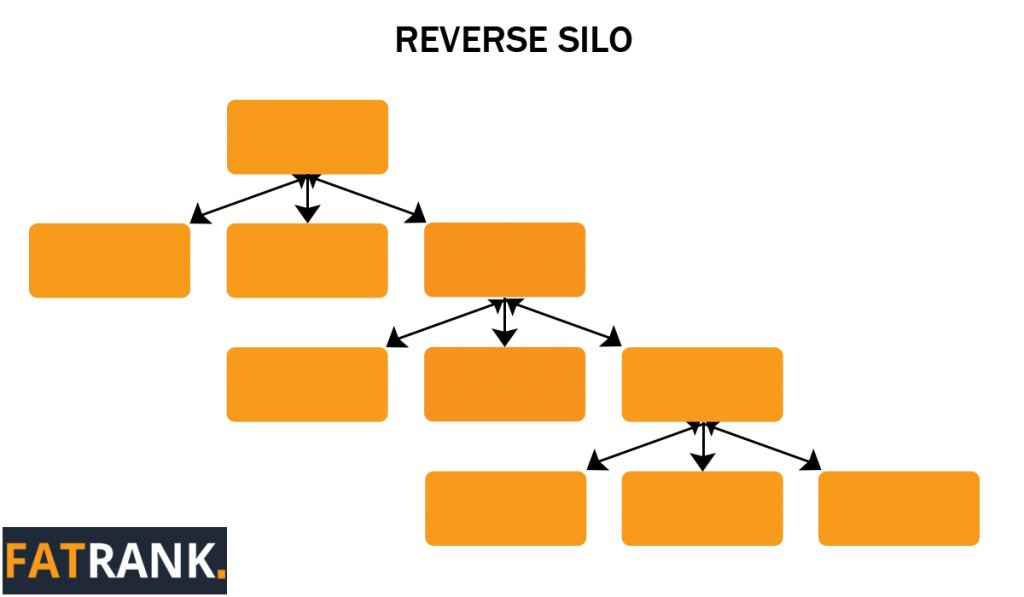 Serial Silo
The Serial Silo is quite a complex site structure that is comparable to a circle silo. It involves category pages internal linking to one only sub-page and this sub-page then sideways links to other related pages in its category. The last page of the category then links up to the category page above it in the silo's structure.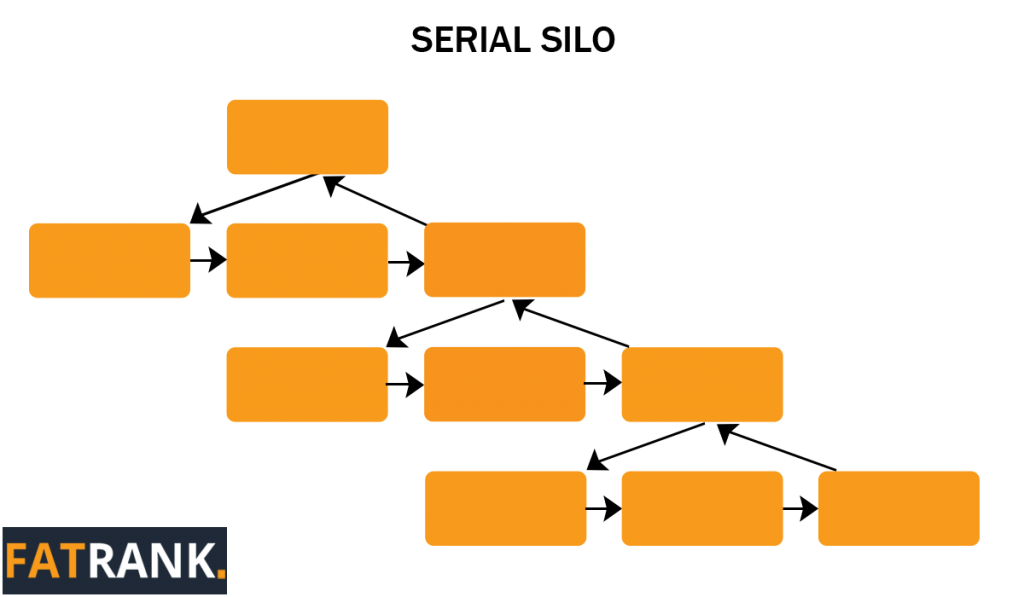 This structure is not recommended as many of your other pages will be supplied with very diluted link juice which means they will not be given much more power.
YOLO Silo
The YOLO Silo is where every single silo page links to each other. This linking structure is definitely not recommended as it's very cluttered and considered messy. For most websites that have hundreds of pages, it can be very detrimental as topical relevance from backlink anchor text is diluted to non-relevant pages.
It also means that a search engines may find it difficult to determine which of your web pages are more important than others which is very detrimental as your main pages will be given the same treatment as supporting pages.
Priority Silo
Priority Silo is an advanced method of link structure that is often considered the best way as it is significantly useful for topical relevance. It uses the reverse method of silo (as mentioned earlier) as a foundation, then finds other relevant pages with the same subject that can link up to category pages that are multiple layers above.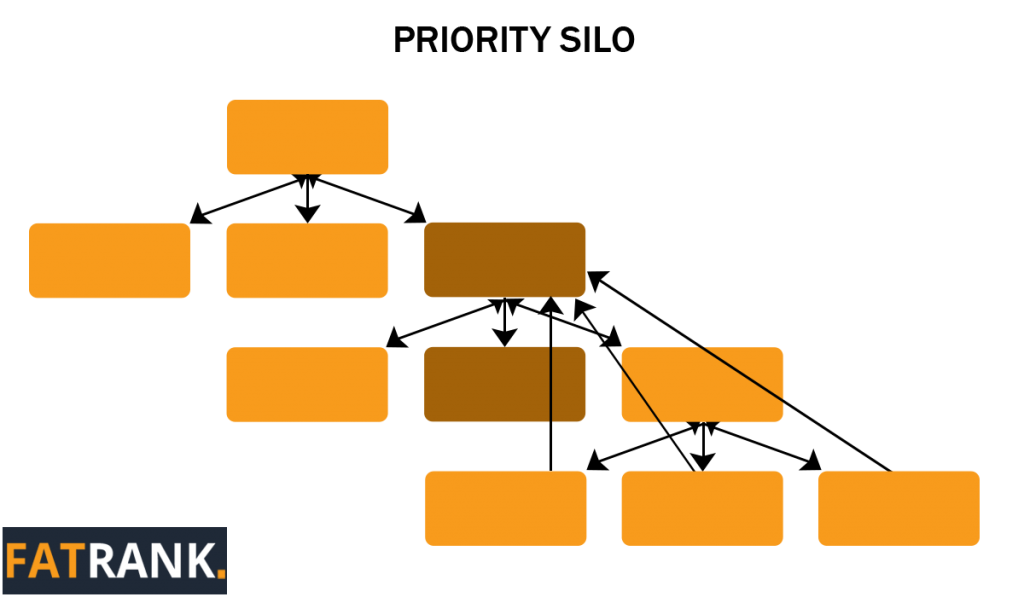 So starting with the silo reverse method and internal linking between pages both to and from other pages, then identifying your most cornerstone page/pages and most important target page/pages through competitive keyword research and finding pages that don't already link to these important category pages to link from.
Making sure you link internally from your home page to the category silo pages, then category pages linking to your post articles are key.
From the article submissions, linking that back to the homepage is great. This is because it can trigger the bots to crawl your whole site again and again very easily.
Silo Meaning
What does Silo mean? Silo basically means to isolate a specific thing or system from others. Why is this important for on-page SEO? You need to isolate a particular target keyword/keywords to ensure you don't rank more pages for the same thing.
Silo structures are very important when thinking about on-page search engine optimisation, so make certain you incorporate the structure within each page. This will then help your website to progress and can actually help pages to rank better!
What is a Silo?
The definition of silo is to isolate a department from others.
So in SEO, a site structure is used to cluster a set of pages together and isolate them into topics. A silo refers to a pattern in which multiple pages link internally to other important pages based on relevance.
This builds up topical relevancy and is stacking SEO silos into topics and subtopics to gain expert status from the search engine crawlers. as you build up topical relevance, you are building a topical authority and eventually covering a singular topic in its entirety.
Keyword research is the first step of implementing a site structure. By breaking down your site into specific clusters and topics, you can then start contextually internal linking between them to create your silo.
Sub topics can even be broken down into sub-sub topics which will then enable longtail keywords to start ranking on your site.
What is Virtual Silo?
A virtual silo is where you create and make an interlink between pages that are topically relevant in the main body.
The main types of internal links that are important when referring to your silo are contextual links. Contextual links are links found in the body of your page.
This manual made silo is great for showing search engine spiders which posts or pages are topically relevant.
These should all link back up to the parent money page and a silo is created to only really link within its own topical node.
By linking between topically relevant pages on your website, you are suggesting to Google that you are a trustworthy supplier of informational articles for that topic. By making Google's life easier, they'll make yours easier and rank your pages higher.
Disclaimer: At times I personally link internally into multiple categories (i.s. into different types of physical silos) as long as it makes sense. I do this because I build other websites not solely for the search engines but for my visitors and at times if it makes sense to do so I will link to what is known as cousin pages and cross-linking.
What is Physical Silo?
A physical silo is where the CRM system creates a URL structure with parent pages and child pages. Check the following example of this silo:-
domain.com/tag/post/
domain.com/category/post/
The tag and category can be called whatever your parent money term is and the posts are generally long-tail questions or information on that topic. This is great because build topical SEO which is key to showing Google you are an expert in that particular topic.
*It is very important when creating a silo to internal link only where it makes sense to do so and you see a relevance between the articles to add onto the topical relevancy"
What is a URL Silo?
A URL silo is when you organise your website's content creating precise topic groupings.
Google dislikes unorganized content and each URL should really be part of a topical node so it is easy to distinguish the topical relevance.
The URL silo also allows extra juice when linking if you utilise the reverse sink or swim method that links received from linking pages that have the keywords in the URL or title pass more ranking power than those without.
Here is one way of implementing a URL silo:
fatrank.com/james-z-dooley-seo-enthusiast-introduction/
fatrank.com/james-z-dooley-seo-enthusiast-introduction/2019/
fatrank.com/james-z-dooley-seo-enthusiast-introduction/2018/
fatrank.com/james-z-dooley-seo-enthusiast-introduction/2017/
fatrank.com/james-z-dooley-seo-enthusiast-introduction/2016/
As you can see from this example above then the URL structure all follows the same sequence where it is a parent page with child pages (the URLs with the year in) supporting the parent page.
The benefits of this method are it is building topical authority in SEO and also utilises the reverse sink or swim methods with links.
What is a Link Silo?
A silo link is linking documents to cluster articles together to build relevancy.
The more stacking of silo you can do within a topic the more expert the search engines give you in that particular field.
Being an expert within the topic is key and Google are trying to move away from ranking pages from websites that only have one document on the subject matter.
Building quality content depth and document frequency up that are then internally linked as a topical node is key to success.
Why Create a Silo Structure?
Well, first of all, when you create a silo it's easy to maintain, easy for your audience to follow, and lastly, it's great for spreading links around the site.
Imagine if every link you build just goes to the single page at the top of the silo. Over time, the link juice will flow down to each silo page and post. Therefore this makes them rank higher in turn.
Long-tail keywords benefit significantly when links are filtered throughout your site as they will likely start ranking without any specific link building strategies at all.
So you want your main silo to be the most competitive page, and the bottom posts to be weaker.
Most of them should rank on their own or after building just one or two external links. As you build more inbound links, the second tier pages and finally the first page will rank higher as well.
So it's great for your users, and great for SEO and search engines.
If you're planning to build an authority site with a lot of posts and pages, it's understandable to use this link structure. Be sure to read this article on creating silo structures which includes case studies and helpful examples.
The video shows a standard Silo Structure Internal Linking design. The clip is going over important factors for on-page which every SEO specialist needs to look at properly for silo structure.
You should implement the infamous SEO Silos of WordPress or whatever content management system you use. This is hugely beneficial to strengthen all your pages and rank for multiple keywords.
Siloing is one of the most undervalued techniques being used by the white hat SEO companies in the UK.
Make sure you educate yourself on this technique and apply it to your site. Feel free to contact us or leave a comment if you have any questions about different silos for your site.
Key Takeaway – Advantages Of Silo
The main reason I love silo so much is that it allows me to create comprehensive pages of content specific to an individual topic.
This allows me to create an in-depth article specifically to do with the title of the page. I'll then link internally with silo to supporting articles of this on the website and search engines.
As the new pages and pieces of content are tailor specific to the title of the page then the user experience is so much better and stacking this silo into a cluster of documents hugely helps your expertise of that given subject. In this video, they call this the new semantic web which is basically clustering multiple documents on a given topic. Check it out as great video:
Previously I would write a long piece of content trying to cover too many topics. These could have been broken down in smaller blogs and then through silo interlinked.
Therefore now I can write a piece of content on the 'History Of Old Trafford' and create this long comprehensive article solely on this topic. I'll then link this to Man Utd sports betting page.
However previously if someone was searching for historical data on Old Trafford and were sent to a page on sports betting for Man Utd then this would have been a bad user experience and caused high bounce rates and low time on site and could affect the organic traffic to the page.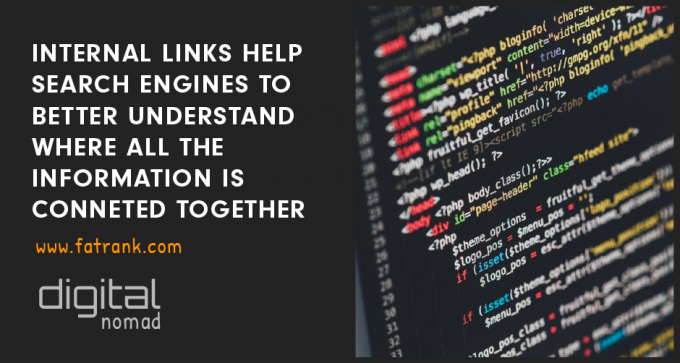 Creating a topical trust with content depth allows us to leverage low bounce to the website and quality time on site.
Then utilising silo linking if they want to check the odds on Manchester United to win at the weekend while playing at that stadium they can choose to or not. But in googles eyes, the visit and user has had a good experience with your site.
SEO Silo Structure June 2022
SEO silo is ever-changing and it can be difficult to keep up to date with the correct site structure. The main thing to keep in mind is to link pages that are related.
You do not want to create content cannibalization when you are adding fresh content to your site. In order to avoid this, you will need to carry out internal linking and create a strong SEO silo structure.
This process is not as difficult as it seems. Basically, whenever there is a crossover (when you mention something that you have another page for) you will use an anchor text link to link internally to that page.
This basically shows Google you do not want to rank this page for that keywords. You are also showing Google the page you do want to rank for that particular keyword.
Innovative New Site Architecture
All the above I have followed for many years successfully but recently I have spoken a lot to an on-page maestro called Daniel Cuttridge.
For many years he has shared knowledge bombs throughout the SEO communities and many have rehashed them as their own when it initially came from Dan.
What I love about Dan's innovative architecture is that he tests and tests some more.
His architecture and silo setup he has named "Nabla Site Architecture" which if you check the nabla symbol it is a reverse triangle shape.
What is the Nabla Site Architecture Method?
The Nabla Site Architecture Method is doing the opposite to exactly what I was originally trained with linking from the main page only to categories, then to subcategories, onto pages, then supporting posts and then finally news articles.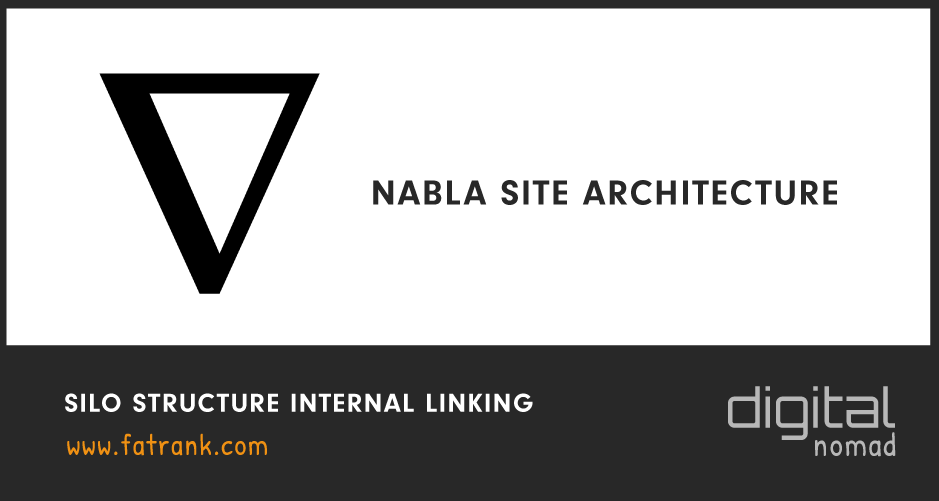 The Nabla Silo is linking from the homepage to as many pages as possible so the majority of your website is only one click away from the home page.
Then each of these pages which are one click away links to the remaining of the site so every single URL is maximum two clicks away from the homepage.
For more information on this design and setup, I would strongly recommend visiting onpage.academy and signing up to his free training.
Silo Structure Auditing Tools
The main tool I use for silo structure auditing and website structure optimisation and the tool I recommend is Screaming Frog SEO Spider.
Screaming Frog is an easy to use silo structure auditing tool with all features you will need to monitor your website's technical aspect of SEO.
The website architecture tree graph it creates for your website is brilliant and shows where your site needs improvements through linking between pages.
All of your technical optimisations are taken care of by Screaming Frog, which not only shows you where your site structure needs improving but also offers information on click depth, status code errors and much more.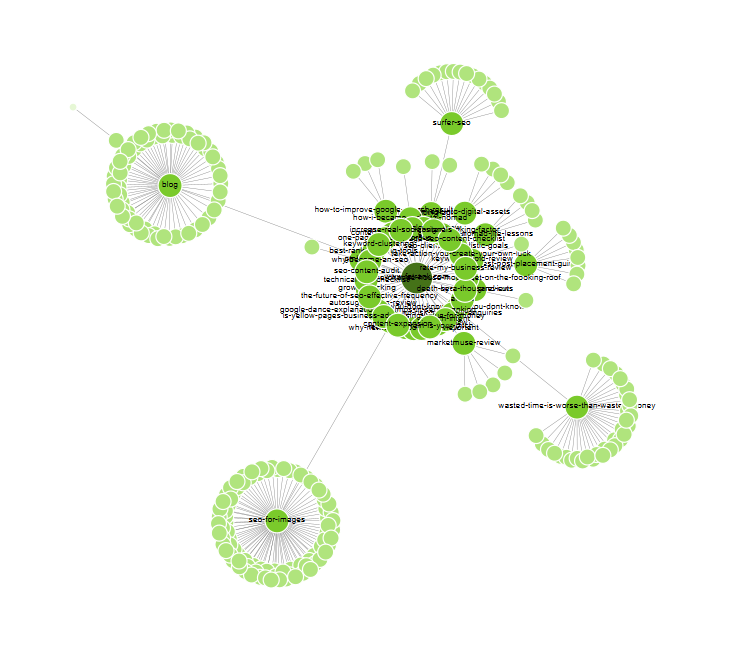 Internal Links WordPress Checker Tool
After years of using many SEO Freelance Experts for internally linked audits we now have some amazing SEO tools which allow this to be done on the fly.
Check out my review on a great WordPress plugin called Link Whisper.
The link whisper review shows how easy it is to analyse and improve your linking for your money websites.
Popular Questions
What internal linking practices have you found to be the most effective?
I believe the Priority Silo to be by far the most efficient website structure for a number of reasons.
The Priority Silo spreads the perfect amount of link juice throughout your site. It also clearly shows Google the pages that you have identified as being the most important.
Should you use absolute or relative urls in your internal links?
You should always use relative URLs when it comes to these links as it can help prevent errors on your site.
Absolute URLs need to be used for external/outbound links as they need to contain the domain of the external website.
How many links should I include per post?
There's no set amount of links per post and no maximum. However, being moderate in internal link placement is very important.
A lot of experts recommend between 5 and 10 internal ties between every 2000 words.
What is the difference between silos and categories?
A silo is your website's architecture as a whole. It consists of all of your pages and how they stack up in a hierarchal structure.
Your categories are the specific clusters of your website in which pages are segmented under similar topics.
Conclusion
Internal linking is a hugely important ranking factor in 2022.
If you do great links internally then it will help your whole site ranking better on the search engines.
These links links allow you to create topical clusters of pages and interlinks topics together.
The main advantages of links amongst other things are the ability to feed rankbrain and hummingbird to show you are an expert in your niche with supporting documents.
Creating a comprehensive content silo on related topics and siloing these together into clusters massively helps you to improve the Information Gain SEO Scores.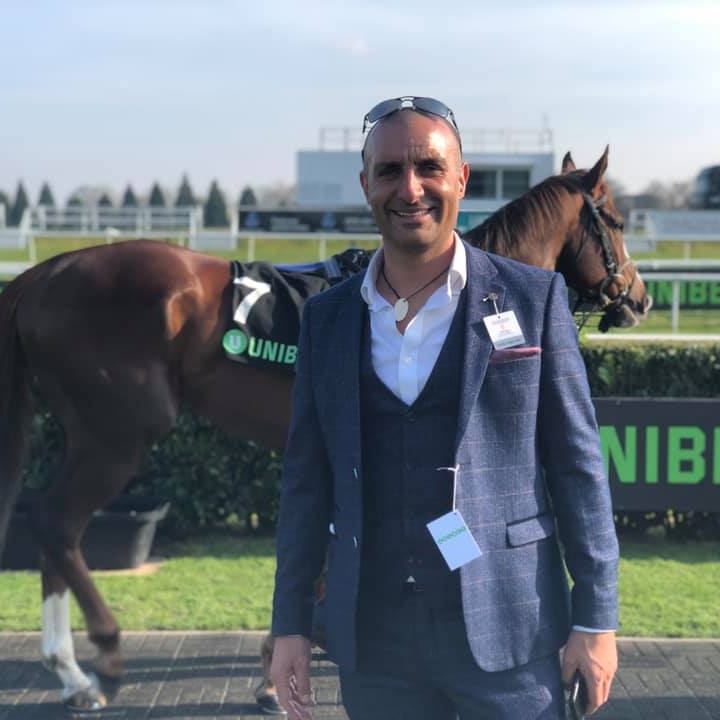 Digital Nomad
I'm a full-blown Search Engine Optimization specialist earning the majority of my income from SEO-focused endeavours, including affiliate marketing, lead generation, as well as SEO services. Love travelling the world networking while working on my laptop. Life is a perception of your own reality. You have no excuses and should be making memories every single day.
About FatRank
Our aim to explain and educate from a basic level to an advanced on SEO and Social Media Marketing.
Recent Posts