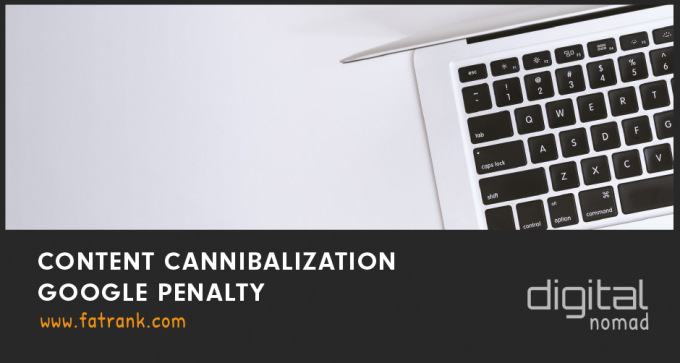 We all know that freshness of content is important for a site, but you need to make sure you are not trying to rank a page for what another page is already ranking for.
Every SEO agency knows about Penguin and Panda penalties on websites or the latest algo updates like Fred or whatever folk would like to call them. But only the advanced SEO companies know about the hidden secret of the content cannibalization Google penalty.
This is a little misleading because it is not actually a penalty but an internal conflict of your website. This then causes certain keyphrases to jump up and down in the SERPs regularly.
Are you jumping around from page one to page six and wondering what the hell is going on? If that is the case then it could be the content cannibalization internal conflict you have going on.
SEO Content
This is a big statement and it comes with massive consequences because Google hits the majority of websites with this without many knowing. So what is this Google penalty and how does it affect websites? You can describe SEO content cannibalization as 'A single website targeting the same keyword on multiple pages.' 
When this happens, Google's spiders don't know which of the pages is the most relevant to that keyword. Rather than ranking the best page in one of the top positions, the lower quality pages pull its rankings down. Therefore you end up with all of the pages ranking on page 2 or 3 or even lower.
Please be aware that the Google Dance may have some effect on your position, so please do not be disheartened if you do not position 1 straight away.
Internal Conflict
Moving forward when creating any new pages on your website you really need to follow the process on this image below. Checking is there any internal conflicting existing articles is key. This is because it could end up having a negative effect on your website.
Theming pages and making it very clear to google which URL you want to rank for a dedicated keyphrase is ultra important. At the bottom of this article, I am starting to carry out case studies to find ways of helping keep sites away from this problem.
For example, if you had a website about musical instruments and you tried to optimise 5 of the pages to rank for the keyword 'musical instruments', the spiders would be confused as to which one was best.
This would then mean that it pulls all 5 of the pages down into lower SERP positions. Therefore your best quality page wouldn't rank in a top position. Be sure to remember that Google ranks pages, not websites. So trying to rank your whole website for one keyword by including it on lots of pages won't work. By doing this, your pages can miss out on a lot of SEO benefits, such as:
Quality Content – If you have multiple pages talking about exactly the same topic, the quality of your content is likely to deteriorate as you run out of things to say. Instead stick with a single, well-written page that targets the chosen keyword, eg 'musical instruments'. You can ensure a good quality page that is more likely to engage readers and rank better.
Internal Links – By interlinking throughout 5 very similar pages rather than concentrating internal links on one good quality page, you lose value from the anchor text links as it's dispersed through lots of pages. It is important your silo structure for internal links is good. Please concentrate on this when internal linking.
External Links –  You may have external links from other sites pointing to each of the 5 different 'musical instruments' pages. The value of these links will again be split up between each of the pages. It's much better to have all of these relevant links pointing to a single page. This way it receives all of the benefits and can get a boost in the rankings.
Page Conversion – If there's one page with better conversion, it's pointless trying to rank other pages for the same keyword. This is especially true when the other pages don't convert as well. It's better to target all of your traffic to the same page to maximise conversion.
Establishing Topic Relevance
So what can you do to remove the Content Cannibalization Google Penalty and how can you resolve this? Well, instead of having multiple pages on your site all targeting the same keyword, you can have one main page. This targets the keyword and a few other pages with variations which are valuable themselves.
These pages then act as supporting articles for the main page. They are clearly establishing the topic and letting Google know what the main page is all about. This also works if you are adding a new topic to your website and Google hasn't related your site to that particular subject.
Using Supporting Articles
If you add the page and then create at least 3 supporting articles, you can let Google know that your site is relevant to that subject. Sticking to the musical instruments example, you could have a few pages which target key phrases like this:
Page-1 – Musical Instruments
Page-2 – Professional Musical Instruments
Page-3 – Children's Musical Instruments
Page-4 – Musical Instrument Discounts
Page-5 – Second Hand Musical Instruments
As you can see, each of these pages relates to musical instruments but talks about its own unique topic. To ensure that Google knows to rank Page 1 – Musical Instruments for the keyword, you can insert internal anchor text links from Pages 2, 3, 4 and 5 to Page 1.
By optimising the rest of the pages correctly, you can help them rank for their own key phrases rather than trying to target the same phrase with 5 different pages and causing content cannibalization.
If you do want to find out more on how to check this secret ranking factor then tweet @james_dooley and I can personally discuss each case with you or connect through with me on facebook – James Z Dooley.
Here shows a great video explaining the Content Cannibalization Google Penalty :
This video was recorded at Brighton SEO in the UK which is a superb conference for the best SEO gurus to meet up and share ideas on PBNs, on-page conversion, SEO tools like Rankwyz and specialist SEO training courses available throughout the world.
This is certainly something everybody needs to be made aware of because it is starting to grow year on year. More people are attempting to carry out SEO themselves but do not have sufficient knowledge to implement best practices.
An alternative is SEO Outsourcing with PromoSEO because these can make sure all your affiliate websites or money sites are clean and ranking better on google.
Content Cannibalisation Case Studies
This post above was originally published in 2015 and now it is becoming the hot topic in the SEO industry. I hear in private WhatsApp groups and closed facebook groups many internet marketers struggling with this issue. I am going to start creating some case studies of getting some affiliate websites out of this mess.
If you currently think you have a problem with this internal conflicting pages then comment on this blog and I will help you for free as part of these case studies.
How to Identify Content Cannibalisation
If you are interested in finding out how to identify content cannibalisation, then please make sure you read the following steps:
Visit Ahrefs and type in your URL
Click on Organic Keywords
Export keywords using full export
Open exported files
Order into alphabetical order so you can see cannibalisation issues more easily
Use conditional formatting to highlight duplicated words on the list
You may then order these to show highlighted cells first – this makes it easier to see the duplicated pages
Those that have duplicated keywords are the pages that are ranking for the same keyword – you will have to decide which page you want to rank this keyword for and then deoptimise that keyword on the other page.
 Overall it is pretty simple to identify content cannibalisation when using the correct tools. We would highly recommend using tools like Ahrefs to find pages which are ranking for the same thing.
It is very important to sort out content cannibalisation issues. You need to ensure Google knows which page you want to rank for that particular keyword. The above process is quite easy to follow and should be carried out for all your websites.
How to Rectify Content Cannibalisation
There are a few things you can do to help fix these internal conflict issues on your site:
Deoptimise the keyword on the conflicting page – Remove a few mentions of your keyword from pages you don't want to rank for it. Google then sees them as being less relevant to that topic.
Enter 'site:www.yourwebsite.co.uk keyword' into a Google search and see all the pages which mention that keyword or phrase.
When you've found all the pages that mention the keyword, simply do an exact match anchor text link from those pages to the page you do want to rank.
Build some exact match backlinks from external sources to the page you want to rank.
Completing these steps should help to remove the conflict, and therefore push your primary page's rankings higher.
Please be sure to share this post if you found it helpful. Leave a comment or get in touch with us if you have any questions about content cannibalisation.