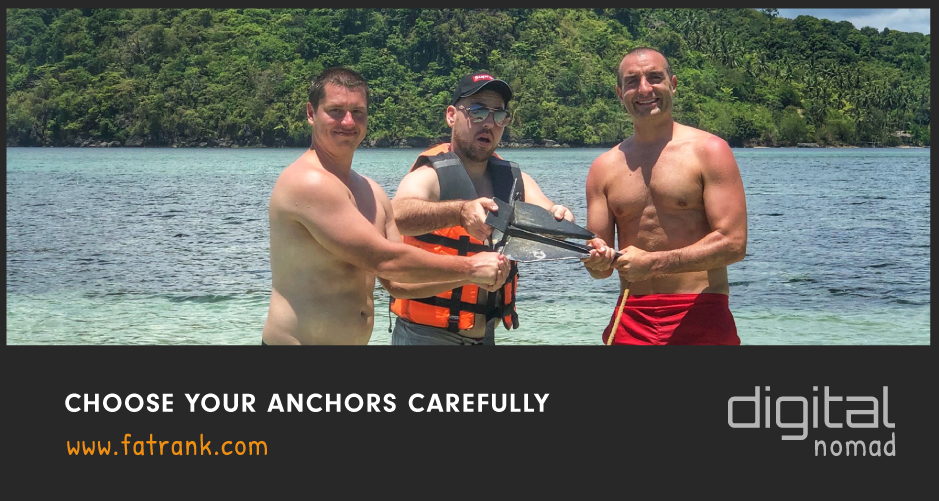 Future Tense Anchor Text SEO Technique
With SEO evolving and adapting to new algorithm changes constantly, many individuals are also looking for the next new way to rank their sites for different keywords. Future tense anchor text is something people have been experimenting with for a while now. This is the technique of writing posts which are designed to rank for phrases which will be popular in the near future. In this post I will be uncovering a technique I learned from Charles Floate after attending a recent Chiang Mai SEO Mastermind.
Ranking Pages for Next Year
With the New Year swiftly approaching, many people are attempting to rank keywords for 2019 early. This process involves something called future tense anchor text, which is the concept of theming the anchor text you use for links around the time period you want them to rank for.
An example of this would be if you were looking to rank for 'Get Ready for SEO in 2019' as the year in which you'd like the keyword to rank is included in the phrase. This can help to push up your rankings so that when 2019 comes along, your page is already ranking well for the keyword that people will be searching for. A company may use this same anchor text 10 times for 10 different links in the hope that this will rank them ready for the New Year.
The problem of course with the example I have given above is that Google is becoming increasingly more intelligent. It is beginning to understand that people are benefiting from the ease of simply including the year. For example using it in the anchor text and then ranking it ready for January. As a result of this, Google is finding it much easier to see a pattern when the same anchor text is used for ranking the exact same phrase with the same year.
Timeroid Technique
This name of timeroid technique I have recently read from a site written by Luqman Khan (previously owner of a huge amazon affiliate site called 10beasts). He explains in the timeroid article here how important it is to break the news first. Be the first authority to the search engines to start writing about a particular phrase, product or piece of news. He explains the timing is key and in the blog says:
"It simply means that start before others, break news first and reveal the things before others do. JUST BE QUICK"
If you're the first person to reveal something online surely Google will reward you for being the source of information. The Timeroid Technique is about how soon you break the news and being the fastest to get indexed. Luqman talks about how "Timing" is among the most underrated yet powerful Ranking factors and will be for 2019, 2020. Hey do you see what I have just done there sneaking in 2019 and 2020 to futureproof myself haha.
Get One Step Ahead of The Game in June 2022
You all need to up your game as competition increases throughout June 2022 and beyond. Start looking for next years searches now and future tense your content so you are ranking for keywords containing 2019, 2020 or whatever the following years are from reading this post. Once ranking in position one for the future tense of your main keywords then you tend to stick around more within google and it is harder to knock you off your perch.
Try to think outside the box on keyword research to rank for various key phrases and you will be onto a winning combination for sure. Ahrefs is a must have SEO tool for future tense keyword research. They have integrated an amazing new element which shows the newly discovered searches within Google. You can then use this information to follow the keyword trends.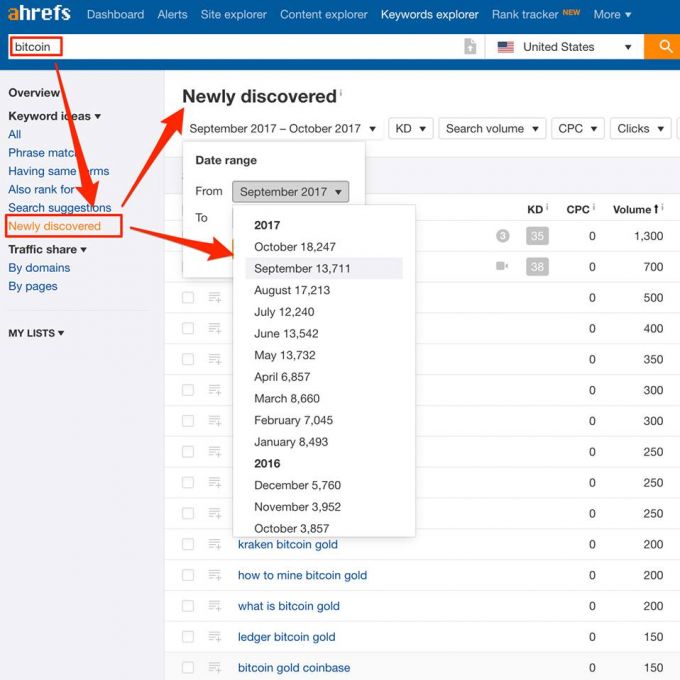 You can see from the image above that ahrefs have integrated a new feature into their keyword explorer. This image is showing the growth and trends of bitcoin growing in monthly searches. Having this data is crazy for your tools in being able to utilise this within your marketing strategies. You have all the training and tools needed online to go out and make yourself plenty of money. Start taking action today and read this article which hopefully motivates you to start hustling and grafting today.
Using LSI Keywords
A great way of stopping this happening whilst ranking for multiple different keywords is to target LSI variations of the future tense anchor text. So for example instead of using 'Get Ready for SEO in June 2022' 10 times for 10 links, perhaps a good practice would be to mix it up and do 8 LSI variations of that key phrase with 2 as exact match. For example your keywords spread across 10 links could look like:
Get Ready for SEO in 2020
Get Ready for SEO in 2019
Prepare for Search Engine Optimisation in 2019
Getting Geared Up For 2020 SEO
Adapting Your SEO Strategies Ready For 2020
Improving Your Search Engine Optimisation For 2019
Readying Yourself For 2020 SEO
Preparing For 2020 Search Engine Optimisation 
2019 SEO Preparation Techniques
Researching New SEO Strategies for 2020
Using a variety of keywords like this will not only help the process look natural to Google. It will also help increase the amount of future tense keywords that you rank for. Win win!
Targeting Regularly Updated Products
This technique works well if you are selling products which get out of date quickly as new ones come along. For example you could have a page talking about the best laptops of 2018. You'll want that page to rank for keywords like 'best laptops 2019' so that when new products are added, your page is already ranking. You can do this by including phrases containing '2019' within the content of the page. You can also link to it with anchor text like 'top new laptops for 2019' etc. This way when people start searching for the most up to date pages about new laptops, you'll already be ranking for those phrases.
By using these tactics you can put yourself ahead of competitors and get your pages ranking for future tense keywords. So why not try out these techniques and see if it can work for your business. Let us know if you have any other suggestions for this post and feel free to contact us on social media!
Future Proof Your Earnings
If you are struggling to make money from online media then are you honestly going above and beyond? Read these articles for self motivation to prepare you for the hustle:
Try to be innovating and creating ideas within your online marketing strategies to be one step ahead of the game. Jumping some of your keywords onto page one in the serps could be that boost your site needed. Driving more traffic and sending more signals to your website could work wonders for the whole site.
My Team Training to Prepare for Changes
These articles is what I make sure all my PromoSEO staff believe in. They all go the extra mile, go above and beyond their standard working day and most importantly understand the power of SYNERGY. Creating relationships and building joint ventures really is what I believe is the key to success in life. Money is not a primary focus in life but fun, memories and relationships are. A rising tide lifts all boats is a favourite phrase of mine because I love to try and make all friends around me be successful.
All SEO Related Posts
Check out the in-depth list of SEO posts.
The full list shows the various SEO strategies to help your online marketing knowledge grow fast in June 2022.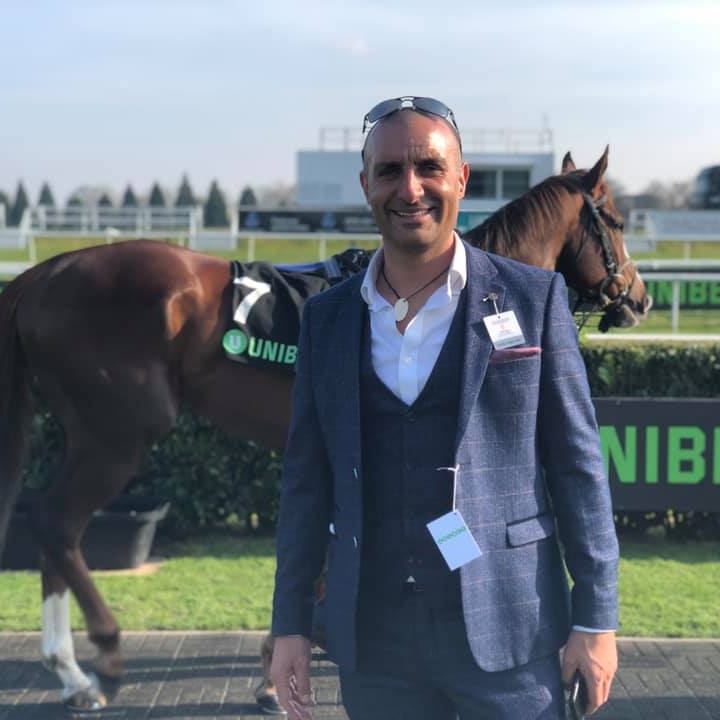 Digital Nomad
I'm a full-blown Search Engine Optimization specialist earning the majority of my income from SEO-focused endeavours, including affiliate marketing, lead generation, as well as SEO services. Love travelling the world networking while working on my laptop. Life is a perception of your own reality. You have no excuses and should be making memories every single day.
About FatRank
Our aim to explain and educate from a basic level to an advanced on SEO and Social Media Marketing.
Recent Posts