Semrush Review
SEMrush is a competitor analysis tool in the SEO industry.
SEMrush offer a great 7-day free trial so give it a try here and see what you think:
Why SEOs Need Semrush?
Driving traffic to a website is never a breeze.
It requires a blend of hard work and resilience and even with both, you might still not be able to outdo your competitors.
Currently, there are over 1.7 billion websites in the world today.
Of course, among them are a ton of dead blogs and sites however, the figures are still tremendous making success within the sector seem impossible.
SEMrush is a tool which allows you to reverse engineer your competition and give you the edge on what is working in today's algorithm.
The primary goal of SEMrush is to help you get placed higher within the Google searches thereby outranking most of your competitors.
This, in turn, gets you more and consistent traffic.
What is SEMrush?
SEMrush is an internet marketing tool that helps you attract traffic, improve your ranking and perfect your website or blog.
It is a tool designed to give you an edge over your competitors.
SEMrush Pricing
Signing up for SEMrush is fairly simple.
You can either use your google account or key in your email and a favourable password.
On signing up you will be required to select a plan.
However, you can choose to skip them and use the limited version of the tool.
SEMrush offers 2 trial plans; Pro and Guru.
You will get a 7 days free trial for either one you choose, then $99.95/mo for Pro and $199.95/mo for Guru.
You are allowed to cancel the subscription within 7 days after the trial expires.
Features
The tools offered by SEMrush are all listed in a vertical manner on the left panel.
We are going to look at some of the most important features provided by the SEO tool.
Domain Overview (Site check)
The main search box allows you to do a routine site/domain check which is common in many SEO tools.
All you have to do is key in your website, for example, www.hubpages.com, click enter and let SEMrush do its magic.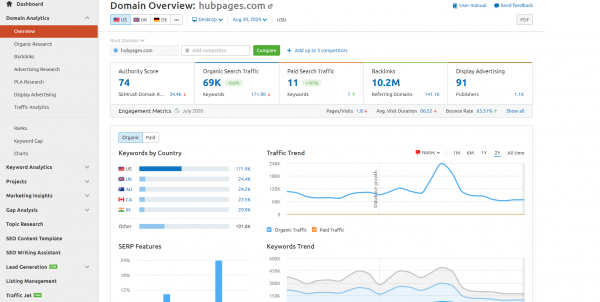 You will then be provided with a full overview of your website.
SEMrush will list in detail, the total number of organic searches, paid searches, backlinks and display advertising for your domain.
Moreover, you can be able to view your top organic keywords as well as your main organic competitors.
The ability to download all these data in PDF also comes in handy for future reference.
Analysing Your Top Competitors
SEMrush allows you to do an in-depth analysis of the performance of your competitors and more through the organic research area.
Here, you can key in your competitor's website and get a full overview of their site.
This includes the main keywords and how much traffic they are generating for them.
This is extremely valuable information as you can use it to outrank them.
What's even better, is the fact that you can further analyse these keywords through the series of rows and columns provided for them.
You can look at how competitive they are, their trends within the last 12 months and their ranking difficulty level.
Keywords
SEMrush has a keyword analytics section which is an invaluable tool for any SEO marketer.
The overview section allows you to enter any keyword of your choosing.
You can put in up to 100 keywords in the search box.
Once done, you can opt to change your location/country.
This is a very important option because similar words will rank differently in different countries.
The keyword overview will show you the total number of searches for the keyword within the entire month, the keyword difficulty, the average amount paid by advertisers for clicks, the number of searches in different countries as well as the trend within the last 12 months.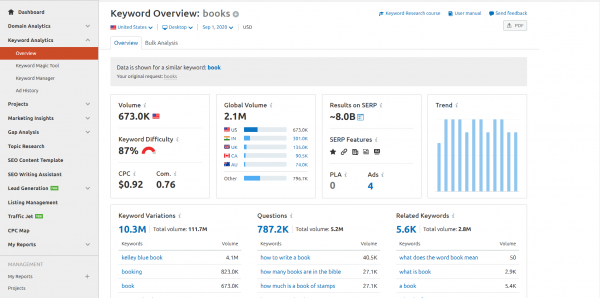 The information does not end here, you also get related keywords, questions and variations within the keyword.
Furthermore, you get to check out the sites or blogs in which these keywords have been used in the SERP analysis portion.
Through the keyword magic tool, you can be able to do a broader search of the keyword which will include multiple phrases or you can opt to narrow it down to just the word entered.
You're also provided with advanced filters within this section which helps you to greatly reduce the keyword options to the most valuable ones.
The keyword gap is also a wonderful aspect of SEMrush and can be very useful to you. It enables you to compare keywords between your site and that of your competitor.
Backlinks Checker
Backlinks are extremely vital when it comes to rankings.
Google has multiple ways to determine which site gets ranked first and this happens to be among the top ways.
SEMrush allows you to do a backlink analysis or audit on your site as well as that of your competitor.
It is able to assign your site's performance level based on backlinks alone.
To add to this, SEMrush is equipped with a feature that gives you ideas for backlinks and the sites you could contact them.
Site Audit
SEMrush allows you to do a comprehensive site audit.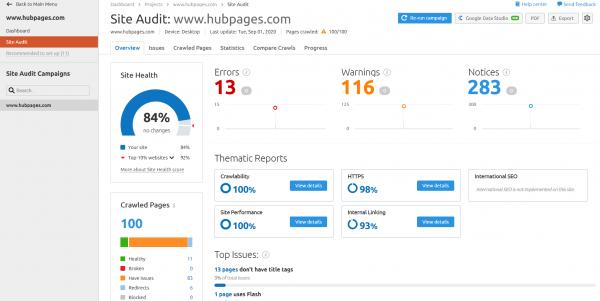 You will be awarded a value of between 1 to 100% based on the health of the site.
It looks at the uniqueness of the site, user-friendliness and optimization among other factors.
The higher the percentage the better.
Any issues detected within your site will be brought to light and you will be able to view and fix them.
Social Media Tracking
Social media hosts over 3 billion people worldwide.
This makes it an essential sector for marketing your site and blog.
SEMrush keeps an account of your performance and interaction with people across different social media platforms.
Conclusion
It's never easy taking your site or blog to the next level but with a little SEO knowledge and the appropriate tools, you could do it way faster.
SEMrush provides you with the right tools required to get your site there.
As you can receive a semrush free trial there really is no reason for you not to test and try the SEO tool out.
It's like a trick up your sleeve you can utilize to be at par with the high-ranking competitors.
All SEO Related Posts
Check out the in-depth list of SEO posts.
The full list shows the various SEO strategies to help your online marketing knowledge grow fast in September 2021.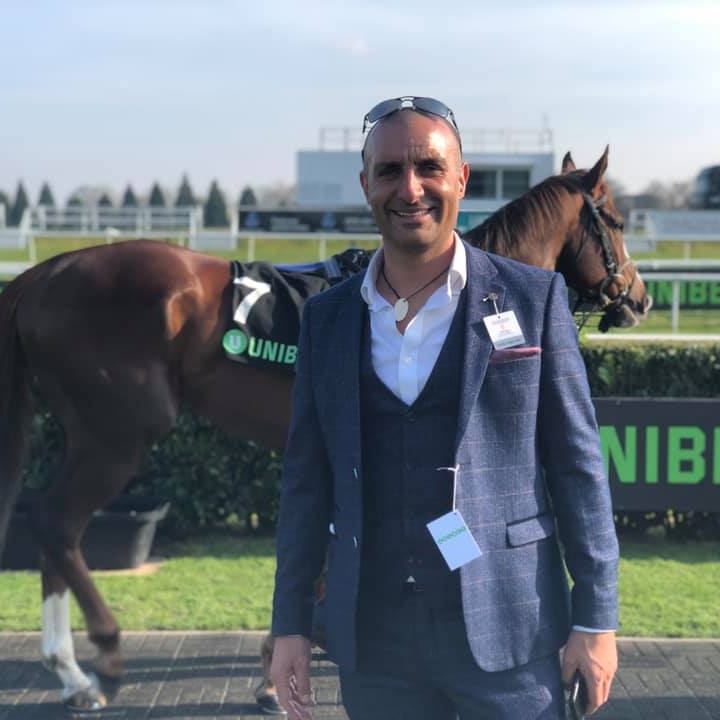 Digital Nomad
Digital Nomad who loves travelling the world networking while working on my laptop. Life is a perception of your own reality. You have no excuses and should be making memories every single day #LearnSomethingNew #Develop #Synergy #Network
About FatRank
Our aim to explain and educate from a basic level to an advanced on SEO and Social Media Marketing.
Recent Posts