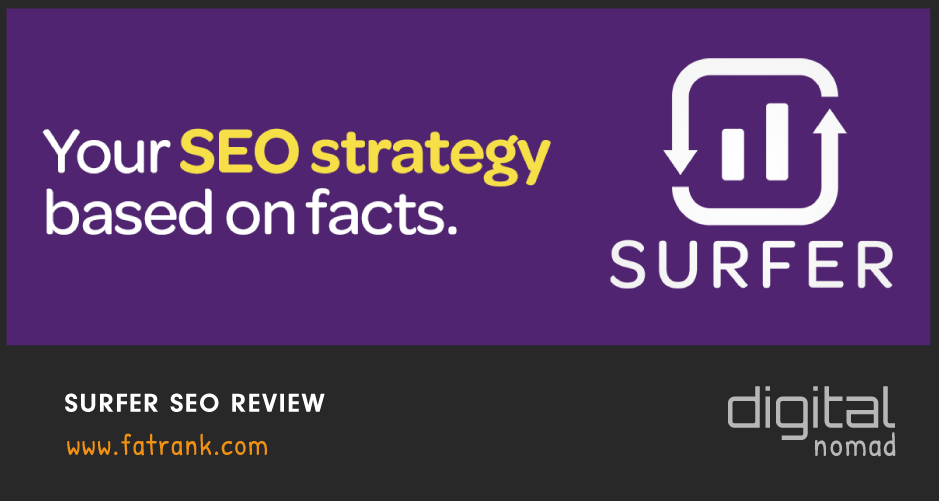 There is a lot of hype at the moment around the Surfer SEO on-page tool, recently voted the best onpage data-driven tool in November 2019.
So I thought I would need to test this out for myself.
Let me introduce you to my thoughts on the SurferSEO tool and whether you need it in your processes to improve google rankings.
What is Surfer SEO?
Surfer SEO is an online data-driven SEO tool for on-page optimisation.
It allows you to analyse and compare your pages against other sites that currently rank well within the SERPs.
This basically takes out the guesswork!
It analyses the pages within the SERP and lets you know exactly what is missing from your pages.
Secret Weapon For On-Page
The App Surfer SEO is our secret weapon onpage tool.
SERP Analyser
Check out our video on the build in SERP Analyser tool below:
It is important to remember correlation doesn't necessarily mean causation.
But the SERP analyser tool is a great way to ensure you are at the top of your game.
Cover the Complete Topic
You can also analyse specific keywords before writing a page.
This allows you to give the right information to content writers and ensure you are covering the page topic in its entirety.
Keyword Analyser
So what is the keyword analyser on the app surfer seo?
The keyword analyser provides information to optimise your page with the right keywords and phrases.
It does this by inspecting the SERPs and correlating the most used keywords for this topic.
How To Use The Surfer SEO Keyword Analyser
Using the tool is simple! Just follow the steps below:
Type your keyword in the dashboard
Pick search location by clicking on the flag (UK, US etc.)
Press enter
The analyser will get to work and trawl pages ranking for your keyword.
This will then produce a list of keywords, questions, phrases and even common backlinks.
Surfer SEO Features
Surfer SEO has a large number of useful features that help with your on-page.
Please see a list of the best features below:
Real-Time Data of the top 40+ ranked websites
Content Optimisation
User-Friendly
Over 500 Ranking Factors
Great Customer Service
With many more features available, SurferSEO is a great tool to scale your business.
Audit Tool
Are you looking for an in-depth audit for your site?
Surfer SEO does exactly what it says on the tin.
You can effortlessly generate professional audits for any URL using the SurferSEO audit tool in seconds!
Content Editor Tool
So, what is the Surfer SEO content editor?
The content editor tool analyses real-time data to determine how to best optimise your content. This is based around the main keyword and topic.   
This can be used for your own sites or to increase client rankings.
The Perfect Post
The SurferSEO content editor allows you to write the perfect post by using the data of the top-ranking sites.
It offers suggestions on:
The number of words, headings, paragraphs, images etc to use
Use of bold
Important keywords/phrases to use
Other relevant items to include
How to utilise questions and answers
This information can be used to set a target word count and keyword density.
How Much is SurferSEO?
The SurferSEO tool prices start at $29 dollars. This includes 5 queries a day and 250+ factors analysed. 
Remember, nothing good in life comes for free.
Even the 7 day free trial costs a dollar.
Payment Plans
The different annual plans can be seen below:
Hobby -$29
Basic – $59
Pro – $99
Business – $199
Business+ – $650
It is also possible to create a custom plan to ensure you are making the most out of these features.
Surfer SEO Review
Overall, I am extremely happy with the Surfer SEO tool.
This process is something I have been doing manually for years, but this now allows me to scale content at a much faster rate.
Great For Writers
This is also an ideal tool for my writers to use.
As with many great writers, they are fantastic with language but not too interested in the SEO aspect.
Surfer SEO provides a set of clear guidelines to ensure every page is optimised to rank!
I love the fact our freelance writers now have a data-driven tool to work from correlating information and averages we aspect for the content.
App Surfer SEO Testimonial Results
So after a lot of testing the app surfer seo, the cora correlation analysis tool and page optimiser pro we voted surfer seo to be the winner for our agencies to use.
Surfer SEO has been voted:
🏆 Best Content SEO Audit Tool
🏆 Cora vs Pop vs Surfer SEO Winner
🏆 Best SEO Content Analysis Tool
🏆 Best Onpage SEO Tool in the World
Since using the app surfer seo we have found it much easier to order content in scale and the seo content writers have found it easier to complete the content creation also.
Summary
All in all, we are very happy with the Surfer SEO Data-Driven Onpage Tool and it is no surprise we seen this voted the must-have SEO Tool for 2020.
Another huge positive is how active the owners are in the branded social media groups in listening to feedback and improving their tool further.
If any company is looking to scale content creation then the app surfer seo is a must-have to help achieve SEO optimised content first time.