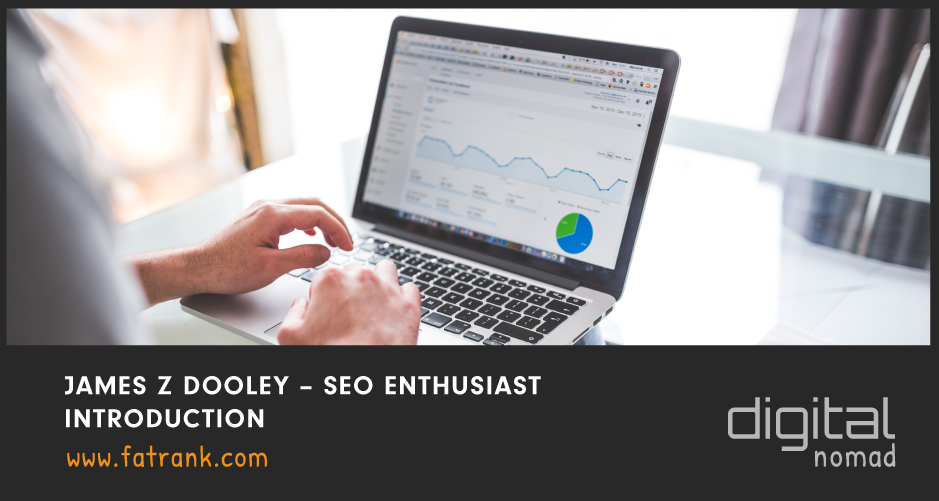 You may have read my James Z Dooley – SEO Enthusiast Introduction which has to lead you here. If not, I was born in Salford in 1983 and I am a digital nomad. You can see from my previous posts how I have progressed in the past few years. I started to offer updates to my SEO enthusiast introduction in 2015.
Things developed further in my 2016 SEO Enthusiast introduction and now I have learnt even more about being within the SEO industry and how to do well in digital marketing.
Plans for 2018
In 2017 – SEO Enthusiast Intro 2017 – you will understand I moved into supplying enquiries on a no-risk backend basis. So updating you on this then in hindsight this was not the greatest idea because we were reliant on the clients to convert so if they did not then our leads would not get paid for through no fault of our own.
Keep Improving My Mindset Throughout 2018
In 2017 I learnt the key is to delegate and transitioning your mindset to understanding this is not an easy task. If anyone is interested in mindset then read the article I wrote called your brain is your bitch because this helped me a lot studying this.
For this reason, throughout 2018 I am keen to keep training and developing my mindset further.
Mindset is what separates the best from the rest. Train your brain and you are training to be the best #YourBrainIsYourBitch #MindsetGoals

— James Dooley (@james_dooley) April 3, 2018
Another huge mindset shift for me was understanding the best practices to get yourself into your flow state of mind and how distractions impact your working day so much.
I am still baffled from the research that it takes 23 mins and 15 seconds to return into flow state after a distraction and this has helped in to close down social media when trying to concentrate.
Turning to Paid Ads in Additional to Organic
So what has changed now then? Well as the pay per lead model grew vastly throughout the year we started to turn our attention to PPC alongside organic SEO and we were able to scale this very quickly.
On a cost per lead model, we know what returns we could get and threw some big budgets into paid advertising. This is growing at a very quick pace and very excited to see where this takes us throughout the year.
I want to Build a Huge Technical Agency in 2018
Me being me and embrace failing or taking risks then I want to hit head on my weakness at present which is technical SEO. I recently organised a meetup in Manchester and said to the group "Yes I generally scale my websites by solely doing content and backlinks because consider myself technically retarded". So here is a quote I want to try and make come true by 2020:-
Although I am not very knowledgeable when it comes to technical SEO, I am keen to create one of the biggest technical agencies globally called InDepth so watch this space
I have realised each year that backlinks are diminishing in value by google and technical SEO checklists are a must if I am to start purchasing aged domains to build affiliate sites on. So I am going to try and tackle my current weakness by hitting this industry head-on as there will be no better way to learn.
So the two year plan for myself is to build one of the biggest Technical SEO Agencies globally #WatchThisSpace #TechnicalSEO

— James Dooley (@james_dooley) April 3, 2018
Get in Touch
If you would like to find out about my SEO plans for 2019, please get in touch. Also if you have any questions regarding what I have learnt this year, please feel free to ask. I would be happy to speak with you regarding my SEO knowledge.
All Growth Hacking Related Posts
Check out the in-depth list of growth hacking posts.