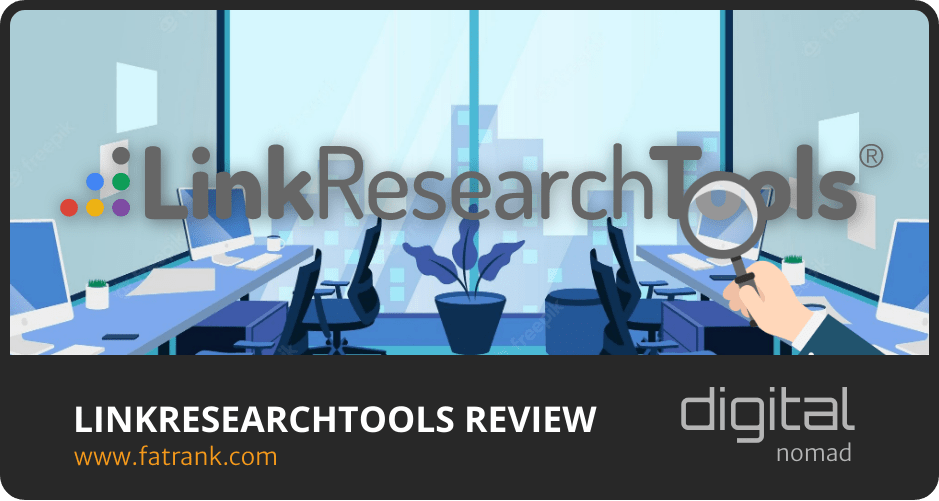 Link Research Tools Review
LinkResearchTools is a unique solution on the market as it unites a distinctive set of backlink analysis data.
Recover, Protect, Learn and Grow your SEO with LRT
LRT is seen by many affiliate marketers as the go-to tool for disavows in checking the toxicity of your backlink profile.
But instead of being reactive to spammy backlinks why are so many businesses not using LinkResearchTools for proactive measures?
Save money not buying high risk and low trusted backlinks from your link sellers?
Save money not buying high risk expired domains for your 301 acquisition method?
Save time having to disavow the niche edits, guest posts or spammy backlinks you bought from a link building company?
Add additional checks to investing in digital assets from your preferred domain vendors like ODYS?
Can LinkResearchTools be the key component your company uses to vet whether you place the link in the first place?
Let's dive in to see what LRT actually does and whether you are missing out by not having this in your SEO suite of tools.

Which SEO metrics should we use in link building?
Are Ahrefs DR and Moz DA good link building metrics?
Which metrics should we use in link building?
Are domain-based metrics like DR and DA problematic and misleading?
What is the best possible way to verify links in link building?
Check out this video to see how you should analyse the strength or weakness of backlinks.
Domain-based metrics try to measure the SEO strength of a domain based on a collection of attributes for all its sub-pages.
A link is never a domain linking to a domain or a folder linking to a folder.
A backlink is a source page URL linking to a target page URL
The SEO metrics in link building should always be analysed at a page level and not at a domain level.
The page where a backlink is originating from is usually referred to as the source page or referring page. This is the exact URL the link is placed and implemented on.
Domain-based metrics are not able to indicate the quality of a single linking page by definition.
Therefore saying "I will get you a backlink on a high traffic DR 60 website" does only mean that you will get a link on a page of a website that has some other powerful pages, and does not mean that your link and the source page it's on will have any SEO power, rankings, traffic, link power, link trust and much more.
The Secret Signals All Link Building Companies Will Not Tell You About
Link building companies want to make their jobs as easy as possible to place backlinks for their customers.
Why would link builders want to over complicate their work by adding additional checks in place if the buyers are not asking for this?
Within the SEO communities, all link prices seem to be based on DR metrics given by ahrefs tool and this so flawed.
Domain Rank (DR) can easily be manipulated to high scores and should NOT be the primary standard set out by link buyers.
The link buyers should demand so much more than a third party tool metric that measures the strength of the domain as a whole.
A backlink is a source page URL linking to a target page URL so why are we basing our backlink checks on domain scores only?
Here are the secret signals you should be demanding from your link building company:
Link Relevance –

Is the site (overall) relevant, or does it have relevant categories? What about page-level relevancy?

Location of the Link – With the reasonable surfer patent is the backlink placed contextually in the main body (high up the page)
Source Page has Useful Content –

Is the site professional and does it produce quality, well-written content? Or, is it just guest post spam?

Domain Trust –

Does the site have the potential to drive relevant referral traffic and look like a trusted site?

High LRT Trust – Does the backlinks come from a trustworthy source?
Low LRT Risk – Are the backlinks low risk?
Natural Anchor Text –

Does the site and its posts have a lot of bad anchors (viagra, casino, etc) or content containing these things?

No Spam –

Does the domain have a decent, varied link profile, from real sites, or is it propped up by SPAM and low-quality links?

Nofollow links – Does the domain have a nice blended mix in the link profile
Domain Rankings / Traffic –

Is the site getting a decent amount of organic traffic? More importantly, is that site on an upward growth trend, static, or is it declining, and by how much?

Page Rankings / Traffic –

Do the individual posts on the site rank for anything decent? Also, do any of these posts get traffic?

Low Outbound Links –

How many links per post on average do individual posts have to point to external sources? Are competitor links injected on the same posts, too?

Check robots.txt –

Are the individual posts or subfolders/subdomains disallowed in robots.txt?

Crawling & Indexing – Do new posts on the site get crawled and indexed fairly quickly?
Silo / Internal Links –

Is the site linking internally from the primary domain to its individual posts where links are placed? Or, have they siloed them off?

Geolocation –

The primary traffic location. Does it match your key GEO?

Site Purpose – Does the site advertise they accept guest posts openly? Are the majority of posts on the site clearly guest posts?
Publishing Frequency – Is the site publishing multiple guest posts on a very frequent basis? Is it essentially a link farm?
External Linking – Does the site, as a whole, tend to link out to rubbish/spammy sites? Or are they generally linking to quality publications that also fit the above?
Why Link Buyers Should Use LinkResearchTools?
The reason link buyers should use LinkResearchTools is that the link building companies are using domain-based scores like DR (domain rank).
I certainly DO NOT feel link sellers are out there to scam their customers – but I feel they need better education on what is a good link and what they should ignore.
Imagine for a moment that you spend over $1,000,000.00 on backlinks and get 1367 really poor links on "High DR" sites.
With most of your referral pages having no power, no trust, and very high penalty risk.
Here are some of the 1367 links to review from an audit in a private LRT site clinic.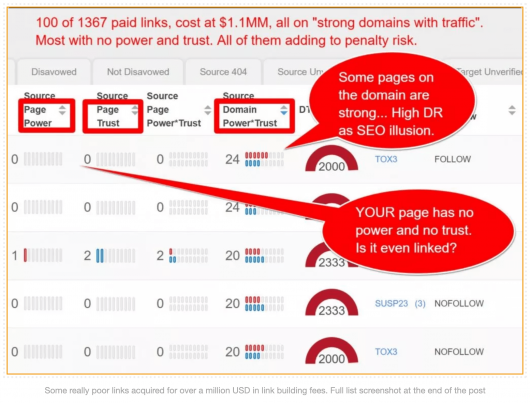 This example above is not uncommon and the worse thing is some link building companies who audit the links say they are good backlinks (simply because it has high DR).
Would you think Link Sellers would recommend a measurement system that makes them SELL fewer links potentially?
No of course not and this is why the LINK BUYERS need to use LRT and demand these metrics.
Traffic Links
Traffic links are getting backlinks from pages that rank in Google ideally for keywords your target page wants to rank for.
The best quality backlink is from a source page URL that ranks for your search terms your target page URL wants to rank for… Period
Christoph C. Cemper explains it is all about links getting traffic from organic rankings in the video:
With this in mind link building companies need to understand the importance of high ranking source pages to drive traffic and do the following:
Niche Edits – Outreach to existing pages and ask for link inserts into the source page URL that is ranking high for the term the target page URL wants to rank for
Guest Posts – Create high-quality content to give the guest post the highest chances of ranking in the SERPs. Power those guest posts up with some authority tier two backlinks to strengthen the source page URL to rank in the top positions in Google
LRT Power
The LRT Power scores evaluate the strength of a website based on the number of links.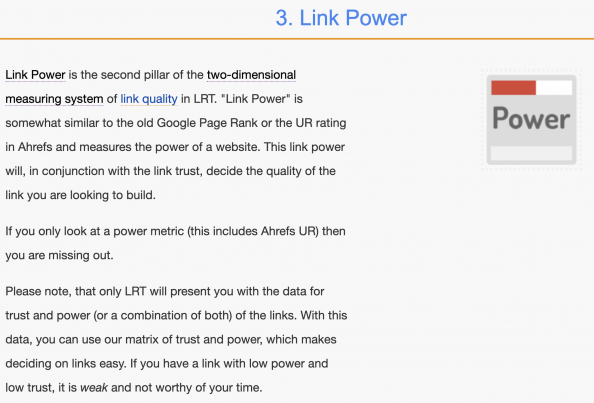 SEOs use simple one-dimensional metrics like PR, DR, DA, PA but LRT Power should be another one-dimensional metric used.
LRT Power helps you quickly determine the strongest page on the domain.
This is very comparable to what Google PageRank was until 2013 (Google Pagerank is officially dead, as confirmed by Google).
You see LRT Power for Domain or Page Level.
LRT Trust
The LRT Trust score evaluate the quality of a link by calculating the inheritance of trust from trusted sites.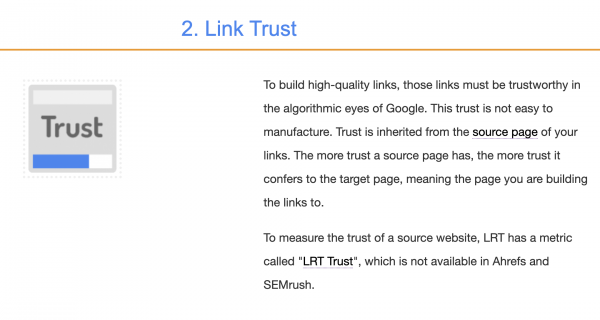 SEOs use simple one-dimensional metrics like PR, DR, DA, PA but LRT Trust should be another one-dimensional metric used.
It's comparable to the TrustRank patent and indicates the implied trust of the page in Google.
LRT Trust metric evaluates the trustworthiness of every incoming link.
You see LRT Trust for Domain or Page Level.
Building Trust With Good Co-Citations
Trustworthy co-citations have been and are still of great importance but are little talked about.
A more familiar term when it comes to link building is a "bad neighbourhood".

A bad neighbourhood is a particular case of co-citation where you being co-cited with spammy or even toxic websites.
That can happen when you go on a buying spree in paid link networks, PBNs, or other artificial link patterns.
Link Detox introduced just a few basic co-citations and network rules in 2012 and already found so many problematic and outright toxic links causing penalties that we were surprised Google didn't take action sooner than in 2012 about the (spammy) state of link building.
LRT Power x Trust
LRT Power*Trust is an aggregate metric of LRT Power and LRT Trust.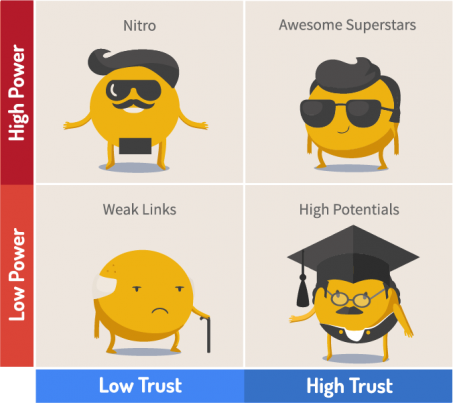 A link from a page with high Link Trust and high Link Power as shown above as "Awesome Superstars" is obviously the perfect link for any website. If you can get one of those, go for it!
A backlink from a page with high link trust and low link power is very trustworthy and still worth its weight in gold as shown above as "High Potentials". If you can get one of those, go for it!
A "Nitro" backlink is a very strong link from untrusted sites. Such discrepancies between LRT Trust and LRT Power can usually be attributed to low quality or automated link building.
"Weak links" has neither power nor trust, then it's often a completely worthless link. Those links are often not worth much and would take a LOT of effort to improve.
With LRT Power*Trust you get a two-dimensional measurement score to understand what link quality you really have or chase.
LRT Power*Trust is two dimensional consisting of LRT Power x LRT Trust.
LRT Power*Trust is the one metric you must look at to judge quickly the overall impact of your links.
It is the LRT Power multiplied by the LRT Trust.
The LRT Power*Trust is calculated by analysing data in real-time from over 25 trusted sources including:
Ahrefs
Majestic
Semrush
Moz
Search Metrics
Sistrix
And many more trusted sources
There is a free google chrome extension to allow all SEOs to monitor this metric.
Yes, you heard correctly – it is free.
LRT Power*Trust is a reliable 2-dimensional link metric to see the Power and Trust of a page or domain.
Link Detox Risk
Link Detox Risk works out the estimated risk a link has in a backlink profile.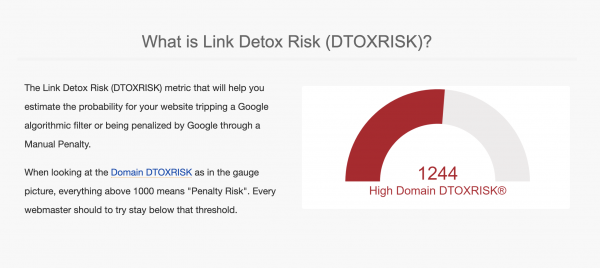 Link Detox Risk metric help find toxic links to protect your domain.
DTOXRISK is short for Link Detox Risk and is a reliable way to find toxic links.
The calculation DTOXRISK understands it is important to analyse both ends of a link from the source page to the target page.
Links with a high DTOXRISK score recommendation should be disavowed instantly. The higher the calculated DTOXRISK score is, the more attention you should give it during your backlink audit reviews.
Link Detox Risk expresses the estimated risk a link has in a backlink profile. Everything value above 1000 very likely causes a link penalty.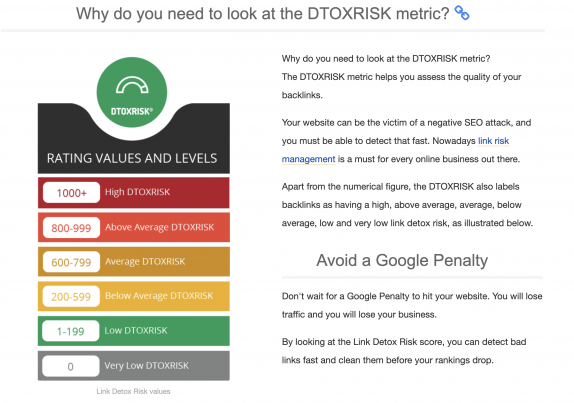 The Link Detox Genesis algorithm helps you spot unnatural links that are likely to trigger a Google filter or Manual Action Penalty.
Link Redirect Trace
Do you know if your links and, in particular, your redirects pass link juice?
Domains not only have backlinks, they often have redirects.
Redirects are used to forward a visitor from one URL to another URL.
LRT has built an all-in-one browser extension to help you trace any redirect that you can think of.
Using the Link Redirect Trace, you can easily check whether your redirects are SEO-technically good and if they inherit link juice or not.
Anchor Text
The anchor text used in your backlink profile is very important as passes relevance from the source page and surrounding content relevance.
The text you see when clicking on the backlink is known as the anchor text which explain to Google what the link is topically about.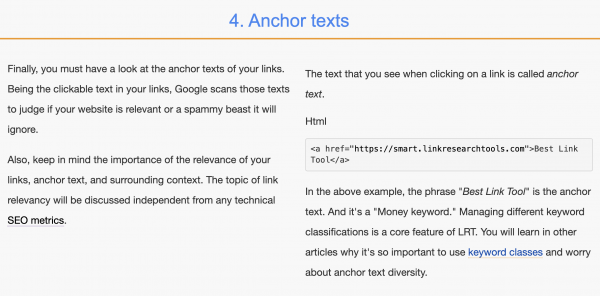 At LRT you will learn the importance of anchor text diversity within the backlink profile.
Popular Questions
How to Proactively Check Expired Domains to Buy for 301s?
Here are the best methods to proactively check the expired domain for 301 redirects:
Check the anchor text profile of the expired domain
Quantity of referring domains pointing to the expired domain
LRT trust score of the expired domain
The LRT risk score of the expired domain
Archive.org design to check not previously spammed as a PBN
Ahrefs Vs Majestic Vs LinkResearchTools?
When checking the backlink profiles many SEOs recommend ahrefs, majestic SEO and LinkResearchTools.
When comparing the three tools against each other they all return different types of metrics to analyse the quality.
Ahrefs has a DR (domain rank) and UR (URL rank) score that helps visualise quickly the power behind the backlinks.
Majestic has a TF (trust flow) and CF (citation flow) score to assist you.
LinkResearchTools has LRT trust and LRT risk to highlight the trustworthiness and risk element to the links.
In our opinion, all three tools are amazing to monitor the link building industry and we use all these within our companies.
How Can Your Link Building Agency Scam You?
A link building agency can scam you by placing spammy links to your money site, but from third-party metrics, the backlink might look ok.
Link building companies give different names to "Link Building" like "Content Seeding", "Ad Insertion", "Niche Edits", "Digital PR", "PR Outreach" or simply "Consulting" because of the bad reputation building links has gained.
Most link building companies use sunshine SEO metrics, which on the face of the domain might look powerful. But backlinks are placed on pages and not on a domain (which is a collection of webpages).
Domain-based metrics like Moz DA and Sistrix SI (Visibility) and Ahrefs DR are all popular domain-based metrics that are used for pricing backlinks.
Anyone selling links based on DA or DR domain-based metrics are either incompetent or a scammer.
Check out the interesting negative feedback from the 10 ways link builders are scamming consumers article. It certainly gives some interesting reading to consider when buying backlinks.
Here are many ways your link building agency could scam you:
Selling PBN links without disclosing as high risk
Selling PBN links pretending they are legit outreach websites
Measuring links by domain metrics, not page value
Link insertion into hacked sites (some link vendors use sape)
Links on penalized websites (no checks against penalties)
Links removed after contract ends (sold as permanent though)
Selling backlinks from a shared database when outreach was sold
How to Analyse Your Existing Backlink Profile? Should I Disavow?
With Link Detox Risk you are able to analyse any backlinks profile.
Unless you are familiar with researching a link profile and understanding the toxicity scores of links I would recommend hiring a disavow expert.
The best way to analyse your backlink profile for a disavow is to hire Rick Lomas.
Why Rick Lomas Uses LinkResearchTools?
Rick Lomas is known throughout the SEO community as the best disavow and link vetting person in the world.
When asking Rick Lomas why he uses LinkResearchTools he said:
Back in 2013, I had a manual action on my main money site. I tried various tools to try and fix it, but nothing worked. One day I stumbled across Link Detox and a month or so later my penalty was revoked. 

I decided then, that this was going to be my specialist niche; Link Audits and Manual Action Removals. 

Over 5000 audits later, using Link Detox has become second nature. I love the 'LRT Rules' (especially TOX1, SUSP17, SUSP4, SUSP2 and SUSP20) which help me spot problematic links so easily.

I also like the metrics that LinkResearchTools has for the Link Detox Risk. Being able to see the overall toxicity of a link profile (Domain DTOXRISK) gives me an idea of the health of a domain at a glance. Being able to see the Link Detox Risk (DTOXRISK) of each link, does the same for each link."

I have tried other tools, but I haven't found anything that can guarantee the kind of results I get with Link Detox.
So as you can see straight from the horse's mouth then Rick Lomas believe LRT is a must for any link audits.
How to Proactively Analyse Aged Domains to Buy for Money Sites?
Here are the best methods to proactively check the aged domain for money site buildouts:
The LRT trust metric of the aged domain
The LRT risk metric of the aged domain
Anchor text usage of the aged domain
Number of referring domains pointing to the aged domain
Archive.org design to check not previously spammed as a PBN
Link velocity of the aged website
Golden Rules of Link Building?
Here are LRT Golden Rules of Link Building for December 2023:
Link Relevance – there is a lot more to how Google scores relevance at a sentence level, paragraph level, article relevance, domain relevance to the relevant anchor text used
Link Location – contextual main body backlinks give the most weight
Domain Trust – You need links from trusted sites to become trusted
Natural anchor text – The best and most natural way will be if every anchor text is present only once
Build NoFollow links – Include some NoFollow links in your link profile. Building nofollow Wikipedia links are some of the best backlinks you can get
Traffic Links – When a page is juicy, that means the page ranks for various keyword phrases and that it passes that context to you if you have a link on it. A golden link gets you "referral traffic from links with (organic) traffic"
Low-Risk Links Only – The Link Simulator can estimate the LRT Risk and DTOXRISK score
Don't evaluate links on domain-level metrics like Ahrefs DR or Moz DA – It's nonsense to use aggregated metrics combining signals from all pages of a domain to judge on a single page
LRT like to do the smell test and believe every link needs to have a story.
Is the backlink manufactured and forced into the page or is it an essential part for the reader?
Final Thoughts
LinkResearchTools is an SEO Tool all marketers should have as part of their arsenal.
All LRT data points and their interpretations are evaluations based on experiences and observations made over almost two decades of work in search link building campaigns and link audits.
More than any other tool, LRT is aggregating a lot of data and trying to make sense of it with those interpretations.
Being able to analyse data and more metrics at a granular level to understand the safety aspect of the backlinks is very important.
We highly recommend LinkResearchTools if your company is involved in building backlinks or purchasing any links to any of your money sites.
All Disavow Toxic Backlink Related Posts
Check out the in-depth list of related posts to disavowing toxic backlinks.
The list of articles show everything you need to know about removing dangerous backlinks that could be penalising your website in December 2023.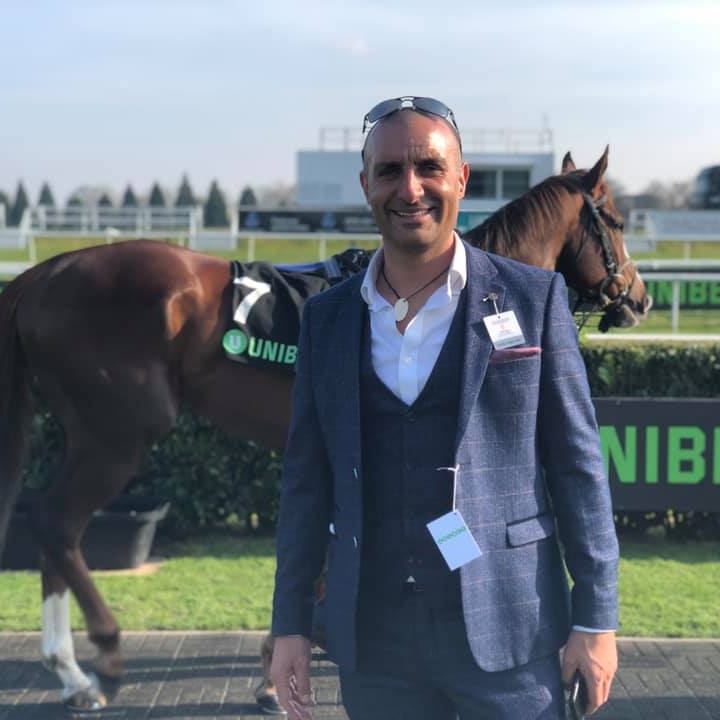 Entrepreneur
James Dooley is a British entrepreneur, SEO, investor, and philanthropist. James has built a huge Search Engine Optimization team that focus on organic SEO endeavours, including affiliate marketing, lead generation, as well as SEO services.
About FatRank
Our aim to explain and educate from a basic level to an advanced on SEO and Social Media Marketing.
Recent Posts