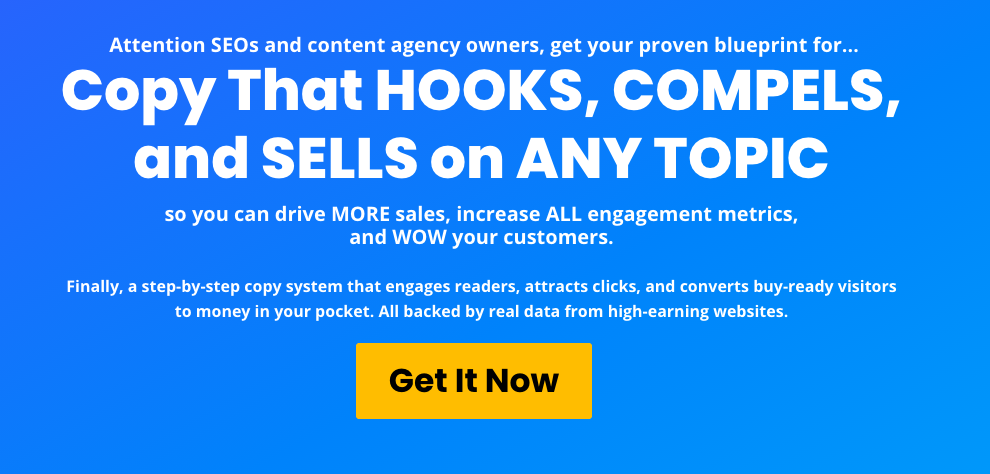 Web Copy Masterclass Review
Is producing quality, engaging content on a regular basis as hard for you as it is for me?
It's impossible to find good writers, and the ones that are good are too expensive. And that's IF they even stick around (lots of them don't).
At least that's been my experience.
Which is why I decided to give Kevin Meng's Web Copy Masterclass a try. His course was generating a good amount of buzz from people I really trusted, so I thought "why not?".
It's about how to write engaging, concise, and high-converting content, including informative posts, product reviews, and affiliate roundups. And it's all based on his 7 years of writing for affiliate sites.
In this article, I'm going to give you my honest thoughts on what I learned, how my writing team benefited from it, and what I liked and didn't like.
Marketers Only Seem To Concentrate on SEO Writing Hacks
Online marketers are obsessed with writing content on websites that rank high in Google.
Many SEO Content Writers correlate their website content using superb tools like surfer SEO. (check out Surfer SEO Writing Masterclass Course which is great for optimisation strategies).
But sending large volumes of traffic with low conversions is creating dissatisfied customers.
If you are looking to drive MORE sales, increase ALL engagement metrics, and WOW your customers then try out the sales copywriting course to improve your skills.
My First Impression of Web Copy Masterclass
I'll be honest right away – I really liked this course.
Kevin covers all the principles of writing high-converting and high-quality content brick by brick, all with real-world examples so it's super easy to follow along with even if you aren't a good writer (Most of the SEOs aren't).
He's been in this industry since 2014, and he's worked with a lot of key people. So he knows what works and what doesn't. I even met him out in Chiang Mai a few years ago (Can't say I remember it much, though).
This course has helped me in a few noticeable ways:
My writing team stopped making a few key mistakes, and I've noticed better content on a regular basis
I now have a better eye for what's good and what's not, so there's more quality control on my end (I don't let bad content slip through anymore)
I learned copywriting principles that will increase sales on my affiliate reviews (I don't have data to prove it yet, though)
I'll cover all that as we go along. Let's get some key stuff out of the way.
What is Web Copy Masterclass?
Web Copy Masterclass (WCM) is a content course designed to help SEOs improve their content and train their writers to get more engagement, interaction, and sales.
In it, Kevin walks you through the foundational principles of all good content, then through how to write the article from top to bottom. Including, how to eliminate fluff, how to focus on benefits and value, how to write an intro, and a ton more that I'll cover later.
Content is a pain in the a** for me. It probably is for you too.
Writing good content in the SEO world is tough. It's hard to find good writers, it's hard to produce good content consistently, and it's hard to evaluate your own stuff if you aren't a natural writer.
Are You Ready To Improve Your Writing Skills
Click Here
This course gives you a foundation for learning about content from the reader's perspective. I always knew that was the right idea, but I wasn't quite sure exactly how to do it.
So, in theory, this course can be used to write your stuff, train your writing team, or train an editor to edit your cheaper writers…or some combination of all 3.
Who is Kevin Meng?
Kevin is a copywriter who's been working in the SEO/digital marketing industry for almost 7 years.

I met him in Chiang Mai a few years back and chatted with him a bit. Seems like a decent fellow.
He's worked with some big names in the SEO industry like LeadSpring, and he's been featured on some well-respected outlets like Authority Hacker, Empire Flippers, SEO Butler, Craig Campbell, and Next Level eCommerce.
I even saw recently that he's been accepted as an instructor on IMG Academy.
His approach to writing content is a lot different than most. He's actually a close friend of a lot of SEOs and has partnered up on affiliate sites, so he sees firsthand what's working on what's not working. That's how he built this course. It's no BS theory, just cold, hard data. As an SEO junky, that's what I love to hear.
One cool thing is he publishes case studies on how he takes low-converting affiliate reviews and turns them into conversion machines. I love a good case study!
What's Included in Web Copy Masterclass?
WCM is very comprehensive, so I'll just give a basic breakdown of the videos I went through.
The course is 50+ videos on how to write high-quality content, and it's all divided into bite-sized chunks with a core lesson in each and key takeaways.
Here's the basic structure:
Section 1: Basic Principles of Good Content: The foundational principles that most SEO writers get completely wrong along with how to do them right.
Section 2: Research: How to research properly with the reader in mind and create the most helpful article possible.
Section 3: How to write an intro: This was my favourite module. Nobody in SEO does intros right. This section teaches how to write an intro the right way so readers don't bounce. Including some eye-opening stuff that has really helped my team.
Section 4: How to write concisely: How to write short, punchy sentences and not super long ones that readers hate.
Section 5: How to write an SEO title: Kevin unveils some data showing how to write eye-catching SEO titles that increase clicks from the SERP.
Section 6: Content markup: These are a bunch of little tricks that Kevin has developed over time to make content more fun, interesting, and readable.
Then after all that, he goes into a full module on copywriting and how to mix copywriting into your affiliate reviews to get them to sell more products. Most reviews are super boring and writers just focus on features like what it is or what it does. This module is all about how to write powerfully and emotionally so people buy more.
I want to make sure you know exactly what's inside the course and how it can help you're growing a site and improve content. So let's cover each in a bit more detail.
Module 1: The Basics of Good Content
In this module, Kevin explains why so much of the content you read online is low-quality.
It's because, for the most part, most writers don't understand the basic principle of quality content: helping the reader.
For example, most affiliate reviews just focus on the features of the product rather than why it's good for the reader. And a lot of writers on my team always just write basic facts about topics rather than trying to provide value that readers actually want.
In this section, Kevin covers:
Value: How to provide benefits, details, and practical tips to increase the value of all your articles.
Tone: This one was a big surprise for me. I learned quite a bit. You've got to write in a tone that readers identify with, you know? Like, if you're writing about Football but you sound like you're writing about international relations, no readers are going to take you seriously.
Format: Pretty straightforward. He lays out how to format an article properly for maximum readability.
Module 2: Research
This module was pretty eye-opening. Normally, writers use the SERP to research and that's about it. But there's so much more you can do to improve the quality of your articles when researching.
This module is 5 videos containing Kevin's favourite places to research on the web and his system for finding valuable language, industry information, and inspiration when writing.
Module 3: Writing
I noticed over time that most of the articles I see online are a little bit "off", you know?
I normally skip the intros and I struggle to find any relevant content that's worth reading. Some places have really good stuff, but most are just the basic "SEO articles" content that the industry has always had.
That's why I appreciated this module. It's nearly 20 videos on how to write an article from top to bottom.
You learn:
How to write an intro the right way: Kevin teaches you about writing an intro that's aligned with the reader's level of awareness and how to hook them into reading. This one has already helped reduce the bounce rate for me on a few articles. I'm looking forward to seeing what happens in the next few weeks.
How to write concise, powerful copy: This one is a difficult one to follow if you aren't a writer, but you'll get a lot of value if you implement these tips. He teaches you his tactics for writing tightly like short sentences, strong words, simple sentences structure, and a bunch more I don't feel explaining here!
SEO title tips: We all love an eye-grabbing SEO title, right? Kevin dives deep into his favourite techniques for winning more clicks from the SERP, including a data-driven one called "the mystery technique".
Then he follows it up with some interesting "hacks" for increasing engagement like adding jokes, memes, and a few other fun ways to keep the reader on page.
This module includes everything a writer needs to know to create a high-value article that's fun to read.
Module 4) Affiliate Copywriting Masterclass
Kevin is the only content writer I know that has this much experience writing affiliate reviews while also having real data to back it up.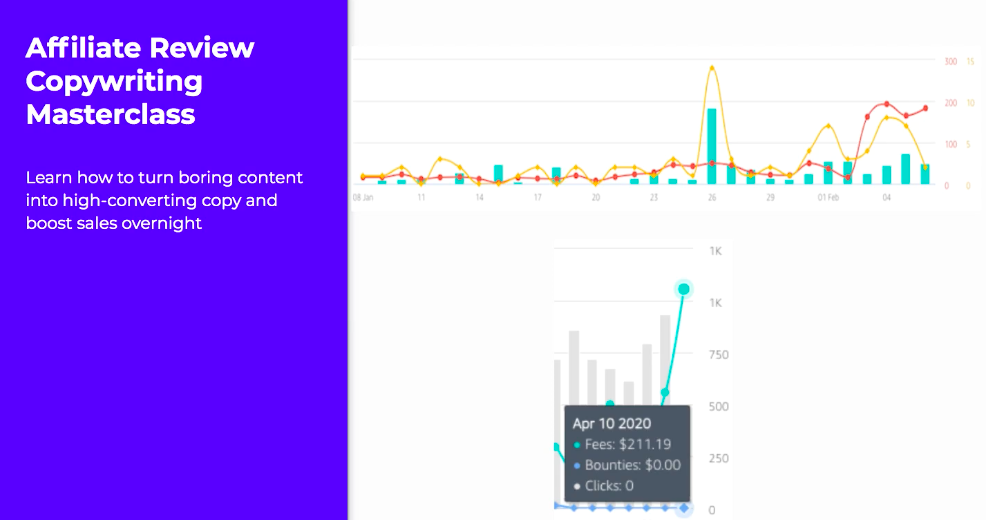 He's seen firsthand what is actually working on affiliate reviews and walks you step-by-step through the basics of all good copywriting to how to include it in your product reviews.
He even shows the difference between the articles left over from the previous writer compared to the articles he wrote once he joined the site:

Pretty impressive.
Kevin starts by telling you everything you know about affiliate reviews is wrong. Thanks, Kev.
Then you go through basic principles of copywriting like emotions and benefits, then learn how to write affiliate reviews the right way.
Topics include:
Positioning
Emotions
Next-level benefits
An Apple affiliate review case study
Storytelling to increase conversions
Superlatives
It was really interesting to see an affiliate review from a copywriter's perspective rather than my perspective as an SEO.
Bonus Documents
What do SEOs like more than documentation?
Probably nothing.
Kevin's experience with his SEO friends really shines here. He includes 6 bonus document including swipe files, checklists, and a guide to speed rewriting articles that could come in handy if you want to make some quick improvements to your high ranking affiliate reviews.
It's nice having some files on hand you can just hand to your writer and say "hey mate, copy this stuff".
What Are Others Saying About Web Copy Masterclass?
The only reason I decided to try WCM was that a lot of people were saying good things about it, and a few people I knew recommended it to me.
It's already taking the SEO world by storm since so many SEOs are beginning to see the value of high-quality writing. SEO is all about UX these days. You've got to think about the user. That's way more important than anything else. Good design, good content, good overall UX_that's all that matters in my opinion.
I'm not surprised a lot of other SEOs are saying good things.
Jay Yap at Leadspring
Jay runs Leadspring and got his SEO content team to this sales copy course.
Kevin's course is a game-changer for putting out high quality, engaging affiliate content. Especially at scale like we do.
Most writers just don't get it, so we normally end up editing or rewriting a lot of what comes in. And a lot of our articles were ranking but readers were bouncing.

Now, our writing team AND our editors know exactly how to write content that hooks, so we spend way less time on rewrites AND get more engagement.

Easily the best content course out there.
Jonathan Kiekbusch at SEOButler
Jon founded SEO Butler which deliver website content.
He encompasses every aspect of successful SEO writing beautifully! His energy levels were awesome, and his course was engaging from start to finish.

Whether you're a part-time blogger, freelance writer, or an agency owner looking to add value to their writer's skillset, get Kevin's course!
Pros
Super in-depth
Designed for the SEO industry
Increases time-on-page and decreases bounce rate, leading to better rankings
Learn how to write high-converting affiliate reviews and earn more sales from your articles
Improve SEO and sales without buying tons of links or expanding into new niches
Bonus plug-and-place docs for your content department
Cons
Feels a bit robotic at times because of all the examples
Burns your brain after a while. I definitely recommend taking a break
You never see his face in the training
No SEO training – I highly recommend he includes surfer training
Nothing about which topics to write or which tools to use – it's only the copy itself
Web Copy Masterclass Price
Web Copy Masterclass costs $297 for lifetime access, which is very fair in my opinion.
It's not a cheap course, but it's definitely good value. A decent 2,000-word article probably costs you $100 or more. For $297, you get all the info you need to produce tons of high-quality articles yourself or from your team.
How To Improve Your Boring Content Into Converting Copy
From my experiences in attending many SEO Masterminds throughout the world a lot of SEOs are obsessed with rankings and writing for Google.
The SEOs neglect the copy for the visitor and sales copywriting was certainly an area I had overlooked.
The main aspects I took from the course which I quickly implemented into my SOPs were:
Improve All My Introductions
Our introductions were boring and not engaging with the avatar of our readers.
We needed to spend more time understanding the visitor's pain points and WHY were they searching on Google in the first place.
Intros need to hook, compel and sell so the visitor thinks this is exactly what I'm looking for
The introduction needs to resonate with the reader within the first 10 seconds and this is why the introduction is key to understanding the pain points, objectives and need for a solution you are hopefully going to bring the visitor.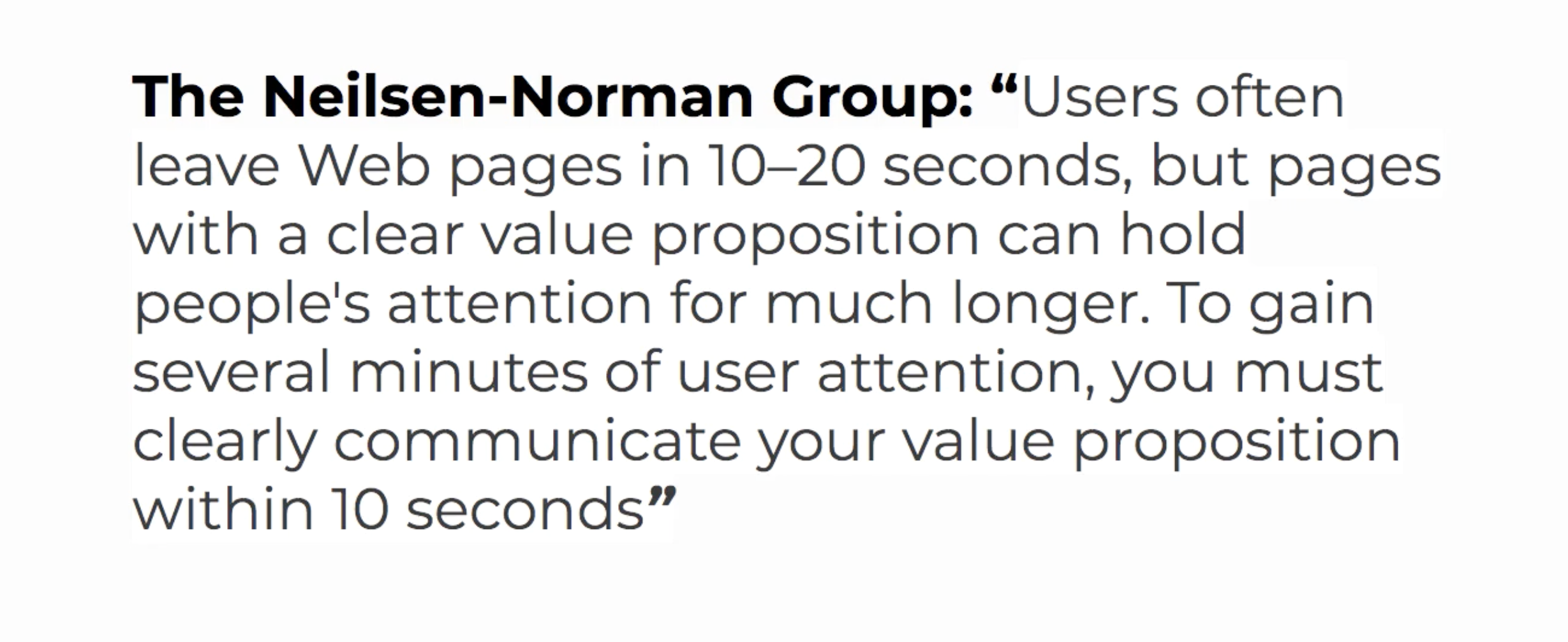 Make your introduction catchy, clickbait and grab the viewers attention right away to make them think – "oh my god they have written this article literally for myself".
Break Down Sentences More
Edit wordy content into readable sentences.
The format of your copy is so important to the reader so its easy to skim read all your content.
The majority of visitors do not read all of the content but skim read to areas they specifically want.
Small bitesize readable sentences have been proven time and time again to be the best format for web copy.
Turn fluff Into Powerful Copy
Too many SEO content writers are educated to reword the competitors ranking with correlation.
The education of research, formatting and giving value is hugely overlooked.
Our writing processes have improved because now we get written content using surfer SEO so it can rank highly BUT then we get our sales copywriters to turn the boring fluff content into powerful copy by adding data to support our statements and using testimonials or reviews to back up what we are saying.
The testimonials and reviews add a layer of trust to the copy.
Add Questions
By adding questions into the copy your visitors might be wondering themselves further captures the attention.
Instead of boring content then breaking the copy down by adding questions helps captivate and make the reader understand we know what they are thinking.
Writing as if you are a friend and not a salesman actually helps hook the reader more.
Add some fun spices
Adding some humour and fun to keep the reader hooked has been seen to improve time on site considerably.
Remove the reader thinking a robot could have written the content they are reading.
Adding some fun spices add personality to the copy which helps breakdown them just thinking the whole blogs are a sales pitch.
Summary
All in all, I am very happy with Web Copy Masterclass, especially as an SEO who always focused more on the technical side of things.
It's designed in such a way that it's easy for SEOs to understand how to write compelling articles and reviews for readers.
I hate to say it's easy, but implementing Kevin's teachings should result in a lot of quick wins for your agency or affiliate sites. Also, with Google getting harder, writing good copy for readers is a way to "future proof" your business.
FAQs
Here are some common questions related to the sales copywriting course.
What is the Web Copy Masterclass Course?
Kevin Meng has created a course called Web Copy Masterclass and it has sent ripples throughout the SEO community because seen insane growth in commissions for many affiliate marketers.
Kevin created the sales copywriting course for SEOs and content agency owners which gives them proven blueprint for:
Copy That HOOKS, COMPELS, and SELLS on ANY TOPIC
Finally, a step-by-step copy system that engages readers, attracts clicks and converts buy-ready visitors to money in your pocket.
Why Is Sales Copywriting Important?
Sales copywriting is very important because it improves:
More time on page
Lower bounce rate
Better rankings
More sales
More commissions
Sales copy is an indirect Google ranking factor because the micro-conversions sent from better sales content triggers user behaviour signals the search engines use for rankings.
But the main advantage to improved sales content is the driving of more conversion on your websites which leads onto higher commissions.
Best Bits of the Web Copy Masterclass Course?
The best bits within the Web Copy Masterclass Copywriting Course is:
Benefits – You start to understand it is not about the service or product you are selling that makes the content convert. But it is all about how this benefits the customer. Drive home the BENEFITS!!
Value – Make the content valuable, fun and engaging
Formatting – the layout and design of the content is key because most visitors skim read and browse an article prior to deciding whether to read it thoroughly
The tone of Voice – Match the tone of voice to meet your customer's voice
Research – There is already a top 10 ranking set of websites you can gauge your content to and pull all the best elements to what Google thinks is best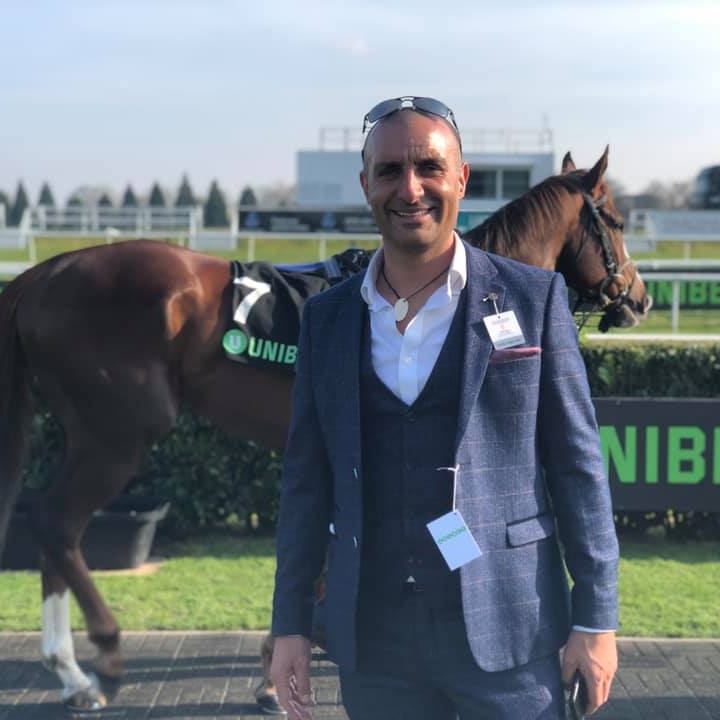 Entrepreneur
James Dooley is a British entrepreneur, SEO, investor, and philanthropist. James has built a huge Search Engine Optimization team that focus on organic SEO endeavours, including affiliate marketing, lead generation, as well as SEO services.
About FatRank
Our aim to explain and educate from a basic level to an advanced on SEO and Social Media Marketing.
Recent Posts