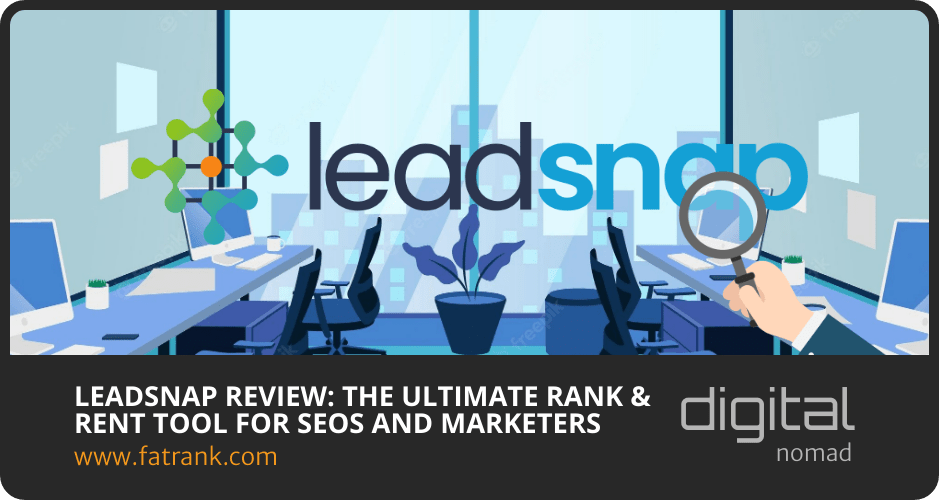 LeadSnap Review: The Ultimate Rank & Rent Tool for SEOs and Marketers
Rank and refer is a search engine optimisation (SEO) tactic that lets people borrow a page from a website ranking on top for their desired keywords.
When done correctly, you can make money leasing your website for professionals who want to generate leads for their local businesses over a period.
To multiply your revenue stream, you can create more websites in different profitable niches, rank each for their money keywords, and rent them to businesses in those niches!
If you're new to this concept, this comprehensive post about rank and rent should get you up to speed.
Additionally, we've also carried out a full rank + rent case study to test the results first hand.
But if you're looking for software that can help perform this task for you, look no further than Leadsnap.
In this post, which also serves as a Leadsnap review, we'll see how this tool can elevate your rank and rent business or your digital marketing agency.
What is LeadSnap?
Leadsnap is a call tracking software that allows businesses to simplify their marketing and sales strategy.
Marketers can use this software to consolidate all leads gathered from your websites, from phone calls to emails.
The tool also has customer relationship management (CRM) functionalities where you can add more information about the leads and send them emails.
Finally, its organisational features allow you to manage multiple businesses seamlessly, which is useful especially for SEOs leasing their websites.
You can then properly bill them for the leads collected for their marketing campaign.
How Can LeadSnap Supercharge Your Business
Provides Valuable Call Tracking Solutions
Leadsnap has a very sophisticated phone system that allows you to collect call data from incoming calls and save them straight to your CRM.
After every call, you can edit their entries on your CRM pipeline by adding notes and links to their social media profiles, among others.
This information helps your clients understand which stage in the sales funnel they belong to. From here, they can approach each lead with a marketing strategy that'll bring them closer to becoming their customers.
Also, to ensure no calls are left unanswered, its Custom CallFlow system lets you redirect inbound calls to different destinations based on your preference.
For example, you can bring callers to one number in your business. Then, if the number doesn't answer the call for whatever reason, forward them to another number where someone is sure to pick up.
Over time, you will have enough inbound call tracking data to help clients understand how they can further improve their call processes with your help.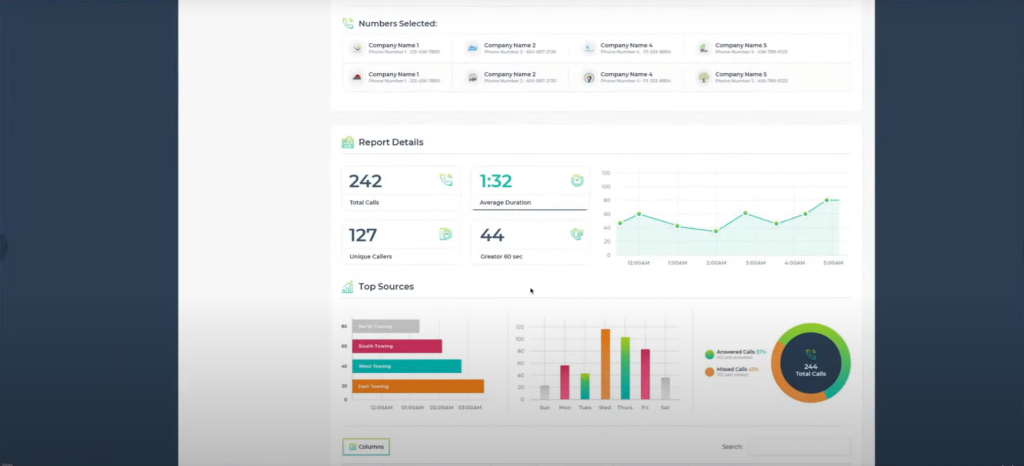 Leadsnap will show you the number of unique callers you receive in a day or hour, voicemails, and missed calls in a period. From here, you want to find ways to decrease missed calls by improving your call workflows.
At the same time, you can show this report to your tenants, proving the value of the rent and rank service you're providing.
Get High-Quality Leads
One of the most challenging aspects of lead generation is qualifying prospects from the start.
Part of the lead generation process is setting up lead captures on your website.
From here, you can only hope that actual leads answer the page's call to action (CTA), which goes straight to your CRM.
Because even if you use reCAPTCHA or anti-spam methods, unqualified leads and spammers can still find their way into your pipeline, thus diluting its quality.
Leadsnap keeps spammers away from your lead list with its spam filter options.

You can prevent filled-up forms with phone numbers starting with "+" or "0" from getting through your pipeline. You can also filter out forms that contain words that have nothing to do with the client's business, like "bitcoin" or "crypto."
Using any filters ensures that you receive forms from legitimate leads interested in your client's business.
Run Google Ads from the Dashboard
To generate even more leads for clients, you can run paid ads campaigns so more of their target audience will see them on Google search results.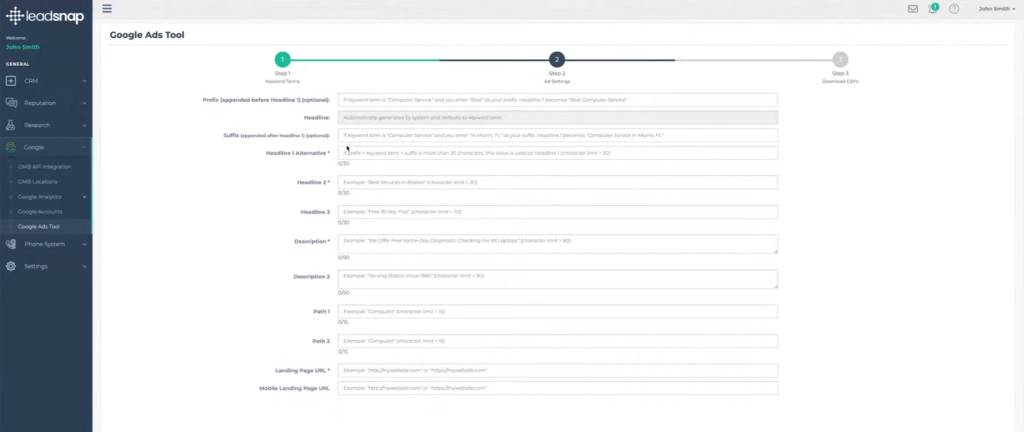 You can build campaigns for single keyword ad groups (SKAGs) on Leadsnap.
Using the ads, you can perform keyword-level call tracking to determine which keywords you bid for resulted in phone calls. This is useful for helping you decide which keywords to focus on in your subsequent campaigns to improve their conversion rates.
Automate Sales Processes
Since business owners rent your website to generate more qualified leads, you are responsible for collecting and nurturing them.
After collecting leads, you must engage and profile each one to help clients determine which among the leads are the most likely to become their customers based on the gathered information.
Offering this option in your rent and rank service allows you to charge higher prices for your tenant.
Leadsnap helps you with nurturing leads with its automation features.
You can choose from various triggers that will fire off actions to your leads, providing you with endless possibilities on how you can take relationships with your leads to the next level.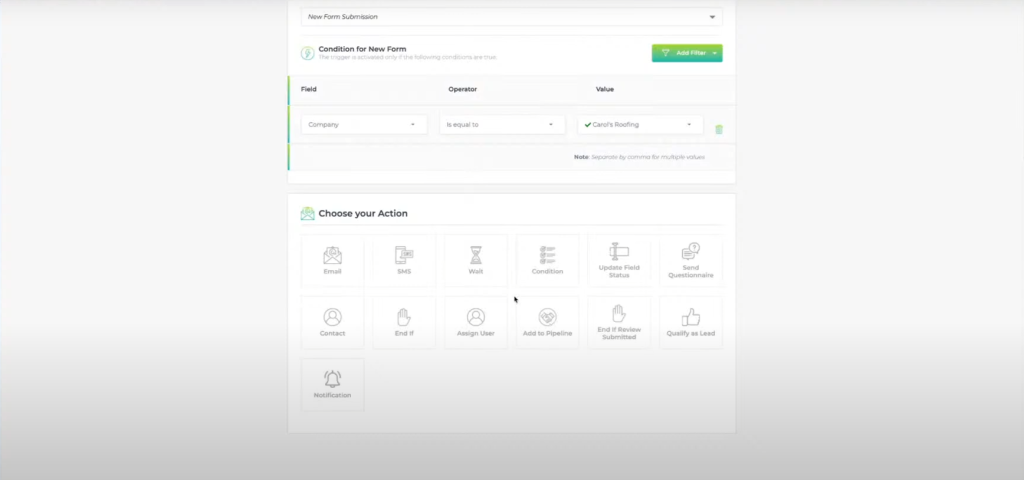 For example, once people fill out a form on your site, you can set the tool to send them an SMS message or email asking them for more information about their query.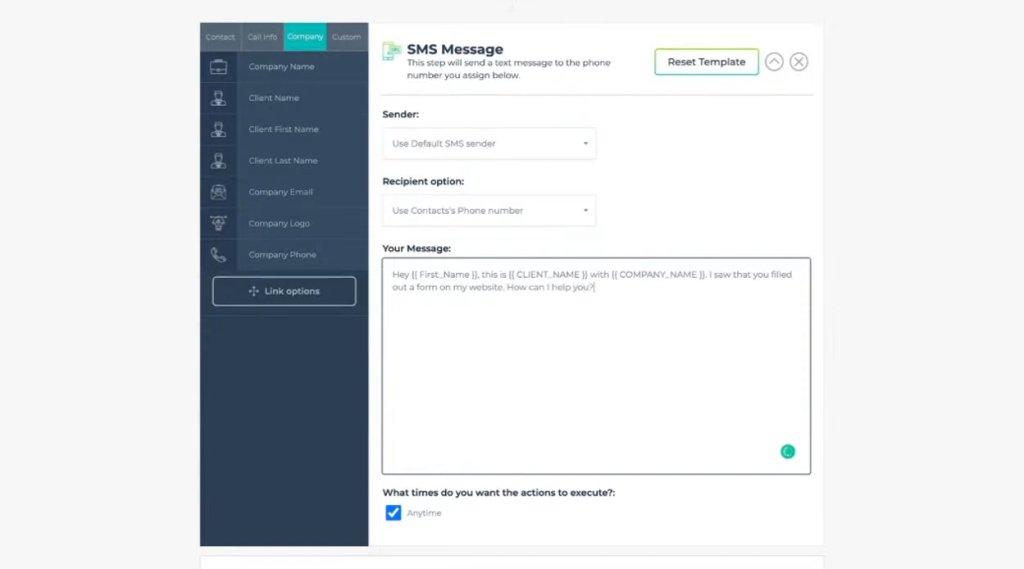 You can also set when the message will be sent to them. Ideally, you want to send the message a few minutes after they filled out the form to make it look natural.
Collect 5-Star GMB Rating from Customers
Getting high customer reviews from Google My Business (GMB), which is now called Google Business Profile, is crucial for local businesses looking to generate more clients moving forward.
Prospects rely on customer ratings to help them decide which among the different businesses to choose from. As a result, they gravitate towards businesses with the highest rating from lots of reviewers.
At the same time, having many high customer reviews is a local ranking factor as Google considers them as engagement signals.
The higher the quality and quantity of the reviews, the higher the likelihood that Google will rank your Business Profile on the local three-pack.
This appears on search engine results pages (SERPs) for local keywords before organic results, providing greater visibility to your business.
Leadsnap enables you to collect reviews from customers and prospects using its review feature.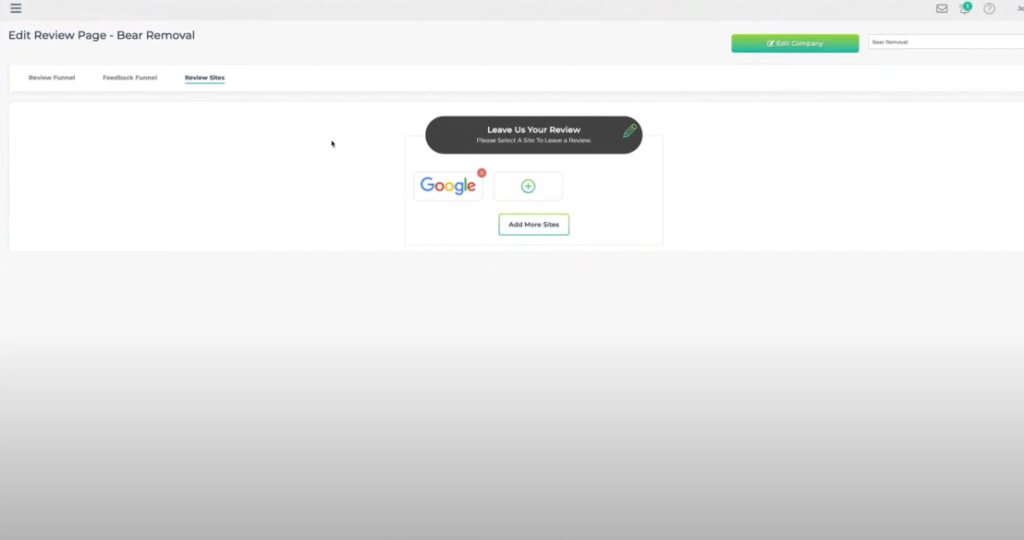 You can incorporate reviews as part of your automation processes.
For instance, every call or form filled out by your leads triggers Leadsnap to send them a link to a page where they can leave a Google review regarding your interaction.
And if they failed to provide you with a review, you can trigger the tool to send an email or SMS message reminding them to leave a review about the business.
Deep Dive into Your Client's GMB SEO Performance
The goal of renting your websites to tenants is to provide them with an effective SEO tactic to help boost their rankings.
Another way to do that is to analyse their local search positions for their target locations.
Leadsnap gives you broad strokes of your client's search positions across different locations using its heat map feature.

The goal is to rank your profile between first and third positions on the local map pack.
You can do this by clicking on locations with yellow to orange colours on the map and analysing Business Profiles ranking ahead of you. Then, look at things they're doing on their pages that you're not.
For example, look at how many reviews they have and how frequent they post on their business pages. Using this information, develop a strategy that will get you the same amount of reviews and posts on your page, if not more.
By implementing this strategy, you can optimise your Business Profile to the same level as your competitors. Google could tip the scales in your favour and rank your page ahead of theirs!
Better Collaboration Between Sales and Marketing Teams
Normally, clients use different tools and services to help them organise and plan their marketing campaigns.
Then there's their sales team, who reaches out to the prospects from your campaign and tries to close them into clients.
Most of the time, there's a disconnect between the marketing and sales teams regarding the gathered leads.
The sales team complains that the leads aren't targeted enough, making it more difficult to convert them. The marketing team is then stressed about delivering the desired prospects, which could lead to animosity against the sales team.
Much of the disconnect stems from both teams' inability to communicate and collaborate properly. The conflict and confusion lead to poor lead generation campaign performance.
Leadsnap solves all these issues by providing a platform where you can integrate data from multiple sources. You can then send them as reports to help their sales teams the kinds of leads you collected for them.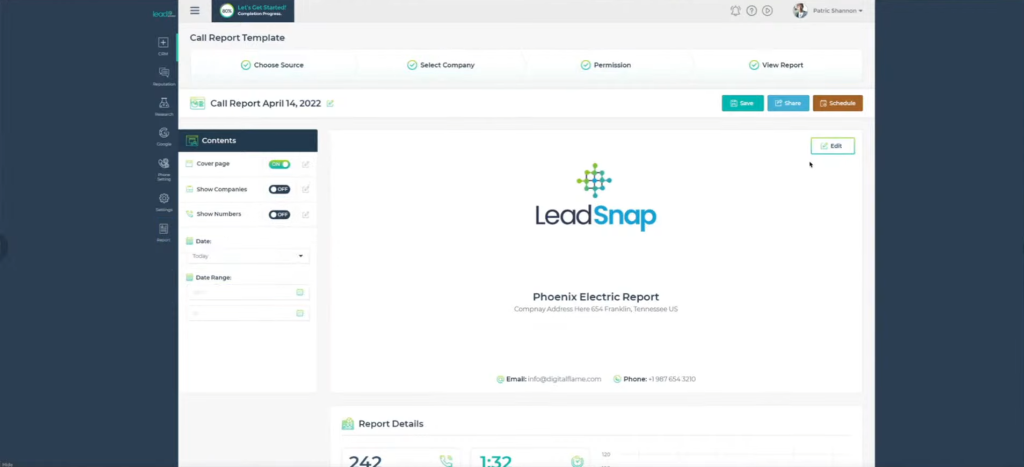 Pricing
Leadsnap is divided into two: CRM and phone tracking services. Depending on what you're offering in your rank and rent service, you can choose either plan or both.
Ideally, you want to choose both to provide additional value to clients and charge higher for your services.
Below is a breakdown of the different packages for each plan.
CRM Plans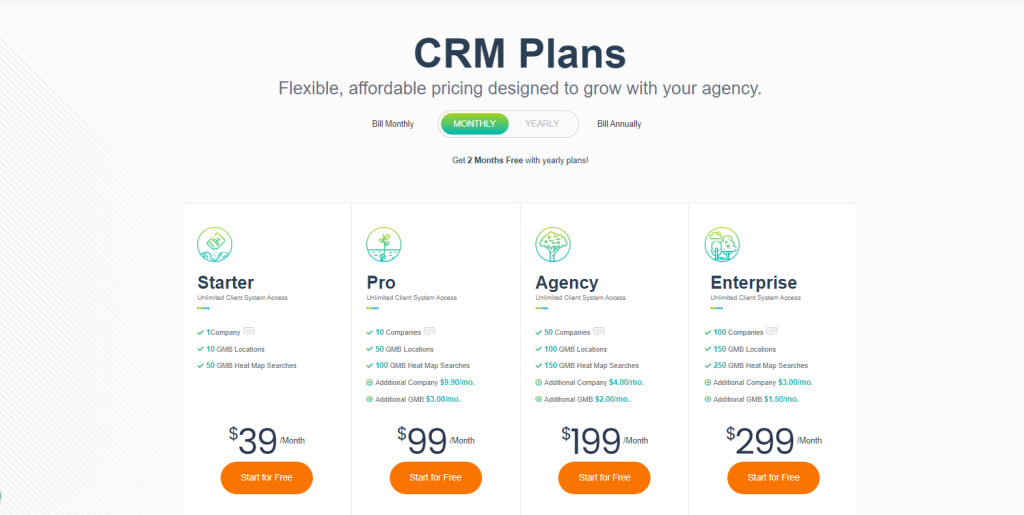 The plans differ in the number of companies, GMB location, and heat map locations you can manage simultaneously.
If you're just starting with your rank and rent service, you may want the Starter plan ($39/month), so you can focus on a single company. Over time, you can scale up to their higher plans if you get more companies to work with you.
Phone Tracking Plans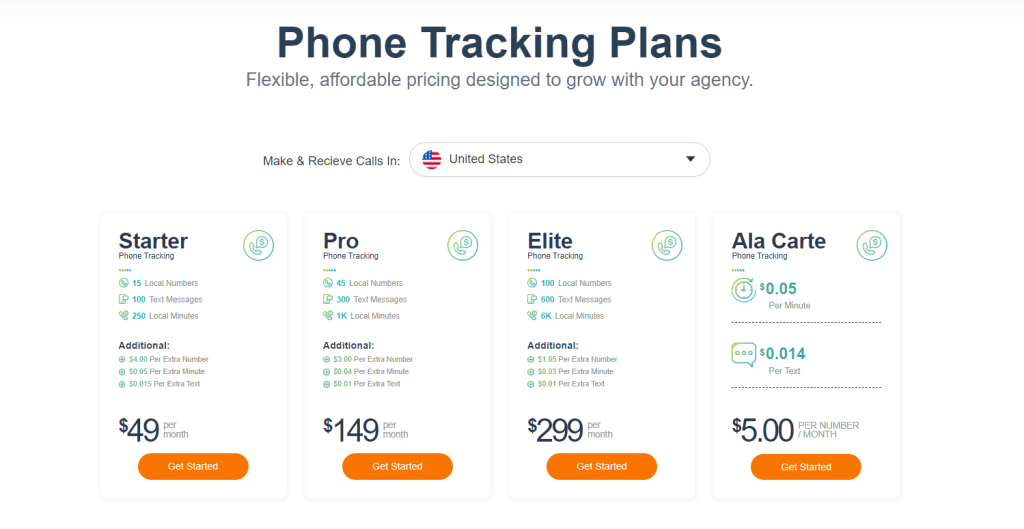 There are three fixed phone tracking plans to choose from, each of which differs in the number of local numbers, minutes, and text messages you can receive.
If you exceed the limit in your chosen plan, Leadsnap charges you extra for the additional numbers, calls, and messages.
There's also the Ala Carte plan if you want to take one number, call, or message at a time. This is ideal for people working with a single business.
Verdict
Leadsnap is a call tracking solution that complements your rank and rent business to a tee.
Instead of just leasing your website to local businesses for improved visibility on organic search results, the tool lets you gather b ranging from calls to messages.
All these are done using its automation features. You can create workflows that forward callers from one number to another seamless. You can also fire other triggers such as sending them messages, questionnaires, or
You can also record data of your interactions with these prospects and send them as part of your reports to clients.
But aside from its tracking and automation features, Leadsnap allows you to improve your client's GMB SEO efforts.
You can analyse their competitors by searching for low-hanging fruit locations where they rank lower than the third position on the local three-pack.
From here, you can unearth data to help them improve their local search rankings, thus providing even greater value to clients!
Overall, it's hard to find another lead generation tool for your rank and rent website than Leadsnap. Sign up for a free 15-day trial and see for yourself.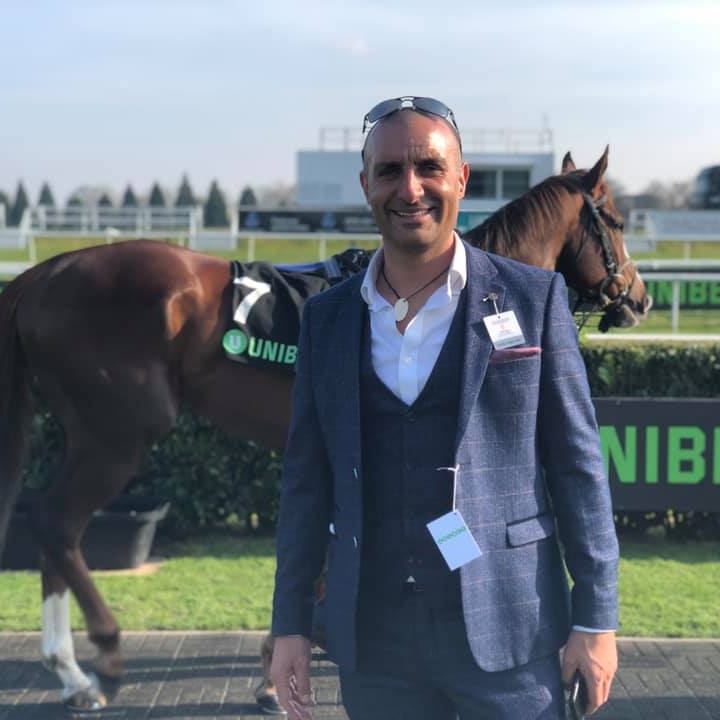 Entrepreneur
James Dooley is a British entrepreneur, SEO, investor, and philanthropist. James has built a huge Search Engine Optimization team that focus on organic SEO endeavours, including affiliate marketing, lead generation, as well as SEO services.
About FatRank
Our aim to explain and educate from a basic level to an advanced on SEO and Social Media Marketing.
Recent Posts