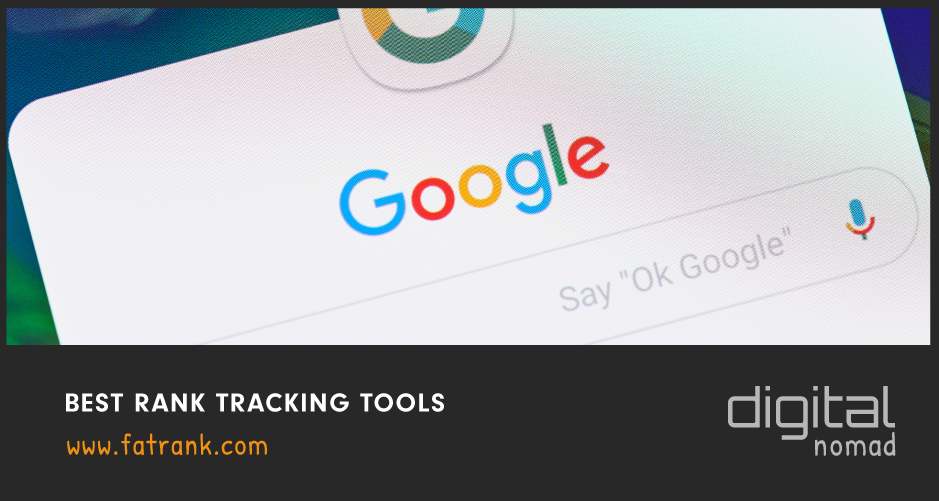 Best Rank Tracking Tools
Rank tracking tools are some of the most valuable assets to website owners and bloggers.
Most people attempt to solve rank tracking through search engine rankings by putting in their keyword on a search engine like Google or Bing and then skimming through the results.
In as much as search engine rankings might help, when applied well, the method is still old, exhausting, and barely effective. The search engine rankings you'll get will be right, but that's it.
You barely get any more data. Still, feel it's a great way to track your progress?
I think not.
Using a rank tracking tool in May 2022 is the best way to approach keyword tracking and save you a great deal of time. 
These tools give you a quick rundown on how you've been ranking overtime for your target keywords. This allows you to optimize your content to improve those rankings.
Owning such tools means that ranking data is effortlessly presented to you in an in-depth and accurate way.
What's even better is you can check if the tweaks you previously made about their data paid off or not as time goes by.
Today, I am going to outline for you some of the best rank trackers out there. The kinds that will give you accurate and detailed keyword rankings. So let's jump right in.
Best Rank Trackers
Here is the list of the best rank trackers voted by the Search Engine Optimization, community.
RankTracker
RankTracker is an excellent rank tracking tool, and certainly earns it's reputation as being one of the best around.
It's rank tracking provides accurate, easy to understand data about your websites' rankings, which can be tracked locally, nationally and even globally!
This rank tracking tool can even track your Google My Business data, and provides the ability to check both desktop and mobile rankings extremely accurately.
This tool provides users with an instant overview of their SERP stats for all their keywords, with the additional ability to check the SERPs of ANY keyword with the analyser too, too.
And it doesn't stop there, RankTracker features extra tools such as the ability to carry out web audits, an actionable SEO tasks feature and a free SERP simulator, making this a very multi-faceted tool to use.
So overall then, RankTracker is certainly a rank tracking tool we'd recommend.
Check out our guide to RankTracker.
Acadia

While most quality keyword rank tracking tools are expensive, our first rank tracker tool bucks this trend entirely – it's completely free.
Acadia is the new kid on the block, having only recently launched, but don't let that put you off…
It boasts highly competitive features such as daily updates as standard, as well as on-demand updates, meaning you always have access to the most accurate and up-to-date data.
Setup literally takes seconds and Acadia's simple, streamlined interface makes using the tool an effortless and enjoyable experience, even for the most non-technical and inexperienced of marketers.
You can track keywords by location and device (mobile or desktop), and get access to advanced metrics such as position (rank), search volume, traffic, and visibility.
There's also a dropdown feature that provides you with more detailed information on your tracked keywords, allowing you to analyse the search results, view your competitors in the SERPs, and track your average position over time for that specific keyword.
As if these rank tracker tool features weren't enticing enough, Acadia also boasts a great SEO content editor and site-specific analytics dashboard.
There are also no restrictions on the number of projects you can create or the number of team members you can add; it's completely unlimited.
Acadia is perfect for solo marketers, startups, and agencies alike, and their freemium model accommodates true scalability for online businesses without breaking the bank.
Wincher Rank Tracker

Most of the tracking tools mentioned so far are costly, and rightly so, they offer a ton of other features alongside keyword tracking.
However, not all of us have big enough pockets to pay such prices monthly.
And for that reason, I'd like to introduce you to a rank tracking tool called Wincher. It's not as prominent as the other SEO tools, so don't feel out of place if you've not heard about it yet. I'll fill you in on the details right away.
Wincher is an exceptional keyword tracking tool, particularly for those kicking off their journey as bloggers or marketers.
Once you configure your domain and put in your target keywords, Wincher's dashboard will appear in full view. Here, you will see the keyword positions when ranking, the keyword research, the ranking path, search volume, and any recent changes in your ranking position.
The Wincher dashboard is never cluttered and quite concise with the data provided. You will also have the option of allowing their alert, which keeps you up to date on ranking changes without logging in.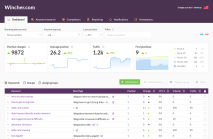 It's also important to point out that this tool does keyword rankings daily. This ensures that you never fail to detect any abrupt or even the slightest change in your keyword ranking.
All the data concerning your keyword rank tracking will be made available for download in PDF or CSV format.
Another cool thing is that these reports can be customized to look more professional. Depending on your selected schedule period, they can be auto-sent to your email either weekly or monthly.
Pricing
Wincher offers a 14-day free trial in which you get pretty much every feature you might find once you start paying.
This is a great offer as you can look at the rank tracking tool's full capability before opting to start paying. From there, you will be charged a monthly fee, which will depend on your keyword and website count.
100 keywords and 1 website – 10 Euros/mo
200 keywords and 2 websites – 13 Euros/mo
300 keywords and 3 websites – 16 Euros/mo
400 keywords and 4 websites – 19 Euros/mo
As you can see, with every increase in a website, you are charged a 3 Euro fee per month on the initial 10.
We like this tool so much that we did a deep dive study on it.
Read our detailed Wincher review for 2022.
Rankwatch

Rankwatch is a simple, user-friendly rank tracker tools that works as a site auditor, backlink, and competitor analyzer.
Rankwatch is the rank tracking tool we recommend as we have been using it for several years now with utmost success.
Within the tool is a section called Rank overview in which you can track your rankings and gather vital site data.
In this area, you will be prompted to create a project and add all the relevant requirements like domain name, search engine, country, and the target keyword.
You can either add a keyword manually or through Google Analytics, Google search console, or CSV for some keyword research and keyword positions.
Rankwatch will then show you where you rank based on the keyword. Like most other rank tracking tools, this rank tracker features numerous search engines, for example, Google, Yahoo, Bing, among others. This allows you to get comprehensive ranking data without having to do a regular google search. (search engine rankings)
Alongside your current rank, you'll be able to see your previous rankings, your highest rankings, and the search volume for the target keyword.
The graph displayed by the best rank tracker tools shows you whether you're ranking in the top 10, top 100, or outside this range. Moreover, Rankwatch will regularly display which keywords entered the first page and those that fell from the first page.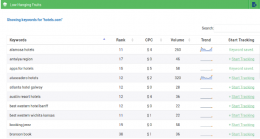 Another area you need to be paying close attention to is the stable keywords section. Here, you will see the number of keywords that have not been constantly jumping up and down the google search rankings. Why is this important?
Well, such keywords can be great assets for you, particularly if you are ranking at the top positions for them.
See, your competitors are regularly trying to outdo you in terms of rankings, and so if you find a keyword in which less of them are trying to outrank you, then you can utilize it to your advantage with a keyword research tool.
Do this by constantly tweaking them for the better and creating more content concerning them.
The hidden opportunity section also comes in handy when you want a list of keywords that can get you ranking higher and add to your traffic through google search.
Don't forget to utilize the competitor section to see how your competitor is ranking for every keyword you are interested in.
Pricing
This rank tracker tool offers 4 distinct packages.
M – $29/mo
L – $99/mo
XL – $449/mo
Custom-tailored – Here, you can adjust the keyword count to the number that suits your requirements.
The keyword count for each of these plans is 250, 1500, and 7500, respectively.
Accuranker

Situated in Denmark's vibrant city, Aarhus, Accuranker has come a long way since its inception in 2013.
At the moment, they boast of being the world's fastest and nearly faultless rank tracking tool. A rather incredible feat. But what exactly do they offer?
As a keyword tracking tool, Accuranker allows you to input or import keywords relevant to you and your business to check your rankings and track them. For importation, you can either pick Google search console or CSV.
If you are unsure or unable to recall some of the keywords, you could enable their keyword suggestion feature right below your search box, you can also do some keyword research.
Accuranker also allows you to check your keyword rankings and search results on Google, Bing, Baidu, YouTube, and Yandex. In addition to this, you can select whether you want to do rank tracking on Desktop, mobile, or both. (Search engine rankings)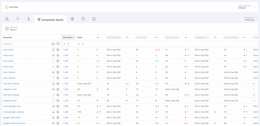 The results from your keyword search will display the average keyword rankings, search volume, and search engine results. As in many rank trackers, you will save such data in PDF for further analysis.
Accuranker also allows you to get data on your competitor's ranking for the keywords you are interested in and see how they perform. Such ranking data is vital for you as you can utilize them to beat them.
Pricing 
Most rank trackers vary their prices based on keyword count. The following are the prices for Accuranker.
Monthly Billing
The lowest price (the professional plan) -$109 per month (1000 keywords)
The highest price – $2149 per month (15,000 keywords)
Yearly Billing
Lowest price (professional plan) – $99 per month (1000 keywords)
Highest price – $1929 per month (15,000 keywords)
As you can see, opting for the yearly plan saves you $10 per month for the professional plan with 1000 keywords and $220 per month for the 15,000 keywords one.
Read our detailed Accuranker review for 2022.
Ahrefs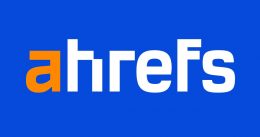 Ahrefs is one of the best in 2022, if not, the best SEO tool when it comes to backlink data. Its emphasis on the feature is highly noticeable from the moment you begin exploring the site.
However, this is not our concern for today. We want to know how Ahrefs fairs when it comes to tracking keyword rankings.
Although not one of its major attributes, this SEO tool is pre-programmed to detect and locate the keywords your site is ranking for. This can be known as a keyword tracking tool.
Ahref's rank tracker tools allows you to see your overall rank position for a specific keyword, the search volume for your chosen keyword, the SERP features, the monthly traffic generated as well as the keyword difficulty.
Your position in terms of rankings or search results will be distributed into various segments such as the top 3, top 10, top 50, and top 100. You also get the option of adjusting your location to view your rankings in other countries.
You can add or connect your Google Search console with Ahrefs for various projecys.
Ahref prides itself as an SEO rank tracking tool with over 160 countries added to its data.
Switching between desktop and mobile rankings is also fairly easy, and you're even able to see how your rankings have improved and declined overtime for a specific keyword.
It wouldn't be fair to Ahrefs and you if we finished this review without looking at their competitor analysis concerning keyword rankings.
The tool will allow you to track up to 10 competitors and will give you an exclusive data report on areas such as search traffic, ranking progress, and SERP features.

Pricing 
Ahrefs has 2 payment plans: Lite and Standard. Both offer a 7-day trial for $7 and then the corresponding monthly payments.
Lite – This plan is priced at $99/mo on completion of the 7-day trial. You are allowed to track up to 500 keywords with it.
Standard – This plan is charged at $179/mo once done with the 7-day trial. It allows you to track up to 1500 keywords.
SEMrush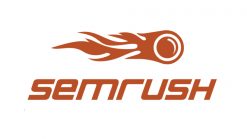 SEMrush is one of the best keyword tracking tools and among the leading SEO tools in the world. It happens to be a fan favorite and for all the good reasons.
Setting up your website on SEMrush is quite easy, and once done, the tool will track every single keyword you are ranking for in popular search engines, Google rankings and YouTube rankings included.
You'll also be able to view your current position and whether you have made progress or not with rank tracking. Right next to your position are other invaluable data such as your monthly traffic, search volume, keyword difficulty, and URL.
Reviewing your SERP features in SEMrush is made extremely easy and comprehensive with tools such as position tracking, Keyword magic, SEMrush sensor, and On-Page SEO checker.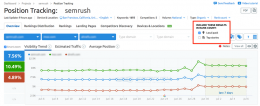 If you hate having to move from one location to another when analyzing your website's data, then I have some good news for you.
SEMrush is integrated with Google rankings/ Analytics and Google search console. This allows you to seamlessly connect your accounts to it and do everything in one area.
Other than ranking data, SEMrush also does local SEO, on-page SEO, social media management, link building, competitor analysis, market analysis, and website audit.
Pricing 
SEMrush offers a 7-day free trial and then will require you to pay for one of their subscriptions, which include:
Pro – $99.95/mo
Guru – $199.95/mo
Business – $399.95/mo
Enterprise – For this plan, you will need to contact SEMrush through corporate@semrush.com for more details.
SE ranking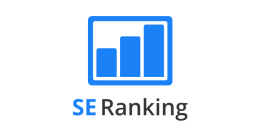 SE ranking is among the SEO tools that perform exceptional rank tracking. Its interface is not only appealing but also easy to use.
This SE ranking. rank tracker features all the popular search engines you can think of, like Google, Yahoo, and YouTube, just to mention a few. With a collection like this, you're always set and ready to begin your tracking.
But what about locations? Well, SE ranking allows you to check a great number of countries for your keyword ranking needs. Even better, you can really dive deeper and narrow down your local search to a certain zip code.
SE ranking also allows you to target different devices. This means that you can check your search results for desktops and mobile.
What we've mentioned so far is just a tip of the iceberg of what this rank tracking tool can do. You could use it to do web audits, backlink monitoring, keyword research, track SERP features, and compare and track keyword rankings with your competitor's.
Pricing
SE ranking offers a 14-day free trial with no credit card required. This is always great as people always want to test different SEO rank tracking tools before committing to one.
The following are the subscriptions available for SE ranking.
Optimum – $31 per month
Plus – $71 per month
Enterprise – $151 per month
You can find more information in our detailed review for SE Ranking tracker.
Authority Labs

Some people just want a tool that can do the basic SEO strategy and tracking tasks without including the encyclopedic data often found on high-end SEO tools. If you're one of those persons, then Authority Labs might be the best keyword tracking tool for you.
While I wouldn't advise it for big firms and businesses, beginners and start-ups can definitely use such a tool. Authority Labs has been around for a decade now, and it embodies simplicity.
This rank tracking tool is pretty straightforward and can track rankings over many popular search engines, Google analytics,  Google and Yahoo, being among them.
Besides that, you can also do a local search and get your rankings by city and zip code.
If you're looking to analyze your SERP features, you can do so for absolutely any keyword. The features that reside within a keyword's SERP are vividly displayed through familiar icons.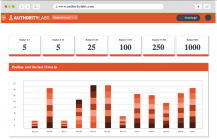 Authority Labs can also be used to track your competitors and integrate Google ad words campaigns.
Of course, being unable to offer some much sought out features means that this tool is less reliable. However, it is a good option for anyone on a budget.
Pricing
Authority labs, like many other rank trackers, offers a free trial. The following are the subscriptions available.
Plus – $49/mo (250 keywords)
Pro – $99/mo (1000 keywords)
Pro Plus – $225/mo (2500 keywords)
Enterprise – $450/ mo (5000+ keywords)
Moz Pro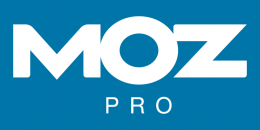 Moz Pro is an easy to use and powerful SEO strategy tool that does rank tracking like its counterparts.
I particularly love its link explorer, which features a spam score where you could check the possibility of getting into trouble because of your backlinks.
A neat feature indeed, but let's go back to its ability to track keyword rankings.
The Moz Rank tracker allows you to do the basic rank tracking functions, such as checking your sites' keywords positioning and SERP visibility.
You can check how you rank on different search engines like google and across distinct devices like desktop and mobile.
You'll also be able to see how your competitor is moving on the search engine results. This is always a handy feature as you could try and copy what they are doing whenever you see them climbing higher.

Compared to Ahrefs and SEMrush, I must say that generally, Moz Pro falls short of expectations.
However, this does not, in any way, take away its credibility as a trustworthy and accurate keyword rank checker tracking tool.
Pricing
Moz Pro has 4 distinct plans. They include:
Standard – $99/mo
Medium – $149/mo
Large – $249/mo
Premium – $599/mo
You will get a 20% discount on each of the plans if you choose to pay yearly.
This SEO strategy tool also offers a 30-day free trial for its medium plan. During the period, you will receive unrestricted access to the plan and can cancel at any moment.
Woorank

Here's another amazing rank tracking tool that manages to remain simple without compromising on data.
In addition to tracking, Woorank does site auditing, competitor analysis, error analysis, backlink analysis, and features a compelling site crawl. All these, intricately designed to help you stay ahead in the game.
Local search is also fairly simple and allows you to track your keywords down to your desired state or province.
The search volumes provided for the keywords you are monitoring are also extremely helpful as you will know which ones perform better. Combine this with the data on your competitor's position for the same keywords, and you will be unstoppable.
Woorank does rank tracking daily to keep you updated on how you're performing. This will ensure that you do timely optimization of your content.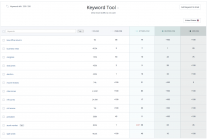 You can also see how your content performs on mobile search results as people have different search tendencies on different devices.
Over at the project settings, you'll be able to connect your google analytics, google search console, and Facebook accounts to Woorank. Such data is valuable as it helps rank trackers better improve your performance.
Pricing
Woorank offers a 14-day free trial where you can analyze their SEO tool and find out if it is the best keyword tracking for you.
After that, you will need to pay for a plan. There are generally 3 plans.
Pro – $59.99/mo ($39.17/mo if billed yearly)
Premium – $179.99/mo ($119.17/mo if billed yearly)
Enterprise – For this plan, you will need to contact Woorank by filling up a short online form with your details.

Pro Rank Tracker
While most keywords tracking tools have fancy names to differentiate themselves from the competition, this tool goes for the very name that can be used to describe all its competitors.
A bold move that has worked perfectly for it.
Pro Rank Tracker does keyword research, SERP analysis, site audits, competitor comparisons, and allows you to schedule a daily, weekly, or monthly report for pre-selected areas you want to monitor.
On signing up for Pro Rank Tracker, you will be required to key in your domain name and set up a new tracking. Before you even enter the keywords to track, the tool will display numerous keywords that you're currently ranking for.
You will be able to see your position for each one of them, starting from your most prominent ones to the least popular ones.
Right next to your ranking position, you will be able to view the search volume for the keywords and the URL you are ranking for that specific keyword.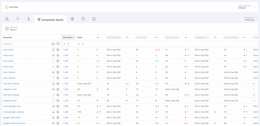 In the tracking settings, you can view all the search engines available, including Google, Google News, Google places, Google images, Yahoo, and YouTube.
You can also customize your results to focus on rankings on both desktop and mobile or just one of them.
Pricing
One great thing about RankTracker is, you can start using it for as low as $8 per month. You also get a 10-day trial to test the tool.
The following are the plans available for this Ranktracker:
RankTracker -$8/mo (50 keywords,1 user)
All-in-One -$28/mo (50 keywords,10 users)
Premium – $58/mo (50 keywords, unlimited users)
Enterprise – To access this one, you will need to contact RankTracker.
You can adjust the number of keywords to the number you deem fit.
However, like other rank trackers, you will be required to pay more as you increase the count.
It's also important to mention that this keyword ranking tool gives you a 25% discount on the monthly prices if you choose to pay annually.
Find more information on Pro Rank Tracker's keyword tracker in our Pro Rank Tracker review for May 2022.
SEOmonitor

SEOmonitor is among the lesser-used rank tracking tools on this list. However, we cannot deny its effectiveness in what it does.
As a matter of fact, I find the tool's ability to do a fast and accurate keyword tracking to be among its strongest feature. What's even better is, you can do this across both desktop and mobile.
SEOmonitor also does many other functions such as keyword management, keyword research, SEO forecasting, and competitor analysis.
With this tool, you will be regularly updated with email alerts on new backlinks, keyword tracking, and visibility.
If you still think this isn't enough to accept SEOmonitor as your rank tracker, then I should point out that the tool also provides suggestions on why your rankings are dropping.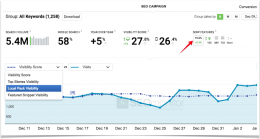 Moreover, it's important to add that this tool is integrated with Google search console and google analytics. This allows you to connect to your account and monitor changes on a single panel.
Pricing
SEO monitor payment plan operates in a pay-as-you-go system. You will be charged differently based on the number of keywords and websites utilized.
SEO profiler

SEOprofiler is a formidable tool that can do a range of SEO tasks. From site audits to link building, you name them.
However, today we are going to focus on one of its features that, in and of itself, makes it one of the best rank tracking tools out there.
They call it the ranking monitor, and I have to say I was pretty impressed by it. This section has the ranked keywords, ranked pages, opportunities, alerts, competitors, and a PDF report.
The ranked keyword section is where you place any keyword you'd like to track for your website. On doing that, this rank tracker will display your current position for the keyword on every available search engine like Google, Bing, and Yahoo.
And it doesn't stop there; the tool also provides you with an accurate and beautifully designed line graph that displays how you have been ranking for those keywords in the previous months.
As you scroll down, you get even more data concerning your keywords, for example, your best and worst ranking positions along with an average. SEOprofiler will also display your SERP for Google, Yahoo, and Bing in this section.
Once done with assessing the ranked keyword section, you could move over to the ranked pages. This section will show you which of your pages has the most rankings on popular search engines like Google and Yahoo.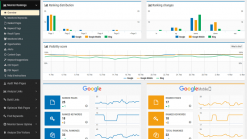 Now, it's important to check the opportunities section while you're at it, as they have some really amazing tips for you there. You get to see just how much-unrealized potential certain keywords have.
Lastly, It's always wise to check your alerts to stay informed with your ranking changes.
The ranking alerts section will show you keywords that have experienced positive changes, those that have seen negative changes, and the unsuccessful keywords.
Pricing
SEOprofiler has 4 payment plans.
Standard – $69.95 per month
Smart – $99.95 per month
Professional – $249.95 per month
Enterprise – $999.95 per month
This rank tracker also offers you a one-week free trial for the Smart subscription.
If you opt to go for the annual plans, you could save up to 33% of your money. Compared to the rank trackers we have analyzed so far, this is a huge discount.
Serpstat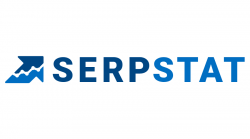 Serpstat has an easy step by step process that gets you started on your tracking journey in no time.
Like in many other rank tracking tools, you begin by adding the domain you want to track. Here, this can be done through the add project button. Once you've done this, you can start your keyword rank tracking process.
Serpstat is quite keen on details and will take you through various but easy steps. First, you will need to select the search engine you want to track, your country, region, and even the city. Don't worry if you're not looking to do a local search as the region and city are optional.
We proceed to the Keyword section, which is the most vital step in the process.
Even before adding your target keywords, you will see a list of suggested keywords for which your site is popular and has top rankings. You could add them alongside the keywords you want. Importation is also allowed through CSV.
The next step will be scheduling your tracking process. Here you can either pick daily updates, every 3 days updates, or weekly updates.
If you're a huge organization with many users, you will be allowed to add users who can view the project. They'll immediately be notified of this afterward. You should also know that the administrator can only do editing. And with that marks the end of the process.
Now, it's all about analysis. Serpstat will display for you the total number of keywords added to your ranking position, the volume of searches, and history.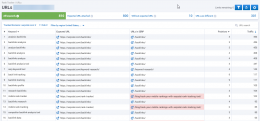 In addition to all these, you're able to keep track of the keywords in which your rank position has improved, those in which you have dropped, and those that have experienced no change.
Serpstat also provides a stylized overview of your competitor's performance in terms of the keywords you selected.
Pricing
Serpstat, like most of the mentioned rank trackers, has 4 payment plans.
Lite – $69/mo
Standard – $149/mo
Advanced – $299/mo
Enterprise – $499/mo
Serpstat gives you a 20% discount on all the monthly prices if you choose to pay annually.
Nightwatch

While we're not sure if the creators of this ranker tool were part of the Night's watch, given the name's striking resemblance, we can doubtlessly say that their SEO tool is top-notch.
Nightwatch is instantly distinguishable from all the other rank trackers just by color alone. The overall dark color and the white fonts make it an absolutely stunning keyword rank tracking tool.
For people like me who find bright colors straining to the eye, this mode is exceedingly helpful.
However, we know you're here to find out how good their keyword rank checker is, so let's get into it.
Tracking in Nightwatch is straightforward. Upon entering your domain and keywords, you will be shown where you are ranking for each target keyword entered.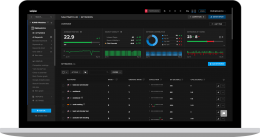 Moreover, you'll be able to see the number of keywords that rank in the top 3, top 10, and top 100 on different search engines. You also get a rank change section, which shows you the changes that have occurred daily, weekly, and monthly.
The changes in Nightwatch are displayed in green or red, from the graph to the numbers. Green shows a positive change or rise, while red shows a negative change or fall. You can schedule to receive this data along with many others daily through email.
On top of rank tracking, Nightwatch also does backlink monitoring, competitor comparison, site audits, keyword research, and reporting.
Pricing
Unlike most rank trackers, Night watch has 3 payment plans.
Starter – $39/mo
Optimize – $99/mo
Agency – $369/mo
If you opt to pay yearly, you will save 40% of your money every month. Nightwatch also offers a free trial for the starter and agency subscriptions.
Keyword.com

One of the first original players in the rank tracking space, with almost 10 years in the industry, there's no one more focused on keyword rank tracking than Keyword.com.
Keyword.com is focused on SEO agencies and teams who want big data with high accuracy with a clean interface.
Since it's more of a premium product, this product is not for everyone, but if you value SEO and deeply understanding SEO, this is a good fit for you.
The interface itself is clean and straightforward, giving you the data you need without the clutter.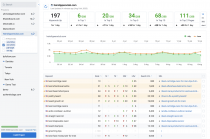 You'll be able to track down to the city level around the world, and verify with live SERPs with the ability to see SERPs from up to 30 days old.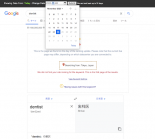 Competitor insights and tracking included: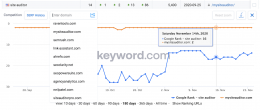 With a full data warehouse for you to play around with: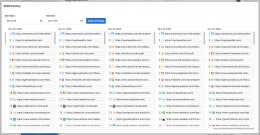 Morningscore
It's only appropriate that we follow up the night with morning and what better tracking tool to show that transition than Morningscore. Its interface is easy to use and is surrounded by lovely bright colours as you would encounter in the morning.
Morningscore is a broad tool that encompasses all your SEO needs into a single platform. You can do SEO campaigns, competitor analysis, backlink analysis, and site audits, alongside rank tracking.
We should also point out that among the rank tracking software we have encountered so far, this one happens to be relatively new as it was founded in 2017.
When it comes to rank tracking, Morningscore has a section called keyword rank tracker. The keyword rank tracker will display your target keyword, the number of searches it has received per month, where you rank based on the keyword, keyword research, and the traffic you get for it.
In addition to this, the keyword rank tracker shows you where your competitor is ranking for any target keyword. It then further gives opinions on how you could say, get your keyword titled "white headphones" from rank 8 to 3 or even 1.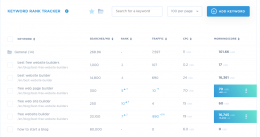 Morningscore is also among the keyword ranking tools that enable you to track your search engine position changes and history through a graph with keyword research. You should also know that this ranking tool does keyword updates daily.
Pricing
This ranker tracker offers 3 popular plans.
Lite – $49/mo
Business – $79/mo
Pro – $149/mo
If you're unable to afford the above plans, you could go for the starter plan priced at $25/mo. Annual billing for Morningscore has a discount of 20% on the normal monthly fees.
It's important to point out that this keyword ranking SEO tool offers a 14-day trial on all the aforementioned plans. You can cancel at any time if you find out the tool is not for you.
Dyno Mapper

This tool is in no way an underdog when it comes to keyword rank tracking.
It performs the 3 core functions done by most of the keyword ranking tools out there, including rank, monitor, and report.
For that reason, and not forgetting their purposeful dedication to this function, we have to include them among the best.
This tool allows you to track your rankings for any specified keyword in multiple search engines, for example, Google, Bing, and Yahoo.
Not to mention, you can do an international and a local search, and by that, we mean down to your very own zip code.
The option to check rankings based on different devices also comes in handy. You can choose to check where you're ranking on desktop, mobile, and even tablet. The data is updated daily to keep track of your progress.
Any serious SEO marketer will set a schedule to be updated on their rankings and how they change.
This rank tracker will send you notifications and reports every week regarding your ranking performance and more.
You can also export this data, while in the platform, through PDF or CSV. The rankings graph is also helpful in this respect.
Dyno Mapper can also do content inventory, content audits, and is an outstanding sitemap generator.

Pricing
Like most rank trackers, Dyno mapper offers a free trial but will limit you to 1 project and 100 pages. You can opt to go for any of these 3 plans.
Standard – $49/mo
Organization – $199/mo
Plus – $299/mo
If you choose to pay annually, you will get a discount and 2 months free.
SEO Powersuite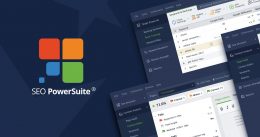 SEO Powersuite is a desktop-based application that allows you to do comprehensive keyword tracking and so much more. It features over 300 search engines and allows you to compare your keywords with up to 10 competitors.
Although we might not term this as the best rank tracking tool, it attempts to solve one of the biggest downsides of most paid tools: limitation.
SEO Powersuite gives you a ton of valuable features with no limitation. But you're probably here because you want to know what it has to offer in terms of keyword tracking.
Well, as a tracking tool, SEO Powersuite displays your rank position on popular search engines like Google and Yahoo.
In addition to that, you will be able to check on your ranking pages for the keywords selected as well as their visibility.
It further monitors your ranking progress from the moment you access the software and provides you with an all-inclusive summary.
Here is an example of SEO Powersuite in action: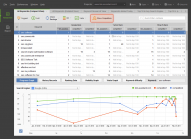 Another one of its great features is the Geo specific rankings. This is extremely helpful, especially if your service is primarily targeting local clients.
Pricing
The SEO Powersuite software provides only 1 license per user.
While it does not offer a free trial, you get a free version of the software which you can use for as long as you'd like. The following are the payment options you have.
Forever free – $0
Professional – $299/year
Enterprise – $699/year
Why is a rank tracking tool important for SEO?
Rank Trackers allow you to monitor your website's positions for important search queries in search engines results pages.
This way you can evaluate your SEO tools, efforts and see which pages require more improvements.
Similarly, it allows you to monitor your competitors' performance, giving you the opportunity to outperform them.
Who has the sexiest rank tracker graphs?
The rank tracker with the sexiest graphs is:
Position #1 from SEO Community Survey
Position #2 from SEO Community Survey
Position #3 from SEO Community Survey
Position #4 from SEO Community Survey
Position #5 from SEO Community Survey
The rank tracking graphs I feel is so important for the creators of these rank trackers.
Conclusion
Every journey eventually comes to an end, and I'm afraid this is where we finish ours.
Before we leave you to test these tools out, we'd like to say that keyword ranking tools will always be a huge success contributing factor to any website owner.
We know how troublesome and ineffective tracking keyword rankings can be for someone who lacks such tools. Therefore, we did our best to incorporate diverse rank trackers so everyone can have one that fits them perfectly.
Since we're also aware of the popularity of google search console, we made sure to include tools that enable you to integrate with it.
This comprehensive list gives you some of the best ranking tools out there, equipped with amazing SERP features analysis, which will help you see just how you're performing on a larger scale.
Want More Rank Tracking Tool Reviews?
Did you like our post and want to read more reviews about other tools that you can use to track your keyword rankings?
Take a look at the rest of the trackers we have tested and reviewed: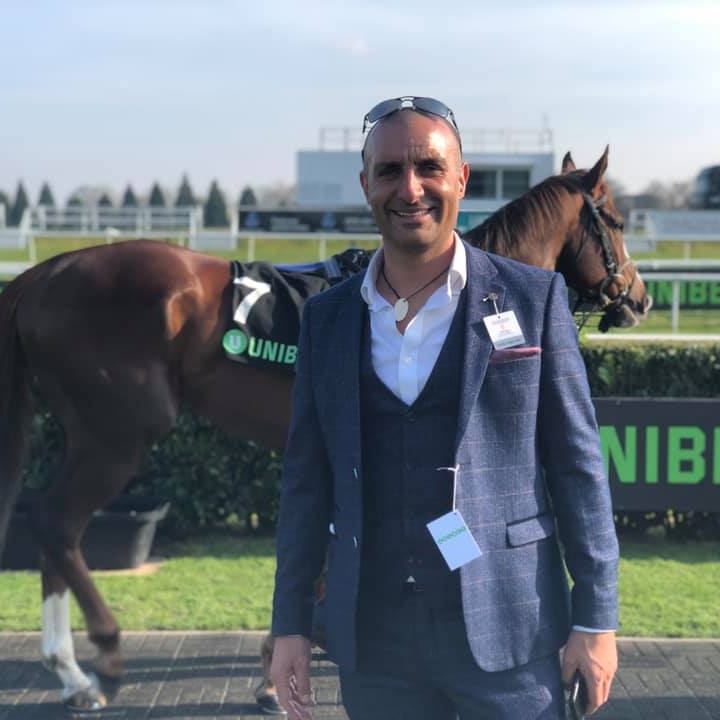 Digital Nomad
I'm a full-blown Search Engine Optimization specialist earning the majority of my income from SEO-focused endeavours, including affiliate marketing, lead generation, as well as SEO services. Love travelling the world networking while working on my laptop. Life is a perception of your own reality. You have no excuses and should be making memories every single day.
About FatRank
Our aim to explain and educate from a basic level to an advanced on SEO and Social Media Marketing.
Recent Posts