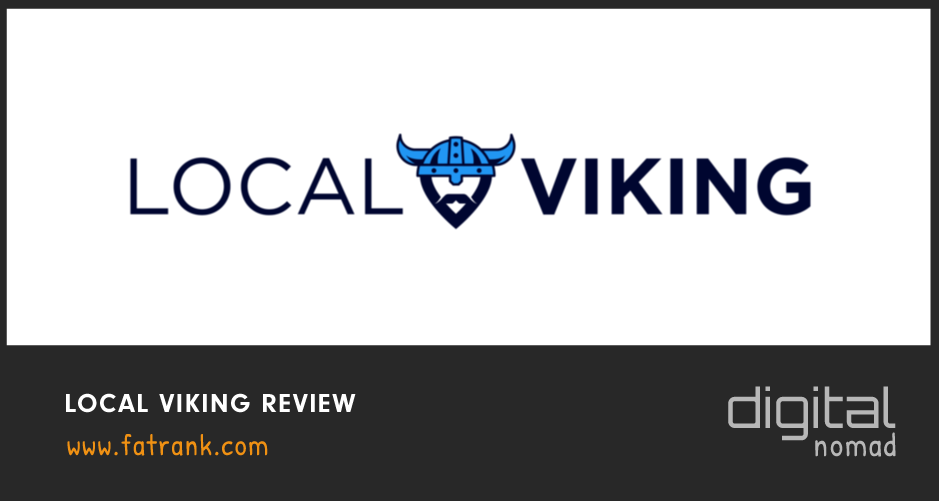 Local Viking Review
If Local SEO is your focus – Local Viking is a management software you must have.
We also recommend you check out our ultimate guide to ranking GMBs.
Our review will explain why Local Viking is the best Google My Business management software provider, which makes it super easy and affordable to track and optimise Google Maps Listings.
While Local Viking is relatively new on the market, it has quickly gained popularity and manages thousands of GMB listings globally.
With some of the best local SEO entrepreneurs owning the software it is no surprise Local Viking regularly adds new features, so you won't be disappointed.
What is Local Viking?
Local Viking is a GMB management software tool to help you rank higher in local SERPs.
Here are the services Local Viking software offers:
Schedule GMB Posts
Track Local Pack rankings
Upload photos
Manage reviews
With the ability to carry out all the above from a single dashboard you can see why Local Viking is used by so many GMB Experts.
Who Owns Local Viking?
Mark Luckenbaugh and Chaz Edwards own Local Viking.
Both owners are very well known in the SEO communities as the go-to local SEO experts.
They have helped thousands of local businesses achieve more visibility and to create a highly functional and automated reporting system for Google My Business.
Other well-established brands they own include Web2.0 Ranker and the Local Client Takeover brand.
Features
The company was formed in 2018 as a GMB posting tool and later as a comprehensive GMB management software integrating the following:
GMB Review Management
The GMB software dashboard allows you to manage and reply to all GMB Reviews submitted.
The Review management tool can send notifications for all new reviews so you can quickly respond and keep on top of reputation management.
If acquiring more positive reviews if needed we strongly recommend ratemybusiness.io as a supplier of the 5-star google reviews.
GeoGrid Rank Tracker
The GeoGrid Rank Tracker makes it possible to view Google My Business keyword rankings.
Local Viking GeoGrid Rank Tracker is far superior to standard rank trackers for GMBs because gives you a bird's eye view at multiple scan points to accurately represent search results from your exact pin location.
The multi-point geogrid results provide a visualization of a keyword's rankings within a set radius.
Using the GeoGrid provides a more accurate method of reporting for Local GMB SEO Results.
Schedule GMB Posting
Local Viking provides GMB Posting which can be scheduled to post daily and at set times of the day.
The Google My Business Posting feature makes it possible to bulk schedule and automate GMB posts which is a ranking factor to better visibility of your Google Maps Listing.
It also includes some additional features to automate content with a calendar view.
Upload Images
Local Viking provides Image Upload Posting which can be scheduled to post daily and at set times of the day.
This tool makes it possible to add EXIF data and geo-tagging the image, which can expand the visibility of your GMB Listing's target service area.
Using this upload image feature increases geo-relevancy, and increases the likelihood of ranking locally.
Attribute Locking
If attribute locking is not set up then the public edit information on your listing.
Local Viking allow you to lock the information that is added to your GMB.
The attribution locking stops competitors and other users from being able to mess with your Google My Business categories (or other listing data) that can really hurt rankings.
Pricing Plans
The Local Viking Pricing Plans are here:
Single GMB Package – $20 monthly which includes one Google Maps Listing
Starter GMB Package – $39 monthly which includes 10 Google Maps Listings
Pro GMB Package – $69 monthly which includes 20 Google Maps Listings
Agency GMB Package – $99 monthly which includes 40 Google Maps Listings
Enterprise GMB Package – $149 monthly which includes 70 Google Maps Listings
From as little as $20 per month, you can get access to all of Local Viking features.
In comparison to Local Falcon, the pricing is very competitive and great value for money.
Final Thoughts
Local Viking is a comprehensive GMB management software tool.
It is an investment all SEOs should take if they are serious about ranking GMBs to improve online presence and generate more sales.
Any business with a Google My Business Listing can also take advantage of this amazing software to effectively coordinate and manage activities on their account.
Check These
Chris Palmer
About FatRank
Our aim to explain and educate from a basic level to an advanced on SEO and Social Media Marketing.
Recent Posts