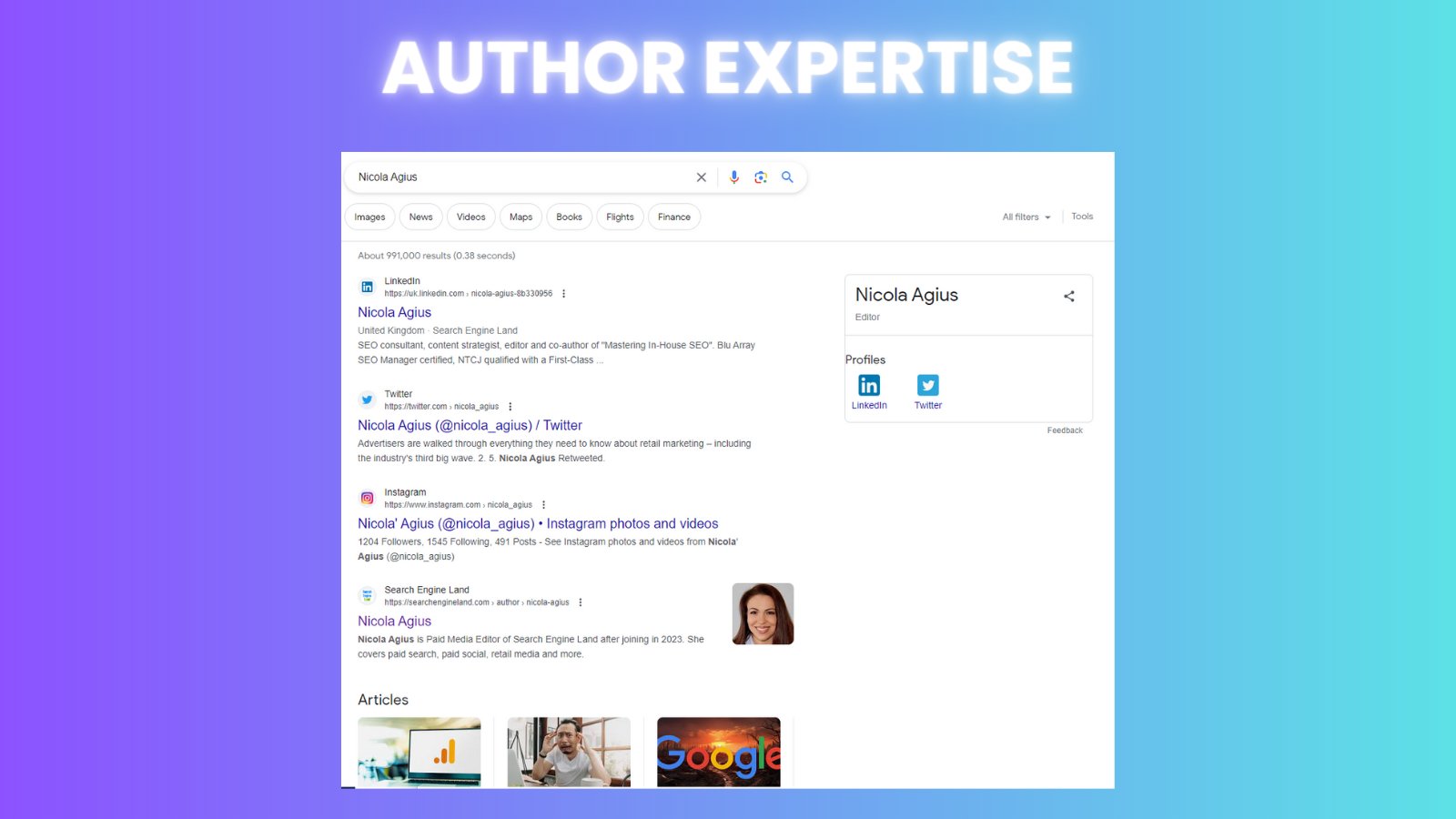 Google Author Rank
The reputation and authority of your authors attached to your website help build trust.
If the author has experience on the topic or seemed to be an expert as got accreditations closely connected to the topic this is a great signal for Google.
In our Google Author Rank guide, we explain why improving your authorship rank is an important indicator of Experience, Expertise, Authoritativeness, and Trustworthiness.
What is Author Rank?
Author Rank is a ranking signal used as part of their EEAT scoring system.
Google's search algorithm will score online content creators associated with the topic of the content they produce.
Similar to web page rankings, authors will now have an associated ranking based on a few contributing factors.
Is Author Authority a Google Ranking Factor?
Author authority is not a search engine ranking factor according to the full list of Google Ranking Factors 2023.
But the importance of the author's reputation has been growing in recent years.
In Google Search Quality Rater Guidelines,the importance of the author was a key indicator.
Does Author Name Affect SEO?
The author's name affects SEO as enhances user trust and user experience.
The existence of an author bio should be considered an element of the web page to improve EEAT signals.
Authorship in SEO is more about building trust behind who has written the content and is a proactive trusted measure.
Too many SEOs do not see the need for author authority because it is not something that can be easily measured in terms of its direct impact on organic search performance
But the saying "it is only a problem when it becomes a problem, and then it is too late" is important for search engine optimisation specialists to understand because we see through EEAT SEO brand many "Author Transparency" manual action penalties.
Google Author Transparency Manual Action
Here is an image of a website that has been hit for not having correct EEAT signals on their website: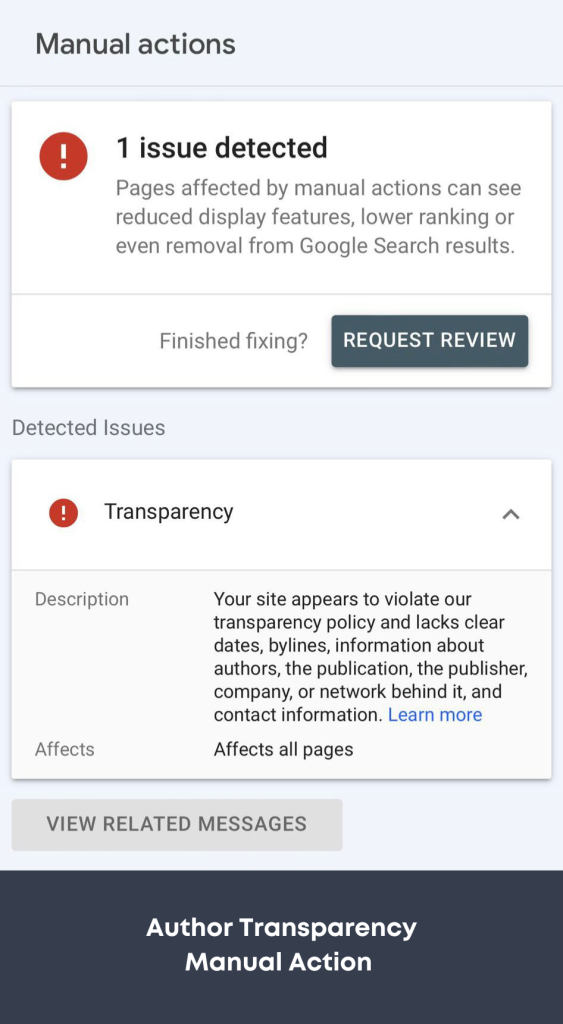 As you can see from the google search console screen shot this website has a detected issue of Transparency.
Your site appears to violate our transparency policy and lacks clear dates, bylines, information about authors, the publication, the publisher, company or network behind it, and contact information.
Having this issue results in the following problem:
Pages affected by manual actions can see reduced display features, lower rankings or even removal from Google Search Results.
How to resolve
So from seeing this message the website clearly lacks in EEAT signals depending on the website this can mean any of the following / combination:
Author Transparency
Author Bio
Author About Page
Author Transparency
Author Contact Details
Branded Author SERP
Company Transparency
Company Bio
Company About Page
Company Transparency
Company Contact Details
Company Branded SERP
Website Transparency
Who owns the website?
Is the website publishing factual correct information?
Are you a (company, ecom, affiliate) is this clear?
Do you have a privacy policy, terms and conditions?
There are various EEAT signals, the best thing is to get a EEAT audit for your website as websites vary on what they need depending on the industry.
Agent Rank Google Patent
The Agent Rank patent was granted by the USPTO on July 21st 2009, where the reputation scores of all of the people who put together the content of a page played a role in the ranking of that page.
Two continuation versions of the patent have also been filed by Google since then, with one stressing the portability of reputation scores for agents, and the other pointing out that not all endorsements from Agentsare equal.
It is no secret that the social graph appears to be the next evolution with increasing uses of social factors, social elements in search, and mechanisms that will lead to AgentRank or AuthorRank, which will tie directly into the implicit social graph.
Does Dedicated Author Bio Pages help with SEO?
Having an author bio page on a separate URL is a lot easier to optimize and rank for the author's name.
Many SEOs just include this as part of the about us page, or Meet the team page or think an author bio snippet attached to an article is enough.
Creating a dedicated author bio web page helps with SEO because you can list all the awards, accreditations and accolades connected to the author.
The aim of the dedicated author bio page (e.g James Dooley as the example) is to rank for the following terms:
"James Dooley" + Fatrank (brand name)
"James Dooley" + SEO (topic associated)
"James Dooley" + Author
"James Dooley" + Awards
"James Dooley" + Testimonials
Controlling the BRAND SERP of your authorship name is a great trusted signal for Google in September 2023.
How to Write an Author Bio Page
Writing an author bio page for your website is an essential part of establishing your online presence as a writer.
It provides an opportunity for readers and potential fans to learn more about you, your background, and your writing journey.
Here are some tips on how to write an effective author bio page for your website:
Start with a brief introduction
Highlight your achievements
Share your writing philosophy
Personalize your bio
Keep it concise
Use a professional tone
Include a photo
Update your bio regularly
Author Bio Page Examples
Here are a couple of examples of great author pages that we recommend taking some inspiration from and using in yours.
Google Author Rank as an EEAT Signal
Having a dedicated page to your website's author, author bios on each page, and an author brand SERP can drastically benefit your website when it comes to Google's EEAT scoring system.
The main purpose of creating your author page and bios is to show Google that you are an authority on your website's topic.
This can lead to Google noticing you are a trustworthy source in your industry and ranking your webpages higher.
It's important to build your author brand SERP and if possible, have your name mentioned by other relevant sites to suggest that you are an authority in your industry.
Summary
The team at FatRank now always look to improve the following pages on a website:
About Us to explain who is the business behind the website
Contact Us page to include address, telephone number and email addresses to get in touch
Author Profile page to build the Google Authorship Rank of the people responsible for writing the content
Meet the Team page to list all the authors and contributors to the website
We also make sure to share the author's bio pages on social media and boost social signals using SignalBoy and look to bolster the brand SERP of the author names with link-building campaigns around the subject of the author name and what they have personally achieved.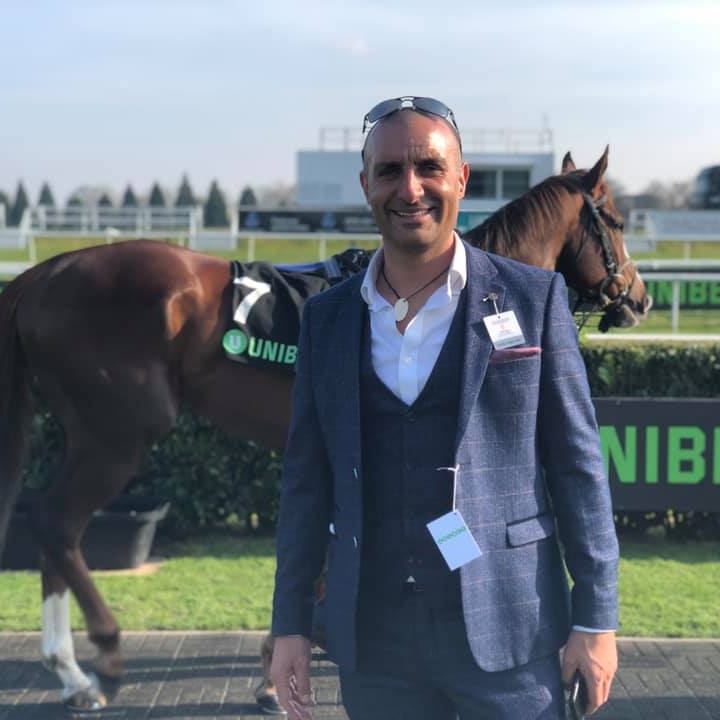 Entrepreneur
James Dooley is a British entrepreneur, SEO, investor, and philanthropist. James has built a huge Search Engine Optimization team that focus on organic SEO endeavours, including affiliate marketing, lead generation, as well as SEO services.
About FatRank
Our aim to explain and educate from a basic level to an advanced on SEO and Social Media Marketing.
Recent Posts