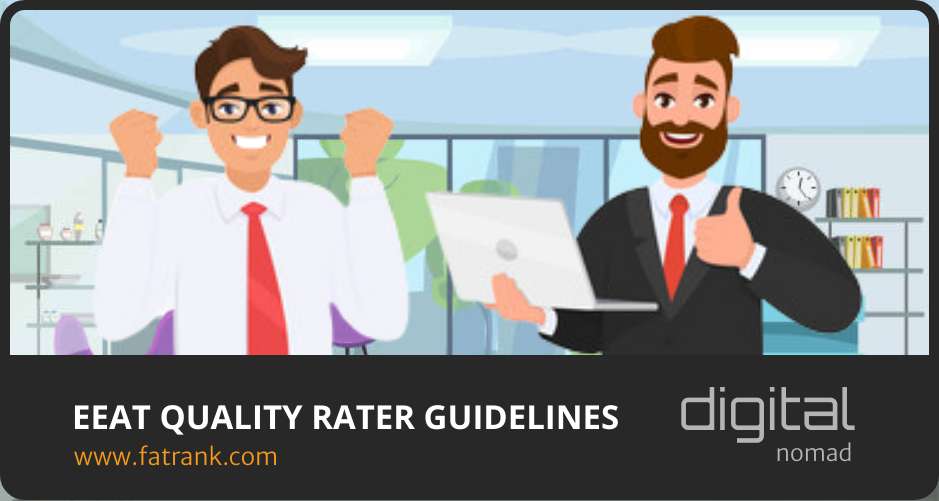 EEAT Quality Rater Guidelines
Google has made significant changes to its (QRG) Quality Rater Guidelines for search.
Google Quality Rater Guidelines have continuously been updated recently in their constant battle to try and improve the SERPs.
E-E-A-T – Experience, Expertise, Authoritativeness, and Trustworthiness is principles that Google's search quality raters use to determine the quality and effectiveness of search results. Quality raters are real people who determine how well Google's search results meet users' needs based on the Search Quality Rater Guidelines.
The most important change to the Quality Rater Guidelines (QRG) is the introduction of the letter E to the start of the popular acronym E-A-T.
Previous articles about EEAT SEO are now a thing of the past with the new acronym of E-E-A-T superseding it.
In our EEAT Quality Rater Guidelines update we will explain all the major changes you need to be made aware of now E-E-A-T has superseded EAT signals.
What is E-E-A-T?
E-E-A-T stands for Experience, Expertise, Authoritativeness and Trustworthiness.
Google has now added the extra E which stands for Experience.
The addition of "experience" is focusing more on how the content creator has first-hand experience in the topic.
Google states "trust" is at the centre of E-E-A-T and is the "most important member of the E-E-A-T family"
The latest EEAT signals clarify how the Google Quality Raters should be evaluating the reputation of websites and content contributors.
So What is Experience on EEAT?
Google have said the following on "Experience" signals as part of EEAT:
"content also demonstrate that it was produced with some degree of experience, such as with actual use of a product, having actually visited a place or communicating what a person experienced?"
In the latest version of revised EEAT Quality Rater Guidelines PDF Google explained:
"some situations where really what you value most is content produced by someone who has first-hand, life experience on the topic at hand."
Google is trying to understand the search intent better to match the query with the best results possible.
Search Perspective Frameworks
The use of Search Perspective Frameworks is going a be a huge element to Google ranking algorithms in September 2023.
Google shares an example in the revised EEAT Quality Rater Guidelines PDF:
"if you're looking for information on how to correctly fill out your tax returns, that's probably a situation where you want to see content produced by an expert in the field of accounting. But if you're looking for reviews of a tax preparation software, you might be looking for a different kind of information — maybe it's a forum discussion from people who have experience with different services."
This exact example comes down to Google trying to choose the Search Perspective Frameworks best match to the search query in do they want to see:
Consideration Search Perspective Framework
Contrarian Search Perspective Framework
Experience Search Perspective Framework
Expert Search Perspective Framework
Discussion Search Perspective Framework
Sales and Support Data Search Perspective Framework
Prediction Search Perspective Framework
Google appears to be evolving its language to be more inclusive and keep up with the times. It added many new mentions of social media platforms, influencers, and how content can take different forms, such as video, UGC, and social media posts.
Google is trying to match the Best Search Perspective Framework to match the search query.
Do Google Quality Raters Impact Rankings?
The search quality evaluators' ratings do not directly impact rankings butthey do provide feedback that helps Google improve its algorithms.
Google's (QRG) Quality Rater Guidelines clearly demonstrateson what websites and web pages Google prefers to rank.
Google is updating their E-E-A-T Quality Rater Guidelines PDF for a reason.
The Quality Rater Guidelines are a crucial document for anyone who works in search marketing because they give us a guidebook for where Google wants its algorithms to go.
Although search quality evaluators' ratings do not directly impact rankings the guidelines are showing you exactly what Google ideally wants to rank and if you can provide the simple math you can manipulate rankings to position one for your desired focus keywords.
Google Are Seeking Clarification
Although many affiliates might sulk for sudden ranking drops for them to compete in todays SERP they need to go the extra mile on Experience, Expertise, Authoritativeness and Trustworthiness.
The main takeaway is Google are looking for clarification on the following:
Finding Who is Responsible for the Website and Who Created the Content on the Page
Do Google Really Think They Have The Expert Knowledge on That Topic
Or Do Google Have Enough Evidence They Have Experienced Using The Service or Product
The best techniques of improving your E-E-A-T scores is providing information gain and not solely providing copycat content.
Google is also increasingly focused on the originality of the content and the presence of insights not found elsewhere.
Then spending the time and effort to build out your about page, contact page and actually forming yourself as an industry expert on the topic you are writing about.
How to Monitor EEAT Score?
The best tool to monitor your EEAT signals is Page Optimizer Pro EEAT Analysis.
PageOptimizer Pro will crawl your website for certain E-E-A-T signals and then will crawl your competitor sites.
PageOptimizer.Pro will pull out the things that you have which are part of our E-E-A-T guidelines and things that your competitors have and you can see the things that you miss.
Improving your Experience, Expertise, Authority, and Trust is important when Google Quality Raters are looking at your domain.
Kyle Roof has focused his tool on improving the Experiences Feature as the "Experience" element of EEAT is new to the QRG documents.
Looking To Recover a Wesbite?
Get help from our Expert Team
Recover Website
Google Quality Raters
Here is everything you need to know about Google quality raters from wages, to training and EEAT checklists.
What is the role of the search quality rater?
The search quality rater provides feedback that helps Google understand which changes make Search more useful.
Google Quality Raters also help Google categorize information to improve their systems and algorithms in September 2023.
Quality Raters are spread out all over the world and are highly trained using our extensive search evaluator guidelines.
How much do Google Raters get paid?
The average wage of Google Quality Raters is $17,000 per year, as they are paid per task through software like Raterhub.
The Google Ads Quality Rater is paid much more with an average salary of $52,000 per year in the United States.
The Google Ads Quality Raters use software like Workforce Logiq, Lionbridge or Adecco and this is completely different to e-e-a-t quality raters.
What does Google search quality Evaluator guidelines describe that experts acronym?
The expertise acronym in the E-E-A-T guidelines determinesyou're showing formal expertise as your content is factually accurate and supported by expert consensus on that topic.
Experts on a subject matter are especially important on Your Money or Your Life pages, so make sure to double-check your facts.
What does Google search quality Evaluator guidelines describe that experience acronym?
The experience acronym in the E-E-A-T guidelines determinesthe content author's "first-hand or life experience for the topic."
Google search quality evaluators are tasked to see if the author is a proven user of a product or holds qualifications on the topic.
A big factor in "first-hand or life experience for the topic" is awards and accreditations to prove you have the experience to speak on a topic.
All content writers should be looking to improve their brand SERP by broadcasting awards won on external websites and improving the author bio search results to show they are an industry subject matter expert.
What does Google search quality Evaluator guidelines describe that trust acronym?
The trust acronym in the E-E-A-T guidelines determines how trustworthy the website and author are.
Author transparency manual action penalties are very common in September 2023 through Google Search Console and Google wants to know if they can trust the source.
Important measures to improve the trust acronym on E-E-A-T SEO scores are:
Having a telephone number on the website
Having several email addresses on the website
Having a physical address on the website
Adding the business behind who owns the website
Technically built well with SSL certificate
Trust is very important in Your Money or Your Life YMYL) pages like finance, health and niches that can harm viewers with incorrect information shared.
The authority acronym in the E-E-A-T guidelines determines is probably the most important aspect of Google E-E-A-T.
The "A" in E-E-A-T, meaning "Authoritativeness", is determined by your authoritative mentions.
Gary Illyes who is an Analyst at Google said:
It's largely based on links and mentions on authoritative sites. i.e. if the Washington Post mentions you, that's good.
The interesting part of this is the inclusion of unlinked mentions.
Marie Haynes who is an expert in the analysis of eeat says "Google has said that E-A-T is primarily based on off-site links AND mentions, so this makes sense to me. I'd take a true mention in the NYT over a followed link in the contributor's section of Forbes any day.
Google Author Transparency Manual Action
A Google Author Transparency manual action refers to a site that has received a penalty from Google due to insufficient or unclear author details.
Such details might encompass the author's biography, about section, contact information, branded author search results, and many other elements.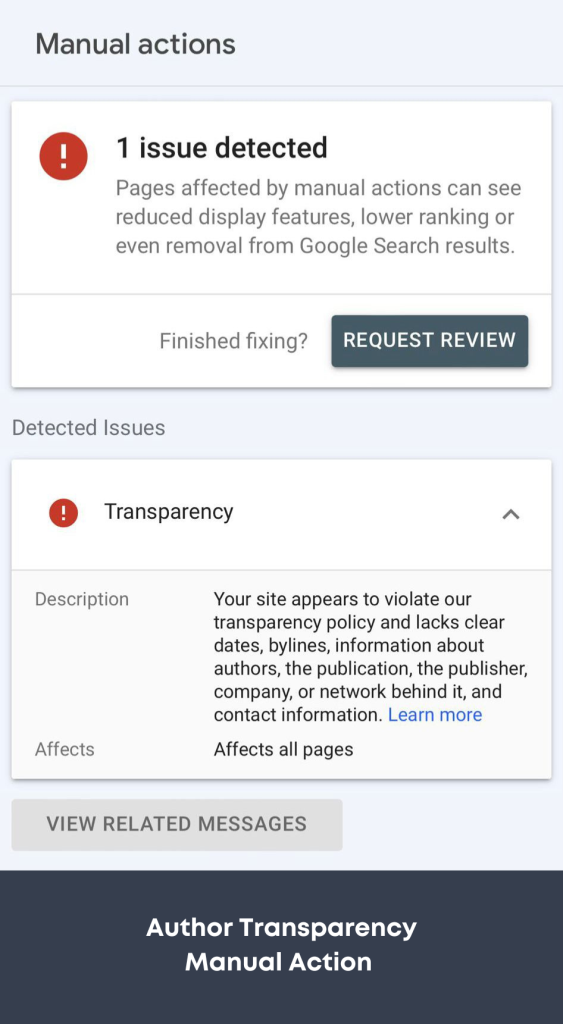 Websites that face these manual penalties can encounter reduced visibility, a drop in their search rankings, or might even be entirely removed from Google's search results.
If you receive a notification about potential violations of Google's transparency guidelines, it's essential to ensure that the author's information is prominently and clearly displayed on your site.
Summary
The addition of "experience" should have been included from the start and has been on the radar for a long time now.
How can affiliate sites reviewing 100 TVs and 20 washing machines be taken seriously when the website is owned by a 19-year-old working out of his bedroom?
Does Google really believe the affiliate marketer has bought all 100 televisions to review them?
Or is the tech-savvy affiliate marketer just listing the products that pay the highest commission?
It is nice to see them document it and pull it out as one of the four core aspects of defining quality.
E-E-A-T superseding EAT SEO is certainly a positive step in the right direction taken by Google in September 2023.
Content Creators are going to need to improve How To Demonstrate First-Hand Experiences with the introduction of the letter E to the start of the popular acronym E-A-T.
All Related EEAT Posts
Check out the in-depth list of EEAT posts.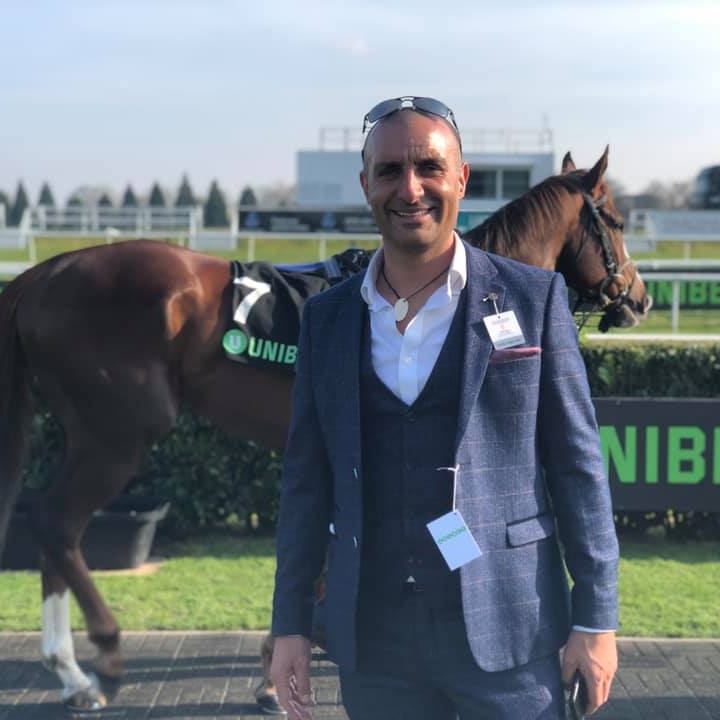 Entrepreneur
James Dooley is a British entrepreneur, SEO, investor, and philanthropist. James has built a huge Search Engine Optimization team that focus on organic SEO endeavours, including affiliate marketing, lead generation, as well as SEO services.
About FatRank
Our aim to explain and educate from a basic level to an advanced on SEO and Social Media Marketing.
Recent Posts