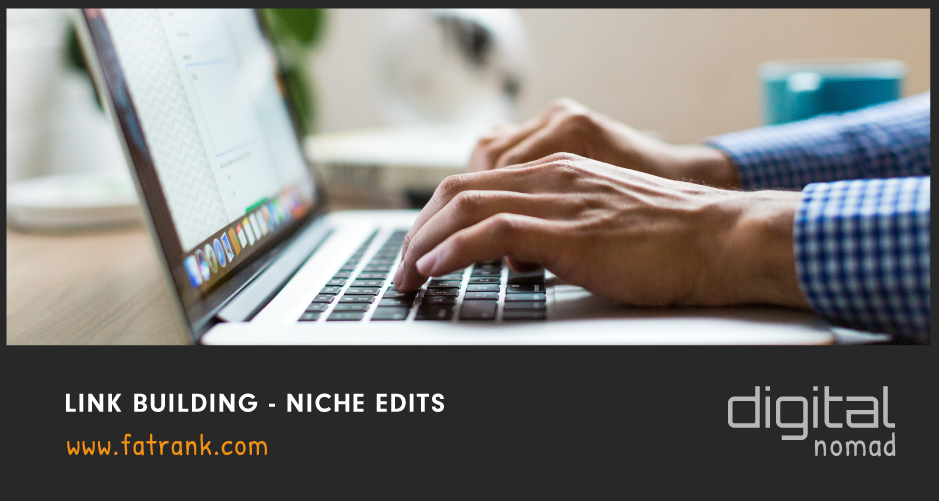 Niche Edit Contextual Links represent a new era in the art of editorial link outreach. Link vendors reach out to real webmasters, to secure links in existing content – content that already exists. Utilising the SEO skills they look for relevant articles and naturally weave your anchor text into the post.
Are Niche Edits and Curated Links the Same?
Yes, Niche Edits and Curated Links are the same. Curated backlinks refer to links which have been inserted in content that already exists on the internet, and content which has already been indexed and cached by Google. Nowadays, the most popular form of link building is guest post placements – whereby a new post is added with new content. But niche edits and curated links are going into an aged existing article and inserting a link placement.
Even something as simple as a link to a guide in a post for more information could be considered curated content. You're finding content that you know your readers will be interested in and then connecting them to it. Blog owners are happy to do niche edits in these blogs because they are adding authoritative outbound links to their site to support what they are talking about. Adding to the benefits website owners get is they are getting the freshness of content to their aged posts which helps with their rankings in Google.
Niche Edits Link Building Explained?
Here is a video which explains what is niche edits:
What Are Niche Edits?
Hi guys, it's Dan from FatRank here, and today we're going to be explaining what are niche edits. So, as many of you know by now, building backlinks to your website is a great way to help improve its rankings. In this video, we're going to be explaining what niche edits are and how you can carry them out.
So, to start off, what are niche edits exactly? Niche edits are essentially linked placements onto existing blog posts, often posts that have already been powered up with links. This is a great technique, as it diversifies your link profile, helps to improve the power of your site, and also influences your site's rankings.
Types of Niche Edits
There are 3 types of niche edits available listed below.
White Hat Niche Edits
One technique that people use to carry out niche edits is a white hat approach. An example of this would be to carry out some manual outreach to a blog that you felt was relevant, and actually offering value to that blog owner's post, aiming to acquire a link for free. This actually is quite a time-consuming process, however, it is the one we'd recommend, as it's white hat and is ethical.
Natural White Hat Outreach contacting blog owners and offering added value by supporting their existing blog post with an authoritative outbound relevant backlink. The white hat niche edits work very well in your link building campaign.
Grey Hat Niche Edits
Alternatively, a more grey hat approach to niche edits is essentially just offering them a price to the blog owners for the link. Outreach to blog owners and offering money for link placement and hoping they will accept into a relevant article and make the anchor text look natural within the content. This is a grey hat because paying for links is against googles guidelines.
Black Hat Niche Edits
Finally, and something we really wouldn't recommend, but black hat techniques can actually be used to do niche edits too. These are essentially hacked links, which obviously are extremely unethical and often just get removed straight away anyway.
Black hat niche edits are like SAPE links where they are hacked sites and injecting links into the sites without the blog owners consent.
So, based on what we've been talking about with the niche edits so far, we definitely recommend a white hat approach for this. However, doing that yourself can be very time consuming, and also can have a low success rate too. Despite this, we do have contacts that are able to do this completely for you, so make sure to check that out in the youtube description if you're looking to have some niche edits built to your site.
We strongly recommend trying to get the white hat premium niche edits when possible. The reason black hat niche edits are not the best is simply that they get removed within time once the website owner has realised those link placements are there and link loss is not good for your SEO strategy.
Niche Edits History
The concept of niche edits has been around a while where you look for existing URLs ranking for your keywords and outreach to the author trying to add some value in exchange for a backlink to cite your source on your own website to support the topic.
Previously these link building techniques were known as link begging or similar to where you could create an infographic in the hope these would get placed on relevant blogs who credit the source for it. But the term 'Niche edits' was coined by a well known online entrepreneur called Vadim.
In the digital world today then Vadim has the largest blog inventory and controls so much of the marketplace. Majority of times when you are buying link placements from link vendors then you find they are merely reselling Vadim's huge inventory of wholesale backlinks in high-quality publications.
The great thing about Vadim niche edit service, from historical orders, is the wholesale backlinks remain and you do not suffer from link loss like with many other providers. This is because the extensive relationship network he has had for nearly a decade and his link placements will only be carried out if it adds value to the user reading the article. Meaning these curated links actually get referral traffic through them by potential clients and trafficked links are an added bonus for your engagement metrics.
More on Niche Edits History
The 'niche edit' term is now widely used globally and we see it grow in search volume because even recently these terms below have started to show up in search queries:
Buy Niche Edits Fatrank
Fatrank Niche Edits Service
Niche Edits Packages Fatrank
Link Building Niche Edits Fatrank
Backlinks Niche Edit  Fatrank
Niche Edit Fatrank SEO Links
Niche Edit Fatrank Wholesale Backlinks
Fatrank Niche Edit Link Building
Fatrank Niche Edits Backlinks
As you can see above the phrase is starting to get searched for online now by many link building agencies because they see the importance of including these in their strategies to clients.
Summary
Rounding up my thoughts on niche edits then you would be crazy not to include this link type into your link profile strategies. Contextual backlinks are the most important ranking factor to improve your rankings in Google.
But nowadays Google is improving its search results and SEO is becoming harder. Link profiles need to be diverse in having many different link types blended in from blog comments, citations, niche relevant directory links, homepage links, new guest posts, niche edits, tier two backlinks and social signals to build trust upon your domain.
The more you can try to create your link profile to look natural the better. The use of niche edits is certainly a must-have service you need when looking to build authority to your website and try to build your brand online.
If you are unsure what your link profile at present is lacking then contact us today and we can give your website a free link audit where we can make you aware of the pitfalls you have and why your competition might be outranking you for your main keyphrases.
All Link Building Related Posts
Check out the in-depth list of link building posts.
The full list shows the various backlink strategies for ranking higher in Google SERPs.