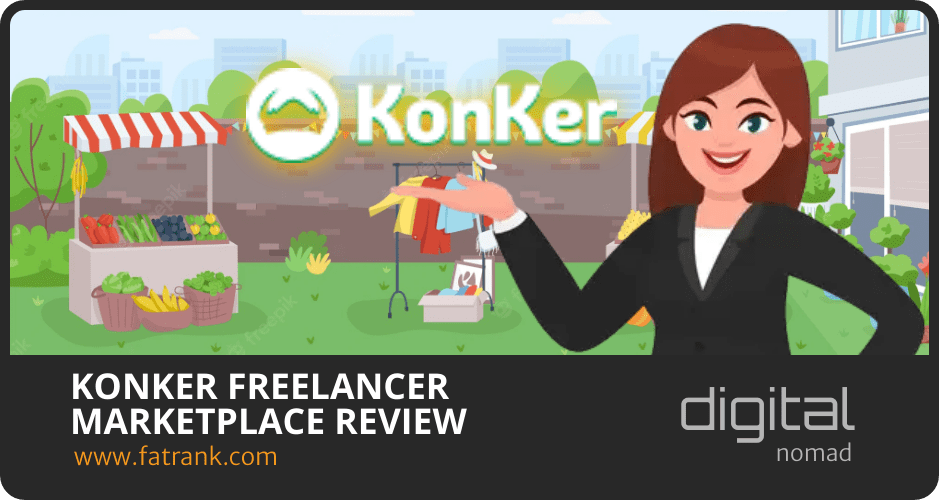 Konker Freelancer Marketplace Review
Konker is an online freelance marketplace for SEOs, agencies and businesses looking to outsource tasks.
The Konker platform was recently voted in the list of best marketplaces for freelancers online in 2022.
In our Konker Freelancer Marketplace Review, we explain everything you need to know about the services, costs and feedback for the konker.io services.
What is Konker?
Created by Alex Becker, Konker originally started its life under a different name, Source Market.
Source Market aimed to provide buyers with an easy way to purchase digital marketing services and create strong relationships with sellers.
Over the year, Source Market went under a wide variety of changes until it was refined enough to become a separate entity from the Source Wave brand, hence the rename of Source Market to Konker.
Nowadays, Konker has established itself as a go-to platform for digital marketing services but has become more focused on the SEO aspect.
From PBNs to citations, Konker offers users a wide variety of different services to improve your brand's SEO.
In addition, Konker has become renowned for having the best buying experience as all sellers are vetted heavily.
Updates are constantly put on a post thread, making it one of the most transparent sites I've ever used.
Konker is a fantastic gateway into the world of a freelance marketplace, showing you how well these platforms can work for users around the world.
I mean, you only have to look at the traffic Konker gets to see how successful it is!
Konker Review
Now that you have a basic understanding of what Konker is, we can start to delve into the more specific points of this freelance market.
Every review I create is impartial and balanced, meaning the information you receive hasn't been distorted through sponsorships.
I've listed some of the main points I want to focus on and teach you about below.
Remember that I can only provide you with the positives and negatives of Konker and you'll have to decide whether or not to use Konker in your daily use.
Finally, my reviews of these platforms are mainly targeted at the buyers, not freelancers.
Due to my lack of experience as a freelancer, I feel it would be wrong of me to provide information to that audience as I have more experience being a buyer.
The aim of this review is to help business owners, like myself, make a well-educated choice on whether or not this platform is the right fit for them and how Konker has altered my business.
With that all out of the way, I think it's time that we kick start this review by looking at the first point.
Konker SEO Services
Let's start with the main factor of Konker, the SEO services.
As mentioned before, Konker covers a wide range of different digital marketing aspects, but mainly focuses on SEO features.
From PBN links to content creation, Alex Becker has made sure to make Konker the go-to platform for SEO services.
It's vitally important to remember that Konker only specialises in digital marketing services.
If you're looking for other services like accounting, art, CV writing etc. then Konker isn't the platform to use.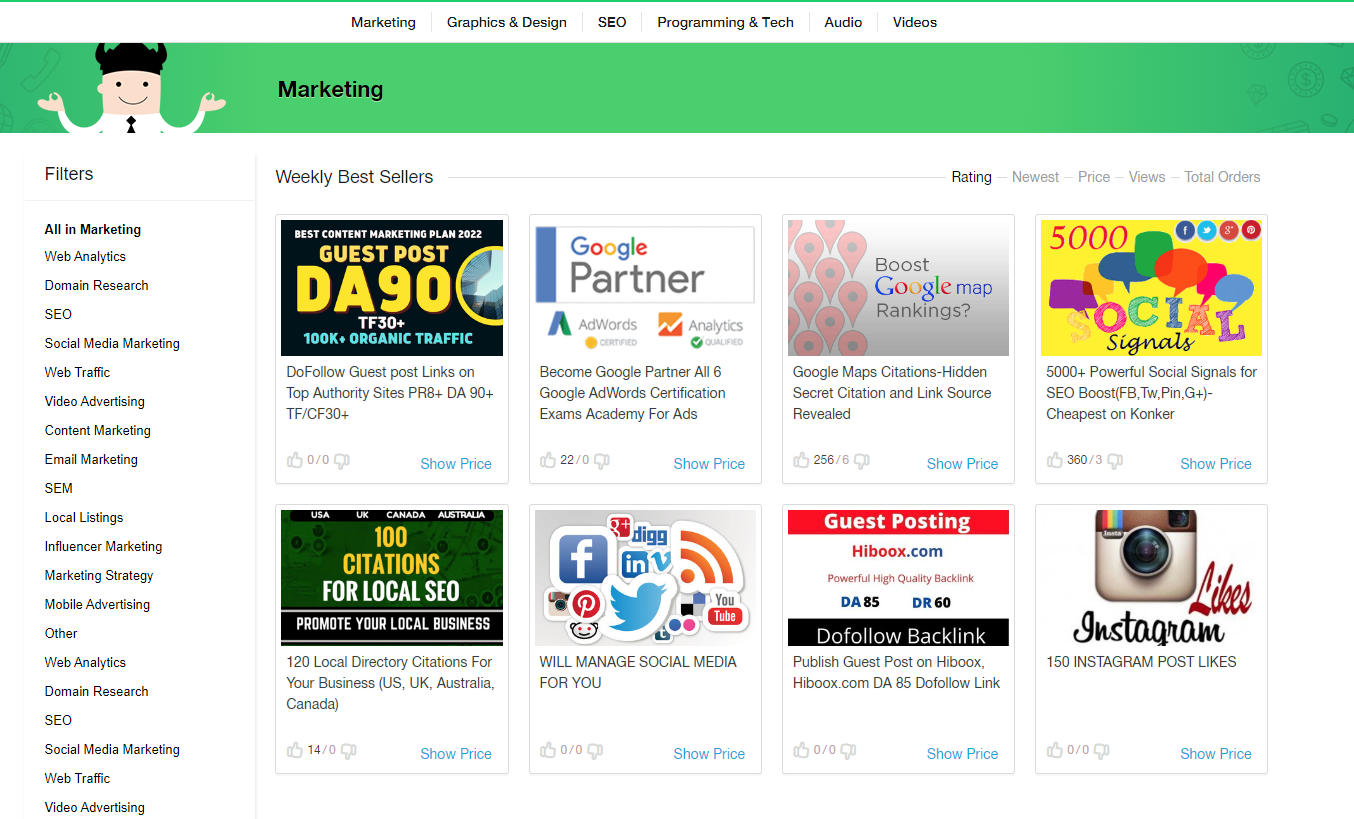 However, due to this focus on digital marketing services, services offered to a user are usually of great quality and meet your requirements fairly easy.
Konker also implements an intuitive algorithm to help promote the best services, meaning you don't have to search far for great quality services.
In addition, Konker sellers often provide test services, allowing you to try out services for a heavily discounted price (or in some cases free).
I've never known any online freelance marketplaces that offer something similar to this.
The Konker algorithm is also great, as only gigs with high numbers of "thumbs up" and purchases are placed in front of you.
Obviously, you can go digging for services with fewer votes of confidence, but why not stick to the best?
This might sound perfect, but there are some major disadvantages this platform suffers from and these disadvantages can cause some problems for you.
Firstly, gigs often require weeks to deliver. If you desperately need a gig doing as quickly as possible, then Konker won't work well for you.
This can be incredibly frustrating as other online marketplaces can offer the same gigs, but carried out in a matter of days.
Another glaring issue I've found with the platform is the prices.
Due to the platform exclusively hosting digital marketing-related services, price tags are often set a lot higher compared to other marketplaces.
You could argue that you're paying for a better service, but I've found some gigs perform the same (if not worse) as other gigs from Fiverr and Legiit.
Finally, Konker is a global platform and due to this, you'll encounter a lot of sellers from other countries.
This might sound great on paper, but this can be a huge problem when it comes to communication.
A lot of services I've used have been ruined by communication. Some sellers aren't proficient in English and, due to this, can cause some mistakes and errors to occur during the process.
As time goes on though, the communication problem tends to disappear if you stick with a certain seller.
But, if you're wanting to try out different services, then prepare for some hiccups and bumps along the way.
Advantages & Disadvantages Of Konker SEO Services
At the bottom of every point, I've decided to include a brief conclusion of the advantages and disadvantages of Konker.
Please remember that the points I make are entirely my opinion and have come from years of experience using the platform, so don't expect everyone in the community to agree with me.
Advantages
Konker solely focuses on digital marketing services.
Digital marketing services on Konker are usually high-quality.
The algorithm that Konker has implemented only presents the best gigs to you.
Test services are offered, allowing you to try before you buy.
Disadvantages
You can wait weeks until a gig is completed.
Prices are a lot higher on Konker compared to its competition.
Communication issues are frequent due to the global reach of the platform.
New gigs are often overshadowed by established ones, making it hard to try new services.
Sellers On Konker
With Konker taking the digital marketing industry by storm, huge numbers of sellers have entered the platform.
Coming from all around the world, each Konker vendor provides a unique experience and can massively help your company.
Every seller has their own profile page, where every service they sell is listed, as well as some other factors. Some of these other factors include:
Date when they first joined
How many orders they have in progress
Thumbs up/down ratio
Vendor's level
The last time they logged in
Refund and failure rate
I personally think that having all of this information is fantastic, as it can allow you to find active and highly-rated freelancers to help with your tasks.
In addition, these profiles are used by the algorithm to determine who to promote and drive more traffic to.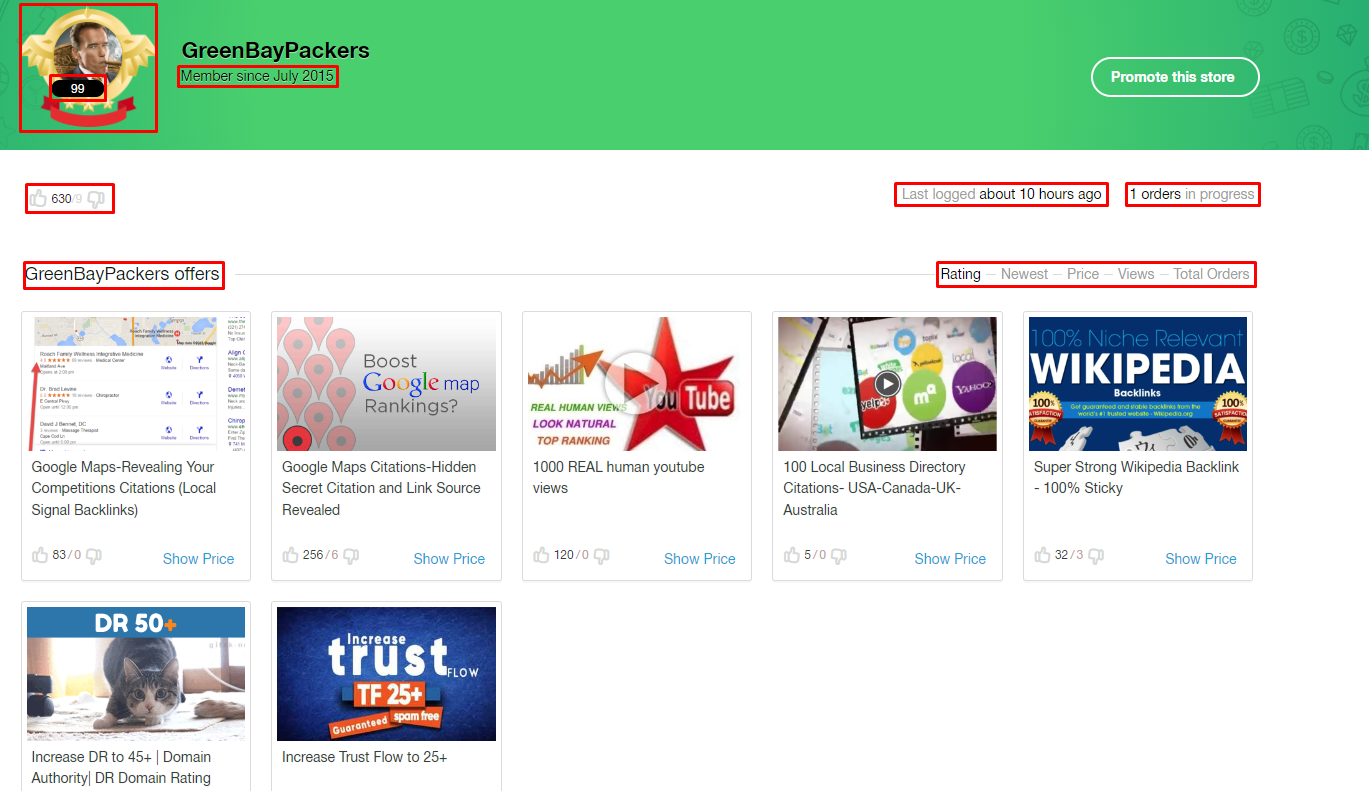 Konker sellers have to pay to sell their services too, meaning there are fewer scammers and phishers on the platform.
In addition, having sellers pay to sell means they are more dedicated to deliver tasks due to them investing financially into Konker.
Konker also has a form of vetting process, which avoids any spam accounts being created.
Sellers have to verify their email address, PayPal account and other details before selling.
Including something like this is fantastic as it puts the buyer in a more relaxed state.
So far, everything sounds great right?
Sadly, there are some problems with the sellers and I really hope Konker can improve on this aspect.
My first gripe is the profiles. Even though they include some great information, I feel like they should at least have a bio where buyers can learn more about the freelancers.
Other online marketplaces have implemented this simple function and it's great to find out what experience the freelancers have.
Secondly, some sellers have been inactive for months.
Inactive users are a sign that you need to spot, as going through the refund process can be incredibly frustrating and annoying.
Finally, it's become common for sellers to spoof the thumbs up/down ratio by purchasing fake metrics.
Personally, it leaves a bad taste in my mouth when a platform has a problem with spoofing, as it puts the buyer at risk of encountering a malicious user.
Advantages & Disadvantages Of Sellers On Konker
Sellers on Konker are amazing but also quite mysterious. I really think Konker can improve the way they display sellers and, as a result, help buyers make a more decisive decision on who to use.
Advantages
Seller profiles have some interesting metrics to look at and act as a personal store
Sellers have to pay to sell their services, reducing the number of scammers/phishers
Konker has a basic vetting process for new vendors to complete.
Disadvantages
Vendor profiles could be improved to display more information
The vetting process needs to be improved
Spoof seller ratings are surprisingly common on the platform.
Customer Service On Konker
Everyone knows how important customer service is on any online platform.
Without good support in place, a thriving online platform can become a wasteland.
But, how good is Konker with customer support?
For starters, Konker takes a unique approach to FAQs by linking to their Facebook group.
It sounds like a weird idea, but it works relatively well.
Both buyers and sellers are welcome to the group and can communicate with each other, as well as alert support/development staff about any issues.
Due to the number of users in the Facebook group, response times are probably the quickest out of all the online marketplaces.
This is incredibly useful if you're suffering from a problem and need it fixed ASAP.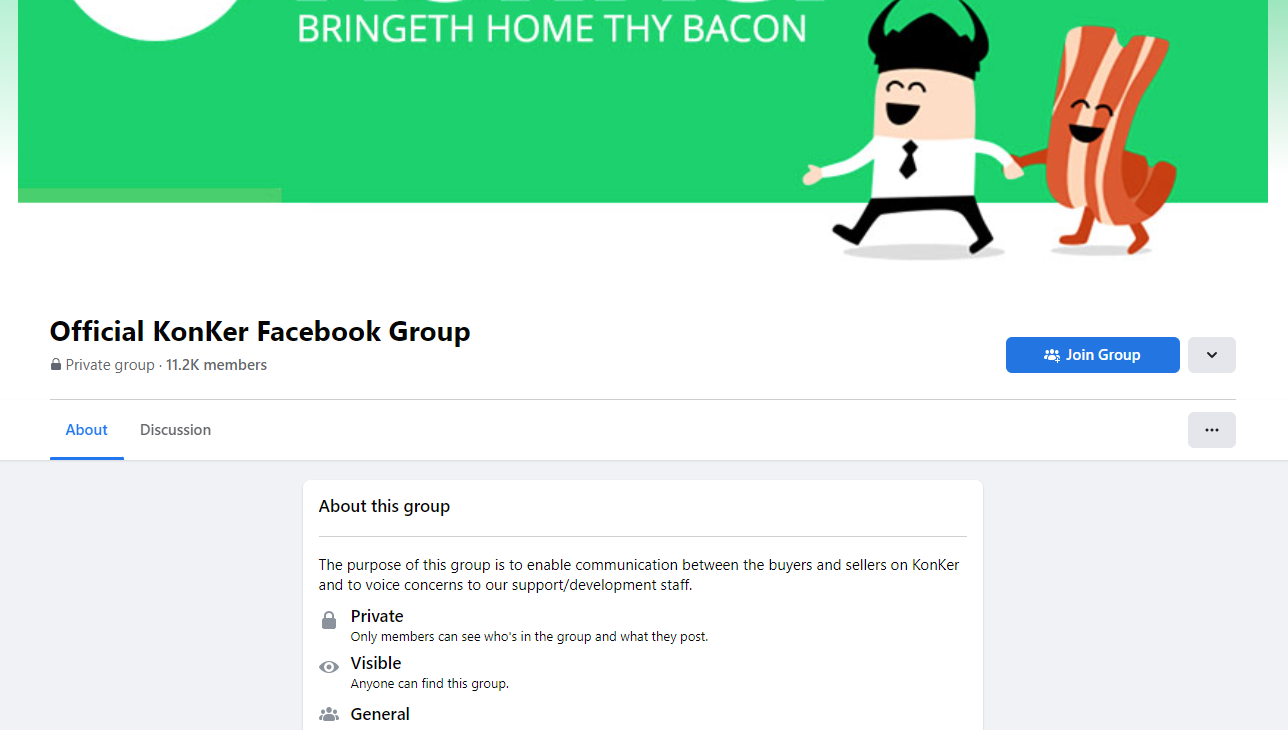 If you're a new user, Konker has a series of video tutorials that will help you understand more about the freelance market and how to navigate it.
These videos are really good and explain everything in an easy-to-digest way.
If you have a problem that you think customer support can only solve, you can send an email to them.
I've used this a couple of times and found my problem solved, even though it took a while.
However, I personally believe that out of all the online marketplaces available to you, Konker has one of the worst support systems in place.
My first problem is the lack of methods to contact the support team.
Compare this to SEOClerks, which offers 6 different avenues to contact them, and Konker seems to fall flat.
You're pretty much forced to use the Facebook group if you want basic problems solved.
Another glaring issue is transactions. If you want to apply for a refund, the support team will most likely direct you to contact PayPal support.
Again, with platforms like Fiverr and Legiit solving issues like this quickly, it's really annoying and frustrating.
Finally, I want to talk about the staff. Most of the customer service team I've spoken to act like robots.
By this, they treat you almost as a nuisance than a customer. My recommendation would be to only contact support if you can't find answers in the Facebook group.
Advantages & Disadvantages Of Customer Service On Konker
Overall, Konker has one of the worst customer support systems I have ever used.
It's a pain to get anything solved and can lead to you becoming frustrated and building a distaste towards to marketplace.
I really do hope Konker does an overhaul on its customer support as it's not really acceptable at this point in time.
Advantages
The Facebook group is great for quick solutions to problems
Video tutorials are great resources for new users
The customer support team are great at solving your issues
Disadvantages
Contacting the customer support team is limited to 2 platforms
Transaction problems are usually deferred to contacting PayPal support
Customer service isn't the best for communication
One of the worst customer service systems available on online marketplaces.
Fiverr's Design, Security & Reach
I'm sure that everyone is aware of how important these three factors are, as every great website should have:
A fantastic website design
A strong security system implemented
A brilliant exposure to the world
Due to how little I have to say about each one of these factors in regard to Konker, I've grouped them into one specific section. Below, I take a closer look into each aspect and inform you about my opinions regarding them.
Konker's Web design
Konker's website design is hard to judge. Within the Konker community, there seems to be a split between it being good and it being dreadful.
The website is designed to implement a minimalistic design and uses a simple colour palette to make it more appealing for users.
I have to admit, the colour design of the website is pleasant and is really easy on the eyes.
In addition, the homepage for users, who have gone through the login page, is a page displaying the weekly best sellers, giving you a quick way to access the best services.
I genuinely love this feature and I think other online freelance marketplaces should implement something similar.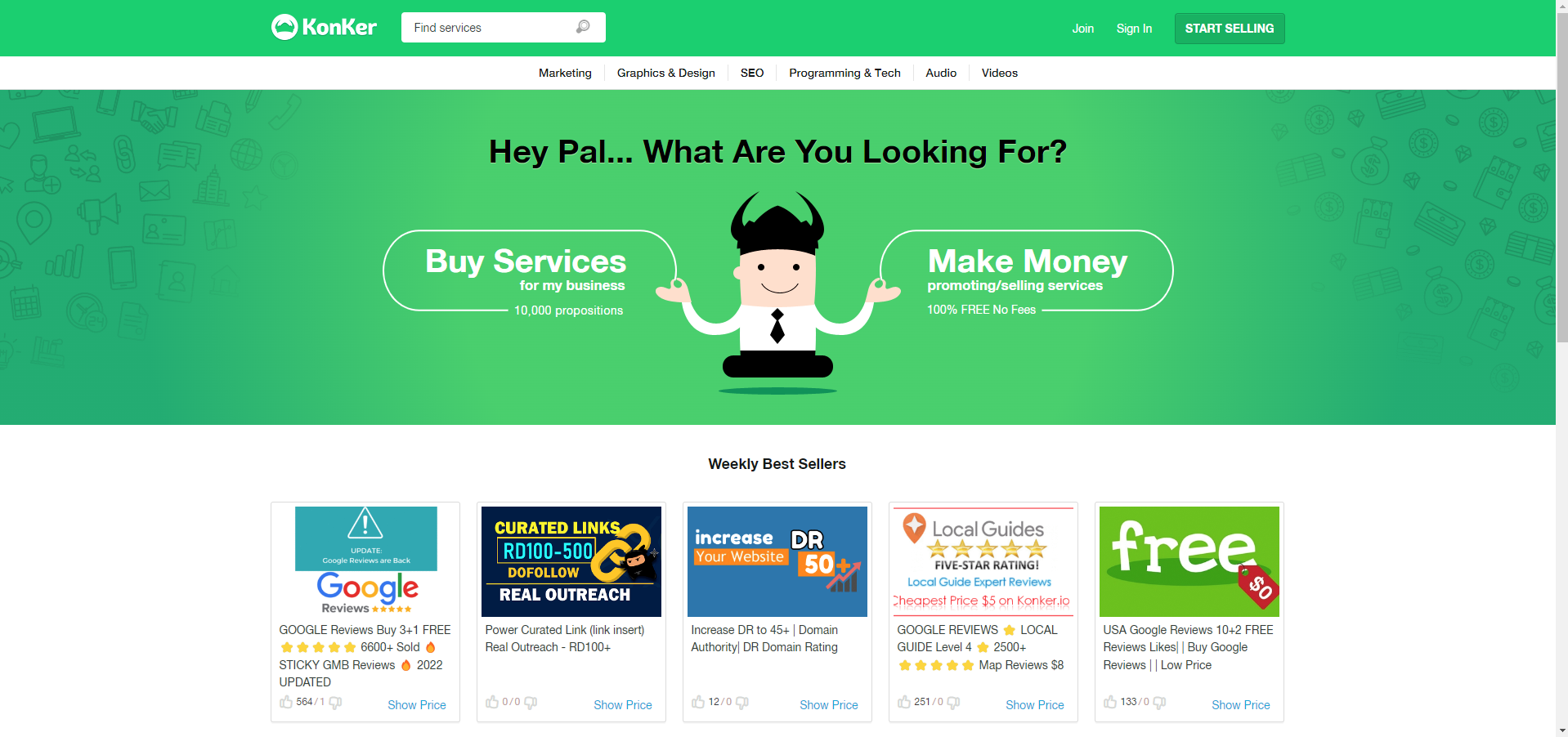 However, the design is still pretty complex and hard to navigate.
If you're a new user, I would personally recommend watching the video tutorials and getting used to how the site works.
I found it really hard to navigate through the website at first.
Some pages (like the messages, how to buy/sell) seem underdeveloped.
The reason I say this is that these pages looks plain and basic.
I personally hate some pages and will proactively try to avoid them.
Personally, I think that Konker's website design is below average.
Even though the colour scheme is great and some amazing features are incorporated, the majority of pages are too basic and hardly have any design elements added to them.
Konker's Security System
Konker is one of the safest websites within the freelance online marketplace industry. Some companies that have deemed this website safe include:
W3Tools
Norton ConnectSafe
Google Safe Search
Google Safe Browsing
McAfee WebAdvisor
Having so many different services stating their trust within the website really does display how secure this site is.
In addition, Konker has an SSL certificate, meaning all transactions and personal data given to the site are encrypted and hard to get hold of by hackers.
They also utilise Cloudflare to stop any DDoS attacks or any other malicious behaviour.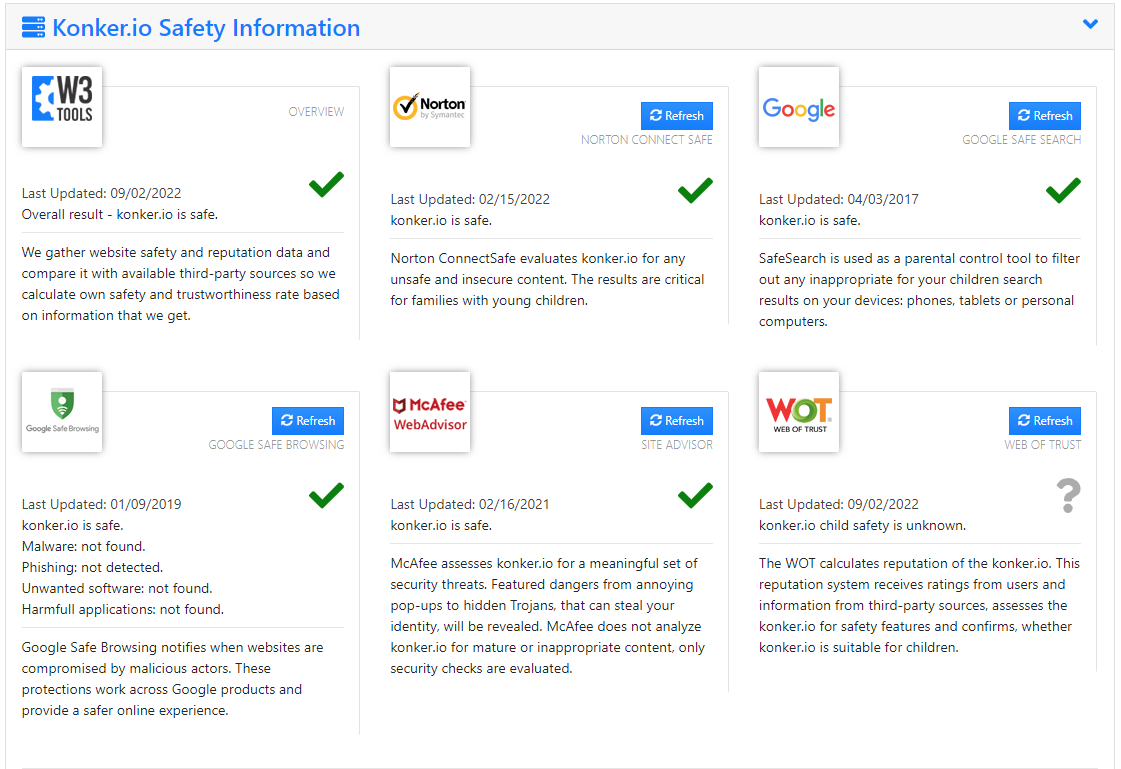 Even though I'd say Konker has one of the best security systems in the industry, there is one problem. It isn't 100% effective.
There has been speculation about Konker being infiltrated by hackers and a lot of users have reported the website as being a scam.
I can officially say that Konker isn't a scam, as I've had years of experience using it, but I can't comment on the speculation of hackers.
Overall, I think Konker has a great security system in place and every time I use the platform, I know that my data and transactions are secure through a wide variety of different software.
I'd definitely recommend Konker if you're looking for a safe website to use.
Konker's Reach
I have to admit, Konker has had a larger reach over the past recent years, becoming a global platform.
With over 10,000 active users a month, Konker attracts average traffic when compared to other freelance marketplaces.
It's important to know that Konker is the most popular within the US, with over 41% of total users being from the United States.
This might explain why you haven't heard of it if you're from the UK (like me) or another country.
Honestly, I think Konker could improve its reach by implementing more marketing campaigns and targetting other countries.
When you use the platform currently, you'll most likely meet a US seller or Pakistani seller.

Compare this to Fiverr, which has a massive reach, Konker is far behind the competition.
I think it might also be worth developing a Konker app to make it more accessible to customers.
Not only should they create an app, but Konker should try incorporating more payment methods.
Currently, Konker uses Paypal, which some countries don't have access to.
This leads to some countries being excluded from the platform for stupid reasons.
At its current stage, Konker will maintain its user base instead of expanding it.
As mentioned above, a mobile app and more payment options might encourage other countries to adopt it.
Link this with a great marketing campaign targetting certain countries, Konker is sure to grow its user base and global reach.
Konker: Final Rating
Konker has the potential to become one of the leading online freelancer providers out there, offering amazing digital marketing services across the globe.
From PBNs to link building, Konker is worth checking out for SEO needs.
From my personal experience, Konker has delivered great results and has led to my websites jumping up the SERPs.
Due to the positive experience, I still use Konker to this day and carry on improving my relationships with some fantastic freelancers.
With Konker changing so much over the recent years, I really do believe this website can be improved and get the attention it deserves.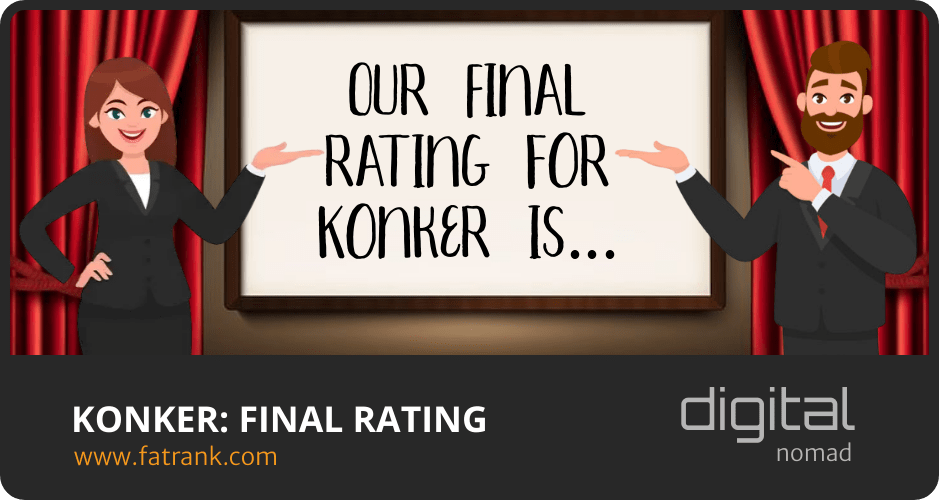 However, we can't forget the disadvantages I've listed.
Even though some problems are engraved within the industry, the majority of issues seem to be unique to Konker. In my view, it's vital that these problems are solved.
As I write this review, I'm unsure what ranking to give it.
I know that this freelancer marketplace has great potential and can become fantastic, but at its current state, there are other platforms I would rather use.
Considering everything mentioned above, I've decided to give Konker a rating of 2.5/5.
I've put it right in the middle as the potential is there, but there need to be some huge improvements before the website sees the growth it wants.
For now, I will continue to drop by Konker from time to time, but will mainly stick with marketplaces like Legiit and Fiverr, that are more established and developed.
Konker Alternatives
In present times, it feels like the internet is becoming full of freelancer marketplaces.
It can be overwhelming to find the perfect one to use in your quest of achieving high rankings.
Below, I've listed some of the most well-known platforms and will aim to compare the two against each other.
Every platform is unique in its own way and each carries its own positives and negatives, so make sure to remember that none of them is perfect!
Understanding each platform will help you make a decision on which marketplace is best for you.
If you want to learn more information on any of the other freelance marketplaces, then be sure to click the links to read our full in-depth reviews on each platform.
Konker vs Fiverr
Being well-established for years, Fiverr has become the go-to marketplace for companies to acquire freelancer services.
Whilst Konker just specialises in digital marketing services, Fiverr aims to cover almost any service that can be freelanced.
If you're looking for SEO services, then Konker wins all day.
The gig quality on Konker for SEO services is way higher than Fiverr.
In addition, most sellers on Konker are experienced marketers, unlike Fiverr.
Apart from that though, Fiverr beats Konker every day.
Fiverr's web design is perfect, with a fantastic security system and accessibility options for users to pay and contact support.
As well, seller profiles on Fiverr are more detailed and provide a much deeper look into the seller.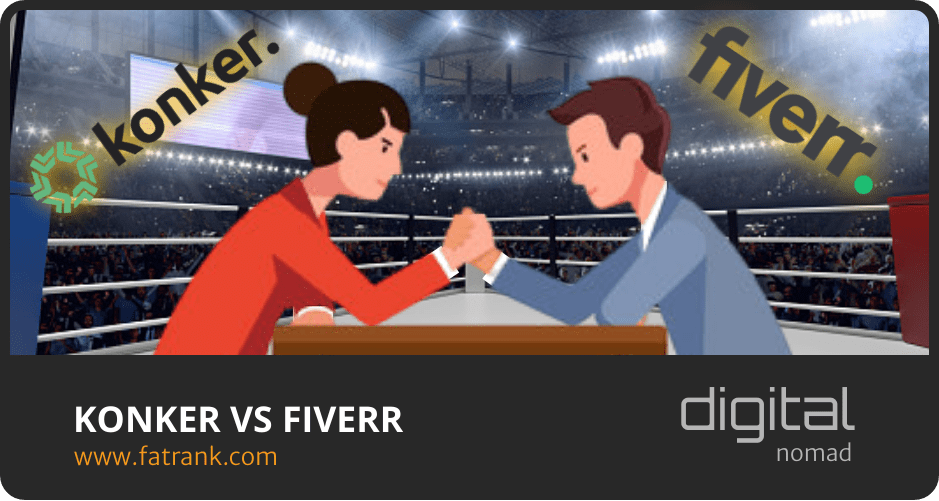 In addition, prices on Fiverr are a lot cheaper compared to Konker.
If you're a start-up business or are experiencing a lack of profit, then Fiverr is the perfect solution.
Konker can set your company back quite a bit and if you encounter a problem, then expect to wait a while until support helps (unlike Fiverr's customer support team).
In conclusion, Fiverr wins this matchup by a mile.
As mentioned above, Konker still has a lot of factors to improve on whilst Fiverr has gone through years of redevelopment and improvement.
Want to learn more about Fiverr and how it can help your business grow? Make sure to check out our in-depth Fiverr review here.
Konker vs Upwork
Upwork is quite different from Konker.
Whilst Konker allows you to choose a gig and order it, Upwork encourages buyers to work with sellers on a more long-term time span by paying freelancers hourly.
Most businesses are only looking for a couple of services to be done, which makes Konker a lot more affordable than Upwork.
In addition, Upwork can be quite complicated to use compared to Konker.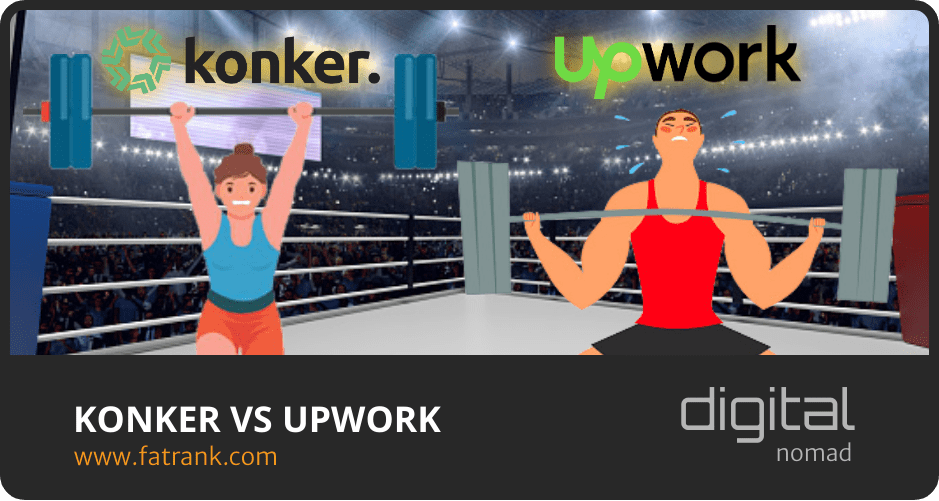 However, Upwork seems to offer more experienced freelancers than Konker, as you can read into the profiles of each freelancer and learn more about their experience.
As well as this, Upwork implements a fantastic vetting process, only accepting the best.
Upwork also offers digital marketing services and their services seem to be on par (if not better) than Konker.
Even though you're paying more, you definitely get your money's worth from Upwork.
It's hard to pick between the two.
If you're looking to expand your workforce and get professional help with your tasks, then Upwork is the perfect platform to use. But, if you're looking to get a one-off gig carried out, then Konker wins all day.
Make sure to read our Upwork review here to learn more about this platform.
Konker vs Legiit
Konker sees Legiit as its main competition due to the number of similarities the two platforms share.
Both of these platforms have been battling for dominance as the go-to digital marketing freelance marketplace within the industry.
It's important to note that Konker offers the lowest marketplace charge in the industry, set at a jaw-dropping 5% (meaning 95% of sales go to the seller)!
Compare this to Legiit, which charges 15% of every sale (leaving only 85% of sales going to the freelancer), Konker is a lot more attractive to vendors, and in return boasts cheaper prices!
I'll be honest though, this is the only advantage Konker has over Legiit.
Legiit has one of the cleanest website designs I've ever seen and makes it really easy for users to get the services they want.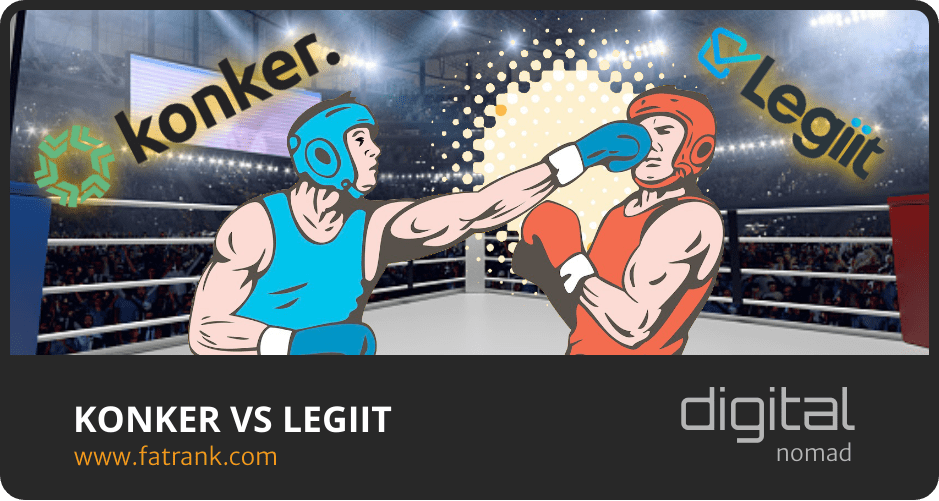 In addition, Legiit has a fantastic support system in place, allowing users to get problems solved relatively quick. Konker, on the other hand, can't compare to this at the moment.
Legiit also displays the vendor's information (experience, country, bio etc.) allowing you to get a better idea of who you're going to be working with.
Konker really needs to implement something like this.
Personally, I prefer using Legiit as I find it a lot easier to find the services I need and I get to work with some fantastic freelancers.
If Konker can improve itself, I can see it becoming slightly better than Legiit.
Does Legiit sound great to you? Why not check out our Legiit review today!
Konker vs Freelancer
What if I told you there was a platform where the buyer makes a post of what job they wanted to be carried out instead of the seller creating gigs?
Well, Freelancer has done that exact thing and has actually seen some incredible results compared to Konker.
I have to admit, I really like the idea that the buyer has to make the request, as you can get more specific with what you want doing.
In addition, freelancers who are interested in the job you've posted can send you offers, meaning you can find a good price quite easily.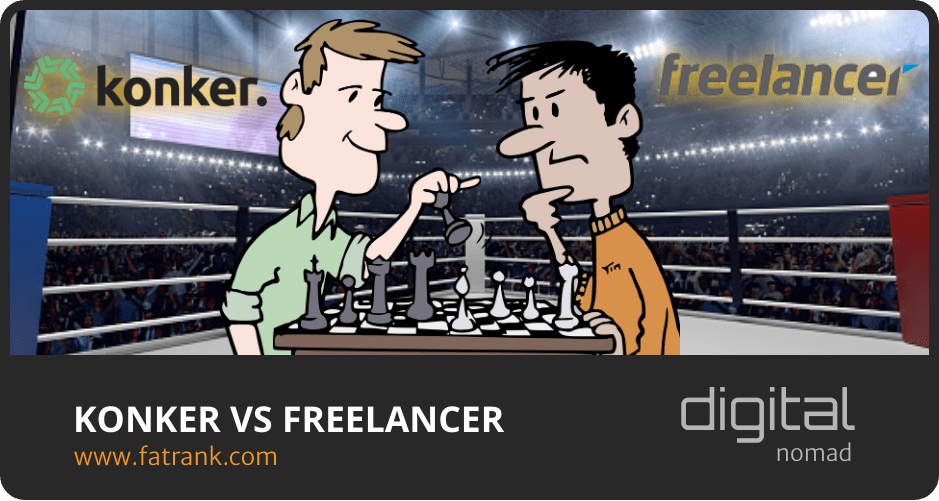 Freelancer boasts a slightly higher quality in services compared to Konker, but apart from those two factors, there's not much difference between the two.
Both platforms require freelancers to pay for a monthly membership and boast low marketplace charges.
The only other difference I've noticed is that Freelancer is slightly more expensive.
Honestly, I don't really have a preference between these two sites.
If you're looking for something very specific to be carried out, then give Freelancer a try, but if you're looking for a service that's pretty generic, then stick to Konker.
Konker vs SEOClerks
SEOClerks is a recent entry into the freelance marketplace industry and aims to provide buyers with affordable digital marketing services with relative ease.
Even though Konker offers the same service, SEOClerks provides users with a fantastic UI.
This UI is easy-to-navigate and provides buyers with a great algorithm, displaying some of the best services that they are looking for.
In addition, SEOClerks allows freelancers to list services for as low as $1.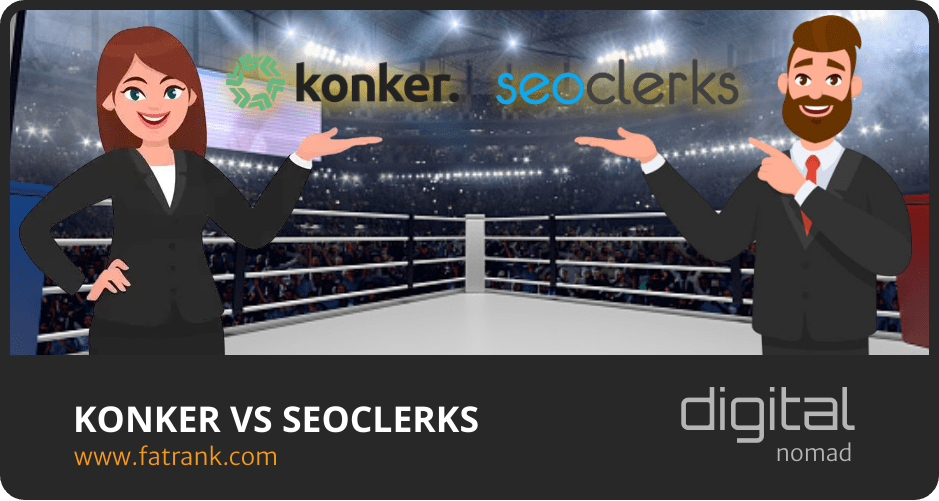 Whilst Konker is relatively expensive, the services on this platform seem to be a lot higher quality, whereas SEOClerks seems to have high-risk sellers.
To add to this, some gigs sold on SEOClerks have been shown to actually damage your website's SEO.
Finally, SEOClerks has way more reports of scammers and phishers being active on the platform, whilst Konker boasts a low number of these malicious users; making Konker a lot safer for buyers.
I have to give the win to Konker for this one.
Even though SEOClerks provides gigs at a low price, you can easily encounter a scammer and lose a lot of your business's money.
Konker provides pretty much everything SEOClerks does, except it has a weaker UI.
Does SEOClerks sound like something you would use? Why not read our full SEOClerks review now!
Konker vs PeoplePerHour
If you have hundreds of gigs you need to complete, Konker can get relatively expensive, but PeoplePerHour provides a great solution to this.
PeoplePerHour offers a different payment scheme, where buyers pay freelancers per hour instead of per gig.
One feature that I love from PeoplePerHour is the geo-location filter.
You can target freelancers from specific countries, avoiding any language barrier problems.
If Konker implemented this feature, it could be hugely beneficial to them.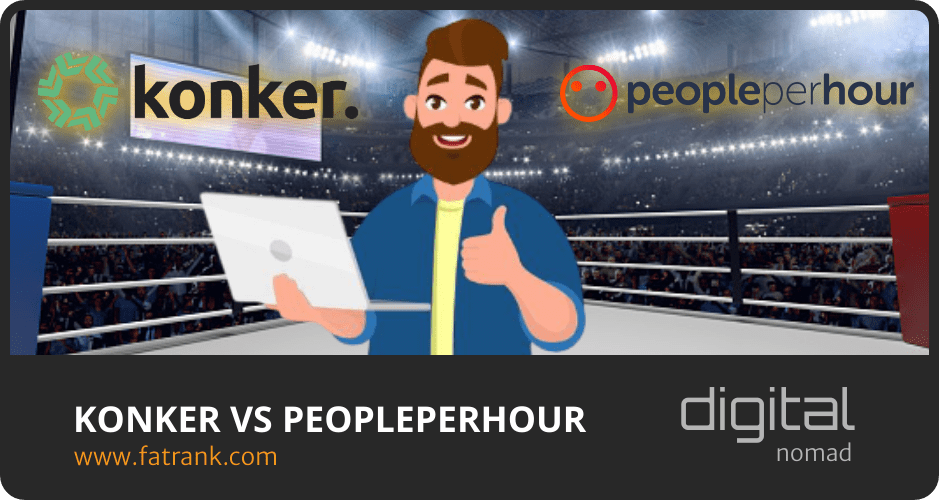 But, PeoplePerHour has some huge problems.
For starters, Konker allows both buyers and sellers to raise a complaint with support, whilst PeoplePerHour only allows buyers to raise disputes.
This can lead to some tough situations occurring and it feels like the platform is more biased towards the buyer and disregards the seller.
Konker takes both sides into consideration and helps both sides reach an agreement.
Due to this glaring issue, I would recommend using Konker all day.
If you do have a lot of gigs that need completing, then try using Upwork. If you just need the odd gig completed, then stick to Konker.
Want to learn more about PeoplePerHour and how it can transform your business? Read our People Per Hour review here.
Final Thoughts of Konker
It's still quite early to decide whether or not Konker is worth integrating into your business.
With a fair balance of disadvantages and advantages, Konker seems to be an average freelance marketplace.
I genuinely believe that Konker can become something a lot bigger if it can improve on certain factors.
As it stands now though, I would personally use alternatives like Legiit and Fiverr.
Konker has a thriving community and is slowly becoming more well-known around the industry, but it just needs a final push in some countries to reach the level of growth it wants and needs.
Thanks for taking the time to read my review on this freelancer marketplace and I hope it's helped you make a decision.
I wanted to help you understand why Konker is good and what stops it from being the best.
If you want more information on any of the other platforms I've mentioned throughout this review, then be sure to check out some of the blogs below and expand your knowledge.
If you're still wondering whether or not to try Konker, I would say give Konker a look at. Look through some of the services and videos and see if it meets your expectations.
Once the platform has improved, I'll be more than happier to return and carry on using it.
So, what are you waiting for? Sign up for Konker today and see if this freelancer marketplace has been the factor missing from your growth plans!
All Online Marketplaces for Freelancers
Check out the in-depth list of online freelance marketplaces.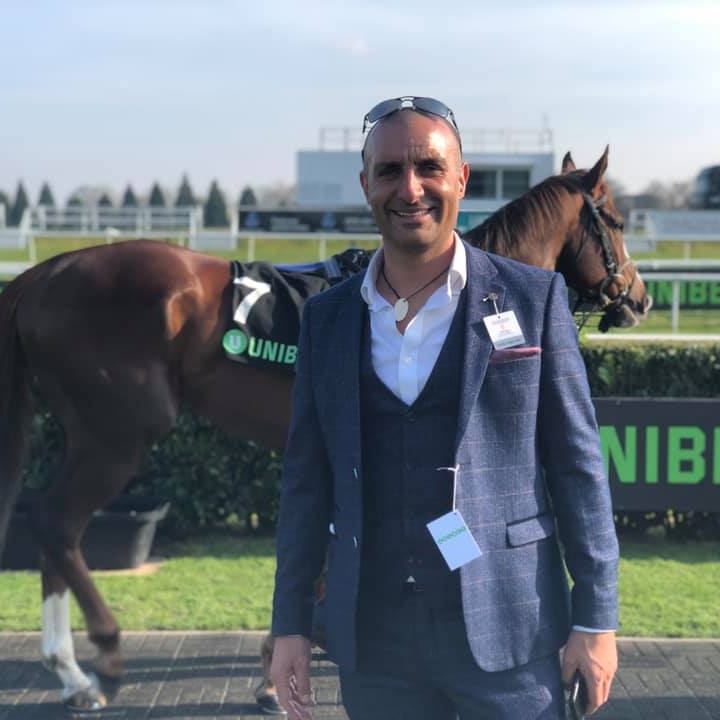 Entrepreneur
James Dooley is a British entrepreneur, SEO, investor, and philanthropist. James has built a huge Search Engine Optimization team that focus on organic SEO endeavours, including affiliate marketing, lead generation, as well as SEO services.
About FatRank
Our aim to explain and educate from a basic level to an advanced on SEO and Social Media Marketing.
Recent Posts