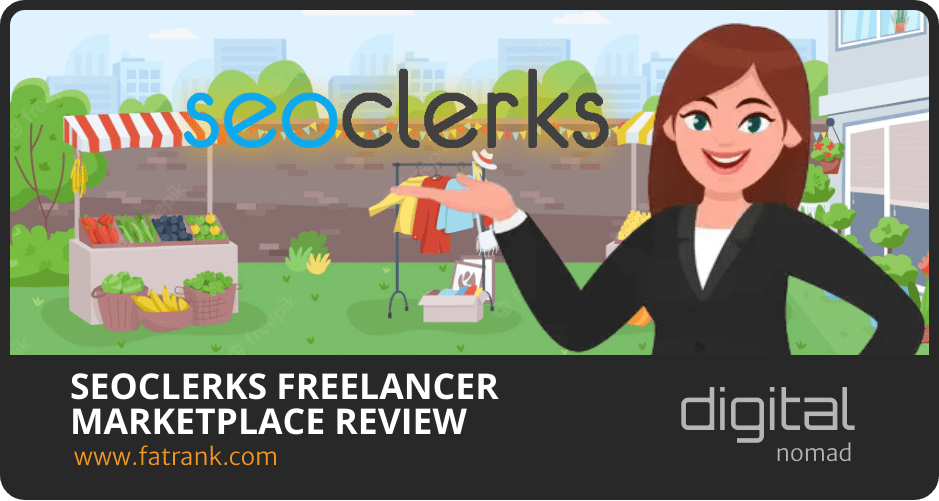 SEOClerks Freelancer Marketplace Review
SEOClerks is an online freelance marketplace for SEOs, agencies and businesses looking to outsource tasks.
The SEOClerks platform was recently voted in the list of best marketplaces for freelancers online in 2023.
In our SEOClerks Freelancer Marketplace Review, we explain everything you need to know about the services, costs and feedback for the SEOClerks services.
What is SEOClerks?
Founded in 2011 by Jordan Delozier, SEOClerks is an online marketplace designed for freelancers to sell their SEO-related services to businesses.
It's important to note the main difference between SEOClerks and other freelancer marketplace platforms, SEOClerks only sells SEO-related services and nothing else.
With over 1,000,000 members registered with the platform, SEO Clerks has sold affordable SEO services to people all across the globe.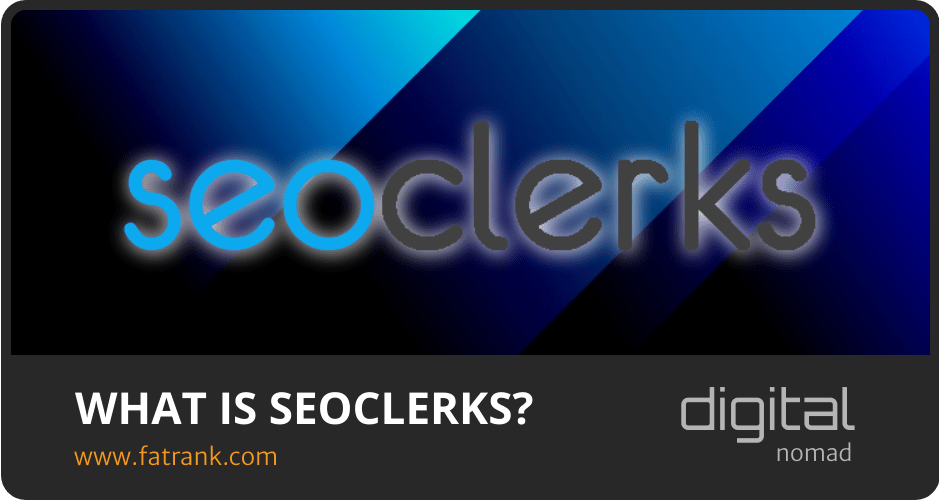 From link-building services to social media marketing, SEOClerks have freelancers who can help with all of your requests. Whether it's huge jobs or micro jobs, I have used SEOClerks for years and had great success from the platform.
In addition, some of the biggest names in SEO sell their services through this platform. A lot of them have had only positive things to say about it and to this day, they continue to provide their services exclusively on SEOClerks.
Being a safe and secure platform, many clients have made SEOClerks their go-to platform when it comes to acquiring SEO services for a great price.
Joining SEOClerks is free and will give you access to seeing some of the best SEO gigs available on the market from some of the best SEO minds in the industry. Why not create an account today and find the perfect SEO services for your business.
SEOClerks Review
With our SEOClerks freelancer marketplace review, we aim to cover all aspects of the platform and try to help you make an informed decision on if you should use this platform.
Whilst creating a review, I always approach it in an unbiased and open-minded way. By this, I'm not paid by SEOClerks to write this review, so you can rest easy knowing the information provided isn't corrupted by a sponsor.
You'll find some of the main points I want to focus on below. Remember, I can only educate you on the platform and give you recommendations, but you have to make the decision on whether or not to use this platform.
Finally, my reviews on freelancer marketplace platforms are tailored towards the customer, not the freelancers/sellers. The only reason for this is that I have no experience in being a freelancer, so I'm not in a position to provide useful and factual information about it.
I wish I had something like this to help me when I started my business, as it's hard to trust a lot of information online. If you're a business owner, then this review will be perfect for you as I want to pass on the information I learned through years of utilising the platform to you today.
If you're ready to learn how SEOClerks can help make your business run smoothly and effectively, then let's delve into some of the main points of this platform.
SEO Services
For a platform that specialises in offering SEO services, you'd hope that the SEO services offered would be of high quality. Well, you'll be happy to hear that this is the case.
Freelancers who provide these SEO services are fantastic at what they do and some of these gigs can result in crazy results. From helping your GMB climb the rankings to directing more traffic to a specific page, using these SEO gigs is a must for any business looking to improve.
Most available services display a wide variety of good reviews and can, in some cases, guarantee your business results. I was honestly surprised by the amazing quality I received from most of these SEO gigs and I'm sure you will be too.
Another great point about the SEO services offered by this platform is that SEOClerks boasts a wide variety of different digital marketing services. Some of the most common services you can find include:
Guest Posts
High-Quality Backlinks
Press Releases
Graphic Design
Search Engine Optimization
Buy Backlinks
And Other Services
Having so many choices means that you don't have to keep swapping platforms to find certain services but can just stay on SEOClerks! You can also get graphic designs like a business card or YouTube banner.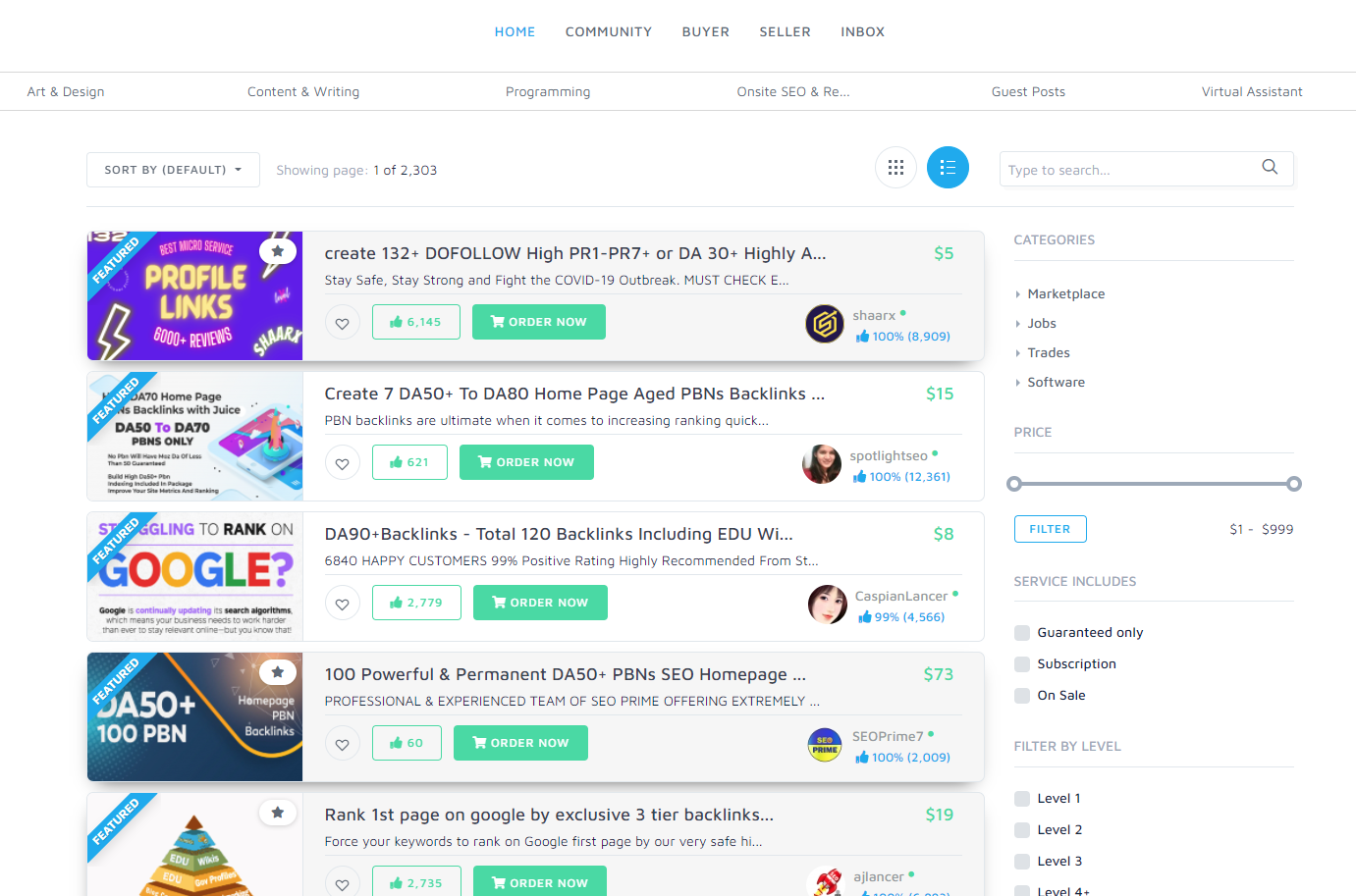 However, their SEO Services aren't perfect.
Some sellers on SEOClerks have been reported to resell SEO services from other freelancers. This means you end up paying 2x as much for a simple job, making it really expensive. SEOClerks have promised to clamp down on this issue but there's still no prominent action being taken.
Secondly, the quality of services fluctuates constantly. By this, you could find two freelancers who provide a quality service but the third freelancer could do a dreadful job and in some rare cases, actually ruin your brand's reputation.
It's vitally important that you read the service description too. It's been reported some SEOClerk sellers tend to use clickbaity titles to reel you in but then have a disclaimer written in the description.
Finally, check the reviews of services. You'll often see real people post reviews on what effect the service had on their search engine rankings and whether or not it's worth using. Even though the SEO services are priced great, they are still quite expensive due to them being SEO services.
Advantages:
Wide variety of different SEO services
Most gigs are high-quality services
Sellers are often experts within the industry
Over 1,000,000 members use the platform
Disadvantages:
Some sellers resell other freelancers' services
Services can be misleading
The quality of gigs can fluctuate
The chance that a seller could ruin your brand on the SERPs
The main piece of advice we would recommend is sticking to what the autonomous algorithm recommends (gigs on the first page). Gigs displayed on this page are usually the most popular and provide the best results.
The further you go back, the fewer people use the service, meaning you could encounter a dodgy service that hasn't been reported yet.
Affordable SEO
We all know buying SEO services for your site can be an expensive process. Regardless of what SEO service you are looking for, you have to be prepared to spend some cash to get the best results.
However, SEOClerks offer a cheap and reliable alternative to this problem. All SEO services displayed on this website are a lot cheaper compared to hiring an SEO agency or using another freelancer marketplace.
Not only are the services cheap, but SEOClerks offers buyers a wide variety of deposit options. I have to admit, SEOClerks is probably the best for accessibility when it comes to purchasing gigs. Some of the methods they offer include:
PayPal
Credit Card
Debit Card
AirTM
Coinbase
NOWPayments
WISE
Google Pay
Having such a wide variety of payment options is a great feature that not many other freelance marketplaces offer. As well, you can contact SEOClerks support if you want another payment option added, adding even more payment options.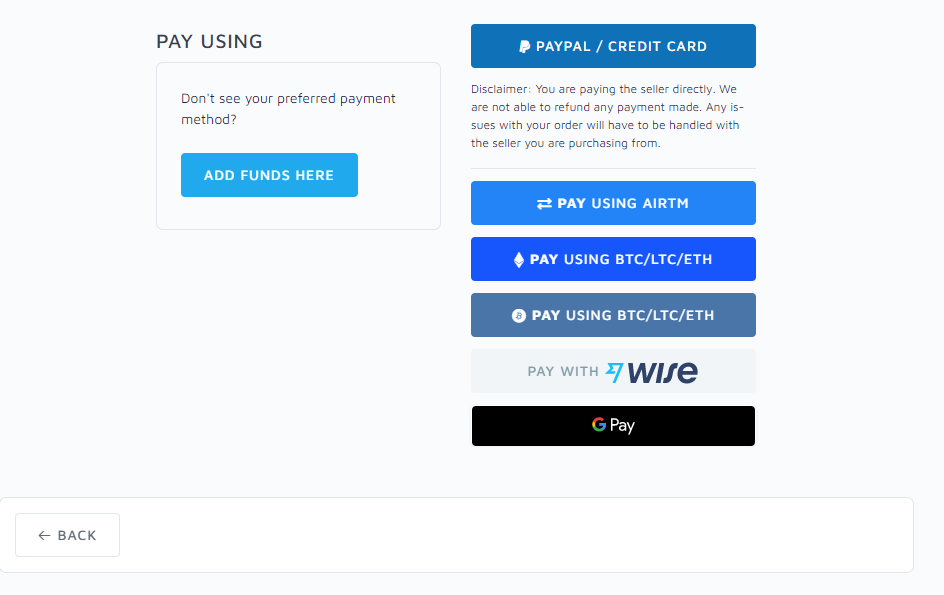 Even though the prices are great, this is only for a portion of the freelancers. Some freelancers will try and price lock certain services by communicating with other sellers and getting the price lifted.
As a result of this, prices can change regularly, whether that's the price going up or down. It can be quite frustrating for those who are budgeting, so keep in mind the fluctuation of prices.
When new sellers join SEOClerks and provide a new service, be prepared for a high starting price and any other related gigs to skyrocket in price. I have seen this first hand with a gig that provided link building going from $5 to $60 due to new social media services being introduced by new sellers.
Finally, prices should always be looked at carefully. By this, not every gig that is cheap is going to produce amazing results. Most of the time, the expensive gigs will outperform the cheap ones, so be cautious when using a mega-cheap freelancer.
Advantages:
Fantastic payment options are available
The price structure is generally cheap
SEOClerks' support team are constantly improving the payment process
Disadvantages:
Prices alter regularly
Cheap gigs are more likely to be poor quality
Some services can be price locked at a high value
My suggestion is to try building a relationship with your favourite service and try getting some deals set up. By doing this, you can avoid any sudden price changes and might even get discounts on certain services.
In addition, don't just limit yourself to the cheapest services, but try some more expensive services and see what another service offers you.
Online Marketplace Exposure
Compared to other freelance marketplaces, SEOClerks may seem to be one of the most unknown out of the bunch, but you would be surprised.
To start with, the platform boasts over 1 million active genuine users, making it one of the most popular freelance marketplace platforms available. Due to the size, the marketplace is full of a wide variety of experiences and geo-locations, all affecting the prices.
Having 1 million members allows SEOClerks to offer the most SEO-related services on the web, making it an attractive platform for those looking to get some SEO gigs for their business.
Another point is how SEOClerks have expanded into new markets and developed a wide variety of new freelance marketplaces. Some of these marketplaces include the names of:
Listing Dock
Code Clerks
Word Clerks
Pixel Clerks
Being able to expand your business to cover new areas displays success and SEOClerks has reached a level of success that not many other platforms have. In addition, these new platforms aim to cover more areas of digital marketing, meaning the website isn't just limited to SEO services.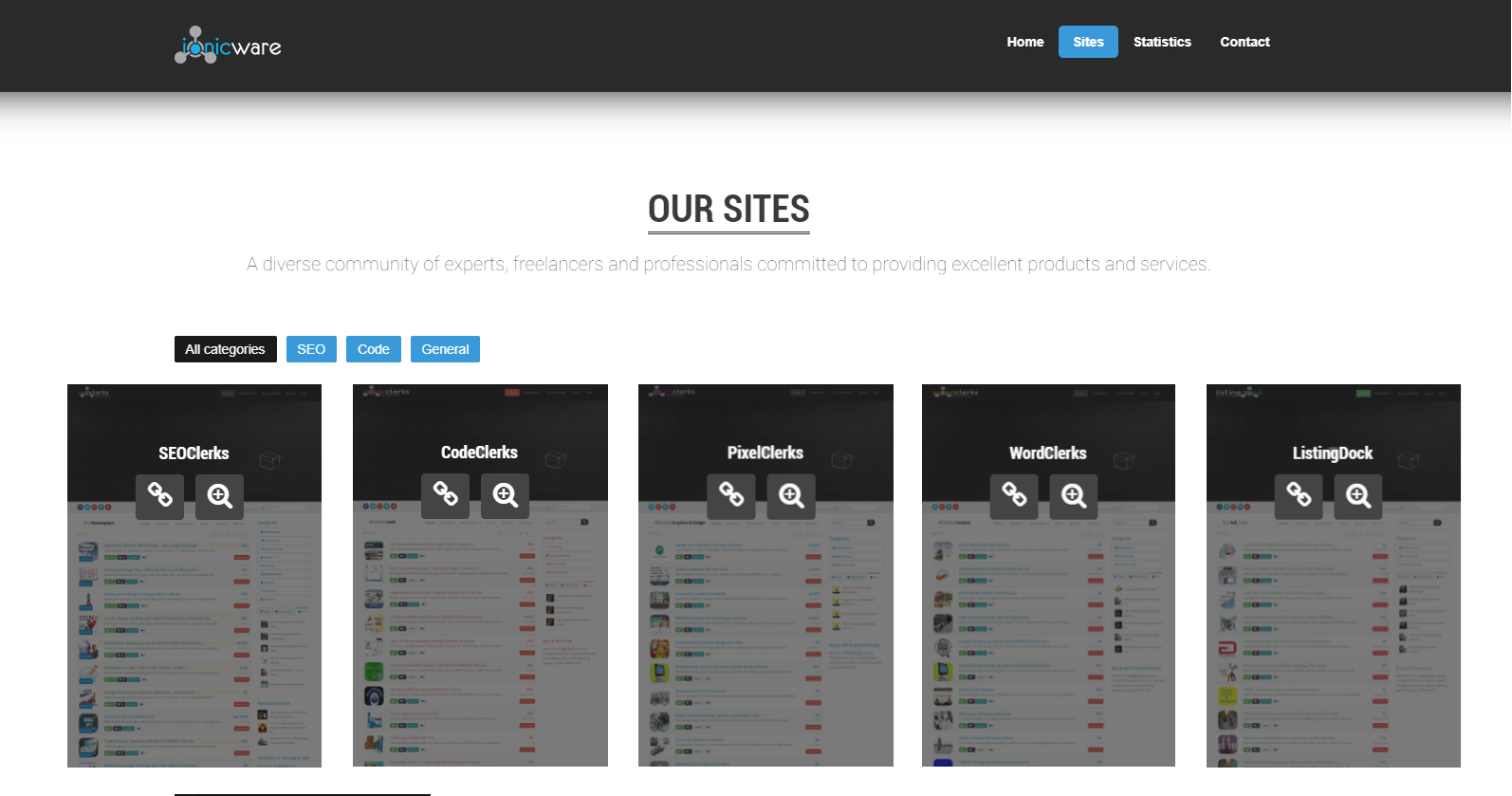 Related to the success SEOClerks has had through expansion, they also provide new members with free treats, like a $5 coupon or 20% off a bulk order. It's definitely worth making the most of these offers when they occur.
Exposure isn't all good though, as SEOClerks has also suffered from its new exposure. The glaring issue is the registration process. Originally, freelancers would have to complete a form displaying their expertise and previous campaign results.
Nowadays, the registration process has been made incredibly easy, allowing sellers to sell their products within a couple of minutes. This means a lot of scammers and phishers can create accounts with relative ease.
Such issues also impact the balance of SEO services. What I mean is that since the registration process has been made easier, a lot more black hat SEO services have infiltrated the market. It's hard to detect these negative services as a lot of sellers tend to hide this information.
Finally, many small jobs can be overshadowed by more popular gigs. These small freelancers might provide a better service and better pricing, but with so many people entering the platform, small gigs are pushed to the back to make way for the money makers.
Advantages
Has over 1 million active members
Expanding to cover more aspects of digital marketing
Free offers are given every month
A lot of positive reviews towards the expansion
Disadvantages:
The registration process is too easy, allowing scammers & phishers to gain access
More black hat services are infiltrating the platform
Money-making gigs are often given priority over smaller gigs
Honestly, I couldn't be happier to hear that SEOClerks reach the 1 million milestone, but I really hope that they improve the algorithm and try to weed out the scammers and lower the number of black hat services.
My recommendation would be to check out the reviews for every freelancer you consider working with. Doing this will allow you to see what others think and how much other businesses benefited from it.
Customer Support
SEOClerks' customer support constantly goes under improvement. Out of all the support teams operating within the freelancer market industry, SEOClerks probably have one of the strongest support teams I've encountered.
For starters, the support team are easy to contact. You can contact them through the following avenues:
The official website
Email
Twitter
LinkedIn
Facebook
Google+
Having so many different avenues of contact makes it remarkably easy for you to get your problem noticed and solved.
As well, the support team are really good at responding to your problems. For example, they recently shut down a lot of black hat services and terminated hundreds of scammers' accounts.
If you don't want to contact the support team, you can seek support through the forum site and the virtual assistance option. Both of these options allow you to get answers to questions incredibly quickly and solve problems quickly.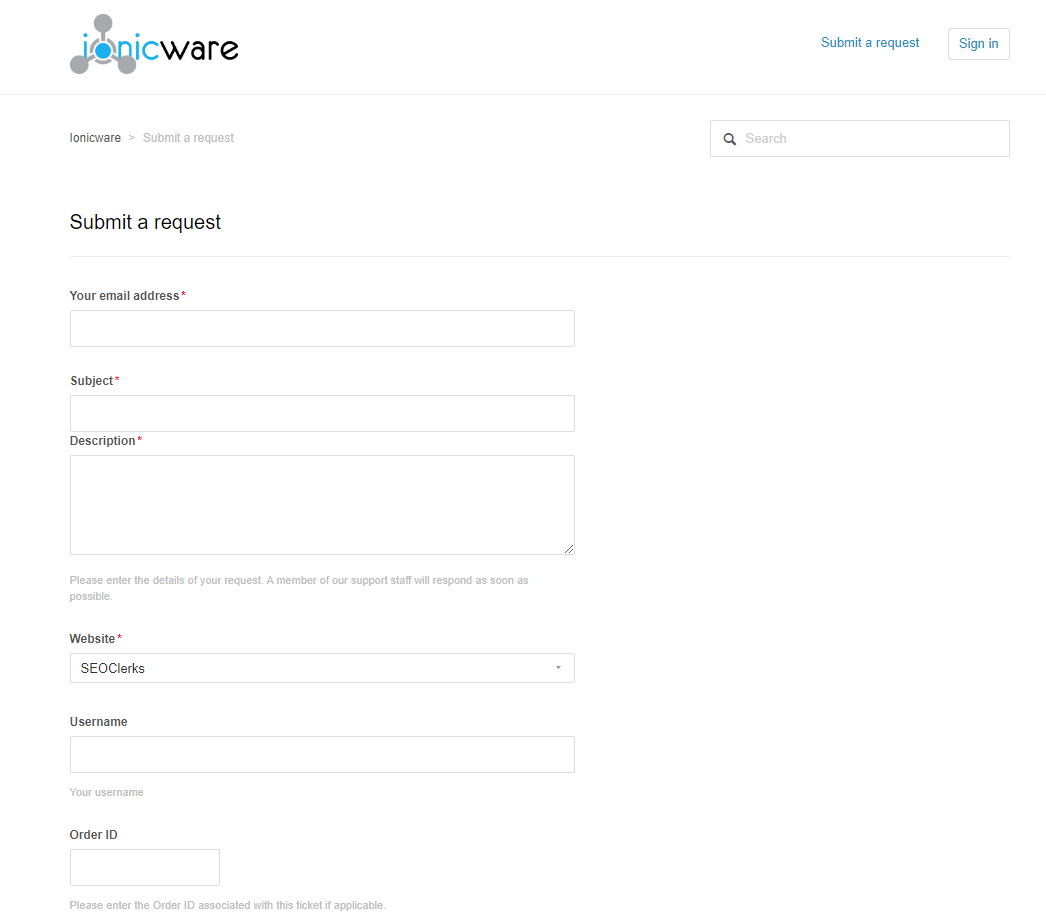 In addition, you can also get great help regarding the affiliate programme. Whether your affiliate link is broken or your affiliate dashboard isn't working, the support team are experts in solving the problems.
However, I still have a few gripes with the service. The main point is the time it takes the support team to get back to you. You can be expected to wait weeks until you hear anything from them.
Even though you receive high-quality support most of the time, there are the odd occasions where one of the customer service employees seems lacklustre or inexperienced. You could report a problem and it might not even get solved if one of these members is dealing with your request.
Finally, the forum site posting is covered in poorly written English. Having a forum full of broken language can be quite frustrating if you're wanting to find an answer to a simple question.
Advantages:
Loads of different avenues to contact support
Problems are usually dealt with effectively
The team is constantly improving itself
Use the forum and/or virtual assistant if customer support isn't your cup of tea
A lot of good reviews about the support team
Disadvantages:
It can take weeks until you hear a reply from SEOClerks' support team
Some cases might not even be dealt with
The forum isn't easy to read
A small amount of the support workforce are inexperienced or provide lacklustre solutions
The disadvantages may look bad, but considering how often SEOClerks update their service, I can see these disadvantages becoming obsolete. My advice would be to utilise the forum and virtual assistant first and then turn to the support team as a last resort.
Following that recommendation will save you time and allow you to find a solution fairly quickly compared to just going directly to the support team.
SEOClerks: Final Rating
I'm honestly not surprised to see why SEOClerks reach the one million active users mark and how it continues to grow to this day. Being one of the only online marketplaces to offer SEO-related services, SEOClerks has become a go-to for companies looking to improve their SEO.
When I've used SEOClerks, the majority of my experiences have been positive, with only a handful of occasions where I was left disappointed or annoyed. The platform continues to shape itself and improve to avoid any problems in the future.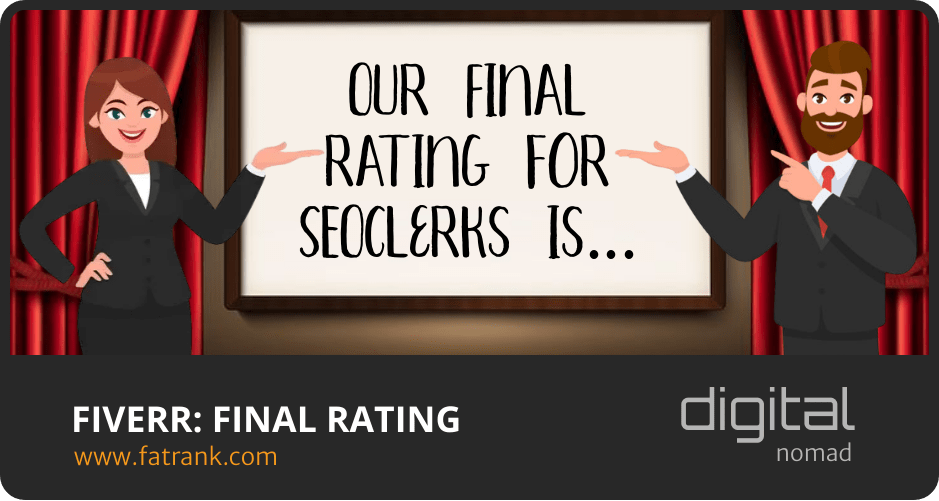 However, I don't think the service is perfect. There are a wide variety of different problems that desperately need fixing to avoid it from falling into obscurity. As well as this, new online marketplaces, like Legiit, now offer similar services but more refined and higher quality.
Due to the negatives, I can't rate SEOClerks too high, but I don't think you should completely ignore the platform. I've forged many great partnerships with some fantastic SEO freelancers. But, as the platform is now facing strong competition, it really needs to improve to stay afloat.
For these reasons, I'm giving SEOClerks a score of 3/5.
If the platform is able to improve on some of this feedback, I can see it taking back the crown of being the go-to SEO freelancer marketplace; but for now, I'll stick to more refined online marketplaces like Legiit.
SEOClerks Alternatives
Online marketplaces are becoming more popular as the digital landscape changes and evolve. SEOClerks is still a strong contender, but I believe that some platforms are able to offer the same services, but provide a lot more for the buyer.
I would recommend learning about each of these platforms and how they can be incorporated into your business operations. SEOClerks can work really well with some other online marketplaces, but some of its competition even outshine it.
For more information on each marketplace, be sure to click the links below to read our in-depth review of each platform.
SEOClerks vs Fiverr
I'm sure that everyone is aware of Fiverr. With over 3.4 million active buyers, Fiverr has become the industry's leader in how an online marketplace should operate and work. Fiverr & SEOClerks do have one major difference though: their services.
Fiverr offers users a wide variety of digital services, from video creation to slide show making. SEOClerks, on the other hand, solely focus on SEO. SEOClerks limits itself to one specific area, which makes Fiverr a lot more appealing to buyers.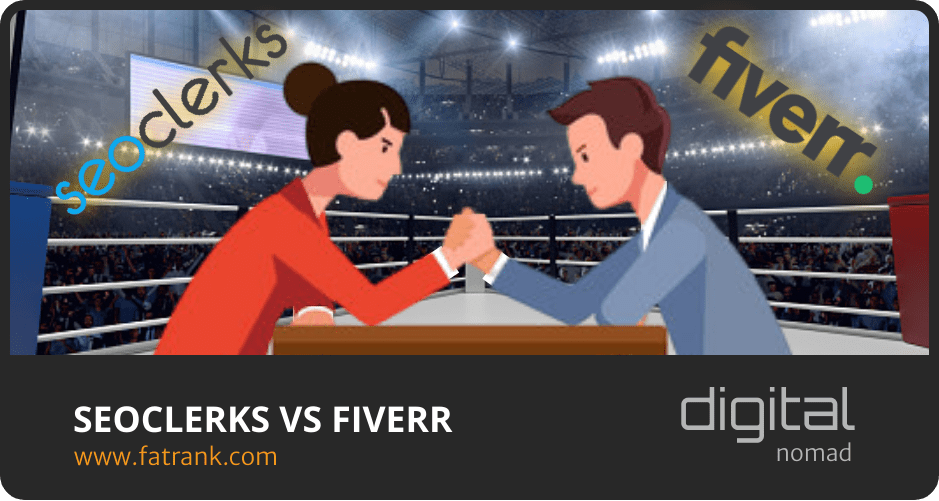 In addition, Fiverr has a much larger reach than SEOClerks, even going so far as to have created a Fiverr mobile app and have over 1 million downloads. SEOClerks doesn't offer this accessibility option, which again, limits the company's reach.
However, SEOClerks offer much higher quality SEO gigs than Fiverr. After all, SEOClerks prides itself on being the internet's go-to for SEO services. In addition, SEOClerks has one of the best UIs in the industry, and I found it incredibly easy to navigate.
SEOClerks is the winner for providing quality SEO services, but if you want anything else, then I would use Fiverr all day. Fiverr has been refined and tailored to become the perfect platform for all your digital needs.
Make sure to read out full Fiverr review, which covers all aspects of this freelance marketplace.
SEOClerks vs Upwork
If you're looking to create long-term relationships with freelancers and hire them for multiple gigs, then Upwork is the perfect marketplace. Upwork's unique selling point is how you don't purchase gigs, but rather scout out a freelancer and approach them to see if they can do the work for you.
I have to admit, I rather like this approach as Upwork will recommend freelancers who the algorithm thinks match the intent of the job you need to be completed.
Not only this, but Upwork has an amazing vetting process put in place, making sure that only the best freelancers are displayed on the website. Compare this to SEOClerks which just allows anyone to join the platform.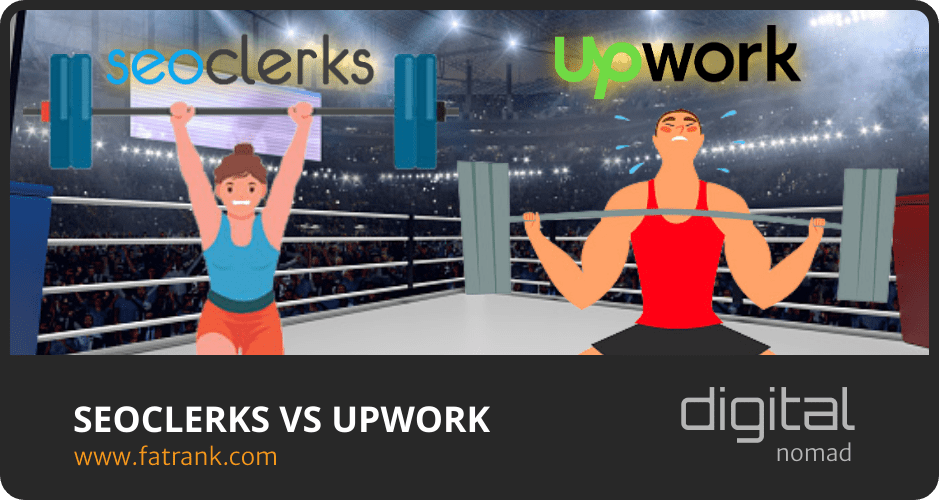 Even though both platforms offer SEO/digital marketing services, SEOClerks seems to offer the more high-quality gigs out of the two platforms and makes them a lot more cost-effective for a business.
If you're wanting to build a long-term workforce who can complete a wide variety of different marketing tasks, then Upwork would definitely be the place to go. However, if you're just wanting the odd job being completed at a cheap price, then I would stick to SEOClerks.
Do you want to learn more about Upwork? Read our in-depth Upwork review which will give you some more information on what to expect from this platform.
SEOClerks vs Legiit
The battle of the titans. SEOClerks and Legiit are locked in fierce competition over who offers the best SEO-related gigs to buyers. Both platforms pride themselves on offering the best SEO services, but I personally have seen more success from Legiit than SEOClerks.
Legiit has become the trusted marketplace for SEO needs and has delivered thousands of different services over the few years it's been around. If you don't believe me, join an SEO group on Facebook and mention Legiit, and you'll see how positive people feel towards the brand.
On the other hand, SEOClerks has a stronger presence in the digital landscape by expanding the brand to cover more aspects of digital marketing. Legiit is still a relatively new brand and hasn't had much time to build a strong userbase like SEOClerks.
SEOClerks also have cheaper prices compared to Legiit. Of course, price doesn't mean the quality will be the best, but if you're on a strict budget, SEOClerks could be the perfect platform to utilise.
In my personal opinion, I think Legiit is the better platform to use. You might be paying a bit more for services, but the gigs are more high-quality compared to SEOClerks. In addition, Legiit has a much better vetting process, stopping scammers and phishers from setting up on the marketplace.
Legiit is a fantastic platform for SEO-related services and getting great prices and quality. If you want to learn more about this platform, then be sure to check out the Legiit review, which covers all aspects of this great marketplace.
SEOClerks vs Freelancer
Freelancer and SEOClerks operate completely different from one another. For example, on SEOClerks you look for a gig and purchase it. Freelancer incorporates a feature where the buyer can post project requests they are looking to be completed by a freelancer.
This feature is incredibly useful if you're trying to find a service that might be really niche or specific. Due to this, you'll also be greeted by hundreds of messages from budding freelancers, allowing you to choose the right one by asking questions and checking them out.
Remember, SEOClerks solely focus on SEO-related gigs, but Freelancer allows for any service to be completed, making it more appealing for a business looking for multiple different services.
Freelancer is a fantastic platform for communicating with freelancers and understanding more about how their work can be used for your business. SEOClerks falls short on this aspect, with a messaging system that doesn't always work, making communication incredibly difficult.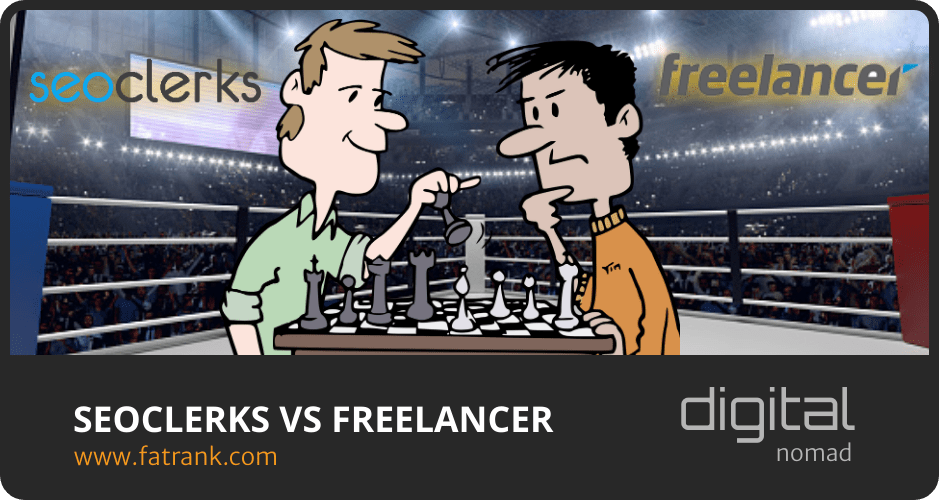 However, Freelancer has one glaring issue that a lot of people complain about. Freelancers have to pay a monthly subscription to use the service. Due to this, the pool of freelancers is much more limited compared to SEOClerks.
In addition, the monthly subscription fees cause freelancers to increase their prices, making the platform a lot more expensive compared to SEOClerks.
I would recommend using Freelancer if you're having trouble finding a specific service on other freelance marketplaces. But, if the service you're looking for is popular, SEO-related and has a lot of sellers, then stick to SEOClerks.
Does Freelancer peak your interest? If so, why not read our Freelancer review and discover how this platform can help you!
SEOClerks vs Konker
Starting its life as Source Market, Konker has been in the freelancer marketplace for numerous years and has often been compared to SEOClerks. The reasoning behind the comparison is due to the fact that both platforms offer the exact same services, SEO.
Konker has made its platform incredibly easy to access, with a simple registration form and no costs. Having such an easy registration strategy has resulted in the platform receiving loads of new users every month!
Let's not forget the security Konker has in place. Out of all the platforms displayed on this page, Konker has probably invested more into protecting its users and their data. SEOClerks, on the other hand, haven't put as many resources into improving their security.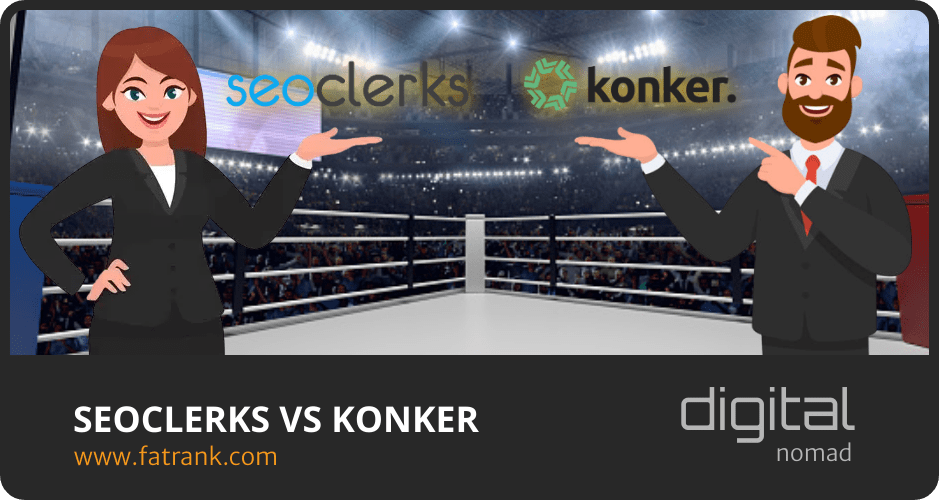 Even though Konker may seem the clear winner, there are some huge problems that need correcting for me to say it's the better one. For starters, if you want a quality gig with Konker, be prepared to spend a lot of money. The prices for gigs on this platform are ridiculously high and it puts off a lot of users.
Another problem that ruins Konker is the prevalence of fraudsters and scam artists. Over the years, their policing strategy has become outdated and malicious buyers are able to set up shop on Konker. Compare this to SEOClerks, which are better at detecting scammers and fraudsters, it seems a lot safer to stick with SEOClerks.
My opinion is to stick with SEOClerks. If Konker can solve these two glaring issues, then I would use the platform a lot more and even recommend it. But, with prices being set too high, more positive reviews towards SEOClerks and a stronger chance of using a malicious seller, it's safer to stick with SEOClerks.
However, if Konker sounds like a platform that your business could benefit from, then make sure to check out this Konker review and learn more!
SEOClerks vs PeoplePerHour
PeoplePerHour has become a huge name within the freelance marketplace industry. Xenios Thrasyvoulou created the platform back in 2007, making it one of the oldest platforms out there. Compare to SEOClerks, PeoplePerHour seems more experienced.
PeoplePerHour take a different approach to hire a freelancer. Instead of just buying their gigs, you (the buyer) pay the freelancer at an hourly rate. Due to this, your freelancer can do multiple jobs instead of just focusing on one specific one.
Not only this, but PeoplePerHour allow the buyer to search for freelancers located in specific geolocations. Having a feature like this assures that buyers can find a seller who can speak their mother tongue naturally.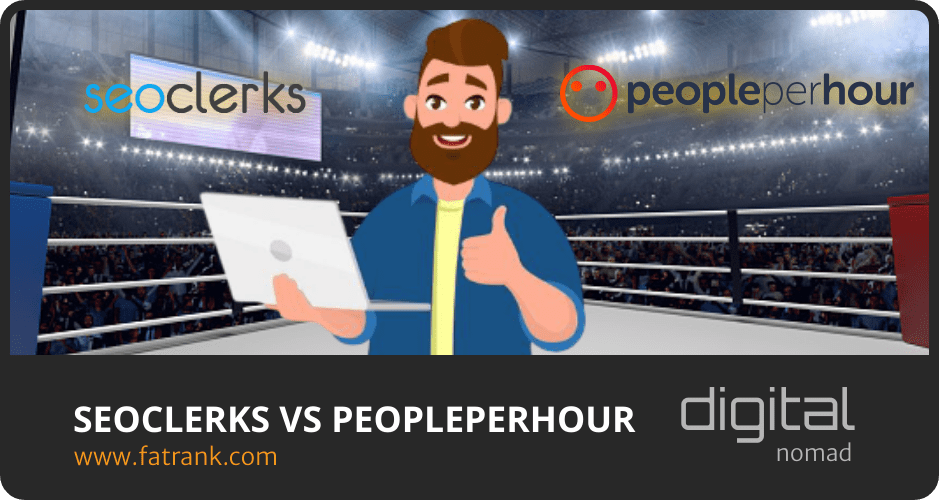 This sounds great, right? Well, PeoplePerHour does suffer from a couple of huge problems. These problems need fixing as a lot of users are leaving the platform due to them. One of the glaring issues is how PeoplePerHour only lets the freelancer raise disputes, not the buyer.
Honestly, I don't understand what the logic is behind this decision. It causes a massive power shift towards the freelancer and can get problematic if the buyer isn't happy with the service.
You'd imagine that the support would be rather good if it only has to focus on the freelancers, right? WRONG. PeoplePerHour has to have one of the weakest support teams I've ever communicated with.
Members on this team have no motivation to help with your problems and response times can get ridiculous. Compare this to SEOClerks and you start to see why this is a huge problem.
Even though the geolocation filter and hire on an hourly rate sounds great, I would personally stick to SEOClerks. PeoplePerHour is like a broken sports car. If they focus on fixing it up, it's eye-catching for everyone who sees it, but if they continue to leave it, it will only get worse.
Does hiring freelancers per hour sound like it could benefit your business? Our PeoplePerHour review explains more about this platform and how it could benefit your company.
SEOClerks vs OnlineJobs.ph
SEOClerks and OnlineJobs.ph are two different approaches to solving the same task. Whereas you get a gig off a freelancer on SEOClerks, OnlineJobs.ph focuses on acquiring a VA to help you with completing mundane tasks.
OnlineJobs.ph is a perfect solution for those looking to build long-term relationships with freelancers and incorporate them into your business. Virtual assistants that are displayed on this website are often willing to work for cheap wages, making them a perfect solution for businesses on a tight budget.
Also, VAs on OnlineJobs.ph can be well qualified for the jobs you want them to work. You can see the education of the chosen VA by looking at their profile. I think this feature is fantastic and can really help you find the perfect fit for your business.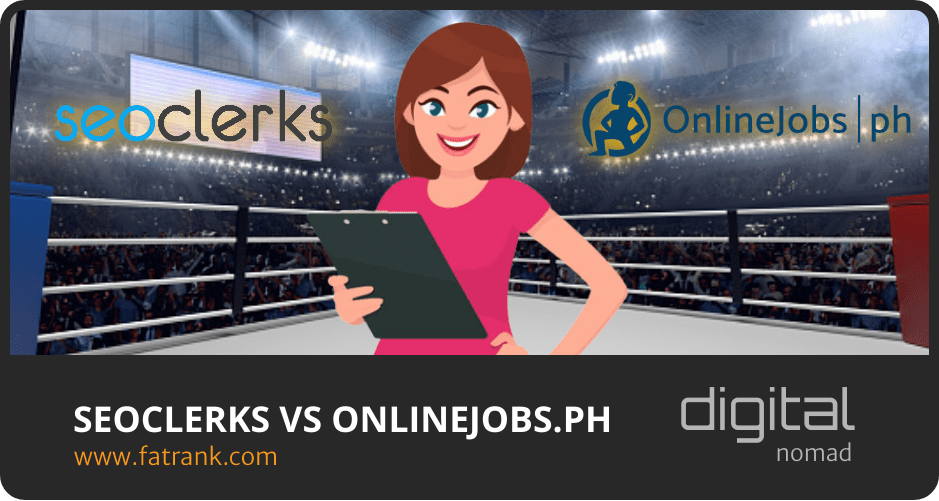 However, you have to remember that hiring a VA is a long-term solution whilst getting a gig is short-term. VAs can be expensive as you have to pay their wages and you must treat them like a member of the company. SEOClerks provide gigs that only require a one-time payment, making them suitable for the odd job.
If you need multiple mundane tasks completed, then I would suggest using OnlineJobs.ph, as it's the best freelance website for delegating tasks. However, if you need just a couple of little jobs being carried out (related to SEO of course), then I would suggest SEOClerks.
A virtual assistant can benefit your business hugely, so make sure you check out our OnlineJobs.ph review where we explain how this platform can help you.
Final Thoughts of SEOClerks
Being a platform that specialises in providing gigs related to SEO, SEOClerks has become a community favourite among SEOs all across the world! After all, SEOClerks was the first freelance marketplace to dedicate itself to just specialising in SEO services.
SEOClerks is a complicated one for me though. It has loads of positive things heading for it, but the negatives hold it back from achieving the perfect score it needs. Over time, I'm sure that the team at SEOClerks will solve the problems and get the site running perfectly!
When a buyer orders a gig, the process is incredibly simple and easy to carry out, but with other negatives stopping the buyer from being 100% happy, it seems wrong to call it perfect or excellent.
Hopefully, this SEOClerks freelancer marketplace review has helped you understand more about the SEOClerks platform and how SEOClerks alternatives hold up to it. Whether you're looking for social media marketing, blog comments, guest posts, search engine optimization overhauls or recommendations on good SEO tools, SEOClerks services are sure to help you out.
Make sure to check out the other blogs we have on the other freelance marketplaces and how they can help your business grow and dominate. Knowing each of them and what they can offer can really help you decide which combination to use.
What are you waiting for? Why not start your SEOClerks journey today by creating a free account? Whether you're wanting to earn money through the SEOClerks affiliate program or just want to see the SEOClerks platform and what services it has, it's definitely worth checking out!
All Online Marketplaces for Freelancers
Check out the in-depth list of online freelance marketplaces.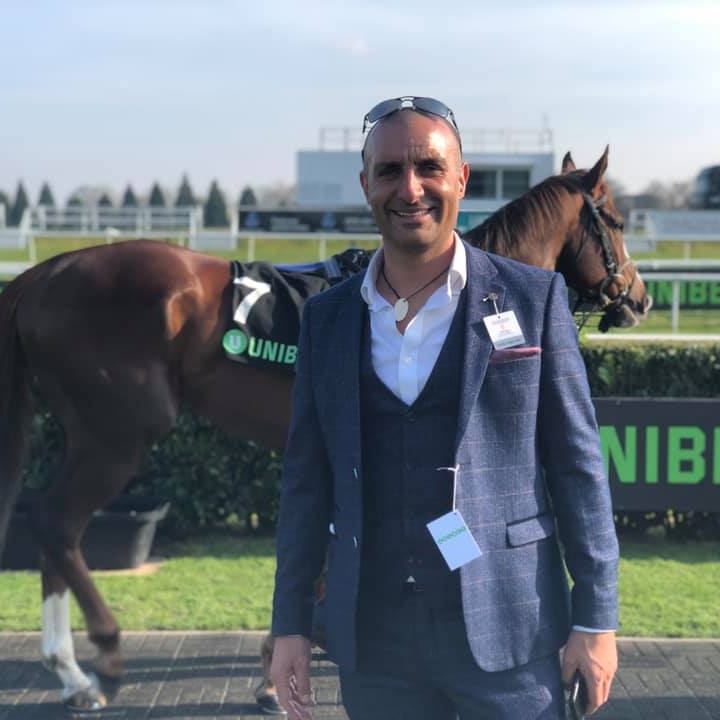 Entrepreneur
James Dooley is a British entrepreneur, SEO, investor, and philanthropist. James has built a huge Search Engine Optimization team that focus on organic SEO endeavours, including affiliate marketing, lead generation, as well as SEO services.
About FatRank
Our aim to explain and educate from a basic level to an advanced on SEO and Social Media Marketing.
Recent Posts