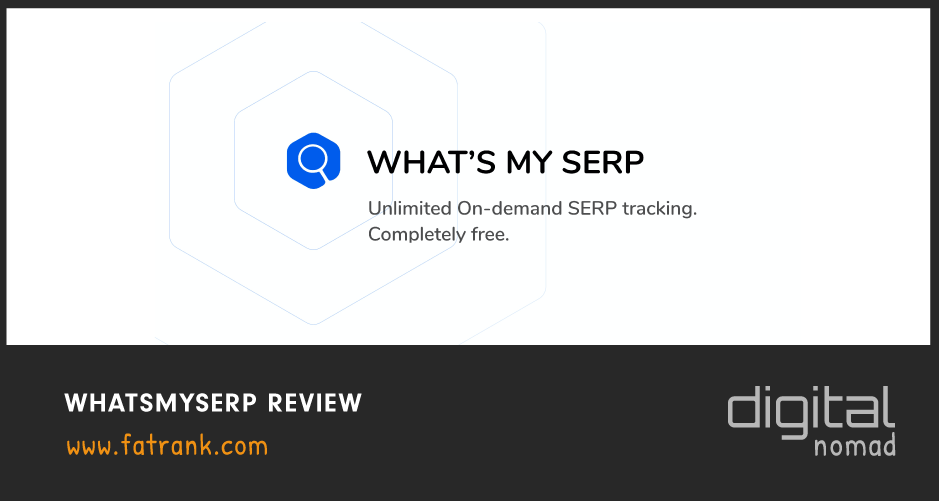 Whatsmyserp Review
What is Whatsmyserp?
Every time you put content out on the internet, you need to keep checking how it's performing. Otherwise, all the work put into it would be pointless.
Whatsmyserp is an intriguing tool that keeps you up to date with your rankings on Google.
You see, the primary goal of any website or blog is to, first and foremost, reach an audience. From there, you can then sell, inform, advertise, or do whatever it is your website does.
That being said, where you rank on Google search contributes immensely to the number of website visits you get from this audience, and that's why owning such a tool is important.
Today we're going to take you through this free SERP checker that also serves as a rank tracker. You'll get to know all the features it has and how to use them effectively.
Signing up for Whatsmyserp is done through Google or by use of your email and a password of your choice.
The process is plain-sailing, as it doesn't require you to enter a ton of unnecessary details.
As a matter of fact, your credit card information is not a requirement as it is a free sign-up.
We know how frustrating it is every time you're forced to enter your credit card details when what you want to do is first explore a tool. Whatsmyserp allows you to do this with the free version.
Once done, you will be prompted to check your email. Here, you will find a confirmation link that will direct you to the main site. And that's it.
Now all that remains is touring the tool and familiarizing yourself with some of its functions.
Whatsmyserp features
SO far, we've only mentioned in brief what whatsmyserp does.
Now, we're going to delve even deeper into some of its amazing features.
1.Free SERP Checker
As the name states, this feature is completely free and can be used without even logging into the SERP checker.
At first, I thought this was a trick and that I would attempt a keyword search only to end up with a pop-up box asking me to log in or buy a plan.
I was wrong.
The tool is indeed free, and its results are just as accurate as any other SERP checker.
However, you are limited to only 10 searches per day when logged out. To get more, you'll have to log in or sign up.
How does SERP Checker work?
There is really nothing complex about the free SERP checker.
It is divided into 4 key sections: the website URL whose position you want to check, the location, the devices, and the keywords.
All you'll need to do is add these details, sit back, and watch this tool do the work for you.
When done, Serp Checker will display to your right, the first 100 google search results for the keyword you put in their search box.
Your google SERP will be highlighted in blue to save you the trouble of going through the different website pages displayed.
We also found the option of switching between devices to be beneficial.
SERP Checker allows you to check your rankings on either desktop or mobile. The search habits on mobile are a little different from desktop and therefore, results might vary.
2.Rank Tracking
There is only so much you can do while outside the SERP checker.
Once you create your free account, you'll be able to use this tool to its full potential. I believe this is what any website owner would want.
The first page that appears once you sign into whatsmyserp is the domain section. It glares at you right at the center and so impossible to miss. Here you can enter your domain, after which you will be directed to the keyword search section.
In this section, you will need to take some time and add each keyword you want to search for.
Right below it, you can adjust your location and choose the device from which you want the search to be based on.
I would advise you to check the desktop first before proceeding to the mobile. However, the choice is entirely yours. Either way, the results will give you all the information you require.
And just like that, you're done.
Whatsmyserp will now take over and display accurate and comprehensive google search rank results for the keywords selected.
You'll see the ranking distribution section, which tells you whether you rank in the top 3, top 10, top 50, or outside the 50 range of the google search engine.
Next to it will be your average position as well as the estimated website traffic.
For each keyword, whatsmyserp displays:
Your google ranking position.
Your rise and fall for the day, week, and month.
The website URL on google.
The google search volume for the keyword.
The time of your last update.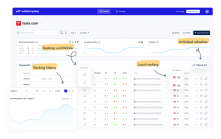 To ensure that the data displayed is always accurate, this SERP checker does updates daily. If you feel this is way too long then, you have the option of refreshing them yourself anytime you deem necessary.
You also have the option of connecting your google search console account with the tool and adding some of your keywords as favorites.
Moreover, while doing a keyword search, you'll be given a list of related keywords that will help you know what your target audience is actually typing on google search. This can help you optimize your content to get that traffic for your website.
Like any other rank tracker, whatsmyserp has well-illustrated graphs to show your ranking progress. You can set the graphs to display data for the past one month or even a year.
The rank history is, however, limited to just 3 months for the free version. If you want to check your entire history, then you will need to upgrade to Pro.
3.WMS everywhere
This is a browser extension offered by Whatsmyserp that makes it incredibly easy to check your keyword search volume and its cost per clicks. What's better is, it's completely free.
To use this tool, you'll need to download the extension from Whatsmyserp's website and install it. Now for every keyword you search on Google, you'll be able to check its volume, CPC, and related keywords.
-Why use this extension?
It's free.
You get accurate results.
There's no need to exit the google search results area to check the results.
It allows you to pick the best location for a spot on local results.
It displays a ton of related words or phrases to the target keyword.
Blends perfectly with google to not appear overly distractive when you're just doing a normal routine search.
4.PDF reports
You always want your SERP checker to either send or allow you to download your rankings reports. Having such information outside the tool's website is always convenient, especially for big firms. You get to print them out and store them for any presentation when required.
5.Unrestricted number of domains
This SERP checker allows you to add as many domains as you want. What's even better is, this is available for free. All you need to do is log in or sign up in case you have not.
Pricing
Whatsmyserp has two plans: Basic and Premium.
While the basic plan is free to use and gives you so much value, you might want to add more features and keywords.
To do that, you will have to upgrade to the SERP checkers' premium packages.
25 keywords – $4.99 per month
200 keywords – $19.99 per month
500 keywords – $29.99 per month
1000 keywords – $59.99 per month
It's important to mention that unlike the free version, the paid package does not require you to do a Captcha before proceeding to the keyword search section.
You also have the option to cancel your subscription at any time and can request a refund within the first month (30 days) of using it.
So if you're skeptical about the premium plans, then you could check one of them out for a month so, and then decide whether you'd want to continue paying.
Whatsmyserp has fast and responsive customer care. You can get in touch with them by leaving your message here, https://whatsmyserp.com/contact-us.
Conclusion
A quick google search on the best SERP ranking tools will yield countless results, most of which are paid and overly expensive. Whatsmyserp is an easy to use tool that offers some wonderful features for free.
One of its major disadvantages is that you only get to check your performance on the google search engine alone. We expect that in the future other web search engines like Yahoo and Bing will be introduced.
Even so, it is definitely worth checking out, given that most things are free.
Want More?
Did you like our post and want to read more reviews about other tools that you can use to track your keyword rankings?
Take a look at the rest of the trackers we have tested and reviewed:
Do Want More Rank Tracking Tool Reviews?

Did you like our post and want to read more reviews about other tools that you can use to track your keyword rankings?

Take a look at the rest of the trackers we have tested and reviewed:

Don't forget to also take a look at our MASSIVE guide on the best rank tracking tools for 2021.

lsoulas

Leo is a data scientist turned entrepreneur. He has a passion for data-driven methodologies and creating highly scalable machine learning tools. He is the founder of Chimera Sciences LLC, a data science consulting company aiming to help small/medium business utilize the power of data and machine learning.

About FatRank

Our aim to explain and educate from a basic level to an advanced on SEO and Social Media Marketing.

Recent Posts

false