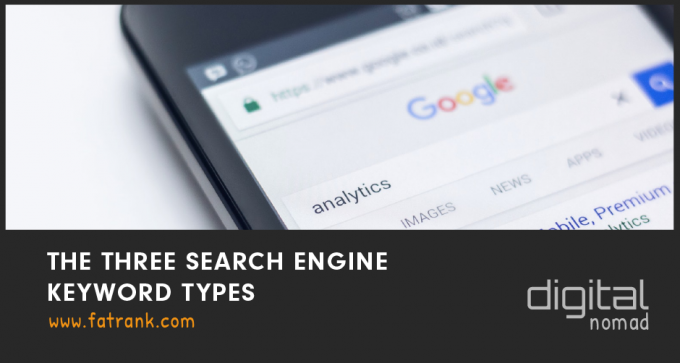 Last Modified: Apr 4, 2018 @ 1:38 pm
Millions of individuals search for products and services on the web each day. It is important to consider the various keyword terms that people use when looking for the information or product they need. Understanding the different search queries is a crucial part of any SEO marketing strategy, as every business has their own niche audience to target.
In many cases, businesses will not study the different types of keyword searches. This can seriously affect companies search engine rankings. In this blog I will discuss the three variations of search terms that people will use. We'll also look at how businesses can take advantage of all three search types.
Read on for more details on the key search engine keyword types.
Information Search Terms
The first keyword type people use is informational search terms. These searches aim specifically towards finding informative content in relation to whatever the user searches for. For example, some individuals might search 'What are the best things to do in Manchester?'. This search itself fits under the category of an informative search term, as the person is clearly looking to find an answer to a question.
This would be instead of finding a specific website or buying a service from a location in Manchester. More often than not, information search terms are for those looking to compare some of the more popular things in relation to the niche they look for. They act as the first step in helping people decide to find specifically what they are looking for.
Ironically, the first step tends to be where many companies fail to rank in Google. Many businesses will only create promotional content without creating informative content that will help navigate the individual to their products/services naturally.
Ensuring your marketing strategy produces this type of fresh website content this is really important. Many believe that informational search terms are in fact the most popular. Good ways for companies to target these keywords include:
Creating tutorial based videos
Blog posts looking at techniques and tips
Ensuring pages on your website are written to inform and promote rather than just promote alone
The second keyword type out of the three is navigational search terms. Navigational search terms are searches that are used by those who are looking for a specific site. An example of this would be if the individual searched 'Chill Factore'.
They would be looking specifically for that site to learn more about the services that they offer. These keywords are for those who know what they want to look for, but might have an interest in learning more about specifically what they are looking for. For businesses, targeting these keywords to rank in Google is only really possible if that is the brand name.
More often than not the company with that brand name will appear first. This is why doing in depth keyword research is so important.
This keyword is believed to be the second stage for searchers. This is because people will tend to search their informational search terms first to gain a further understanding as to what they are looking for.
Then they'll follow up with a search for the specific product, service or company that they have found. Ranking these keywords for a business is only really possible if you are the business they're searching for.
However this alone means it's important for your company to target information keywords. If you rank for numerous informational keywords this may lead to people searching for your company in a navigational search afterwards.
Transactional Search Terms
The final keyword type that individuals will use is transitional search terms. These terms are for those who are looking solely to purchase a product or service online. They can consist of words such as 'discount codes', 'best offers for', 'cheapest price for' and the location of the product/service.
They may also have words such as 'buying' to describe exactly what the individual aims to do. This type of keyword is not necessarily the last keyword of the three that people will search for. In some cases people will have a full understanding of what they want to buy and who from.
In any case, it is still crucial that businesses push to rank on google for these transactional keyword searches. You'll find there are many ways that companies can go about this. Firstly, ensuring your content includes many variations of whatever the product is will help people looking for a specific service.
For example Chillfactore rank number 1 for  'Snowboarding lessons Manchester' despite that service not being part of their URL. Alternatively, companies can also look at using Pay per Click ads for this. However it is recommended that you consider your company's budget and carry out keyword research before opting for this.
In conclusion, ensuring your business is aware of all of these keyword types can be crucial for your marketing strategy. Failing to acknowledge the significance of all of information, navigational and transactional search terms will likely negatively affect your strategy. It is also advised that before targeting any keyword you do an extensive amount of keyword research for whatever your company aims to rank for. Doing so will make sure that the keywords you are targeting are worthwhile.