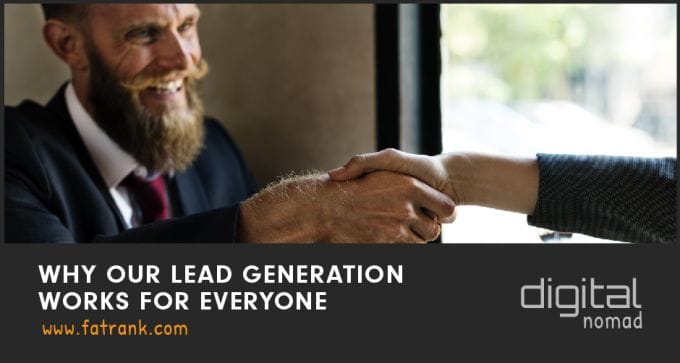 Free UK Lead Generation Service
I have released a lead generation service which has zero risks to clients within the UK. They must be happy to receive leads for projects anywhere within the UK. Whether the enquiry is in Scotland or down to Devon. The potential clients would be able to service the leads and provide quotes to carry out the works. If this sounds interesting for your UK company then visit https://fatrank.com/no-risk-supply-of-enquiries/ for more information on this.
How Can it be Free?
I  chose to make the service free because over the years we've done lead generation for hundreds of businesses. This model used to be a cost per lead basis depending on the niche. So it could be anything from £5 per enquiry (smaller jobs like carpet cleaning) to £200 per enquiry (large scale lawyer work).
We agreed on a rate per lead and this was set in stone regardless of how many converted or not. However, we got some customers asking for meetings because they weren't happy paying for some of the leads. This may have been because it was a competitor asking about prices, or the person enquiring didn't have the budget required for the work. But for us we wanted the clients to take the rough with the smooth. So if we only charged for converted leads (which is what we do now) they would be happy to pay maybe 1k per order.
see how much work goes into what we do
Creating a Win-Win Strategy
Many clients could not see the forest for the trees. They were moaning about the non-converting enquiries as opposed to collectively looking at what they were making from the converted orders and seeing whether the amount being paid was worth it. Therefore I decided I did not want the hassle of any customers not being happy and we changed our structure. This actually worked out better financially for us, and it made the clients a lot happier. Here is an example:
Client received 100 enquiries at £20 per lead (converting 12 into orders) = We received £2000
On average he was receiving around 100 enquiries. However, all I was getting from him was complaints about how 88 of them didn't convert. He moaned some were never going to order as they didn't have a big enough budget. I could understand his frustration but, from a lead generation point of view, you should take the rough with the smooth. Nonetheless, we changed the business model and restructured the process.
I asked him what he was willing to pay for a successful order and to my amazement, he said he would be willing to give me a kickback of £300 per order. Therefore with the example above, he now has to pay me £3600 as opposed to £2000. This is so much better for our business financially but actually improved the whole model and process. Now I never have one customer moaning if they receive some bad leads. They don't pay a penny for leads and only pay for converted orders which are out of their profits.
Why Provide Free Leads?
Above explains in more detail why I decided to set this lead generation service up for free. It felt like I was doing Client SEO where the customers were asking for meetings about the enquiries when it was pay per lead model. Ideally, the setup I create needs to be completely handed off so I can spend time travelling as a digital nomad but while exploring the world these leads can be generating me money without the need for meetings. The Free UK Lead Generation Service should work completely hands-off. I get you leads for the service you provide and then we both benefit from this. Here is a video which explains the lead generation service to UK companies :
How I Generate Enquiries?
Getting asked how I generate enquiries seems to pop up at the start of every new agreement. There is no simple answer to that because could be one of a hundred ways. As an all-round growth hacking strategist then here is a little background to myself which will highlight I have a team around me to assist this all to work. It could be anything from creating a new website that we SEO and get ranking organically on google, PPC Adwords, Facebook advertising. Here explain some options with online marketing https://fatrank.com/organic-seo-vs-ppc-vs-hybrid/ and you can see that various techniques suit different niches. We tailor our strategies literally for every individual industry. We need to try and make sure we deliver the best quality enquiries. This is because only get paid on leads converted into paid orders.
Depending on the niche we can even look into traditional marketing where we use PromoMedia to carry out all kinds of offline media strategies. Here is a video explaining what PromoMedia can carry out for us :
More on How I Generate Enquiries?
The video explains we are able to carry out all aspects of old schools marketing. It could be newspaper ads, TV adverts to radio advertisements and much more. This can be very costly to run and this is why it's best to use a specialist company like PromoMedia. Our digital growth hacking strategies are also excellent so, for this reason, I do not feel much risk in providing leads for free. I know we can rank websites. So unlike others who will ask for monthly SEO payments whether they improve your rankings or not then we just work on successful leads.
Leaves you with zero risks in any agreement we have, which then means it allows us time to crack on. We can be delivering you results as opposed to wasting time providing glossy reports and having monthly meetings. You will see I am pretty negative towards monthly client SEO. It's because there are so many cowboys out there taking money from businesses. They're then doing nothing to improve their rankings. On the flipside read these SEO Clients have Unrealistic Goals article and you will start to see just why I prefer this model.
It's Kind of a No Brainer
The method we now have in place is the most efficient way for us to make clients happy. It also helps reduce hassle for our own staff. Of course, it involves an element of risk on our part. We are doing work for something which we could potentially never be paid for. However, this is why we do our research into the niche before agreeing to provide the service. If we feel that a particular industry is lucrative enough and that the company will be able to convert leads, we are more than happy to take the risk.
For the client receiving the leads, there is no risk as nothing is paid until an order is secured. We'll agree on a reasonable payment amount based on the value of the order received. As you are only paying for the converted work, there is no need to worry about wasting money on leads which aren't suitable and don't convert.
All Growth Hacking Related Posts
Check out the in-depth list of growth hacking posts.