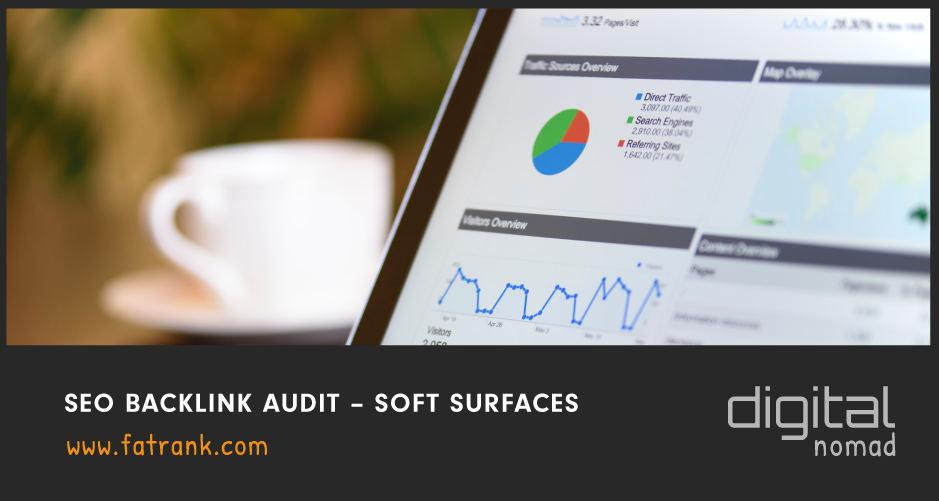 At Fatrank, we have carried out an SEO Backlink Audit for Soft Surfaces Ltd website who is a UK sport and play contractor.
As part of the backlinks audit, we check the full link profile of external links pointing to their webpage they are struggling to rank with.
Video Backlink Audit
Here are our findings on the link profile for softsurfaces.co.uk domain where they want to improve rankings for the term 'wetpour':
00:00 – "Hi you guys, it's Dan here, and today I'm just gonna be having a look at the Soft Surfaces wetpour surfacing page, I'm just kinda doing a link audit and finding out maybe the reasons why it's not ranking for the keywords it wants to rank for. So one of this page's main keywords is WetPour.
So when I search that into Google here, as you can see you've got the ads at the top and the map. When you get to the organic search, you'll notice that Soft Surfaces is down there at the bottom, ranking number five. So there's actually four competitors there that are outranking them for what we looked at as being mainly link related problems. So if I head over to Ahrefs here and analyze that for you. I'll just head over to the back links of this actual inner page. And what this data will show is kind of the links that are pointing to this page itself and the quality of them. And that gives us an idea of what can be improved with this site."
More on Video Backlink Audit
00:45 – "So the first thing that I'll point out here in this middle bit here is the domain section. What the domain section is, is basically it's just telling you how many links are linking to the links that are going to your inner page, if that makes sense. So obviously in this sense you've got this link down here which is the construction link, go into the WetPour page. And the domain section is showing that it's only got one link going to this page, to the construction page itself. And if you have a look at the other ones for example, you'd find that pretty much all of them are on domain zero.
More on Video Backlink Audit
Which obviously highlights that none of the back links that you've got to the WetPour page here, actually have any external links going to them. So what this really means, is that none of the links that you're getting are being powered up, and that's obviously leading to having too many low quality or weak links really. Because obviously regardless of what the link is, it's not getting any power to that. So the UR here is not being improved, which is the UR rating, obviously that URL. And then that just leads to it being a bad link."
01:41 – "So the first bit of advice I'd probably give for these is just to simply power up the links that you're getting, because having back links go into your inner page without any strength to them, is gonna … It's not really gonna have much of a positive effect on your site at all it's not really gonna shift the needle at all, where as having good back links with good links go into them and power going to them, will actually lead to seeing a lot more improvements for your website.
More on Video Backlink Audit
The second thing which I'd say is probably the more important thing with this when I look at it, is more about relevancy. If you look at this left hand side here where it says Referring page, and I just scroll down slowly, you'll see that really the only link you can see visibly that's actually relevant going through to the WetPour page, is this one in the middle here. And whilst the link itself is only a construction you know, kind of citation or directory type of link, it does have relevancy, and that's really good."
02:32 – "Where as all the other ones, you have a look, you got a Russian site here, you've got a Polish site here, you've got an Asian site here. You've got even more sites down here that just don't bare any relevancy to the keyword that you're looking to rank for. So what I probably would suggest to improve this, would just be to build some more links that have more relevancy. So in this case for WetPour, obviously WetPour is a playground surface. Having links from places like health and fitness type blogs that obviously are mentioning getting out and being active, being healthy. It kinda fits the bill really for relevancy.
More on Video Backlink Audit
So that's the kind of stuff that, you know, we would probably recommend you build for. Just things that are relevant to the keyword that you're actually trying to push for. So there probably the main two takes really from this whole video, is just probably the links that are currently there just don't have enough power at all. There's no domains linking to them so they're not gonna push any power through to the WetPour page here."
03:26 – "And then additionally is just a case of the links that are there are just really not very relevant, and you need to build more links that are relevant to the keywords you're looking to rank for, and are just relevant to your site in general. So that's about it guys, thanks for watching, and I'll see you guys later."
Backlink Audit Results
So from the video, you can see that the website is in need of some professional help to get them improving in google rankings.
There are some link building issues with the domain that needs fixing which is explained here in more detail the problems:
These two articles go into more detail about the problems found on the link audit.
Solutions
For this website, we would recommend the following services below:
Once these are ordered then wait to see the ranking movements which will fluctuate for a few weeks with the random ranking factor.
As the rankings settle and the rankings improve then look to see where further improvements can be made with keywords.
A professional link building company can set up a strategy to roll out a link budget campaign for you to outrank your competition.
All Link Building Related Posts
Check out the in-depth list of link building posts.
The full list shows the various backlink strategies for ranking higher in Google SERPs.