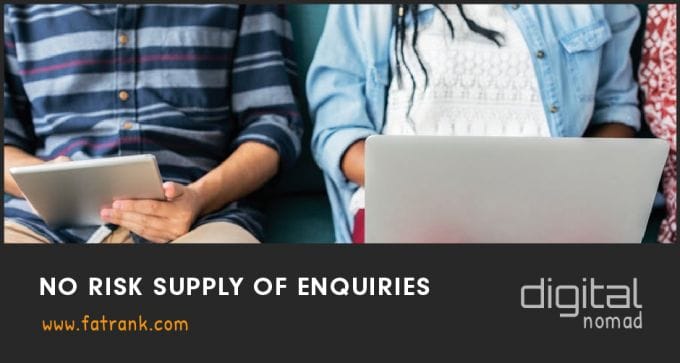 No Risk Supply Of Enquiries
You may be wondering if it is possible to receive a "No Risk Supply Of Enquiries" where you only pay for the converted leads?
Well, this is a service we are looking to supply to companies who want to boost their sales and profits.
The phrase 'nothing in life is free' can be true in many cases, and you will probably think that this offer is too good to be true.
But you'd be wrong.
This article explains the what, how and why we do this.
Why Our Lead Generation Works For Everyone?
Our lead generation process works well for everyone because the customer only pays for converted leads.
"We found the Client SEO Industry to be terrible. From awkward clients asking what you doing, why you doing it, how are you doing it and wanting glossy reports for every step taken. To SEO agencies with no experience of ranking highly in Google over-promising with results that is impossible"
There are running jokes in the lead generation communities that most SEO agencies "fake it before they make it" with client money. Then once they learn from spending these investments they stop doing client SEO and move onto affiliate marketing or lead gen.
The truth is we do not need to promise any rankings or traffic because if we do not produce the results we do not get paid anything.
Adding in a 'finders fee' cost to the quote means the customers receiving the enquiries is at zero risks financially because pays nothing unless it turns into an order.
"We get less hassle from our customers when enquiries are free that allows us to spend more time on growing the volume of leads sent"
This link explains why our lead generation is free which has been asked many times by our existing customers.
Who Generates The Enquiries?
We have a strong team based in the UK that can generate enquiries nationwide.
All the team love SEO and finding ways to be found in as many places on the internet as possible to generate enquiries.
Here is a build-up of who we are as a company:
Our team are able to analyse the Google SERPs to see why keywords and niches we are able to win on to drive quality enquiries.
How Can We Generate Leads?
Here are the various methods we carry out to generate leads.
SEO – Organic search engine optimisation techniques
PPC – Renting space on the search engine results pages, paying for ads
Facebooks Ads – Generating Leads through Facebook advertising
GMB – Ranking Google My Business map listings
Video – Ranking videos on youtube, google videos and google search
Social – Organic social media posts to gain traction
Guest Posts – Writing compelling content on related websites or trade magazines
Brand SERP – Improving the brand results to show up for more terms
Options For UK Companies
Companies in the UK for 4 options generally for lead generation sources.
Some of these include building an in-house team of marketers and trying to generate internally.
All businesses generally though want more leads as can grow if the volume increases.
Show me any business that says they get enough enquiries and I will then show you a failure!
Let's get started then and I will break down the 4 options to explain why each strategy above could be a good investment or whether you are gambling with your money.
Option 1 – SEO to Generate Leads
Ranking organically in the SERPs (Search Engine Results Pages) is done by optimising your website with the keywords on the site and by building high quality and niche relevant backlinks.
This seems easy, right?
"Over the years I have learnt the hard way outsourcing to many different agencies with minimal gains"
This is because the SEO industry is filled with agencies who think they know what to do in terms of improving rankings.
They might even show you dozens of case studies from their happy clients. But let me tell you something, for every case study you see showing positive results in the SERPs, there are probably a dozen negative ones that they will not show you.
SEO Agencies
I am not here to say SEO is not good for your business. If you find the right company to do this then it is a great investment into a growing company. You achieve higher rankings which leads to more clicks onto your website, which leads to more enquiries, and the more leads you receive the more orders you should generate.
BUT, the problem you face here is finding a good SEO service that works well for your company and generates the results you want. These agencies are not easy to find and they will not be the cheapest as you certainly pay for what you get.
In general, you can look to pay between £200 – £2,000 a month on SEO where these companies will build you backlinks. The rankings will improve over a few months and you will think this is great, then one morning you will get up and see your website cannot be found in the search results.
It has seemingly fallen off a cliff, and basically, this is where your SEO agency is not clued up and have more than likely over optimised your links to make you receive a penalty.
Poorer Rankings
So guess what? You have been paying this business a lot of money and now you are in a worse situation than you were before you even started paying them!
Can you get refunds on this?
Absolutely not and they will probably blame something you have done also to get themselves out of it and try to charge you more to get the penalty removed etc.
I see it personally like a cowboy mechanic, adding on lots of extras onto your bill that you never needed. For this reason, I think it is a huge gamble for any company to pay for SEO services. Just because it is so difficult to find the right company to do it correctly and make it worth your money.
What you don't see behind the scenes is all the blood, sweat and tears it takes agencies to drive and build traffic.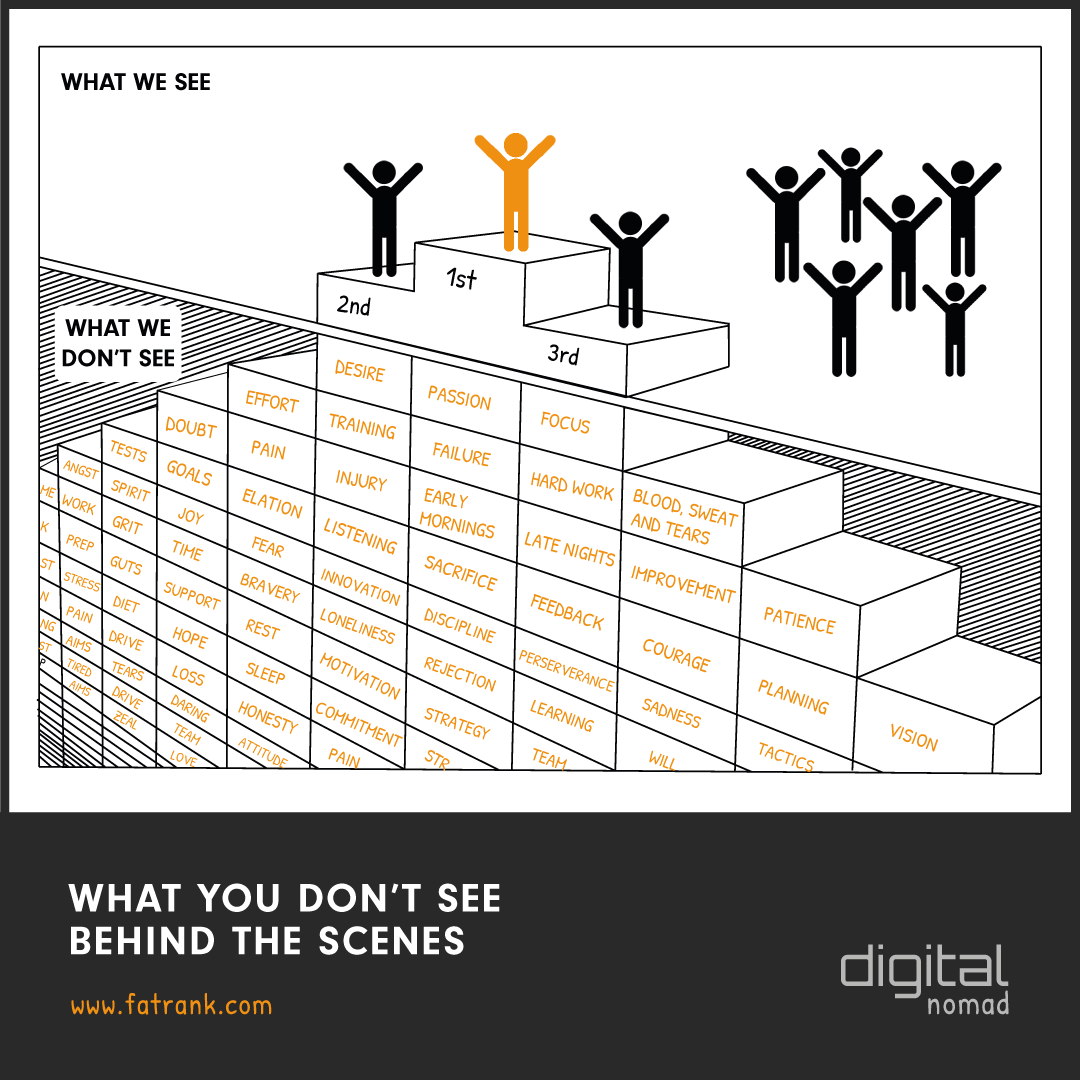 The difficult part of SEO is you have to invest your money, months before seeing any results so you will not know whether the company you are using is efficient or not.
It could be a £6,000 investment over six months and then it actually puts you in a worse position than when you started, that is the scary thing.
Trust me I know first hand because over a decade ago I personally got burnt for over £40,000 trusting companies to do what they promised and this is why paying for organic SEO is a huge gamble.
Option 2 – PPC to Generate Leads
PPC (Pay Per Click) basically involves you paying the search engines e.g. Google to rent a space within the SERPs.
This, in my opinion, is great for short term investment and ranking a website page quickly.
What I mean by that is let's say a music artist was performing at a gig and the event wanted to sell tickets. This is something which will only be available in the short term so an advertisement for this example is perfect. SEO wouldn't be cost-effective because it is generally carried out for long term investments and by the time the page has ranked organically the event will be over, whereas PPC gives instant results.
On the flip side if you are looking to make long term plans for growing your business, then I see PPC as renting a house. It is dead money and the minute you stop paying for the clicks your website is gone from the search results. SEO at least (if done correctly) ranks long term and gives you more traffic for years while PPC, in my opinion, is a short term investment plan.
Successful PPC Advertising
A number of you reading this will say this is ridiculous because lots of people make millions from using PPC advertising. This can be the case and obviously if done correctly you can be clever in finding key phrases that convert well and make an ROI on this. But unless you are an advanced pay per click expert you are going to take such risks with your money on irrelevant clicks from people who don't want the product or service you are offering and this can become very costly.
Do these clicks on the website mean you are guaranteed to get enquiries? No, they do not, but you would hope the more clicks to your site the more leads it will generate and the more order you'll convert.
Again, this is a big gamble as you can't be 100% sure that every click you pay for will result in an enquiry and an order. In fact, the majority probably won't result in anything. Big brands might be able to afford this risk but small companies need to be careful. Spending £5,000 a month on clicks does not instantly mean more orders, can you afford to spend this on a gamble to convert some clicks into leads and then those leads into orders? That is something only you can decide!
This video below explains the process of PPC and how it can be applied to maximise traffic and sales for your business:
Option 3 – PPL to Generate Leads
PPL stands for pay per lead and this is an option that really can be great for businesses. Why is this much better than SEO or PPC? Well the simple answer is in Option 1 you are gambling to improve your rankings which MIGHT lead to some more clicks but that is a risk.
Then with Option 2, you are gambling that the clicks you are paying for MIGHT get you some more enquiries but that is a risk. What happens if the clicks you are paying for are coming from a competitor looking at your site? What happens if someone wants to check some information on a product but does not want to order it? Then lastly what's to say someone clicks onto your page and doesn't like your site so decides not to enquire with you. At the end of the day, you are taking risks in option one and two.
Paying for Leads
This being said, is Option 3 a risk-free solution? The answer to this is no it is not risk-free but you are certainly lowering the risks and taking a calculated gamble by paying for leads. Once you have received the enquiries, it is then up to you to convert them into orders. As you are not paying on the chance to improve your Google ranking or just for clicks, you are further down the line by paying for leads so you stand much better chances to get orders here.
Sourcing Your Enquiries
Is it easy to get pay per lead deals? If you are looking for a pay per lead strategy from someone then you might find this difficult because the majority of companies will not do this deal for you. The reason for this is that they are also taking a risk themselves with ranking in the search results.
As they do not get paid unless they get you enquiries, the pressure is on for these companies and this eliminates all the SEO companies who aren't as efficient because they know that it will be difficult for them to rank your site. I am 100% confident I can rank whatever niche I desire then I could easily follow this strategy because although it is a risk for myself I know I can generate leads.
Is this a risk for small companies? Yes, this is still taking a gamble, although this is a small risk, some companies might again think it is difficult to pay for all leads.
If there happens to be an influx of enquiries that don't convert because the client wants a cheaper price or a different product, this is where you can end up paying for nothing. Remember some businesses are very wary about risking their money, and rightly so as paying per lead still poses a risk.
Option 4 – No Risk Supply Of Enquiries
This brings me to the final option, and this is the service that I will be offering. Your company can receive leads from customers who are interested in buying your products or paying for your services.
You will not pay to get the leads, you will simply pay a percentage of the profits made from any orders you get through these enquiries.
However, I do have to consider a few factors before providing a no risk supply of enquiries to any companies. These are things like:
Do I trust the business owner?
Do I believe in their company?
Do keyword research and search analytics suggest that this strategy will work for them?
Do they offer services nationwide in the UK?
Are they happy to deal with a larger volume of enquiries?
Can they turn these into orders with profits?
I am going to be taking all the risks with this strategy because I know that I am personally able to build a website, rank it, get traffic to it and then generate enquiries with good calls to action.
What I cannot guarantee is that the business owner I work with can convert these enquiries into orders and therefore make a profit.
Hence me having to look into the trust of the person, their business niche and whether I personally feel they can convert these into profits.
Converting to Orders
If the leads turn into orders and profits we look to split the winnings from this, if they do not turn into orders then you pay absolutely nothing. This way you are only losing a share of profits which you would have never had in the first place.
There are no contracts and no subscription fees so all the risk lies with me. I personally do not mind taking risks and investing in myself to succeed. By generating hundreds of new enquiries, businesses should then be getting a lot more orders, and for these companies, it is an absolute no brainer because there are zero risks whatsoever. A video here explains the UK Lead Generation Service we provide :
You may be thinking this suggests that if we get any orders we need to split the profits with you? let me leave you with this thought: Let's say we decided on 50/50 split of the profits generated from the leads, my answer to this would be – "I would sooner have 50% of something than 100% of nothing."
Summary
Are you struggling for a consistent flow of quality leads?
Not sure which option to take in SEO, PPC or pay per lead?
Well, our no risk supply of enquiries really is a no brainer to companies looking to grow.
Get in touch via email at info@fatrank.com to apply for this potential offer.
Not all companies are approved because we need to make sure as a business you are going to work these enquiries to the best of your ability.
Leaving enquiries for days without a response massively hinders conversion and we expect to work with companies who will jump onto these leads generated straight away.
References
I am updating this post here now with references because are now in a position where we have a lot of really happy clients. These are all getting hundreds of website enquiries through and growing their companies. Here below are the references received from a few of our existing customers:-
Nicole Clowes (Mortgage Broker)
Nicole is a mortgage broker in the UK that is an independent advisor offering all mortgages available.
Phil Jepson (Owner of Maxomil)
Maxomil is a nationwide UK company that supplies inflatables to event companies or anyone wanting to purchase an inflatable. This could be bouncy castles, zorb footballs or new products like the KickDarts blow up the inflatable. We had him a professional video created from one of my businesses at PromoPixa here:
But then we needed to generate leads from ranking in the google search for hundreds of keywords Phil had requested. We managed to optimise the websites on the page perfectly with a large amount of content, images, videos and then build strong backlinks to these pages. Below is the reference PDF he sent through Maxomil Reference PDF :
Hi PromoSEO

I would like to take this opportunity to thank you over the past 12 months in helping myself scale out MaxoMil. The amount of website leads we receive on a daily basis is complete and utter madness.

Previously we spent fortunes every month on facebook ads, google adwords and link building companies. This helped us slightly but nowhere near the amount you have managed to create for us.

The amounts we actually pay out now is at no risk because only paying for the converted orders and that is why I have been happy to up my margins and kickbacks to you at more than what you suggested. Role on 2017 because we have now got better rates from our manufacturers. This will then in turn generate higher profits and I cannot thank you enough for all the hard work and graft you have put in.

I was asked by James Dooley whether I would be willing to write a reference because he is worried the offer can seem to be good be true. I will be honest and if I didn't know him already through playing football then I would have thought the same.

He is a genuinely nice bloke who cares for businesses he works with to make sure it is worth their while hence only paying for successful orders. If you get the chance to work alongside PromoSEO then snatch their hands off because trust me guys it will be one of the best decisions in your career.
Scott Robinson (Owner of F1 Marking)
F1 Marking is a company based in Buckinghamshire in the UK. They work nationwide and have installers throughout the country installing road lining and white lines to motorways. I came across their company carrying out some amazing work in school playgrounds and as there was a crossover with a few of my companies I thought it would be beneficial for myself to help this company out and they have grown massively in 2016. The link below F1 Marking Reference Letter explains how Scott has received over 300 enquiries:
When I was initially approached by James Dooley from PromoSEO about a lead generation service, I was apprehensive to begin with. They were offering to provide leads for my company with no upfront cost, and this seemed too good to be true. The proposed service would only require payment for leads that my business was able to convert into orders. I decided to take the opportunity as it seemed I would have nothing to lose, and after several months I have not looked back.

The service that James and the team at PromoSEO have provided has helped our company to grow and we have seen more enquiries than ever before. For each of the leads that we receive an order from, we pay an agreed proportion of the profits to PromoSEO. Any leads which do not convert into an order are completely cost free. It really is a win-win situation for our business and it has provided us with many more customers interested in what we offer.

After seeing success from the first few months of receiving the leads, it became clear that a higher investment in lead generation would see an even bigger increase in new enquiries. We began to pay a higher percentage of our profits to PromoSEO in order to develop a more advanced strategy. From this we have seen an exponential growth in leads coming through as well as orders being placed with our company.

As we are only paying for successful leads, this strategy has become much more cost effective for us than other options. We previously used sources such as Checkatrade, Yellow Pages and Google Ads to bring new customers to our website. However, after investing in the lead generation services and developing a working relationship with James, we have found that we no longer need to pay for other listings.

I would thoroughly recommend taking the opportunity that PromoSEO are offering if you are looking to grow your business and bring in new enquiries for your services. We would like to thank James and everyone at PromoSEO as we have only seen positive results and are sure that this will continue in the future.
Matthew Paczkowski (Founder of Air Pixa)
Air Pixa is a video production company based in Manchester. They have some amazing drones which make them able to take the best photographs and videos. The quality of their work is unreal and from my experience believe they are the top-rated videographer agency throughout the UK. For this reason, I decided to team up with them to supply them leads. It has worked great for them and equally worked well for myself because it means I get to use their services regularly for our own productions. Here is the reference letter from Matt AirPixa Reference which is copied here below:
We met James back in 2015 when he approached us with his idea of no up-front cost lead generation service for our newly established Aerial Photography and Video Production Service – AirPixa. As we are no experts in SEO we didn't really understand how this will work nor did we have anyone to reference his offering with. Understandably we were a little bit apprehensive however as we had nothing to lose, we've decided to give it a go and see how it will work!

We provided James with examples of our photographs, videos and keywords. He embedded those on PromoSEO and other websites that he manages. Within just few days enquiries started to come in!

The service that James and his team provided us with has helped AirPixa to grow and we are seeing more quality enquiries coming through on daily basis. We pay an agreed proportion of the profits to PromoSEO. Any leads which do not convert into an order are completely at no cost to us. You won't get this anywhere else it is really a win-win situation and it has provided us with many more customers interested in our services.

As we are only paying for successful leads, this strategy is a lot more cost effective for us than other options. We previously used pay per click sources to bring new customers to our website. However, we no longer need to rely on those campaigns as we have found that leads generated by James and his team are more cost effective for us.

If you are considering PromoSEO services for your niche business area – just go for it! Don't waste your time talking to other SEO companies, they will only burn your money and time! Talk to James and his team. We've not come across anyone who understands SEO better and is as hardworking as James and his Team. Thank you Guys!
Nik Spence (Sales Director of Uniplay Markings)
Uniplay is a playground markings company installing graphics into schools, colleges and parks throughout the UK. Here is the reference letter from Nik Uniplay Lead Generation Reference which is copied here below:
My company was recently offered an opportunity to enter a lead generation agreement. This was brought to us by Scott Calland from Soft Surfaces Ltd who was looking to provide leads to new companies. He explained that their business had developed its own marketing organisation and was beginning to offer these services to others. There was no contract involved so we decided to take the opportunity which only required us to pay for successful leads.

The success that we have seen from this strategy has been fantastic, and we are receiving more enquiries and new customers than we have ever seen in the past. The agreement offered by the company means we simply pay for leads which we generate into orders, and any unsuccessful ones are free of charge. To begin with we agreed an appropriate percentage of the profits from each job to pay back to Soft Surfaces for their work.

As a result of the growth we have seen in our business since taking this opportunity, we have decided to increase the proportion we pay in order to invest in further development. If you choose to take up the offer which is being provided, I would highly advise contributing as much as you can to help advance the strategies and bring you even more in the long run.

We can only thank Scott and the marketing team at Soft Surfaces for bringing us this opportunity and helping us to grow our business further.
Steve Kerwin (Managing Director of Pro-Res)
Pro-Res is a great indoor resin flooring business working nationwide in the United Kingdom. Here is the reference letter from Steve Pro-Res Lead Generation Reference which is copied here below:
I have known James Dooley for over 10 years now and was happy to agree to the lead generation service he provides, our resin flooring business saw immediate benefits in both quality convertible leads and general exposure to clients our existing marketing strategies hadn't found.

Id happily recommend James and his organisation to anyone thinking of embarking on Search engine based leads, there are no hidden costs or surprises down the line and Pro-Res (UK) Ltd are delighted with the results.
So as you can see we already have many happy UK businesses making the most of this amazing deal. For businesses to grow they need to move with the times and understand the internet now is the main lead source for their companies.
You need to question your mentality on whether your glass is half full or half empty. The brain is a key ingredient to how you perceive situations and you need to start educating yourself on the importance of online marketing.
I personally have adapted my businesses online to great success and will continue to scale out our empire-building sites in many niches. The reason I love this so much is that it allows me to travel while working because as long as I have a laptop and internet connection my office can be anywhere in the world. From travelling so much then it has taught me so many personal life lessons and allowed me to enjoy my journey more but still grafting hard.
Final Thoughts
For this agreement to work it has to be profitable for both parties.
As lead generators, we are not looking for a short term relationship and are looking to build successful businesses with our expertise.
But for this to work we need the consumer to work our leads successfully with good conversion rates.
We own call centres in the UK so could help the sales process if we started to work together long term as our call centre KPIs is to ring the enquiry within 23 seconds of enquiring so the service is very professional.
You May Also Like
Check out other articles related to Lead Generation.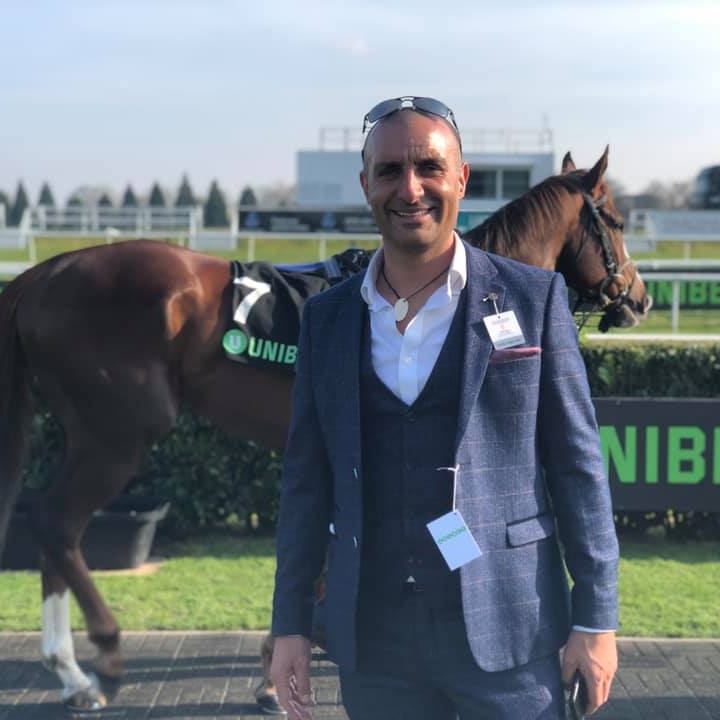 Digital Nomad
Digital Nomad who loves travelling the world networking while working on my laptop. Life is a perception of your own reality. You have no excuses and should be making memories every single day #LearnSomethingNew #Develop #Synergy #Network
About FatRank
Our aim to explain and educate from a basic level to an advanced on SEO and Social Media Marketing.
Recent Posts